Ranking the 15 Most Anticipated Pro Days Before the NFL Draft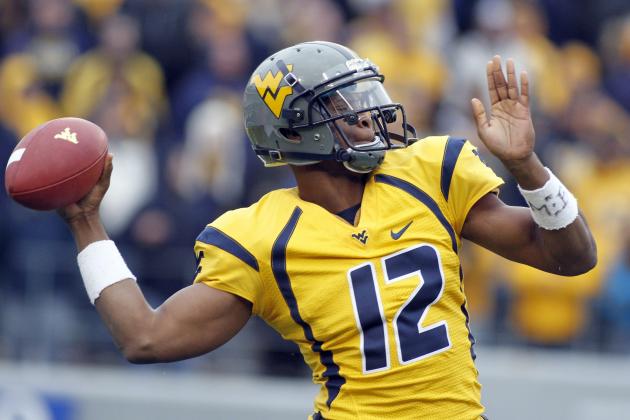 Justin K. Aller/Getty Images
West Virginia's pro day is highly anticipated in large part due to the participation of quarterback Geno Smith.
The first full week of NFL pro days is in the books and has already included some of the nation's most prominent universities and programs. There are still more than three weeks left, however, of major pro days that NFL scouts and executives will flock to looking for the right fit for their selections in the 2013 NFL draft.

Friday's pro days alone included Texas A&M, a program with multiple potential first-round picks, including projected top-five pick left tackle Luke Joeckel, and Ohio State, a program with plenty of draftable talent in the 2013 class, including defensive tackle Johnathan Hankins, a projected first-round pick.

Additional prominent pro days that happened in the first week included Missouri, which featured potential No. 1 overall pick defensive tackle Sheldon Richardson, along with Syracuse and Arizona, with two quarterbacks generating plenty of hype in advance of the draft in Ryan Nassib and Matt Scott respectively.

As we look ahead to the next few weeks, the attention of many will shift to NFL free agency, but preparation for April's NFL draft will remain in full swing.

Which pro days will people pay most attention to, as a result of the amount of talent participating, quality of the talent and/or unanswered questions about the players? The following slideshow breaks down the top 15.
Begin Slideshow

»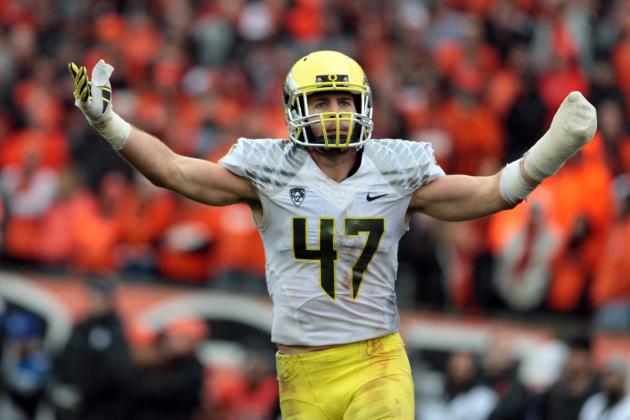 Scott Olmos-USA TODAY Sports
Kiko Alonso is a potential second-day draft selection.
Date: March 14

Top Prospects to Watch: ILB Kiko Alonso, OT/G Kyle Long, RB Kenjon Barner

If Dion Jordan, a talented rush outside linebacker who is one of the draft's most incredible athletes, planned to participate in Oregon's pro day, it would be higher on this list. However, even with Jordan sidelined due to shoulder surgery, there is plenty of talent worth watching in Eugene.

Inside linebacker Kiko Alonso, offensive lineman Kyle Long and running back Kenjon Barner are among the most athletic players at their respective positions in the draft. All had solid performances in Indianapolis and will look to back up those performances on March 14.

Oregon's pro day is one of four that will be available to watch on ESPN3 (4:30 p.m. ET).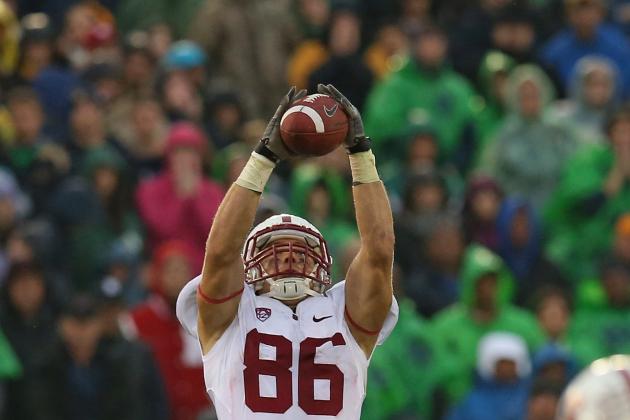 Jonathan Daniel/Getty Images
Zach Ertz needs to bounce back at his pro day.
Date: March 21

Top Prospects to Watch: TE Zach Ertz, RB Stepfan Taylor, OLB Chase Thomas, TE Levine Toilolo

There's no Andrew Luck coming out of Stanford this year, so this pro day isn't nearly as highly as anticipated as it was last year. That said, several Cardinal players need to perform well at their pro day to overcome uninspiring performances at the 2013 NFL Scouting Combine.

Ertz, Toilolo, Taylor and Thomas all had disappointing testing results at the combine in Indianapolis. All four will jockey for draft positions somewhere between Rounds 2 and 5, so running faster and standing out in on-field drills will be an important goal for each and something the scouts will look to see.

Like its aforementioned Pac-12 North rivals, Stanford's pro day can be seen on ESPN3 (2:15 p.m. ET).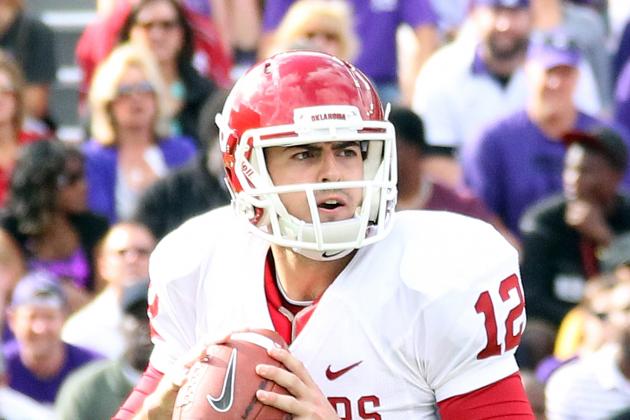 R. Yeatts/Getty Images
Scouts of quarterback-needy teams will keep an eye on Landry Jones.
Date: March 13

Top Prospects to Watch: OT Lane Johnson, FS Tony Jefferson, WR Kenny Stills, QB Landry Jones

Teams in the market for an offensive tackle early in the draft, including the Philadelphia Eagles, Arizona Cardinals and San Diego Chargers, should almost certainly have March 13 circled on their calendars. That will be an opportunity for them to watch Lane Johnson, one of the draft's top offensive tackles and an exceptionally rare athlete at the position, at Oklahoma's pro day.

Johnson is already an established first-rounder, but after an outstanding combine, he should stand out again in the pro-day setting, making a push to be one of the top two offensive tackles drafted.

Additionally, Oklahoma will have a few players jockeying for potential selections on Day 2. The most anticipated workout among them will be Landry Jones' passing workout, as Jones tries to climb up the quarterback draft board, presenting himself as a viable Day 2 choice and a potential starter.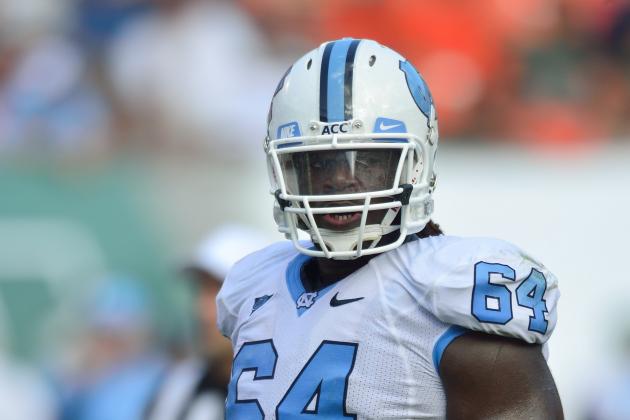 Steve Mitchell-USA TODAY Sports
Jonathan Cooper will make scouts pay attention at UNC.
Date: March 26

Top Prospects to Watch: G Jonathan Cooper, RB Giovani Bernard, DT Sylvester Williams, ILB Kevin Reddick

North Carolina is not an established college football powerhouse like most of the other schools on this list, but it has consistently put quality talent and first-round picks into the NFL draft in recent years. This year is no different, with a class highlighted by four players who should be picked in the first three rounds.

The player who should draw many scouts to Chapel Hill for the pro day is guard Jonathan Cooper. Cooper is a rare athlete for a guard, and he stood out at the combine in Indianapolis. A special talent who would be a surefire top-10 pick if he played a position more highly valued, Cooper will draw interest from teams picking that high to teams picking in the mid-20s of Round 1.

Bernard and Williams are two players who could also work their way into Round 1, and they have a chance to help their cause with a strong showing at the pro day. Reddick is another promising player to watch, and the Tar Heels also have some intriguing late-round sleepers, including wide receiver Erik Highsmith and offensive lineman Travis Bond.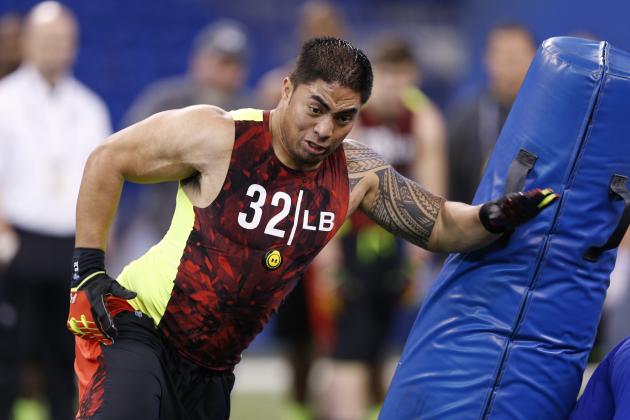 Joe Robbins/Getty Images
There's more to Te'o than a 40 time and Lennay Kekua.
Date: March 26

Top Prospects to Watch: ILB Manti Te'o, TE Tyler Eifert, RB/WR Theo Riddick

If you were reading this list elsewhere, Notre Dame's pro day could easily be No. 1 on the list, as Manti Te'o continues to be the draft's most discussed prospect nearly two months after news of his girlfriend hoax broke.

This pro day will be hyped as a shot at "redemption" for Te'o after running a 4.82-second 40-yard dash at the combine—and it shouldn't be. While he would certainly like to run faster, his combine 40 time matches up with his game speed, and NFL scouts will be more concerned about his weigh-in after coming in at only 241 pounds in Indianapolis.

This pro day will certainly be full of anticipation, and for good reason, with two potential first-round picks in Te'o and Eifert headlining a solid class of Notre Dame prospects. What it doesn't offer in comparison to the pro days ahead of it, however, is the volume of top prospects or prospects likely to show things they didn't already show in Indianapolis.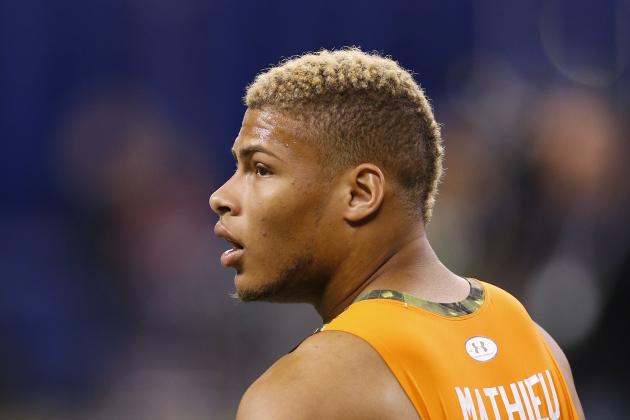 Joe Robbins/Getty Images
The "Honey Badger" could steal LSU's pro day spotlight.
Date: March 27

Top Prospects to Watch: ILB Kevin Minter, FS Eric Reid, DE/OLB Barkevious Mingo, DT Bennie Logan, OT Chris Faulk, DE Sam Montgomery

LSU consistently ranks among the top talent pools in each year's NFL draft, and 2013 is certainly no exception. The Tigers are loaded with potential NFL draft picks, including a number of potential first-round selections, so expect NFL scouts to flock to Baton Rouge for its pro day.

However, while LSU has more than 15 players from its team last season with a shot of being drafted, the two biggest storylines of the day could be players who missed all or essentially all of the 2012 season.

Cornerback Tyrann Mathieu, kicked off the Tigers prior to last season for rules violations and later arrested for marijuana possession, had a very impressive showing at the combine and will look to build upon that with a strong workout at his former school.

Another player who will hopefully have an opportunity to shine is offensive tackle Chris Faulk. He is one of the most talented offensive tackles in the draft class, but his status for LSU's pro day is up in the air after missing virtually the entire 2012 season and the combine coming off a knee injury.

As for the top prospects from last year's LSU team, many have something to prove. Minter will look to improve upon a 4.81 40-yard dash from the combine. Reid needs to stand out on the field after a subpar junior season has many questioning his draft stock, while Montgomery needs to make a big impression, as he currently faces serious questions about his effort and work ethic.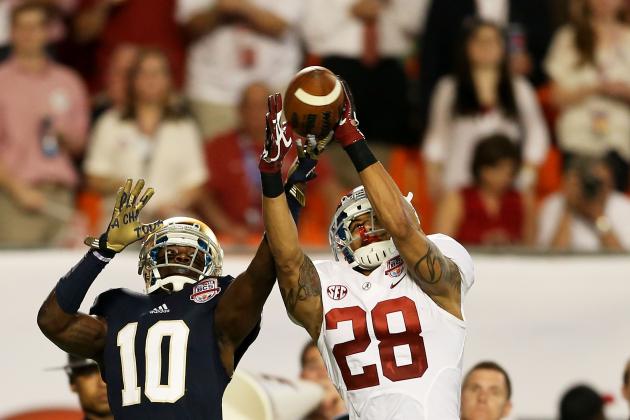 Streeter Lecka/Getty Images
Dee Milliner will aim for a strong pro day workout at Alabama.
Date: March 13

Top Prospects to Watch: G Chance Warmack, CB Dee Milliner, NT Jesse Williams, RB Eddie Lacy, OT D.J. Fluker

As defending national champions heading into the 2012 NFL draft, five Alabama players were selected in the top 35 picks of the draft. The Crimson Tide are defending champions again and could easily have five or six players among the top 35 in 2013.

With talent that will go from the top to the bottom of both the first round and the entire draft, there is no excuse for any NFL team not to have a scout in attendance.

Chance Warmack, Dee Milliner and Jesse Williams are all likely top-15 picks, but the two players whose workouts will be most anticipated in Tuscaloosa are those of Eddie Lacy and Michael Williams.

Lacy, the best all-around running back in the draft class, will look to run fast and excel in drills after missing the combine due to a hamstring injury. (Update: Lacy will also skip the pro day because of the hamstring ailment, per ESPN's Adam Schefter.)
Williams, the best pure blocking tight end in the draft class, is a potential mid-round draft choice but did not receive a combine invite.

Alabama's pro day can be seen on ESPN3 on Wednesday (11:30 a.m. ET).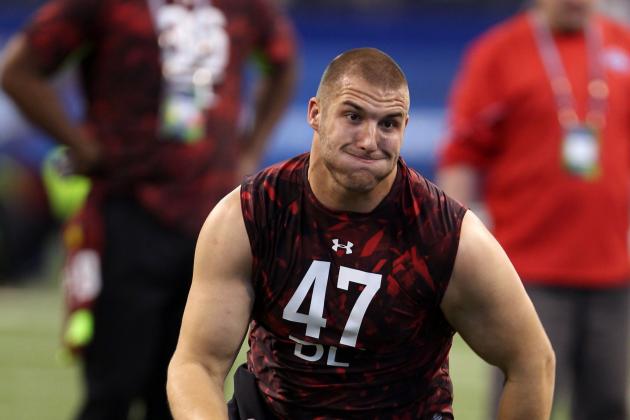 Brian Spurlock-USA TODAY Sports
Bjoern Werner will try to solidify himself as a top-five pick.
Date: March 19

Top Prospects to Watch: DE Bjoern Werner, CB Xavier Rhodes, DE/OLB Brandon Jenkins, QB EJ Manuel, OT Menelik Watson

One potential first-round pick from Florida State, defensive end Cornellius "Tank" Carradine, will not be ready to work out until April as he recovers from a torn ACL. But even without Carradine, there will be plenty of players worth heading to Tallahassee to watch.

The Seminoles have two other very talented pass-rushers in Werner and Jenkins, who look to improve upon subpar combine showings at their pro day. The same can most certainly be said for offensive tackle Menelik Watson, who looks to rebound from a very disappointing performance across the board in Indianapolis.

The most anticipated workout of the day, however, will likely be the passing workout of quarterback EJ Manuel. A big quarterback with some dual-threat ability and a strong arm, Manuel has one of the highest upsides of quarterbacks in the 2013 draft class, and he could really generate some momentum up the board with a strong pro day workout.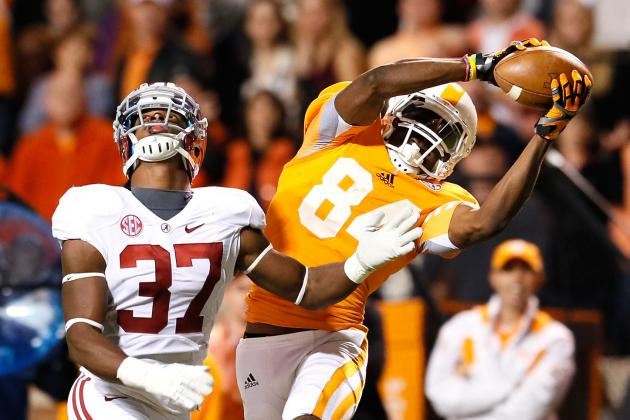 Kevin C. Cox/Getty Images
Cordarrelle Patterson leads an outstanding group of Tennessee WRs.
Date: March 20

Top Players to Watch: WR Cordarrelle Patterson, WR Justin Hunter, G/OT Dallas Thomas, QB Tyler Bray, WR Da'Rick Rogers

For any team looking to draft a wide receiver in the early rounds, this pro day should be No. 1 on its list. NFL scouts who head to Knoxville will have the chance to watch three wide receivers who could be high draft picks, all of whom tested very impressively at the combine.

Patterson, Hunter and Rogers all have outstanding combinations of size and athleticism, but each has something to prove at this pro day.

Patterson needs to show improvement in his route-running during on-field drills, while Hunter and Rogers—who have both had drop issues—need to catch the ball consistently. Rogers will work out at his former school; he transferred to Tennessee Tech after being suspended from Tennessee for team rules violations, so he needs to answer questions for scouts about his character.

A number of other prospects should have the scouts' attention in Knoxville as well, including quarterback Tyler Bray, who will look to show continued improvement in his accuracy while putting his big arm on display in passing drills. Scouts will also watch offensive lineman Dallas Thomas, a likely Day 2 selection who did not work out at the combine.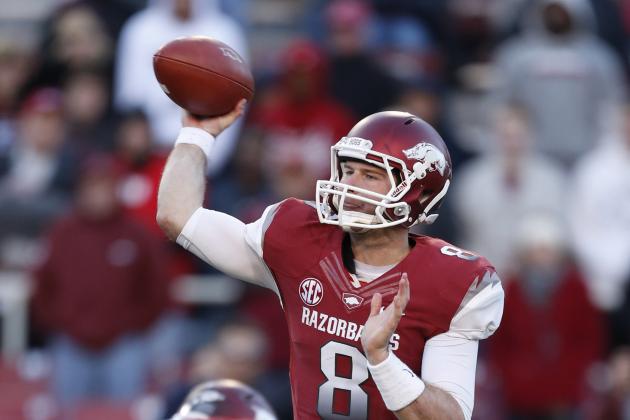 Wesley Hitt/Getty Images
Tyler Wilson's workout will draw scouts to Arkansas.
Date: March 15

Top Prospects to Watch: QB Tyler Wilson, WR Cobi Hamilton, G Alvin Bailey, RB Knile Davis

Few things draw anticipation to a pro day more than a potential first-round quarterback throwing the ball. That will certainly be the case at Arkansas' pro day, where Tyler Wilson will make his case for being the draft's top quarterback in his passing workout.

Wilson did not do his stock any favors at the combine, measuring in with small hands (8.75") and failing to stand out in passing drills. While he may not be able to help his stock considerably by passing well in the controlled environment of his pro day, he can at least get the momentum of his stock going in the right direction.

Wilson is far from the only player worth watching in Fayetteville on Friday. Knile Davis will look to follow up on a fantastic combine performance, highlighted by a 4.37 40-yard dash. Wide receiver Cobi Hamilton, on the other hand, will try to improve a disappointing 4.56 40 in Indianapolis.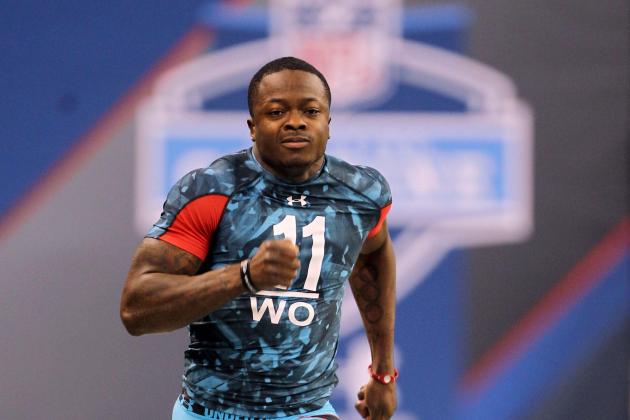 Brian Spurlock-USA TODAY Sports
Marquise Goodwin will try to run even faster in Austin.
Date: March 26

Top Prospects to Watch: DE Alex Okafor, S Kenny Vaccaro, WR Marquise Goodwin

The pressure was on 2012 U.S. long jump champion Marquise Goodwin going into the combine, and he delivered as expected, running the combine's fastest 40-yard dash time at 4.27. At his pro day on March 26, he'll try to put an even faster time on the scouts' watches.

Goodwin's elite speed gives him big upside as a vertical threat wide receiver and kickoff returner, but he is an unpolished project as a football player. The Longhorns also have two potential first-round picks in the draft class, however, in Okafor and Vaccaro.

Okafor and Vaccaro both have something to prove in Austin. Okafor did not participate in the combine, and he is going to have to make up for that in scouts' eyes with a strong pro day performance. Vaccaro did compete in Indianapolis but underwhelmed, running a 4.63 40-yard dash and looking sloppy in on-field drills.

Also working out at Texas' pro day will be former quarterback Vince Young, who was the No. 3 overall pick in the 2006 NFL draft. Young is not eligible for the 2013 draft, but he will certainly draw attention to the Longhorns' pro day and try to turn heads in hopes of keeping his flailing NFL career alive.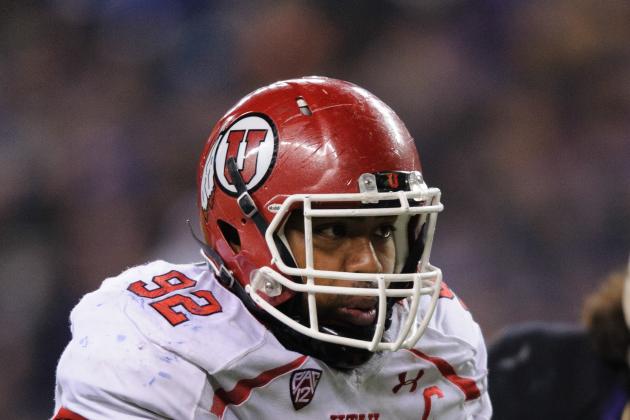 Steven Bisig-USA TODAY Sports
Star Lotulelei has questions to answer at his pro day.
Date: March 20

Top Prospects to Watch: DT Star Lotulelei, DE Joe Kruger

Star Lotulelei emerged as a favorite to be the No. 1 overall pick until his medical evaluation at the NFL Scouting Combine turned up a heart condition. That revelation brings up serious questions about his NFL draft stock and medical future, but it could be a good break for other Utah players trying to make an impression, as scouts are now likely to flock to Utah's pro day.

Although sent home from the combine early due to medical concerns, Lotulelei plans to complete a full workout on pro day. Although his performance in the drills will be important after being unable to participate in Indianapolis, what scouts will really be concerned with is whether Lotulelei is fully healthy and back to normal heart-wise at this pro day.

Lotulelei is far and away Utah's top prospect, but two brothers from the Utes' defensive line, Joe and Dave Kruger, will lead the other Utes in trying to make an impression and get drafted in April.
Charles LeClaire-USA TODAY Sport
Tavon Austin will steal some of Geno Smith's spotlight at WVU.
Date: March 14

Top Prospects to Watch: WR/RB Tavon Austin, QB Geno Smith, WR Stedman Bailey

With three of the draft's most captivating skill position players all in Morgantown for this pro day, there will be no shortage of buzz leading up to Thursday's event at WVU.

Attention will be heaped on the throwing workout of Geno Smith, who many evaluators consider the top quarterback prospect; he will try to establish himself as a top-10 draft pick. While a strong pro day workout will not overrule Smith's in-game issues, it should be a good environment for the athletic, strong-armed quarterback to succeed.

The two receivers catching passes from him Thursday will also have a chance to make a big impression Thursday. Small, explosive and fast, Tavon Austin certainly already did that when he ran a 4.34-second 40-yard dash at the combine, one of the fastest times in Indianapolis. Scouts will be excited to watch him show his athleticism in drills again, including the three-cone drill, an agility drill he should excel in but did not participate in at the combine.

On the other hand, Stedman Bailey failed to stand out at the combine and looks to make a stronger impression on scouts at the pro day. Specifically, he will look to run in the sub-4.5 range after running an official 4.52 40 in Indianapolis.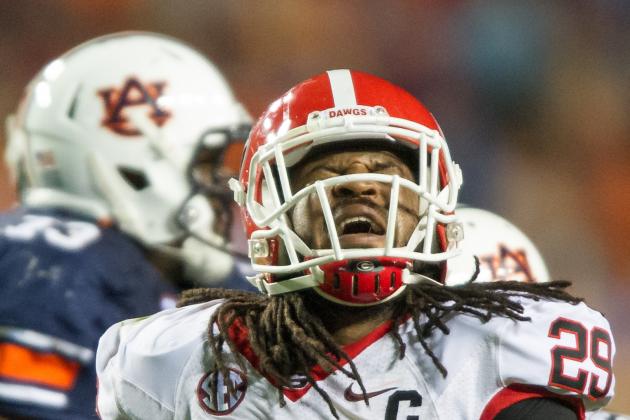 Michael Chang/Getty Images
Jarvis Jones has a chance to make a big impression at his pro day.
Date: March 21

Top Prospects to Watch: OLB Jarvis Jones, LB Alec Ogletree, DT John Jenkins, FS Bacarri Rambo, DE/OLB Cornelius Washington

Star Lotulelei is just now learning what it's like to have to deal with constant medical questions and speculation, but Jarvis Jones has dealt with that for years. Jones has been super-productive at the past two years for Georgia and has the talent to warrant a top-five draft pick, but some NFL teams will write him off their boards due to spinal stenosis.

Jones has been red-flagged injury-wise even though he has stayed healthy each of the past two seasons, but he has a chance to bring the attention back to his skill set and ability at Georgia's pro day. Jones chose not to work out at the combine, but all eyes will be on him in Athens, even at a pro day that includes eight Bulldogs defensive alums who are projected to be the picked in the first five rounds of the NFL draft.

As Jones tries to prove himself being worthy of a top pick even with a risky medical situation, there will be many other players in attendance with their draft stocks on the line.

Projected 3-4 outside linebacker Cornelius Washington's stock is rising quickly after an outstanding combine showing. Alec Ogletree is a first-round talent at linebacker who must answer serious character questions due to numerous off-field incidents, including a DUI arrest earlier this winter.

Georgia's pro day can be seen on ESPN3 (11 a.m. ET).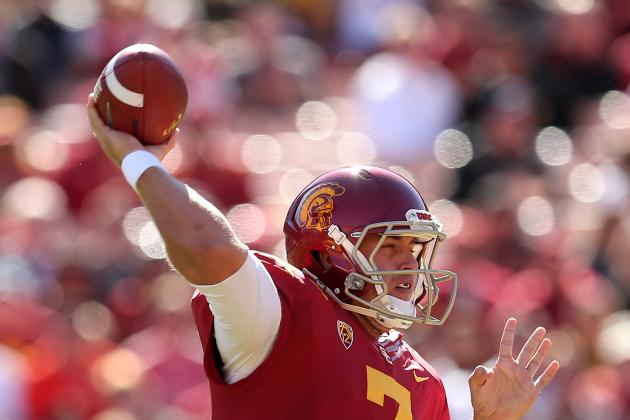 Stephen Dunn/Getty Images
Matt Barkley has the season's most anticipated pro day.
Date: March 27

Top Prospects to Watch: QB Matt Barkley, WR Robert Woods, CB Nickell Robey, FS T.J. McDonald, C Khaled Holmes

Quarterbacks, players with injury concerns and potential top-10 picks are the headliners for most of the teams on the list. USC's Matt Barkley, a very talented quarterback coming off a shoulder injury and who could draw interest as a potential franchise signal-caller from numerous teams in the draft's top 10, meets all of those criteria to make USC's pro day the season's most anticipated.

Barkley came into the 2012 season as the projected No. 1 overall pick, but a disappointing senior year set his stock back. Most important for Barkley in his pro day, however, will be answering the two main questions about him: Is his shoulder healthy, and will a lack of arm strength set him back?

If Barkley can answer both of those questions to the satisfaction of NFL teams, he could be a top-10 pick. If not, he will likely fall into the early second round unless a team trades up into the late first round to select him.

National attention throughout the pro day season will surround Barkley, who may be the most NFL-ready quarterback in the class yet had a disappointing senior year and did not participate in either the Senior Bowl or combine due to injury.

But Barkley is not the only player scouts should pay attention to. Robert Woods is the most polished all-around wide receiver in this draft class, well worth a first-round pick in his own right. Khaled Holmes will look to bounce back strong after hurting his pectoral muscle in the combine bench press, while Nickell Robey and T.J. McDonald have questions to answer for scouts about how they project as defensive backs at the next level.
Dan Hope is an NFL Draft Featured Columnist at Bleacher Report.