Minnesota Timberwolves' All-Time Dream Team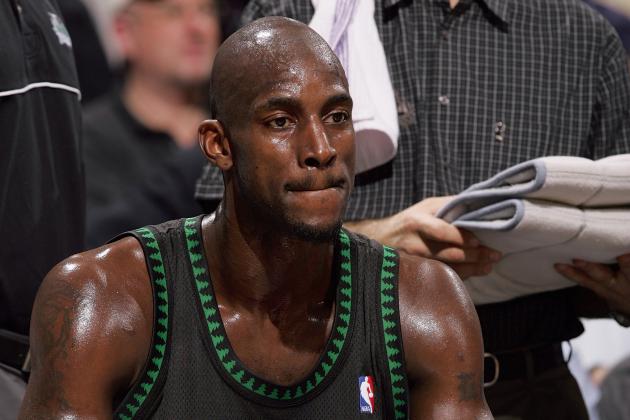 Jonathan Daniel/Getty Images

A couple months ago I was playing NBA Jam On Fire Addition—the one you buy in the Xbox Live store—and I get enough points to unlock a "legendary player." Naturally, I peruse through the on-screen menu to find a Minnesota Timberwolves "legend."
I'm guessing that George Mikan or Jim Pollard are unavailable because their legacy left when the Minneapolis Lakers headed west to Los Angeles, but maybe I would find Stephon Marbury, Tom Gugliotta or maybe even Doug West from the pre-Kevin Garnett days.
Speaking of Garnett, I passed over "Toronto Raptors legend" Vince Carter and thought, Oh my god! He's still playing! Maybe KG is a Timberwolves legend!
To my dismay, I found one player: Chuck Person.
That's right, Chuck Person: a journeyman small forward that spent more time in San Antonio (1994-98) than he did in Minnesota (1992-94).
My guess is he was the guy they chose because Garnett is still in the league and the team needs a three-point shooter, but still…
I know that the Wolves have only been around since 1989, had only one super team—the Sam Cassell, Latrell Sprewell, Garnett squad that lost to the Lakers in the Western Conference Finals in 2003-04—and have not had much success since Garnett left in 2007, but wow, we've got a little more history here than that.
The following is my Timberwolves All-Time Dream Team using a typical 12-man roster. I've focused on what each player did in Minnesota, so all-time leaders made the cut, but I also just thought Who would make a good team? So some guys that only made stops here made the list.
Begin Slideshow

»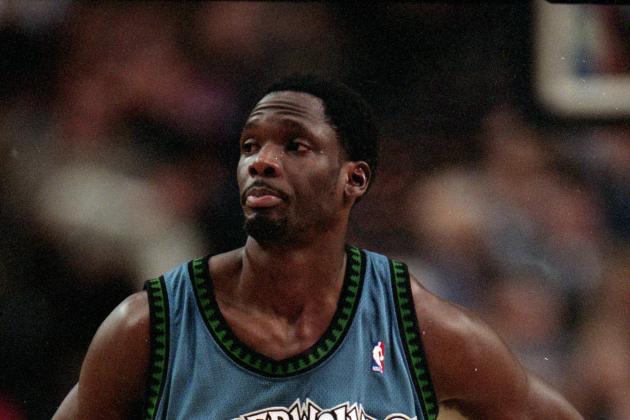 Otto Greule Jr/Getty Images

Malik Sealy
Sealy has the honor of being the only Wolves player to have his number in the Target Center rafters. His life was tragically ended by an intoxicated driver in 2000.
Nobody will ever wear No. 2 on a Timberwolves uniform again.
Spud Webb
I just wanted to mention that the 5'7" Webb played in a Wolves uniform…for half a season in 1996. He won a dunk contest 10 years earlier.
Kevin Love and Ricky Rubio
Their legacy is being formed right now, but hopefully both will have their numbers raised to the Target Center ceiling one day.
Al Jefferson
He's probably not going to return, but just in case, I left him off the list. At the time of the Boston trade, Jefferson was considered Garnett's replacement.
Person made the list because he's a Wolves legend on NBA Jam, and who doesn't love NBA Jam?
Is he really a legend? Probably not…but, hey, Minnesota could really use him at the three right now!
Drafted third overall behind Shaquille O'Neal and Alonzo Morning in the 1992 Draft, Laettner never had the impact those two players had in the league.
He was a much better college player than a pro and will forever be remembered for that shot he made for Duke to beat Kentucky in 1992.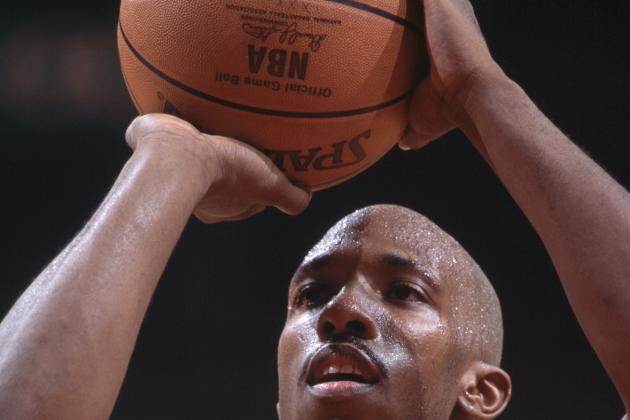 Jonathan Daniel/Getty Images

Okay…Billups is still in the league, but at 36, he can't be playing for too much longer, and it is unlikely that he changes his Timberwolves legacy.
Then again, who knows?
The peripatetic Billups was only on the Wolves from 2000-02, but was mentored by Terrell Brandon while serving as his back up.
Grantland recently released a feature on Billups career where he speaks briefly about his time in Minnesota.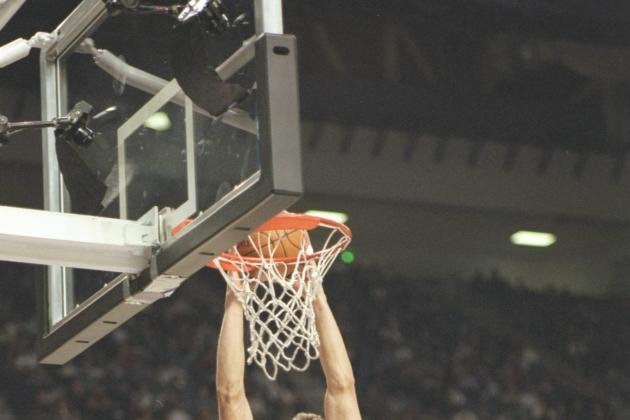 Otto Greule Jr/Getty Images

Washington originally drafted Googs in 1992 when they were known as the Bullets and joined the team in 1995 after a stint with Golden State. His best years were in Minnesota, where he scored 20 points per game in the 1996-97 and 1997-98 seasons.
He would spend time in Phoenix, Utah, Boston and Atlanta before retiring in 2005.
Despite playing 13 seasons in the NBA, the former No. 6 overall pick only played in 12 playoff games.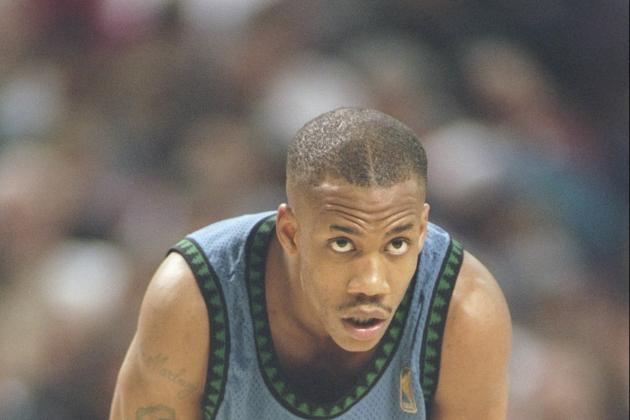 Otto Greule Jr/Getty Images

It pains me to say that the Wolves drafted Ray Allen and dealt him for Stephon Marbury in 1996…think of how different things could have been if Minnesota had Allen and Garnett and then added Pearce in 2007 to form a Big Three in the Twin Cities.
Yeah, there's no certainty that would have happened and, hey, there were a few good years with Starbury and KG. The tandem led Minnesota to the playoffs in 1997 and 1998 before Marbury demanded a trade and was swapped in a three-team deal that sent Terrell Brandon to Minnesota, Sam Cassell to Milwaukee and Marbury to New Jersey.
He never really found a home in the NBA, moving from New Jersey to Phoenix to New York before reuniting in Boston for his swan song in 2009.
Fortunately, after an odd phase where he filmed his life on Justin.tv, he has found a home playing basketball in China.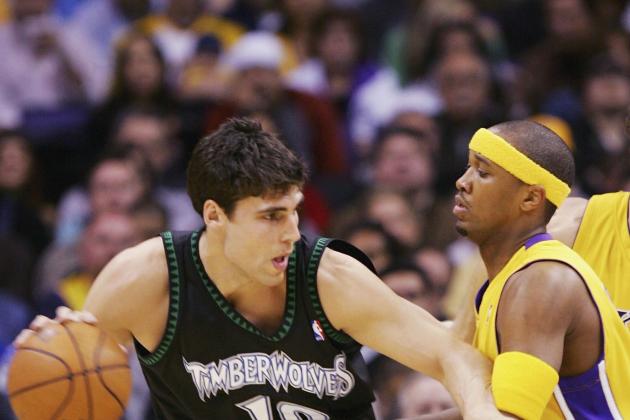 Lisa Blumenfeld/Getty Images

After leading Miami (Ohio) to the Sweet 16 of the NCAA Tournament as a No. 10 seed, Szczerbiak was drafted 6th overall in the 1999 Draft. He spent seven years in Minnesota before being traded to the Celtics a year before Garnett was shipped out to Boston.
He was selected to the Western Conference All-Star team in 2002 and tied a Timberwolves franchise record of 44 points in 2003, which has since been broken by Kevin Love.
He currently is a college basketball analyst for CBS Sports.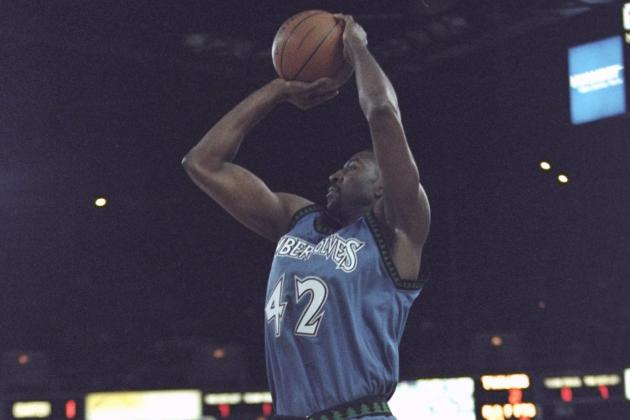 Brian Bahr/Getty Images

One of the original Timberwolves, Mitchell had two stints in Minnesota. His first was from 1989-92 before he was traded in a deal with the Indiana Pacers involving, ahem, Chuck Person and then returned to Minneapolis in 1995. Hailing from little Mercer University in Georgia, Mitchell played for the Wisconsin Flyers, Tampa Bay Flash, Rapid City Thrillers and in France before joining Minnesota in 1989.
He spent the rest of his career here before retiring in 2002, having played more minutes in a Timberwolves uniform than every player except Kevin Garnett. Kevin Love recently passed his 3030-career rebounds mark, and he had more steals for the Wolves than Doug West, Tom Gugliotta and Terrell Brandon.
He is currently a scout for the Brooklyn Nets.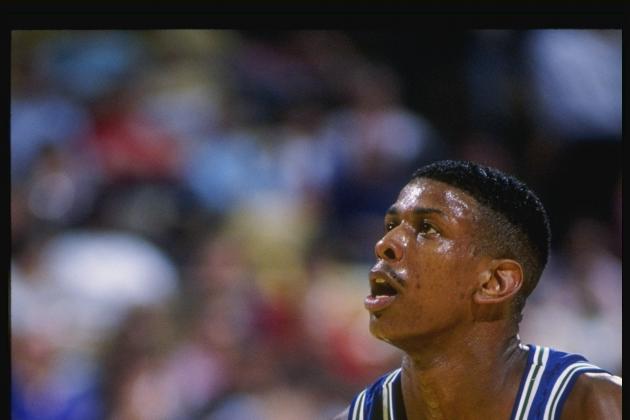 Ken Levine/Getty Images

Mr. West, Mr. West, Mr. Fresh/Mr. By-his-self-he-so-impressed…
Okay, it's a different West.
No, it's not Kanye or even Jerry, but Mr. Jerry Douglas West made a great impact here in Minnesota.
A second-round pick in the Wolves' inaugural draft, Doug West played with the Wolves until 1998, when he was traded to the then-Vancouver Grizzlies and was the last of the original roster to remain on the team.
West is still third all-time in franchise history for minutes played and has the third-most steals of any player in a Wolves uniform.
He battled alcoholism and depression in the late 1990's, but has recovered and in 2012 joined the coaching staff of the Rio Grande Valley Vipers of the NBA D-League.
Elsa/Getty Images

An extremely gifted player, Sprewell came with his fair share of baggage.
In 1997, Spree assaulted Golden State Warriors head coach PJ Carlesimo during practice and was suspended for the rest of the year. He had also had two incidents with teammates earlier in his career.
He spent the next five years with the New York Knicks before arriving in Minnesota by trade in 2003 and would become part of the league's highest-scoring trio with Garnett and Cassell.
His time with the Wolves ended ignominiously, however. In 2004 he was offered a 3-year, $21 million contract extension, but did not accept it, saying that he could not feed his family. He is currently in debt and recently was arrested for disorderly conduct in Milwaukee.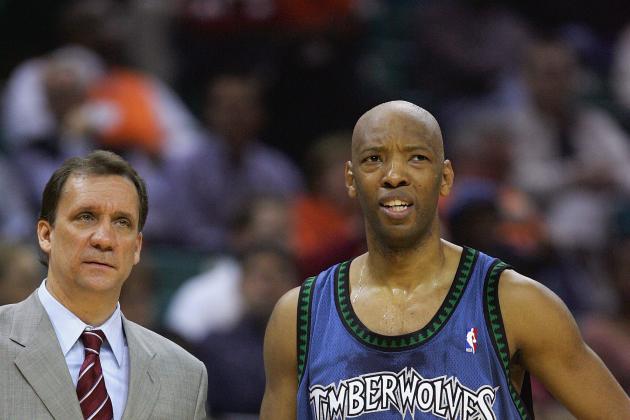 Streeter Lecka/Getty Images

Cassell wasn't here for very long; he arrived from Milwaukee in 2003 and was traded to the Clippers in exchange for Marko Jaric and Lionel Chalmers (yep…) in 2005, but he made his impact here in Minnesota.
A three-time NBA Champion with the Rockets (who won in the "non-Jordan" era) and the Celtics, Cassell arrived in Minnesota via a trade with the Bucks that shipped Joe Smith (yeah, that Joe Smith) and Anthony Peeler to Milwaukee.
Currently an assistant coach with the Washington Wizards, Cassell recently came under fire for comments he made about the NCAA's ruling on his son.
Jim McIsaac/Getty Images

KG was a no-brainer.
Drafted with the fifth selection out of Farragut Academy in 1995, Garnett's impact on the Wolves made it acceptable for teams to select players directly from high school until the action was banned in the post-LeBron James era.
He immediately put the Timberwolves on the NBA map and led them to the Western Conference Finals in 2004 before being dealt to Boston in 2007.
He is still the franchise leader in minutes played, rebounds, assists, steals and blocks.
The fact that no Timberwolves player has worn Garnett's 21 since he left tells you how well regarded he is in the Twin Cities.
Tom Schreier covers the Timberwolves for Bleacher Report and writes a weekly column for TheFanManifesto.com.