2013 NFL Free Agent Predictions: Projecting Where Top Players Will Land
Jared Wickerham/Getty Images
One of the essential reasons for the NFL's tremendous growth in popularity is its free agency structure. In contrast to the other major sports, the NFL has the only offseason where equality triumphs.
In Major League Baseball and the NBA, only the teams with the most money have been able to sign the high-profile free agents. For example, the Minnesota Twins and Timberwolves enter free agency knowing they have no realistic chance of signing a big-name free agent.
They know that Josh Hamilton and Dwight Howard won't even answer their phone call, let alone sign a contract. Yet, the Minnesota Vikings are perfectly situated to make a play for Mike Wallace just as the Buffalo Bills did a year ago with Mario Williams.
Come Tuesday afternoon, the NFL's version of March Madness begins again with the arrival of free agency. This year's class is loaded with emerging stars—Greg Jennings, Andre Smith, Dashon Goldson, Cliff Avril and Wallace—and fading luminaries—Ed Reed, Brian Urlacher, Steven Jackson and Dwight Freeney—which should provide a week-long frenzy of negotiations.
Decisions made during free agency, and the offseason in general, have proven to have immediate impacts in the NFL, helping the have-nots close the gap on the haves. Just look at the recent postseason contestants.
The 2011 playoffs featured six teams that didn't qualify in 2010, and the 2012 playoffs featured four teams that failed to qualify in 2011. This gives hope to even the most downtrodden of NFL teams and even more optimism to the teams with money to spend.
The teams with the most cap space this offseason are Cleveland, Cincinnati, Indianapolis, Miami, Tampa Bay and Philadelphia.
The less fortunate, cash-strapped teams are Dallas, Washington, New Orleans, Pittsburgh, San Francisco and Chicago.
So where will the talent land?
Jake Long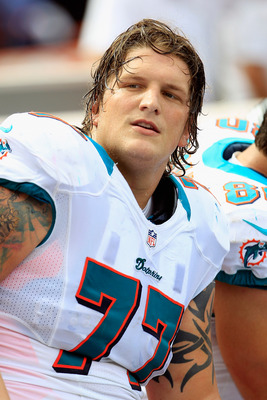 Chris Trotman/Getty Images
Projected Team: Miami Dolphins
Jake Long has a strong resume. The former first overall pick is still in his athletic prime at the age of 27, has made four Pro Bowls in five seasons and has only missed six starts in his career. Increasing his value, the left tackle happens to excel at one the league's most valued positions.
Unfortunately for Long, four of those missed starts came at the conclusion of this season, as a torn triceps landed him on injured reserve.The NFL's most referenced surgeon, Dr. James Andrews, gave Long's arm a clean bill of health, which could ease the minds of prospective teams.
Almost half of the league could use a left tackle, especially one of Long's pedigree. But with the organizational moves Miami has made of late, re-signing Brian Hartline and Matt Moore, the Dolphins can't afford to weaken their offensive line. Look for them to protect their investment in quarterback Ryan Tannehill and sign Long to a heavlily front-loaded contract.
Cliff Avril
Gregory Shamus/Getty Images
Projected Team: Cleveland Browns
Over the past two seasons, Cliff Avril accumulated 20.5 sacks and was a perpetual annoyance to opposing quarterbacks. Standing 6'3" and weighing 260 pounds, Avril's sleek combination of strength and speed allows him to pressure the quarterback as a traditional down 4-3 end and as a standing 3-4 outside linebacker.
This dynamism makes Avril a perfect fit in Cleveland, which under a new coaching staff has indicated that it plans to use both defensive schemes. The Browns are desperate for pass-rushers and, according to The Plain Dealer, has indicated interest in Avril and Paul Kruger of the Ravens.
Ultimately, Cleveland has the deepest pockets in the league with about $50 million in cap space, making it unlikely Avril will receive a more lucrative offer elsewhere.
Wes Welker
Al Bello/Getty Images
Projected Team: Atlanta Falcons
Welker's production is irrefutable. Last season he had 118 receptions—his fifth 111+-catch season—for 1,354 yards and six touchdowns. He is 31 years old, which should give teams pause, but Welker hasn't missed a game in two years and hasn't displayed any diminishing physical ability.
Welker has been engaged in negotiations with the Patriots over the past two seasons, but New England's willingness to allow Welker to test the free-agent waters is indicative of how it perceives his value. In fact, Mike Florio of Profootballtalk.com indicates the Patriots may have already found his replacement in Danny Amendola.
Welker is most effective lining up in the slot and operating between the seams. So, on paper it may seem like talent overload for the Falcons to sign Welker. But considering the expected retirement of tight end Tony Gonzalez and the release of running back Michael Turner, Atlanta needs to replace production.
Putting Welker with Roddy White and Julio Jones on the outside would make defending the Falcons' aerial attack an absolute nightmare. The Falcons have cap space, operating just north of $20 million, and given the ferocious NFC landscape, a bold move such as signing Welker could catapult them to the next level.
The catch-22 of signing Welker, who appears disrespected by the Patriots, will be selling him on being a member of an elite trio of receivers rather than a stand-alone star.
Mike Wallace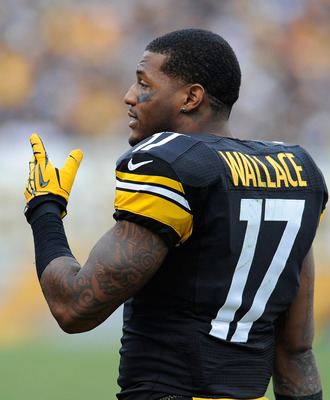 Joe Sargent/Getty Images
Projected Team: Miami Dolphins
Mike Wallace attacks defenses vertically like few other receivers in the NFL. In 2012, Wallace caught 19 passes of more than 10 yards, and six of those resulted in touchdowns. Wallace has soft hands, superior speed and a knack for finding the end zone, doing so 32 times in his four-year career.
Unlike his free-agent contemporary Greg Jennings, Wallace has been healthy, missing just one game.
His value is obvious and his bidders numerous, but the quest for Wallace will likely come down to a battle of the checkbooks between Miami and Minnesota. Each team has a need for Wallace and offers distinguishable advantages.
Miami offers a better quarterback, no income tax and all the amenities of Florida weather. Minnesota offers Adrian Peterson, who will create more one-on-one coverage for Wallace, and a more playoff-ready team.
All things considered, Miami simply offers a better overall package.
Andre Smith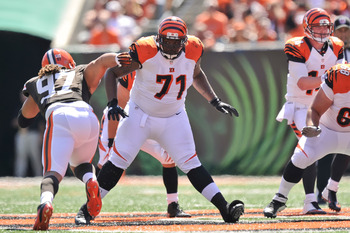 Jamie Sabau/Getty Images
Projected Team: Green Bay Packers
Andre Smith has had a peculiar journey in his four-year NFL career. Entering the league as a first-round selection in 2009, Smith struggled to get on the field, starting a mere five games his first two seasons.
However, over the past two seasons, Smith has been an anchor at right tackle for the Bengals, starting all but two games.
Smith is only 26, so many teams may feel secure offering him a lengthy contract. The Bengals should offer Smith whatever he wants, considering his importance and their significant cap space. But their propensity for frugality suggests they will fumble the opportunity.
Green Bay, a pragmatic organization, would love to acquire Smith. Its offensive line was shaky all season. Smith would certainly allow Rodgers to sleep better at night. The Packers have about $20 million in cap space, which would allow them to sign Smith and make improvements defensively.
By bringing in a tackle of Smith's caliber, Green Bay could postpone extending Rodgers until the end of the 2013 regular season, which would delay the cap effects of his gargantuan and inevitable contract until the 2014 calendar season.
Greg Jennings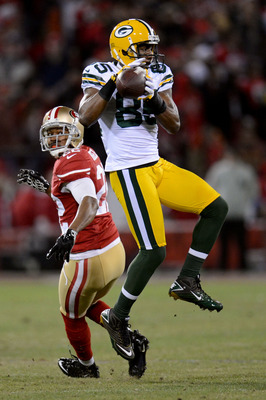 Thearon W. Henderson/Getty Images
Projected Team: Minnesota Vikings
Jennings' value took a hit this past season as the receiver was saddled with an injury, limiting him to eight games. When healthy, Jennings excels with his precise route-running and lateral speed.
Over the past few seasons in Green Bay, Jennings caught numerous quick timing routes from Aaron Rodgers that relied on his innate ability to create separation from defenders. Not too mention that he can do this.
Whereas he may be inferior to Mike Wallace in the minds of the Miami Dolphins, there is little suggestion that any other free-agent receiver in the free-agent class is more attractive than Jennings.
He will certainly garner suitors, but don't expect him to sign until after Wallace. Based on my projection for Wallace to take his talents to South Beach, look for the Vikings to feel the heat and sign Jennings.
Given that signing Jennings will require more modest paycheck than Wallace, the move may allow the Vikings to assuage the ego of Percy Harvin, whereas signing Wallace would all but force Minnesota to trade him.
The adjustment from Rodgers to Ponder will be tough on Jennings, but he will see softer coverage thanks to reigning MVP Adrian Peterson.
Paul Kruger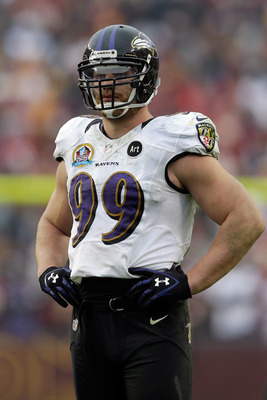 Rob Carr/Getty Images
Projected Team: Indianapolis Colts
Kruger took advantage of his expanded role last season by racking up a career-high nine sacks in the regular season. He was perhaps even more impressive during Baltimore's triumphant postseason run, recording four-and-a-half more sacks.
He played much of the season as the Ravens' main pass-rushing threat as Terrell Suggs missed significant time, which shows free-agent bidders that he is capable of being a primary pass-rusher.
For various reasons, Kruger fits in Indianapolis. First, he spent three years under the tutelage of Chuck Pagano, who was the defensive coordinator in Baltimore prior to taking the Colts' head job a season ago. Second, Kruger would be familiar with the 3-4 scheme the Colts run. And, third, Kruger could fill the void left by the departure of veteran Dwight Freeney, both physically and in the locker room.
The Colts are a young team and would welcome the experience of the Super Bowl champion such as Kruger.
Of course, money rules in free agency, which is fortunate for the Colts, who at $43 million have the third-most cap space in the league.
Connor Barwin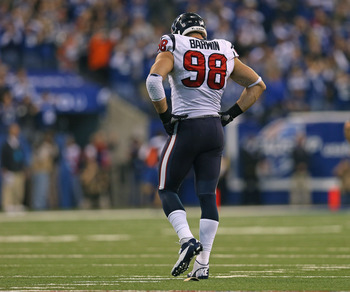 Jonathan Daniel/Getty Images
Projected Team: Green Bay
Barwin is an athletic outside linebacker who specializes as an edge rusher. He has accumulated 18 sacks in three seasons and is only 26 years old. Barwin didn't have his best season in 2012, but with his age and skill set, he should attract significant interest from 3-4 defensive teams.
Many want to connect Barwin with the Patriots after he expressed interest during an interview with Rich Gannon and Adam Schein on SiriusXm. But this interest is being exaggerated, as Barwin was directly asked about New England rather than organically naming them. Additionally, the Patriots run a 4-3 defense.
The most important takeaway from the interview was Barwin explicitly stressing his desire to sign with a winning team. Cleveland and Indianapolis are the wealthiest 3-4 teams that need an outside linebacker, but given Barwin's desire to join a winning organization, it would be hard for those two to compete with Green Bay.
The Packers are only two years removed from the Super Bowl. They run a 3-4 scheme and sincerely need another pass-rusher to complement Clay Matthews. The NFC is too competitive and offensive for Green Bay to stand pat with its porous defense.
Aqib Talib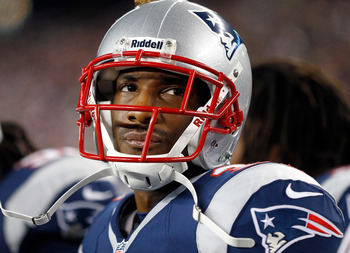 Jim Rogash/Getty Images
Projected Team: New England Patriots
Immediately upon Talib's arrival in New England at last year's trade deadline, the Patriots' defense improved. He's still in his athletic prime at 27 and has hauled in 19 interceptions during his four-year NFL career. Talib's skill set is not limited to coverage. He is also a strong tackler.
On the field, Talib is great, but, according to Tampa Bay Times, he comes with more baggage than a commercial 747 airplane. In his brief time in New England last season, Talib appeared to act appropriately, something the Patriots are famous for not only expecting but receiving.
Even though New England didn't place the franchise tag on Talib, it's hard to imagine it will let him go, especially considering the Patriots' recent deficiencies in the secondary—lest we forget Julian Edlemen saw significant time at corner in 2011.
Cleveland, Philadelphia and the Giants could all target Talib. But with the money saved by not re-signing Welker, expect the Patriots to sign Talib to a multiyear deal.
Steven Jackson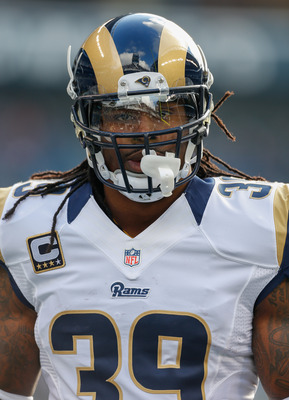 Otto Greule Jr/Getty Images
Projected Team: Arizona Cardinals
Jackson is still a three-down running back. Facing defenses that lack the slightest respect for the Rams' passing attack, Jackson still gained 4.1 yards per carry. The 240-pound back, who runs with a vicious velocity, is a bear to bring down.
Jackson's value is negatively affected by his age, 29, and his mileage, 2,395 career carries. Jackson, as a guest on the SVP & Russilo show on ESPN Radio, stated that he desires a starting job, but also admitted how difficult finding one is in today's NFL that prefers a running-back-by-committee system.
Last year Arizona ranked last in rushing, averaging an abysmal 75 yards per game. All of the Cardinals' running backs, including former first-round pick Beanie Wells, were ineffective. Of course, not all the blame can be placed on the running backs. Their pedestrian numbers were certainly impacted by a lack of blocking and a passing game.
Yet, Jackson would certainly improve the Cardinals' running game in the short term. He could start in Green Bay, but wouldn't get his usual number of carries. The Jets are probably the next-best fit for Jackson, but their cap situation would limit his earning potential.
Jackson's familiarity with the NFC West brings value to Arizona. And his desire to be a starter would certainly be satisfied if he signed with the Cardinals.
Dominique Rodgers-Cromartie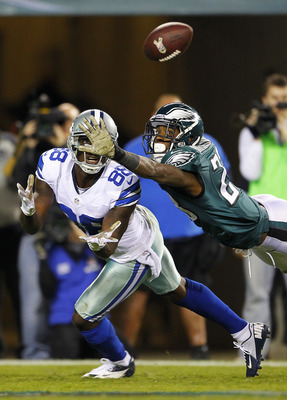 Rich Schultz/Getty Images
Projected Team: Cleveland Browns
DRC possesses all the physical tools to cover top-tier wide receivers in the NFL. He's 6'2, blazing fast and has an eye for the ball, making 16 interceptions in his four-year career. However, Rodgers-Cromartie is inconsistent and at times a victim to his own aggression, which minimizes his value this offseason.
He didn't play his best football in Philadelphia. But is it not fair to question the organizational control there over the past two seasons, especially on the defensive side of the ball that often appeared to be playing without a scheme. Can there be a corollary between Nnamdi Asomugha's struggles in Philly and DRC's? I think so.
In Cleveland, DRC could flourish with a fresh start, sound coaching and a consistent scheme. Playing opposite Joe Haden, DRC would be an unquestioned improvement over Sheldon Brown and has a significantly higher ceiling.
Green Bay, the New York Giants and Miami would all be solid fits for Rodgers-Cromartie. But the checkbook of Cleveland should win out.
Reggie Bush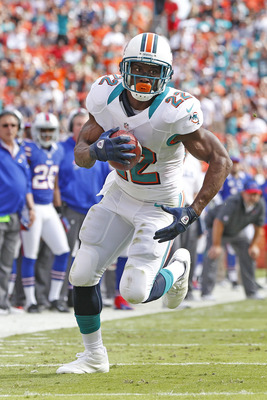 Joel Auerbach/Getty Images
Projected Team: Detroit Lions
It wasn't the yards gained, touchdowns scored, receptions or 20+-yard plays that was most impressive about Reggie Bush's two-year tenure in Miami. Rather, it was his durability.
Bush missed just one game and carried the ball 443 times over the two seasons. In addition, Bush still has the physical tools, albeit slightly diminished, that make him one of the more versatile players at his position.
Bush is a perfect fit in Detroit. Last season the Lions were the second-ranked passing offense and the 23rd-ranked rushing offense, which may not be detrimental as it sounds.The Lions don't need to acquire a back to re-define their running game because it will only create disconnect schematically. The Lions are, and should remain, a pass-heavy offense.
But by bringing in Bush, the Lions get a back who excels in single-back sets and can also motion out as a wide receiver, as he often did in New Orleans. Bush's value to the Lions far exceeds his value to most NFL teams, who would likely only use him as a third-down back.
With the future of Jahvid Best unclear, the Lions would be foolish not to sign the inexpensive Bush.
Brian Urlacher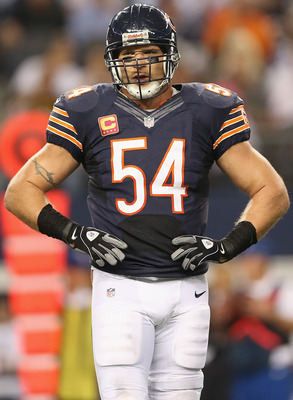 Ronald Martinez/Getty Images
Projected Team: Chicago Bears
Urlacher battled injuries in 2012. But even when healthy, he displayed eroding physical ability.
Urlacher's legendary NFL career has been a result of his outstanding instincts and lateral speed. Teams in 2013 shouldn't expect that lateral speed to reappear.
Urlacher, who was not thrilled when Lovie Smith got sacked, still is more valuable to Chicago than to any other NFL team. The fans adore him, the locker room loves him and the Bears' linebacking depth is thin. Jeff Dickerson of ESPN Chicago reported that Urlacher's representation submitted an offer to the Bears on Thursday and that the Bears are expected to make a counter offer.
The Bears are strapped for cash, so they might have to allow Urlacher to hit free agency in hopes that the market will lower his asking price similarly to how the Ravens handled Ray Lewis a few years ago. It's difficult to imagine, especially since Lovie Smith remains unemployed, that many teams would offer Urlacher a significant salary.
Chicago needs to get younger at linebacker, but why not bring Urlacher back on a modest one-year deal while developing a rookie behind him? It's hard to imagine No. 54 wearing anything but navy blue and orange.
Dashon Goldson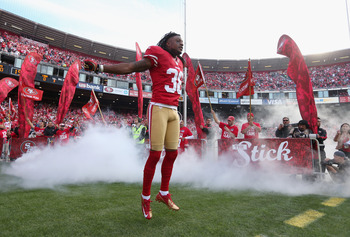 Ezra Shaw/Getty Images
Projected Team: Cincinnati Bengals
Over the past two seasons, Dashon Goldson has established himself as a top-tier safety, having been selected to consecutive Pro Bowls and to the 2012 All-Pro team.
He enters free agency with the momentum of a Super Bowl appearance and a strong desire cash in. In fact, Goldson is the lone free agent from the 2012 All-Pro team.
Cincinnati is desperate for help in the secondary. Nate Clements is a free agent and Taylor Mays has struggled in coverage. Furthering the connection, Goldson has expressed interest in Cincinnati, according to cbssports.com.
Tampa Bay, Miami and Philadelphia all need a safety and would greatly benefit from Goldson's services. But the combination of the Bengals' cap space and Goldson's comments make Cincinnati the front-runner.
Osi Umenyiora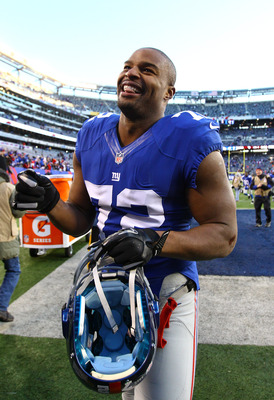 Al Bello/Getty Images
Projected Team: Tennessee Titans
Osi Umenyiora's production may have declined in the past couple seasons, but so has his playing time.
Last season Umenyiora was used rotationally with Justin Tuck and the spectacular Jason Pierre-Paul. So his decline in production is deceiving. When he did play, he showed the same elusiveness as a pass-rusher that he has displayed over his career.
Umenyiora could draw interest from the Falcons, who need a defensive end to replace John Abraham. But Tennessee has more money and a greater need.
The Titans struck out last offseason with Mario Williams and could compensate by bringing in Umenyiora. They run a 4-3, which Osi ran in New York, and could certainly benefit from the edge-rusher's experience.
Jared Cook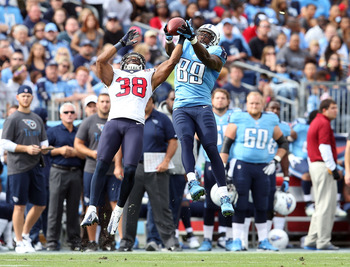 Andy Lyons/Getty Images
Projected Team: Tampa Bay
With Martellus Bennett expected to re-sign with the New York Giants, according to nfl.com, and Tony Gonzalez in retirement limbo, Jared Cook's value is ascending.
At just 25, Cook is bubbling with potential as he possesses receiver speed and a 6'5", 250-pound frame. Cook performed well, not great, over the past two seasons in Tennessee, catching 93 passes for seven touchdowns.
The Miami Herald reported that Cook is expecting to receive $8-10 million a year, which seems steep considering his production but likely given his potential.
Chicago and Atlanta would love Cook but can't afford him. The Jets, who need all the help they can get offensively, would be a tough sell to Cook given the quarterback instability. Denver could also be in play, but Tampa Bay seems like the best fit.
Dallas Clark, the team's starter last season, is a free agent and Cook's speed could alleviate the double coverages Vincent Jackson faces and deepen opposing safeties, giving Doug Martin more room to run.
Most importantly, Tampa Bay has $32 million in cap space, so it could sign Cook and still have space left to address its despicable pass defense, which ranked last in 2012.
Dwight Freeney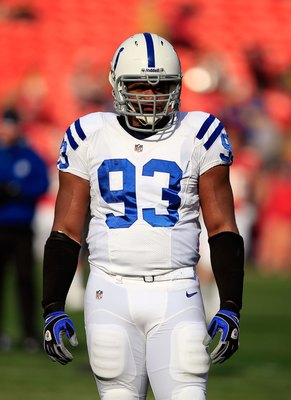 Jamie Squire/Getty Images
Projected Team: Atlanta Falcons
Dwight Freeney is no longer a double-digit sack threat, but his physical abilities still command respect in the NFL. He's coming off a down season, but Freeney had been a 4-3 defensive end his entire career and the transition to the 3-4 last season possibly was a factor in his diminished production.
At 33 years old, Freeney provides experience and leadership in addition to his physical abilities.
By releasing John Abraham this offseason, the Falcons have an immediate opening for Freeney. As a team that is focused on winning now, the Falcons and Freeney seem like a a natural and cost-effective fit. Further, Atlanta runs a 4-3 defense, which could rejuvenate Freeney.
Matt Cassel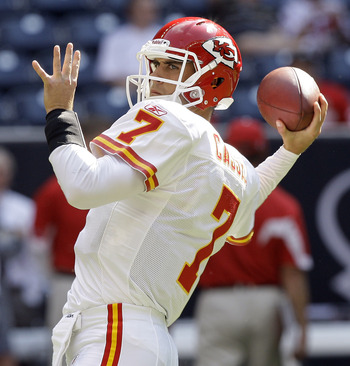 Bob Levey/Getty Images
Projected Team: Minnesota Vikings
This list seemed incomplete without the inclusion of a quarterback
Matt Cassel is coming off a rough 2012 campaign. I doubt even he would object to that assessment. However, with him re-signing with the Dolphins, Cassel may be the best available free-agent quarterback.
He is only two years removed from a sensational 2010 season—27 touchdowns to seven interceptions. Even so, Cassel won't be targeted by teams to become their starting quarterback. But he will certainly attract interest as a backup.
Among teams that could be interested in Cassel are Cleveland, the New York Jets, Chicago, San Francisco, Green Bay, San Diego and Houston.
Cassel is a great fit for the Vikings. The Vikings are a good fit for Cassel because their starting quarterback is Christian Ponder, who certainly hasn't lived up to his status as a first-round draft pick.
Cassel to Minnesota leaves everyone happy, except, of course, Ponder, who will feel the pressure if he doesn't improve dramatically from a season ago.
Keep Reading