5 UFC Fighters to Watch for the Month of March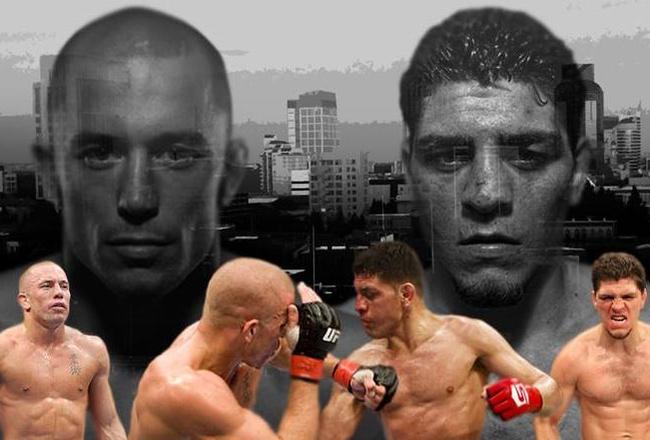 Photo courtesy of beyondthebets.com

The month of March still has two UFC events that have yet to be held.
The first will be UFC 158: Georges St-Pierre vs. Nick Diaz. The second is UFC on Fuel 9 which will be headlined by a clash of light heavyweights in Alex Gustafsson and Gegard Mousasi.
On both of these cards, there is a bevy of talented men who are primed and ready to take the next step in their career and earn a big win.
They range from a champion to former The Ultimate Fighter competitors.
All are dangerous and exciting and ready to move up their division's ladder with an impressive performance.
Here are five fighters whom you should definitely keep an eye in these coming weeks.
Georges St-Pierre
Alexandra Wyman/Getty Images
The welterweight champion is preparing for a showdown with his rival, Nick Diaz.
GSP has been hankering for a chance to throw down with the Stockton bad boy, and that passion has only intensified after the recent conference call.
Both men engaged in a war of words that has made the French-Canadian even more motivated to crush his opponent.
It has been a while since we saw someone get into St-Pierre's head. Maybe that will make him more willing to secure a finish and dispose of this trash-talking, once and for all.
Regardless of the outcome, both of these guys have some genuine differences in opinion. They also have the unique opportunity to settle said differences in a cagefight.
Prepare for a great main event when these two finally lock horns.
Johny Hendricks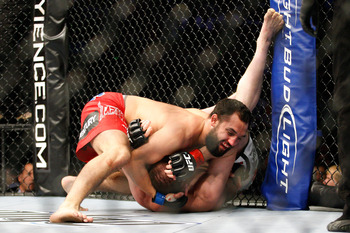 Richard Wolowicz/Getty Images
Rory MacDonald was supposed to be fighting Carlos Condit on the St-Pierre vs. Diaz card. An injury knocked him off the card and left Condit without an opponent.
Enter Johny "Bigg Rigg" Hendricks.
Hendricks was slated to face Jake Ellenberger on the same event, but immediately took the top contender fight with "The Natural Born Killer."
Hendricks is welterweight's worst nightmare.
He has some insane power, especially in his left hand. "Bigg Rigg" has knocked out both Jon Fitch and Martin Kampmann with one big punch.
He also owns excellent offensive and defensive wrestling, which allows him to take his opponents down or defend their shot attempts.
Hendricks wants to earn the title shot that he believes is rightfully his. A win over Condit will solidify that he means business.
Marcus Brimage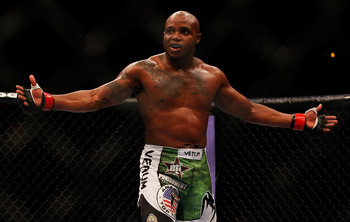 Kevin C. Cox/Getty Images
Since his time on The Ultimate Fighter, Marcus Brimage has grown and learned much.
He is currently undefeated in the UFC and holds wins over Stephen Bass, Maximo Blanco and Jim Hettes.
In the fight against Blanco, Brimage proved he could take a power shot and hit back just as hard. He moved past the veteran to earn a match with Hettes.
The Hettes bout showed that the "Bama Beast" could avoid the slick judo of his opponent while firing off shots that eventually allowed him to take a unanimous decision.
Brimage has looked great at 145 pounds. If he can defeat newcomer Conor McGregor, that should warrant him a step up in competition.
TJ Dillashaw
Getty Images
Thearon W. Henderson/Getty Images
T.J. Dillashaw holds a record of 6-1 in his young MMA career.
In the UFC, he has only lost to former flyweight contender John Dodson.
Since the loss, the Team Alpha Male product has reeled off two straight wins over Walel Watson and Vaughan Lee.
The California fighter seems to have it all. His striking is powerful, his wrestling background provides him the opportunity to take the fight wherever he wants and his submissions are tight and sure.
Dillashaw is only 27 years old and will soon be hitting his prime.
He has all the skills to make a sizable dent in the bantamweight division, and it's one fight you shouldn't miss.
Daron Cruickshank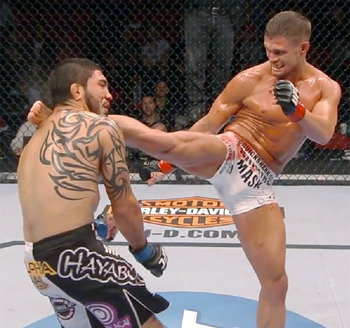 Photo courtesy of cagewall.com
Daron Cruickshank is riding high on the back of a highlight-reel head-kick knockout of Henry Martinez last time out.
Altogether, he is on a solid six-fight streak that includes two UFC victories.
"The Detroit Superstar" has incredibly lethal striking that is courtesy of his black belt in Taekwondo and his kickboxing training.
He is also a former NCAA Division III wrestler.
Cruickshank is good wherever the fight leads him. His coming showdown with fellow striker John Makdessi makes for an excellent treat for the fans.
Don't blink, as a knockout could come literally out of nowhere.
Tweet me @FuscoNation16
Keep Reading