Blackhawks vs. Avalanche: Live Score, Updates and Analysis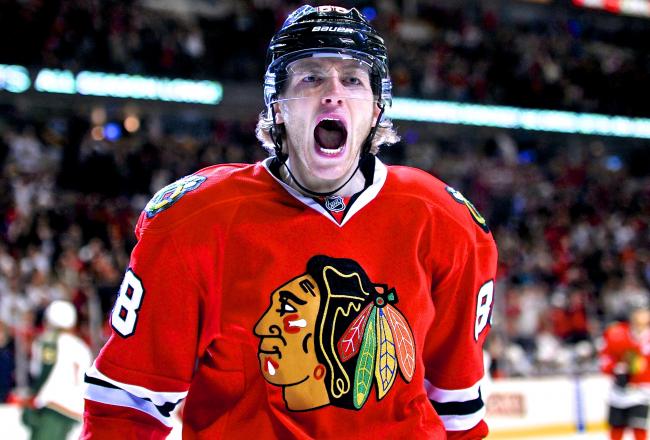 Avalanche 6, Blackhawks 2; FINAL SCORE


The Chicago Blackhawks are halfway through this abbreviated 48-game NHL season and they have yet to lose in regulation (21-0-3).
Chicago is not without issues, however.
In their 3-2 win on Thursday over Colorado, the club lost Patrick Sharp to an injury midway through the game and they now have to carry on without the talented Sharp for the next few weeks.
Still, the Blackhawks have been getting contributions from all of the players on their roster.
There are 13 different players who have scored at least one game-winning-goal for the Blackhawks this season. The latest was tough guy Dan Carcillo who netted the game-winner in the final minute against Colorado.
Both Corey Crawford and backup Ray Emery have played exceptionally well this year for Chicago.
The Avalanche played a smart and efficient road game Thursday in Chicago and had an excellent chance to end the Blackhawks' streak.
They will need continued strong goaltending from Semyon Varlamov and the ability to finish the quality chances they get against the Blackhawks.
The Avs were not intimidated by the Hawks Thursday and they should be a confident group heading into tonight.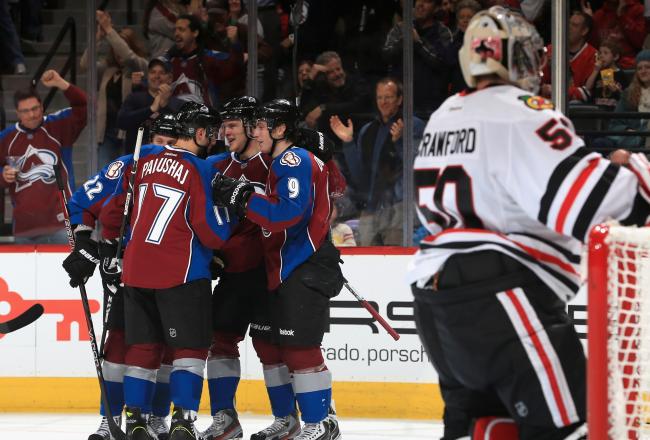 Avalanche 6, Blackhawks 2 FINAL SCORE
That's going to do it for our coverage tonight. Thanks for reading and following our coverage of this historic game.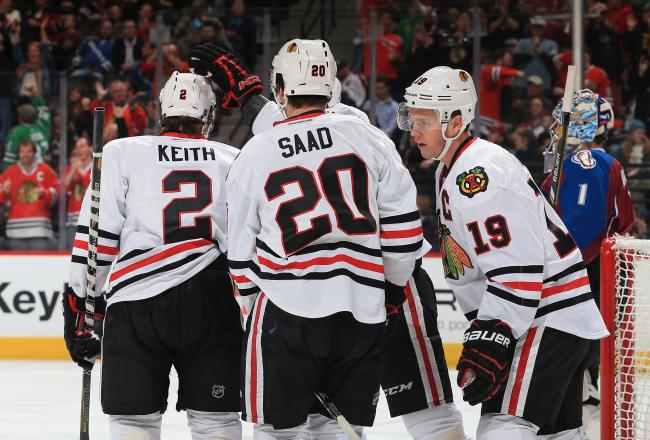 Avalanche 6, Blackhawks 2 FINAL SCORE
What can you say about Chicago? They certainly missed Patrick Sharp and clearly Hossa was not 100 percent tonight.
That being said, they have been playing amazing hockey this season and obviously they were not going to go 48 games without a regulation loss.
Joel Quenneville has a challenge now, how to get his team to regroup and not suffer a letdown after the end of this slump.
Look for captain Jonathan Toews to lead the Blackhawks against Edmonton on Sunday when they take the ice again.
Now the streak is behind them and the Blackhawks need to continue to play strong hockey for the rest of the season.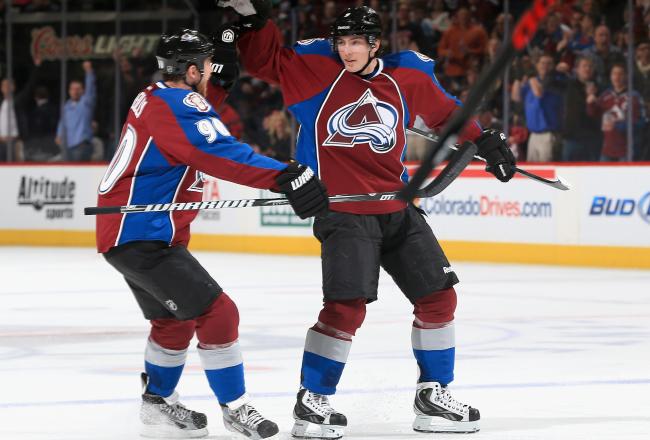 Avalanche 6, Blackhawks 2 FINAL SCORE
No doubt about it, the close loss on Wednesday definitely helped give the Avalanche confidence for tonight's rematch. Even if the Avs didn't win Wednesday, they realized what they had to do to be successful against Chicago and tonight, they executed it.
Three Stars Tonight:

3. O'Reilly, Colorado
2. Parenteau, Colorado
1. Duchene, Colorado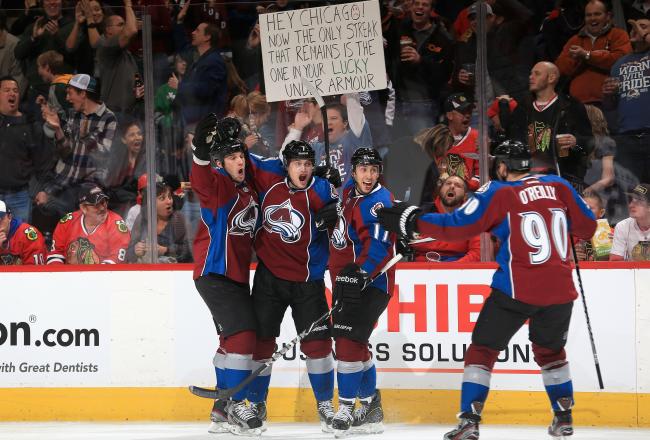 Chicago actually outshot Colorado 33-31 but the Avalanche clearly had more quality chances especially in the second period.
Avs 36-19 on faceoffs in the game or 65 percent.
Colorado also outhit Chicago 21-12 and blocked 20 shots as compared to just 13 for the Hawks.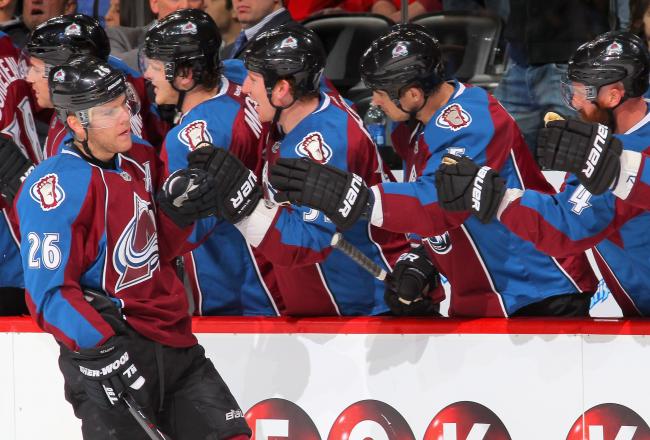 Avalanche 6, Blackhawks 2 FINAL SCORE
The Avalanche are the team to end the Blackhawks streak of 24 straight games to start the season and 30 games overall in which they picked up at least a point.

Matt Duchene is the player of the game for Colorado.
This is the second longest streak in NHL history and the 1979-80 Flyers maintain the record at 35 games (25-0-10).
A big victory for the Avalanche who need to get back into the Western Conference playoff race.
Avalanche 6, Blackhawks 2; 1:17 remaining 3rd period
This is the last gasp for a very impressive streak by the Blackhawks. They have risen to the occasion so many times and remain the team to beat in the NHL this season.
Kudos to the Avalanche for playing another smart game. They had a few good bursts that put them ahead of the Hawks tonight and they never looked back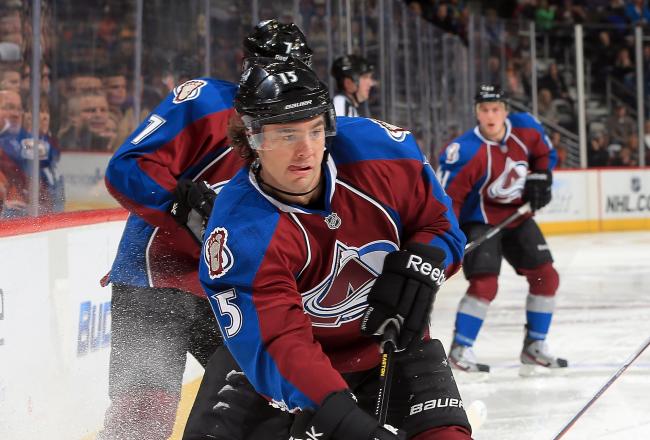 Avalanche 6, Blackhawks 2, 3:40 remaining 3rd period
P.A. Parenteau scores one a one-timer and it's 6-2 Colorado. What a great pickup Parenteau has been for the Avs this season.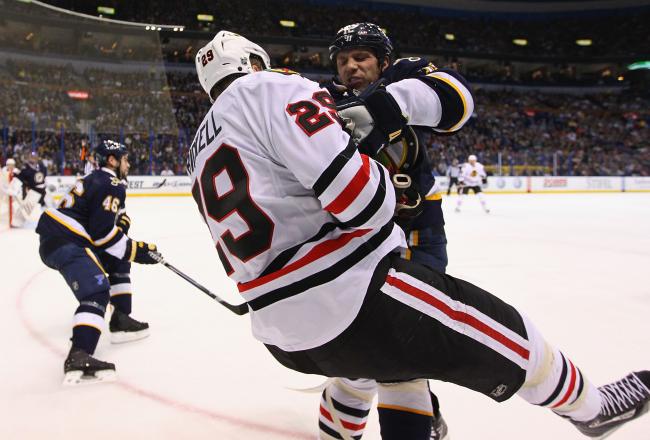 Avalanche 5, Blackhawks 2; 4:52 remaining 3rd period
It's 4-on-4 now after penalties are called on Landeskog and Bickell. Bickell also gets a 10 minute misconduct.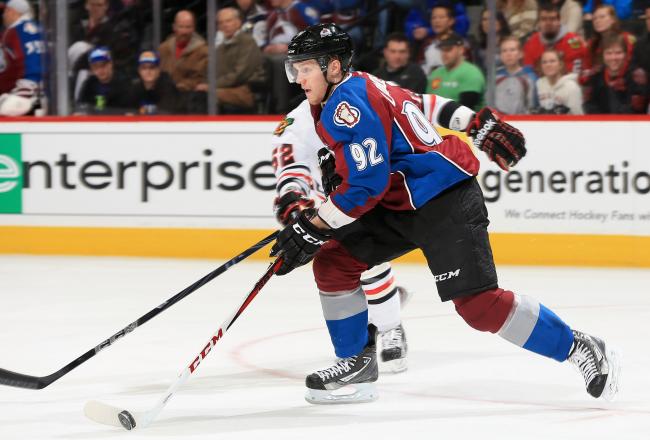 Avalanche 5, Blackhawks 2; 5:04 remaining 3rd period
Bickell goes after Landeskog but the Avalanche captain refuses to drop the gloves. All 10 players on the ice pair up but no punches are thrown. Chicago showing some frustration as their streak slips away from them.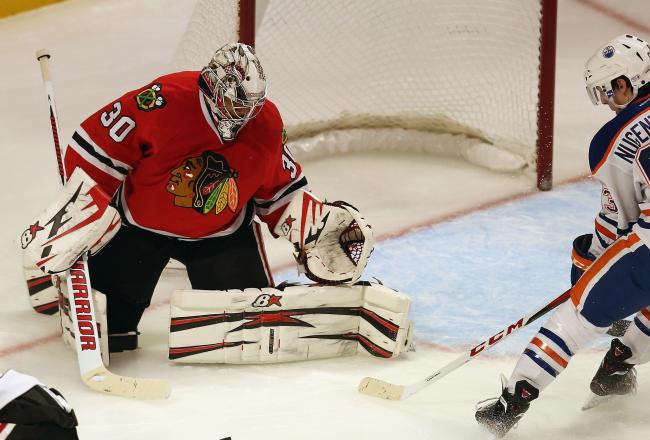 Avalanche 5, Blackhawks 2; 7:45 remaining 3rd period
Avs on the PP as Hjalmarsson called for hooking. Avs already have 2 PP goals tonight in 3 chances.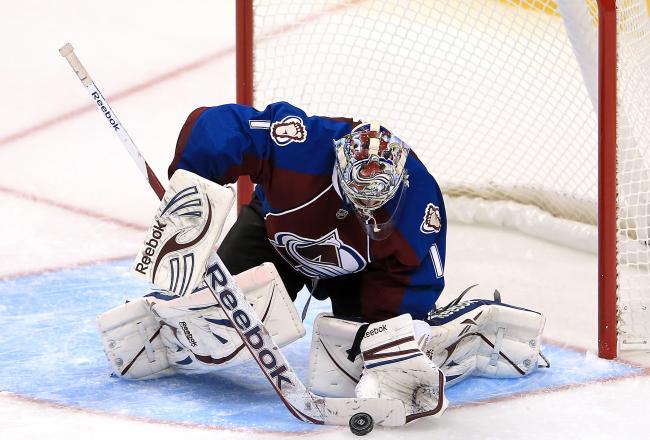 Avalanche 5, Blackhawks 2; 8:01 remaining 3rd period
Blackhawks cannot sustain momentum. Avalanche still getting some chances on the attack. Colorado still in control right now and time is slipping away on this impressive streak.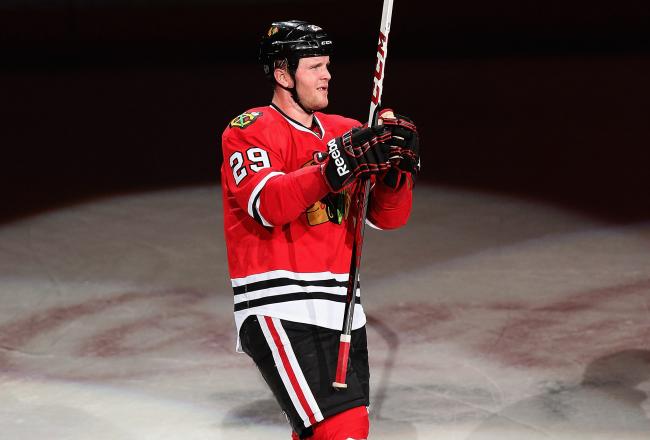 Avalanche 5, Blackhawks 2; 10:00 remaining 3rd period
Bickell scores on a one-timer just after the power play ends and the Hawks have a little momentum midway through the 3rd period.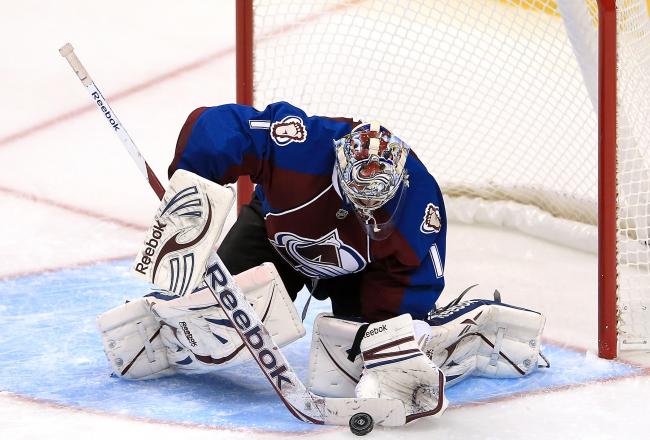 Avalanche 5, Blackhawks 1; 11:45 remaining 3rd period
So far the Avalanche are doing a good job of keeping the Hawks on the outside and along the boards. Good PK by Duchene and one big save by Varlamov in the first 90 seconds of this PP.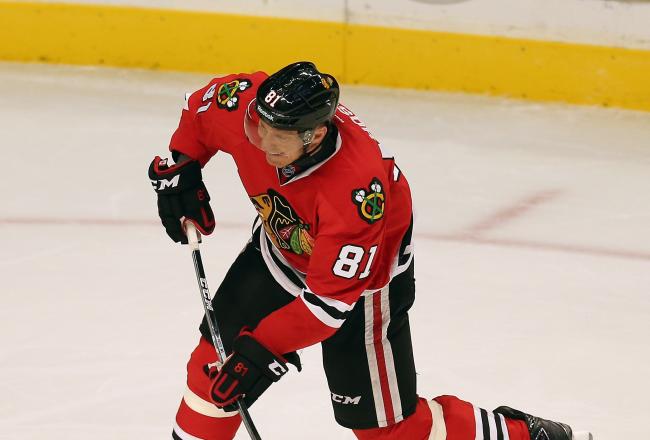 Avalanche 5, Blackhawks 1; 13:32 remaining 3rd period
Avalanche again preventing Chicago from getting too fast of a rush through center ice. Passes are being disrupted and the Hawks often have to double back.
Now the Avs take a penalty and Chicago has a huge chance to get a little closer. They can't afford to allow this opportunity to slip away if they want the streak to continue.
Keep an eye on Marian Hossa on this power play.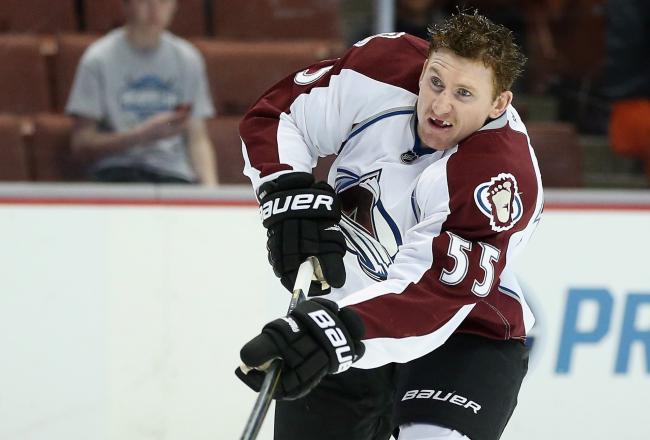 Avalanche 5, Blackhawks 1; 18:04 remaining 3rd period
Avalanche seem content to dump the puck in but they are still chasing and being aggressive on the forecheck which is their style.
The Avs will not let up but they just need to be smart and efficient, not spectacular.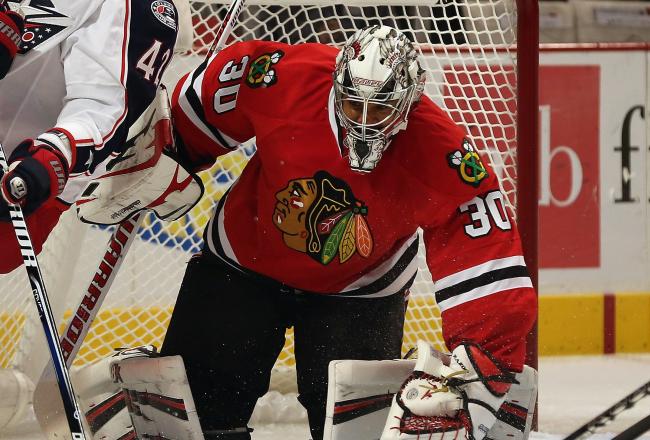 Avalanche 5, Blackhawks 1; 19:49 remaining 3rd period
3rd period under way in Denver. Crawford sitting out the third period and Ray Emery has come in to replace him.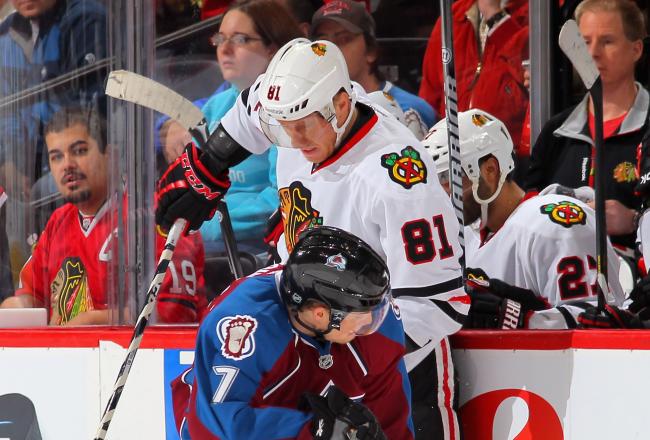 Avalanche 5, Blackhawks 1; 2nd intermission
Chicago needs a quick start to the third period. It's too soon to give up and the Hawks certainly are explosive enough to get four goals in a period, but they need to improve the flow of their game and their passing in order to do it.
Also, the Avs are keeping Chicago forwards from getting second and third chances by getting in front of the net for deflections and rebounds.

Chicago is a confident team, now we'll see if they can translate that into a last run at preserving this streak.
Avalanche 5, Blackhawks 1; 2nd intermission
Leaders after 2 periods:
Chicago:
Shots: Bolland, Duncan and Saad with 3 each;
Hits: Bollig with 2;
Blocked Shots: Four players tied with 2 each;
Ice Time: Keith with 15:32
Colorado:
Shots: O'Reilly with 5;
Hits: Bordeleau with 3;
Blocked Shots: O'Byrne with 3;
Ice Time: O'Byrne with 14:11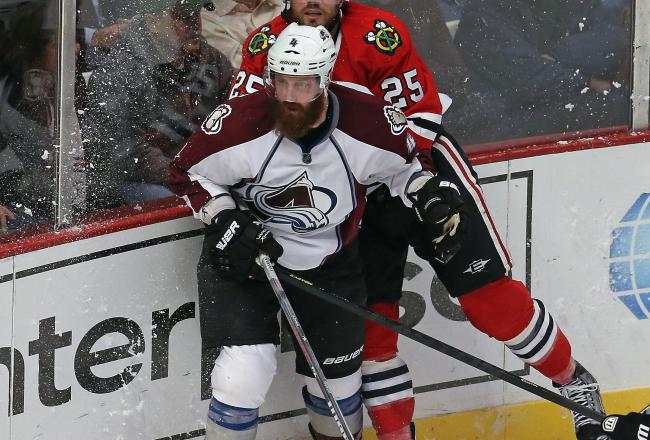 Avalanche 5, Blackhawks 1; 2nd intermission
Boy did the Avs get away with a delay of game penalty as Zanon had the puck under him just outside the crease but wouldn't let the puck be played.
What a period for the Avalanche. They are playing a fast-paced game and controlling the tempo. Colorado has five goals on just 18 shots but they have had a lot of quality chances even if the quantity hasn't been too great.
The Blackhawks has their work cut out for them if they hope to keep the streak alive. They need to score four goals (and not allow any) in the third period).
Avalanche 5, Blackhawks 1; 3:01 remaining 2nd period
Matt Duchene has four points and is a step ahead of all opponents tonight. Every time he touches the puck he seems to be dangerous.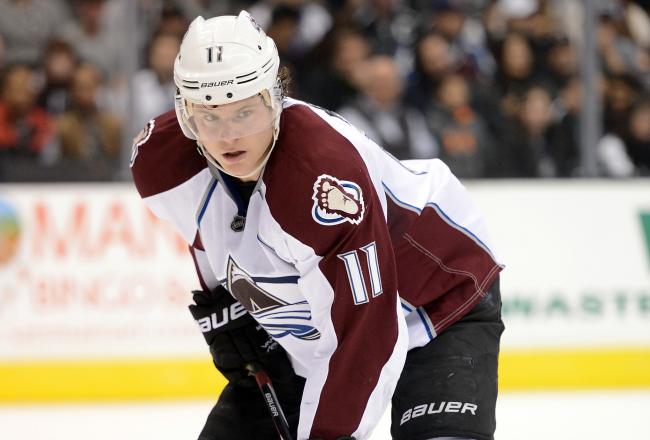 Avalanche 5, Blackhawks 1; 6:52 remaining 2nd period
Big play by Matt Duchene to negate an icing and feed Jamie McGinn who goes high over Crawford and it's 5-1 Colorado. Another assist for P.A. Parenteau who continues to produce well.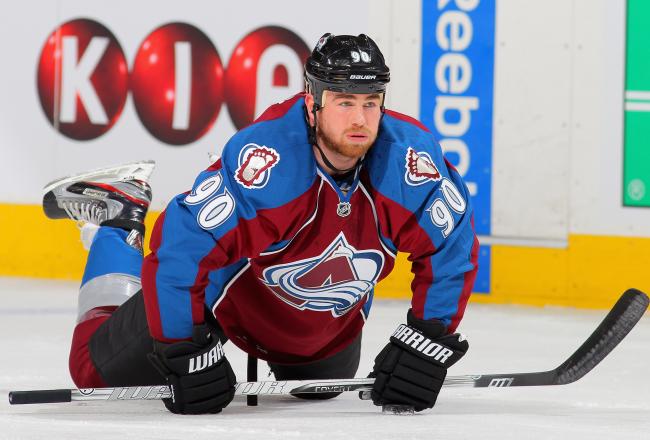 Avalanche 4, Blackhawks 1; 8:34 remaining 2nd period
Quick goal off the faceoff by O'Reilly on the power play and the Avs quickly take a 4-1 lead. The Hawks don't have any more margin for error here.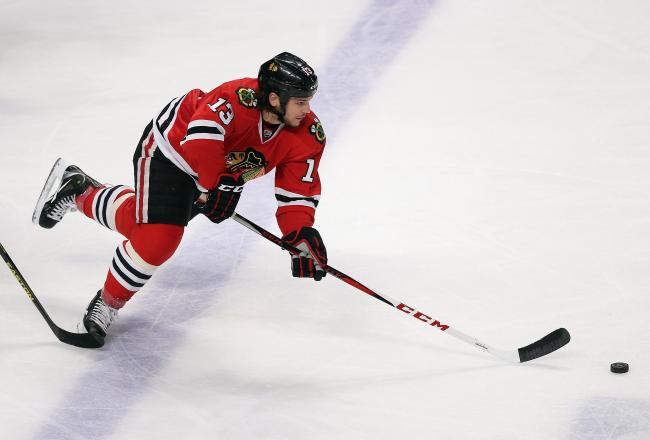 Avalanche 3, Blackhawks 1; 8:50 remaining 2nd period
Avalanche back on the power play as Carcillo is sent to the box.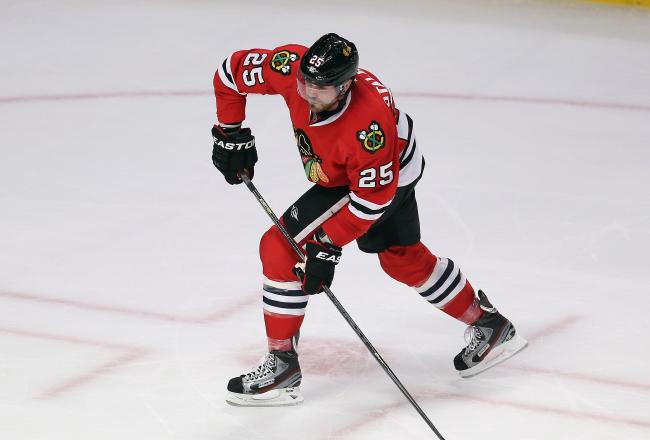 Avalanche 3, Blackhawks 1; 8:54 remaining 2nd period
Stalberg back on the ice for Chicago.That's a relief for the Hawks. But Chicago also called for icing. They don't seem very sharp right now.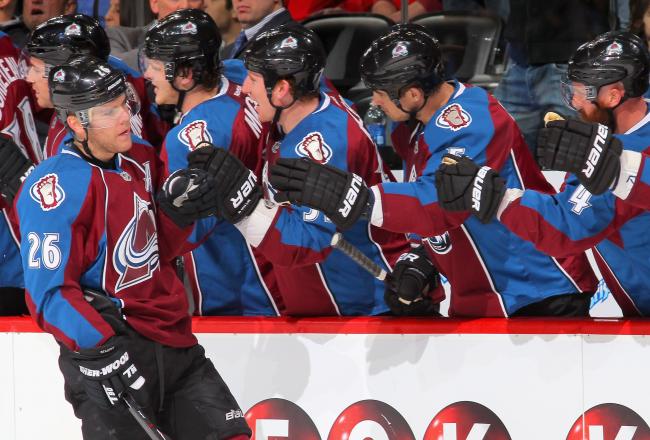 Avalanche 3, Blackhawks 1; 11:36 remaining 2nd period
Stastny had another breakaway on a nice pass by Jones but a big save by Crawford keeps the Blackhawks in the game. Colorado dominating the pace of the game for most of the 2nd period so far.

This article is
What is the duplicate article?
Why is this article offensive?
Where is this article plagiarized from?
Why is this article poorly edited?