6 Things We Learned from Genoa 0-2 Milan
Claudio Villa/Getty Images

It wasn't always pretty, but on Friday AC Milan overcame a scrappy Genoa side to close the gap on second-place Napoli to just two points.
We learned a bit about both teams over the 90 minutes, and much of it was good.
Milan, who held on to a two-goal lead with 10 men, can pat themselves on the back for grinding out a result ahead of the biggest game of their season to date—next Tuesday's Champions League encounter with Barcelona.
And Genoa, despite losing, can be heartened by the way in which they were often able to frustrate Milan—especially physically—and can take the self-identity they've been developing under new manager Davide Ballardini into the stretch run, in which they'll be looking to stay ahead of the relegation places.
We learned a few other things as well, and they're revealed in the following slides.
Begin Slideshow

»
Giuseppe Bellini/Getty Images

Since returning from injury at the end of October, Kevin Constant has given AC Milan a reliable name on the team-sheet in the left-back position (finally), and it's only partially a coincidence that the Rossoneri has posted the best record in Serie A ever since.
He showed his aggressive side in his ejection against Genoa on Friday (Cesare Bovo kicked the back of his leg, prompting a furious reaction, a war of words and finally a red card), and he was probably the best player on the pitch until he received his marching orders.
Thankfully for Milan manager Massimiliano Allegri, Constant will be available for Tuesday's Champions League Round of 16 second leg against Barcelona.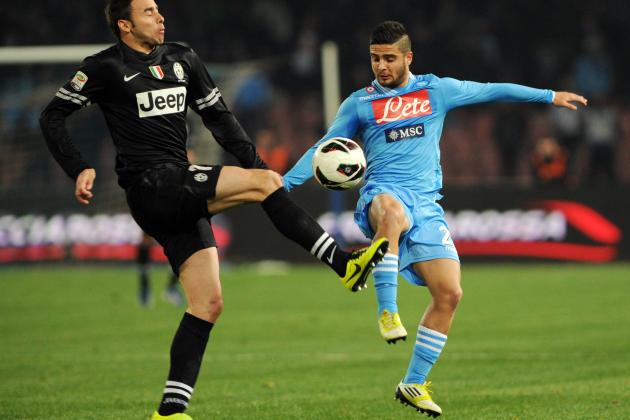 Giuseppe Bellini/Getty Images

Milan have been the form side in Serie since the end of October and have yet to taste defeat in the division this calendar year—a streak that's unlikely to end in upcoming matches against Chievo and Palermo.
But in mid-April Milan will have matches against Napoli and Juventus back-to-back, and over those two weeks their final standing in the Serie A table will likely be decided.
The Rossoneri are presently two points back of Napoli, who play their game in hand on Sunday, and eight adrift of leaders Juventus, who host Catania the same day.
Milan will no doubt be hoping both drop points, but even if they don't, their superior league form will pay off in a higher position over the next few weeks, likely at the expense of Napoli. Juventus might be too far ahead at this point, but two losses between now and May would see the title race take on some late drama.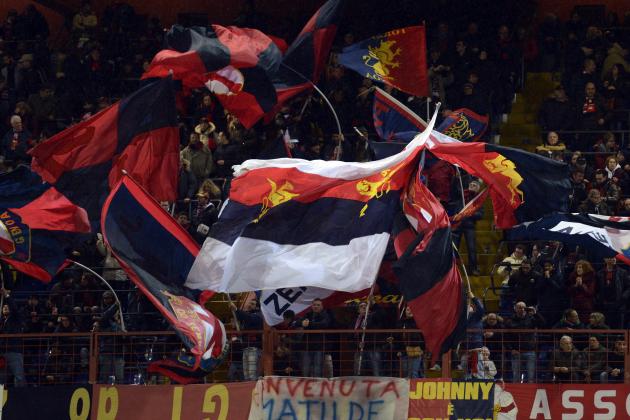 Claudio Villa/Getty Images

Genoa will survive relegation this season if they can consistently replicate Friday's performance against more favourable opposition.
Their schedule from here is about as comfortable as it could be, with only three of their final 10 matches coming against teams in the top six. They'll also be hosting both Siena and Pescara—two of the sides currently in the relegation zone—so their fate is very much in their own hands.
But Genoa showed admirable fight against Milan, and while they were denied a penalty or two and also missed some chances that on another night would have gone in, they can take heart in the fact that similar performances will be worth a lot points down the stretch.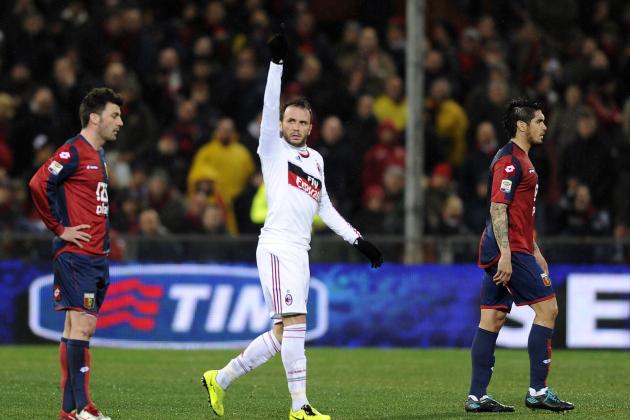 Claudio Villa/Getty Images

Not surprisingly, Milan manager Massimiliano Allegri rested several players with an eye to Tuesday's Champions League clash with Barcelona.
But the two that he did start—Giampaolo Pazzini and Philippe Mexes—didn't finish the game.
Pazzini suffered a leg injury shortly before scoring a spectacular goal and had to be substituted in the 24th minute, and Mexes was withdrawn at the interval due to an undisclosed knock.
Milan desperately need Pazzini to be healthy and in his present goalscoring form when they visit Camp Nou on Tuesday. He has scored three goals in his last two matches, and with Stephan El Shaarawy going off the boil the Rossoneri need his production now more than ever.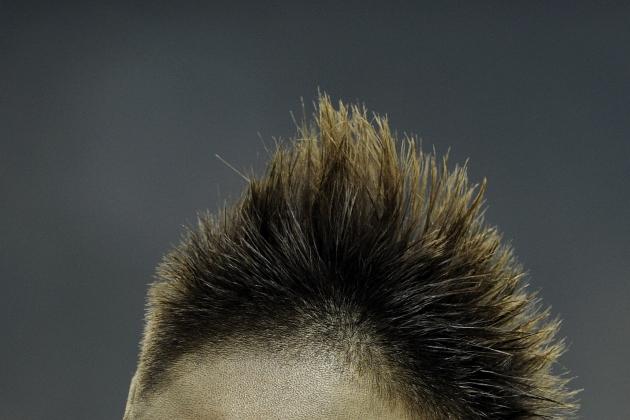 Claudio Villa/Getty Images

Stephan El Shaarawy remained stumped on 16 Serie A goals for the second match in a row and has scored just three times in all competitions this calendar year.
He also looked lethargic at times against Genoa and was the player Allegri took off in the 67th minute after Constant's red card.
Now, few players would have been able to maintain the rate of scoring El Shaarawy had set during the first half of the season, but if Pazzini's injury will require he miss a few matches the Rossoneri will need this slump to end, and fast.
We saw in the first leg against Barcelona that El Shaarawy offers a lot more than just goals, but he looked disinterested on Friday and will have to perk up significantly before Tuesday.
Claudio Villa/Getty Images

You can't always win pretty, even if you're Barcelona.
Milan came into Friday's match knowing they'd be facing a desperate, physical opponent that dislikes them immensely following the 1995 riots and that as much as they'd enjoy possession, they'd also be subject to some rather nasty tackles.
One of those tackles took Giampaolo Pazzini out of the match, and another caused the uproar that led to Kevin Constant's sending off.
But even with only 10 men, Milan seemed nonplussed. They operated with a mature confidence and took away any notion that Genoa were going to come back into the match.
They won ugly; they won without really playing well. And that's a sign of a team that will take some stopping.