Toronto Raptors vs. LA Lakers: Live Score, Results and Game Highlights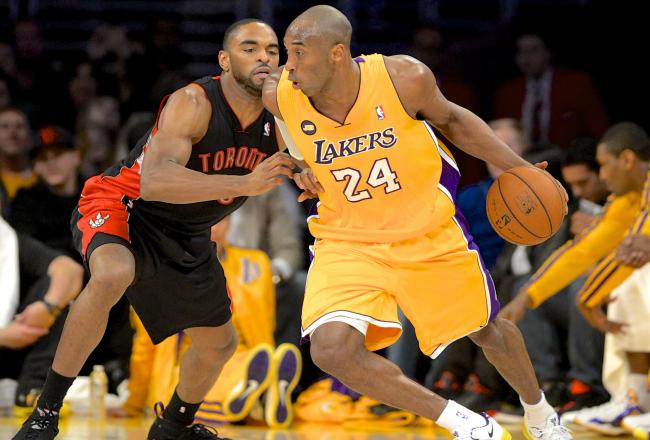 Commentary from the L.A. Lakers' 118-116 overtime victory over the Toronto Raptors on Mar. 9, 2013 from the Staples Center in Los Angeles, CA.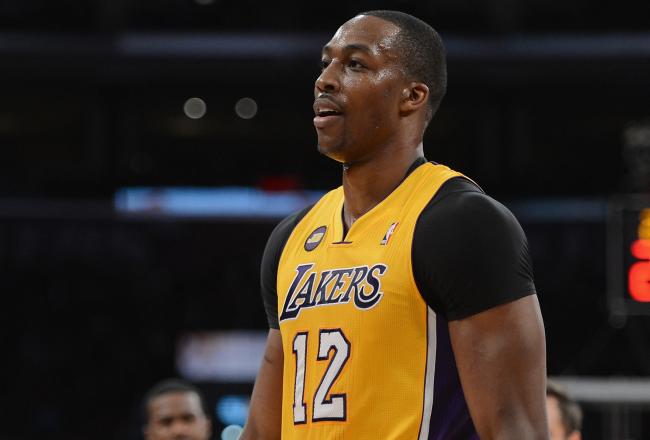 Rudy Gay missed the shot that could have won it in regulation, so he got to do the honors again in OT.
Gay's missed jumpers help leave the door open for the Lakers' playoffs hopes.
Keys to the Lakers' win:
1) Rebounding: Lakers won the battle of the boards 47-43
2) Kobe, Kobe, Kobe, has done it again: Mamba has 41 points, 12 assists and six rebounds. And a ton of clutch plays. He's still not slowing down. The Lakers may be mediocre soup, but Bryant is the tomato chunks that keep it worth eating.
3) Dwight's Inspired Ball: Dwight looked the closest to Orlando-form he has all season, but then again, he did it against a foreign rookie center and a guy who runs a six-plus second 40 yard dash (Aaron Gray). 22 points and 13 rebounds is a good game, but something still tells me that the Old Dwight would have exploited Dwane Casey's team for a big 25/25 game with a handful of blocks. Maybe we'll never see that D12 again, though.
4) Turnovers: The Lakers committed 13 turnovers, but forced 17 on the Raptors.
LAKERS 118, RAPTORS 116 — FINAL
No better guy to foul than Steve Nash. He misses a free throw every few weeks.
Well, spoke too soon. Nash missed the first. Made the second.
LAKERS 118, RAPTORS 116 — 6.6 seconds 4th, Raptors Timeout, Raptors Possession
Alan Anderson was able to get to the basket on the baseline and draw contact. Anderson hit the first free throw but missed the second, and Kobe Bryant grabbed the rebound.
There seems to be some dispute regarding the timeout and the game clock, but the Raps are going to need the Lakers to make a miscue of some sort to win this one—turnover, missed free throw(s), etc.
LAKERS 117, RAPTORS 116 — 7.2 seconds OT, Lakers Poss.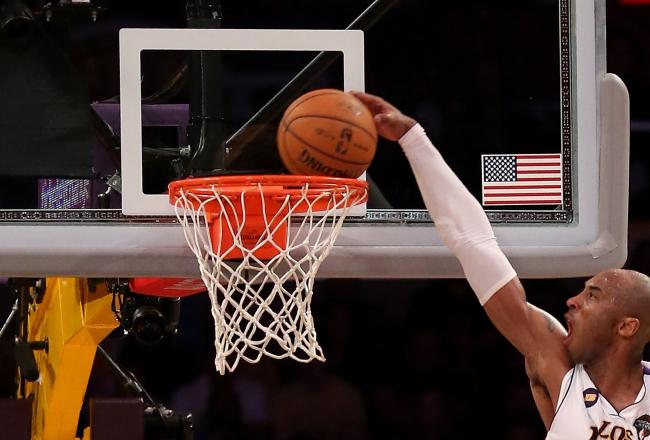 Steve Nash hit a crucial three-pointer to tie the score at 115.
The Raptors went to Rudy Gay, who missed the last shot of regulation, and the result was much the same: it rimmed out from 15 feet.
The Lakers came back and isolated Kobe Bryant, who promptly split two defenders, passed another, and flushed it down two handed. Actually, looking at the replay, every Raptor challenged Kobe on that possession counting Rudy Gay's "Oh the hell with it" hand wave under the basket.
LAKERS 117, RAPTORS 115 — 10.6 seconds OT, Raps Possession
Alan Anderson backed down Jodie Meeks for a nice turnaround/hook. The shot gave Anderson 16 points and put the Raps up three. Anderson has been seeking to use his size against Meeks the entire game, but Meeks is a tough defender despite being listed two inches shorter.
RAPTORS 115, LAKERS 112 — 49.2 seconds OT, Lakers Possession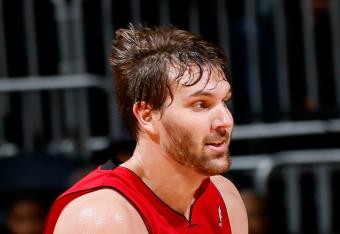 Raps up one when Aaron Gray checks in. Raps lose by five-plus? Anyone taking this one against me?
RAPTORS 113, LAKERS 112 — 2:00 OT
Dwane Casey has gone small pretty much the entire second half and in overtime. It wouldn't work playing a 6'7" power forward (Rudy Gay) and 6'8" center (Amir Johnson) against most teams, but it works well against the Lakers who lack speed getting back in transition.
Johnson just fouled out, though, which will bring Aaron Gray back into the game. That will kill the mojo that the Raps had going.
RAPTORS 113, LAKERS 110 — 2:20 OT
The idea that this Lakers team that requires massive comebacks to beat New Orleans and Toronto will scare anybody in the playoffs is absurd.

— Kevin Draper (@TheDissNBA) March 9, 2013
Well said. But I do disagree for one reason: Kobe Bryant. No team wants to face Kobe in a 7-game series, and that includes the Spurs, Thunder and Clippers.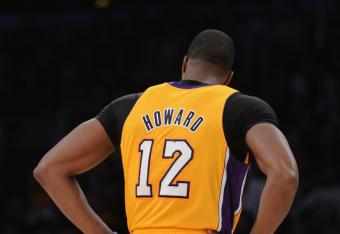 The Raptors are so concerned with Kobe that they're neglecting Dwight Howard. Howard would have loved for that to have happened in Orlando. You know, when he was still an awesome athlete who could take advantage of single-team coverage. Mamba got Howard the ball, but the Raps recovered quick enough to apply a foul and put him on the line, where he hit one of two.
LAKERS 110, RAPTORS 109 — 4:00 OT
I just told my 11 year old daughter that she was watching greatness!! #Mamba #Kobe #Lakers

— Mike Hill (@MikeHillESPN) March 9, 2013
Will we see more greatness in OT? It's pretty much guaranteed.
Rudy Gay's step back jumper rimmed out and we're headed to overtime. Ideally, it seems the best play would have been to get it to DeMar DeRozan and try to get something going to the rim. It's always preferable to take the ball to the basket with the game on the line, with the possibility of getting to the line there.
RAPTORS 109, LAKERS 109 — End of Regulation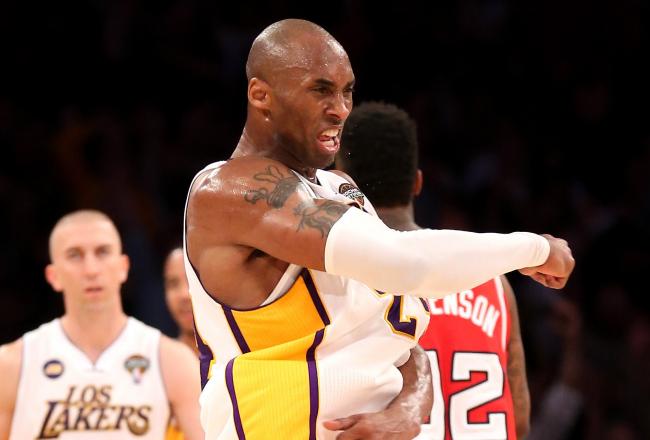 Who else, who else. Steve Blake was able to get the ball in to Kobe Bryant, and that's all that was really necessary. One dribble, head fake, pump fake...over two defenders——BOTTOMS.
Lakers announcer ripped my guy Dwane Casey for not doubling Kobe. Failed to mention that the Raptors DID double Kobe. He just made the shot.

— Tim MacMahon (@espn_macmahon) March 9, 2013
That's the Mamba.
Can the Raps answer back at the horn?
LAKERS 109, RAPTORS 109 — 4.4 seconds 4th, Raptors Timeout, Raptors Possession
Steve Blake was unable to get the ball inbounds, so Mike D'Antoni will draw up another play following the 20-second timeout, which was the Lakers last timeout.
RAPTORS 109, LAKERS 106 — 8.4 seconds, 4th, Lakers Possession, No Timeouts
Points in Paint: Lakers 46, Raptors 42
RAPTORS 103, LAKERS 99 — 3:00 4th
Kobe Bryant hit a three from the corner and only two seconds elapsed from the clock. That means the Lakers can play straight up D with a five second differential between the clocks...
Kyle Lowry was able to draw contact at the rim after Dwight Howard switched onto him in the pick and roll. It was just Howard's second foul. Lowry hit both free throws to push the lead back to three.
The Raptors have a foul to give, so they will likely use it to retard the flow of the possession.
RAPTORS 109, LAKERS 106 — 8.4 seconds, 4th, Lakers Possession
This game is crucial for the Lakers. If they lose they might not be playoff worthy.

— chris palmer (@ESPNChrisPalmer) March 9, 2013
The Raptors went to a Kyle Lowry/Amir Johnson pick and roll for their last possession which resulted in a Lowry three-point shot. The shot was long, the Lakers got the rebound, and they'll look for a quick shot down four and short on time.
RAPTORS 107, LAKERS 103 — 31.7 seconds 4th, Lakers Timeout, Lakers Possession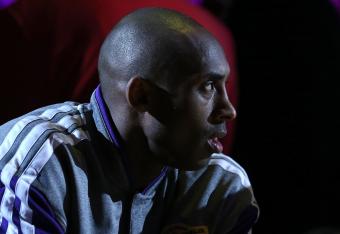 Kobe Bryant is such a defensive nightmare. Trapped, waning shot clock, hand in his face, behind the arc. BOTTOMS.
Kobe's triple cut it to two points before an Alan Anderson jumper on the baseline re-extended the lead back to four.
RAPTORS 107, LAKERS 103 — Under 1 Minute, 4th
Everything is magnified when there's no communication. That's the main issue with L.A.'s defense, a lot of parts and no on there to put them in order.
I don't care who's playing center for the Lakers, that team can NEVER defend the pick and roll.

— Mike Hill (@MikeHillESPN) March 9, 2013
RAPS 105, LAKERS 99 — 2:20 4th
Points In Paint: Lakers 46, Raptors 42
The #Lakers are in some trouble. Down by 6 with 2 minutes to go at home against the #Raptors. Live on #NBATV

— NBA Lord (@nba_lord) March 9, 2013
RAPTORS 105, LAKERS 99 — 2:20 4th, Raptors Timeout
Offense has never been an issue for the @lakers . Defense is what is so concerning. Blowing opportunity to move .5 behind Utah Jazz @nba

— Maxwell Ogden (@MaxwellOgden) March 9, 2013
Agree fully, Maxwell Ogden of B/R.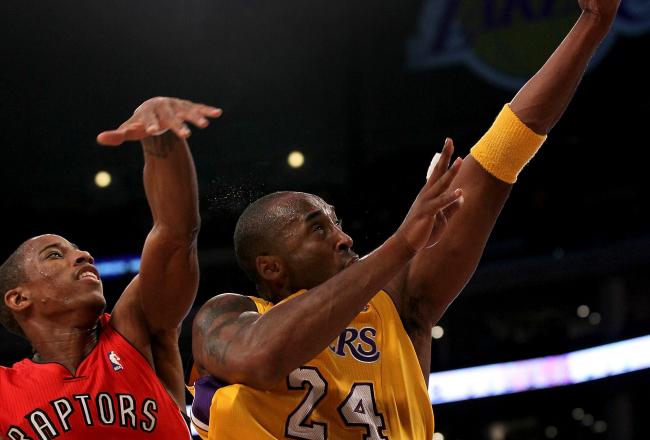 Seeing L.A. native DeMar DeRozan go up against the Lakers reminded of a great quote he had about Kobe & LeBron ...
I look at Kobe like he's an assassin, he's a killer. LeBron, he can be an assassin, a killer, a kidnapper, a robber. Whatever you can think of. He's just, he's unbelievable. It's crazy what he's able to do. Unreal.
RAPTORS 99, LAKERS 92 — 4:50 4th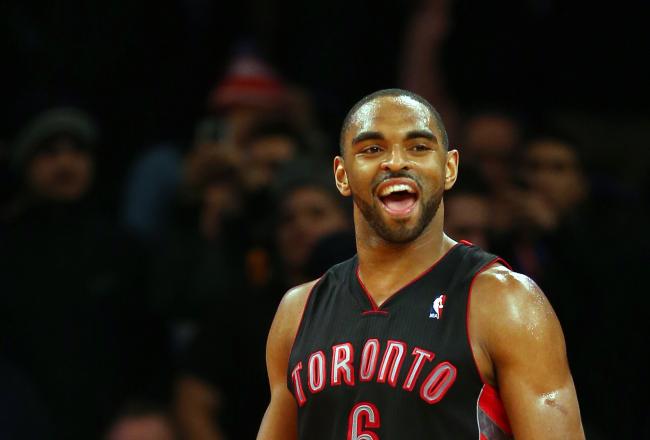 Alan Anderson has had a rough game shooting the ball. He's hit just 3-of-10. But his defense on Kobe Bryant is critical if the Raptors are going to pull this upset. Kobe is 7-of-13 from the floor, but has got to the line eight times and dished out 11 assists. Anderson is holding him in check, but he's having a great game, too. Strange juxtaposition.
Lakers have gotten a few stops but can't capitalize on offense now. But Kobe's headed back to the line. Raptors up 94-88 w/ 5:52 left.

— Lakers Nation (@LakersNation) March 9, 2013
RAPTORS 94, LAKERS 88 — 5:52 4th, TV Timeout
In 9 out of the last 11 quarters the Lakers have allowed the opponent 25+ point..need to play defense if they want to win tonight

— Lakers Nation Intern (@LNIntern) March 9, 2013
Sounds about right from one of the worst defenses in the league.
The Raptors are rightfully feeding DeMar DeRozan, but Jodie Meeks is playing some tough defense. He forced a DeRozan airball from the right elbow.
Still, at 10-of-13 from the floor, it only makes sense to keep going to the USC product.
RAPTORS 92, LAKERS 84 — 9:30 4th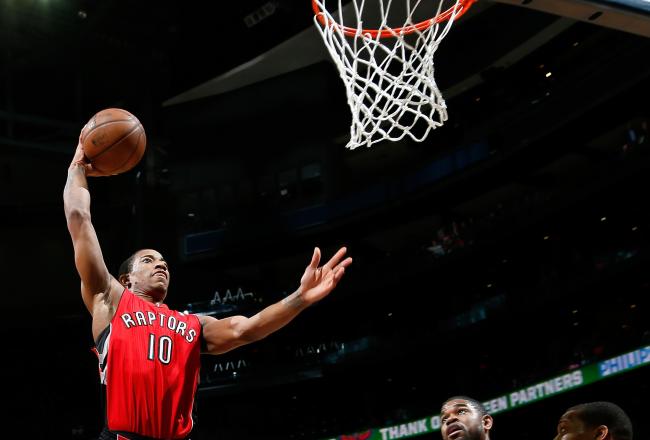 DeMar DeRozan is noticeably upset that he's not getting more touches. He's 9-of-11 from the floor and watching Alan Anderson force shots. The Raptors color commentators are going nuts about this—and they're spot on. Bad teams have a habit of not giving their best players the ball enough. I've noticed this time and time again from teams that hover around that 35-40 percent win percentage.
And on cue!...DeRozan hit a tough jumper in the corner for his 10th field goal of the game. He is tied for the game high with 22 points (Kobe Bryant, 22).
Looks like the @lakers are going to have to comeback again to win

— LAKERFANATICS (@LAKERFANATICS) March 9, 2013
RAPTORS 87, LAKERS 79 — End of 3rd
This article is
What is the duplicate article?
Why is this article offensive?
Where is this article plagiarized from?
Why is this article poorly edited?