Utah Jazz vs. Chicago Bulls: Live Score, Results and Game Highlights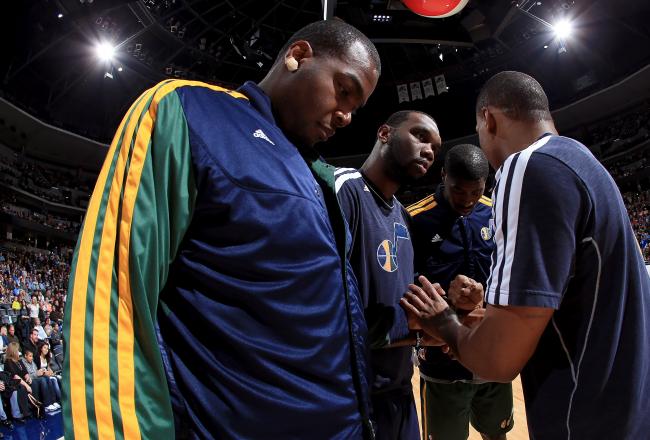 Doug Pensinger/Getty Images
Commentary from the Chicago Bulls 89-88 victory over the Utah Jazz on Mar. 8, 2013 from the United Center in Chicago, Illinois.
Gordon Hayward's missed jumper was rebounded by Jimmy Butler to snap the Bulls' two game losing streak.
Keys to the Bulls win:
1) Rebounding: Won battle of boards 50-46
2) Marco Belinelli: Belinelli tied Carlos Boozer for the team high 22 points, and his play at the point was instrumental when Thibbs didn't want the 5'9" Nate Robinson in the lineup.
3) Backcourt Defense: The starting backcourt for Utah shot 1-of-11 from the field.
BULLS 89, JAZZ 88 — FINAL
The ball went everywhere but in the basket on the Bulls final possession, until Jimmy Butler found Marco Belinelli in the corner for a triple.
BULLS 89, JAZZ 88 — 5.9 seconds, 4th, Jazz ball
The Jazz have five players in double figures to the Bulls' three.
JAZZ 88, BULLS 86 — Under 1 Minute , 4th
Jimmy Butler has replaced Nate Robinson in crunch time, but it is Marco Belinelli who is running the point. Robinson had a solid game, but Thibbs feels it best to keep a big defender like Butler in the game to bother Utah's Mo Williams.
Al Jefferson hits a jumper from just outside of the elbow to give the #Jazz a two point lead over #Bulls with less than a min to go #NBA

— The Melange Project (@melangeproject) March 9, 2013
JAZZ 88, BULLS 86 — 56.1 seconds 4th
Joakim Noah picked up his fifth foul of the night with just under three minutes in the quarter. If Noah is disqualified before the end of this one, it will weaken the Bulls defense immensely. He's going to have to be careful, needless to say.
BULLS 86, JAZZ 85 — 2:59 4th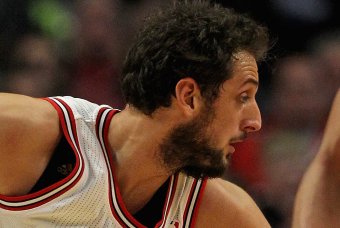 Jonathan Daniel/Getty Images
Marco Belinelli's triple from the top of the key puts the Bulls back in the lead, and Ty Corbin burned a timeout.
BULLS 84, JAZZ 83 — 4:53 4th, Jazz Timeout
It is what it is.
This #Bulls game will probably have an exciting finish for the same reason March Madness is exciting: 2 evenly-matched mediocre teams.

— The Bulls Show (@TheBullsShow) March 9, 2013
JAZZ 81, BULLS 76 — 7:05 4th
The Jazz bench has now out-scored the Bulls bench 43-10. Marvin Williams has 14, and Enes Kanter has 10, as well. The Jazz have out-scored the Bulls 31-21 in the second half.
JAZZ 77, BULLS 76 — 8:11 4th, Bulls Timeout
Nate Robinson had to throw up a hail mary jumper as the shot clock waned, but it resulted in Joakim Noah being able to snatch up the rebound and get to the line. Quick thinking by Nate Rob resulted in the Bulls being able to milk a couple points out of a possession gone awry.
BULLS 76, JAZZ 71 — 10:44 4th
The Bulls isolated the hot hand to close the quarter, Marco Belinelli, but he fed the ball to Luol Deng who attempted a long two. Nazr Mohammed and Carlos Boozer both had put-back attempts, but neither fell.
All Bulls starters are in double figures except Joakim Noah, who has six.
BULLS 72, JAZZ 70 — End of 3rd
Utah takes a timeout. #Bulls lead #Jazz 67-66 with 2:22 left in the third quarter. #GoBulls #BullsUpdates #UTAvsCHI

— Pippen Ain't Easy (@BullsBeatBlog) March 9, 2013
Al Jefferson, Paul Millsap and Gordon Hayward have scored 40 of the Jazz' 66 points.
BULLS 67, JAZZ 66 — 2:22 3rd, Jazz Timeout
The Jazz ball movement along the baseline was crisp and led to a Derrick Favors trip to the free throw line. Al Jefferson's nice over the shoulder dump to Jamaal Tinsley got the Bulls defense on the move, and Tinsley found Favors filling the passing lane along the baseline.
BULLS 65, JAZZ 63 — 2:55 3rd
Jonathan Daniel/Getty Images
Nazr Mohammed has been in the NBA for 16 NBA seasons, but he's breaking out every trick in his bag tonight. His ball fake in the paint to draw a foul and get into the line was sweet, and Mohammed has nine points, five of which have come at the line.
Mohammed was drafted No. 29 overall by the Utah Jazz in 1998, but he never played a game in purple & gold, as he was dealt to Philadelphia.
BULLS 61, JAZZ 58 — 5:09 3rd
I know last 8 possessions haven't been attractive basketball to say the least, but is crowd extra dead or are #Bulls just screaming louder?

— The Bulls Show (@TheBullsShow) March 9, 2013
Nah, the United Center is dead. And the Bulls are up.
BULLS 57, JAZZ 54 — 6:46 3rd
Ty Corbin has started the second half with Marvin Williams at small forward instead of DeMarre Carroll. The Jazz need Williams' offense in the game.
BULLS 57, JAZZ 48 — 10:40 3rd
The second quarter ended the same as the first: Nate Robinson chucking a jumper. Robinson has played hard and played well, and the Bulls find themselves up by nine at the half.
Robinson has 10 points, six assists and four rebounds, and he has just one turnover on the night. Carlos Boozer has also been huge inside, and has 14 points and five rebounds.
Utah is receiving a very well balanced scoring effort from a deep 11-man rotation, and only Paul Millsap is in double figures with 10 points.
BULLS 55, JAZZ 46 — Halftime
NateRob dives for a loose ball and gets a knee to the face for his troubles. Just under a minute left in the half.

— Bulls 101 (@Bulls_101) March 9, 2013
Nate Robinson is hustlin' hard. He dove to the court in pursuit of a steal and not only did he fail to come up with the steal, but he got a knee to the face by Utah's Alec Burks.
BULLS 53, JAZZ 46 — 30.7 seconds 2nd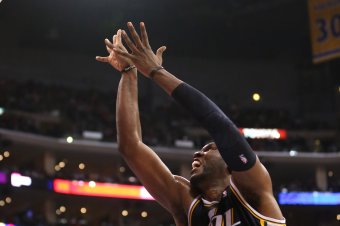 Stephen Dunn/Getty Images
Al Jefferson was able to draw a third foul on Joakim Noah with a crafty pump fake. Al Jeff is one of the toughest covers in the league, even for a premier defensive player like Noah. Jefferson can face-up well, and is a big body, hard to deal with in the post.
BULLS 51, JAZZ 44 — 1:45 2nd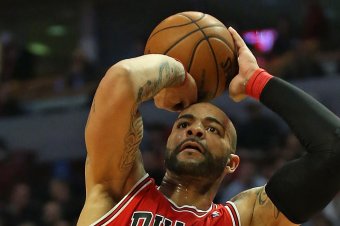 Jonathan Daniel/Getty Images
Boozer's strong post moves lead to a #Bulls bucket and 49-42 lead with 2:22 to go in the 2nd qtr. Carlos with 12pts thus far. #UTAvsCHI

— Chicago Bulls (@chicagobulls) March 9, 2013
Carlos Boozer's up-and-under layup gave the Bulls a seven point lead, their largest of the evening. Boozer has 12 points on 6-of-12 shooting.
BULLS 49, JAZZ 42 — 2:22 2nd
The Jazz are 18-of-36 from the floor, but no Jazz player has attempted more than five shots yet. They're getting everyone involved. The last time the Bulls played the Jazz in Utah, the offense was very centered around the post play of Al Jefferson.
BULLS 45, JAZZ 42 — 3:20 2nd
Every Bulls starter is shooting 50 percent or greater from the floor except for Nate Robinson, who is 1-of-4.
BULLS 43, JAZZ 41 — 3:58 2nd
Nate Robinson is becoming a pretty good passer. He threaded the needle to Nate Robinson in transition to put the Bulls up two, and Nate Rob has five assists to 0 turnovers.
BULLS 43, JAZZ 39 — 4:48 2nd
Following a Marco Belinelli pull up three:
"I Like my meatballs spiiiiiiicy." -Stacey King
BULLS 38, JAZZ 37 — 5:38 2nd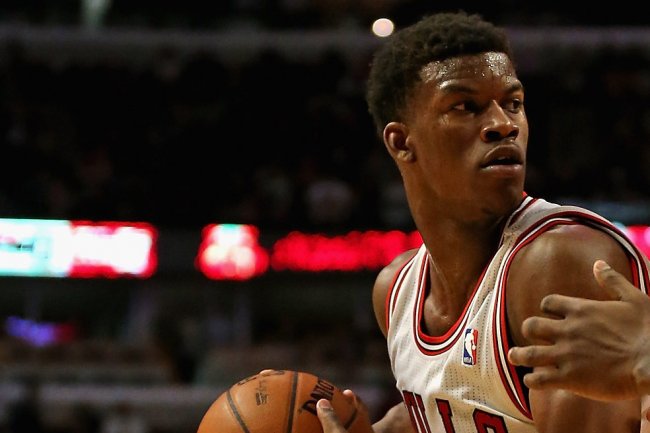 Jonathan Daniel/Getty Images
Jimmy Butler had an impressive spin move to the basket in transition to draw a foul and get to the line. Butler hit one of two from the stripe. Butler or "Jimmy Buckets" as Stacey King refers to him, was known primarily first as a defensive specialist, but he's shown a distinct ability to create his own shot, and he runs the floor well. Butler is the future small forward of the Bulls when they decide to part with Luol Deng.
BULLS 33, JAZZ 33 — 6:40 2nd
This article is
What is the duplicate article?
Why is this article offensive?
Where is this article plagiarized from?
Why is this article poorly edited?