NBA Teams That Never Stop Playing Playoff Basketball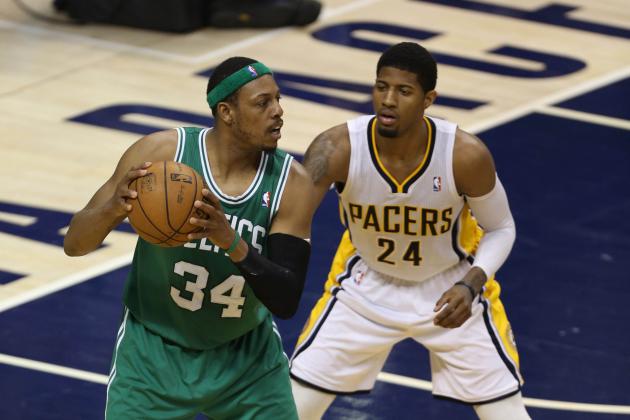 Brian Spurlock-USA TODAY Sports

Comparing the brands of basketball played during the NBA regular season and the playoffs is like judging apples against pears or describing the relationship between Spanish and Portuguese: They seem almost functionally identical at first brush, though they differ in some rather fundamental ways.
In pro hoops, the rules of the game don't change once the calendar hits mid-April and half of the league goes home. Rather, it's the nature, intensity and quality of the competition within the confines of the sport that shifts entirely once the road to the Larry O'Brien Trophy is more clearly demarcated.
Easy evenings against lottery-bound patsies are replaced by long nights against top-tier teams. Wily improvisation is eschewed for crisp execution. Fast-paced play, fueled by careless mistakes, gives way to a slower, more careful and more deliberate style wherein half-court scoring is paramount. Benches shorten. Muscles tighten. Every possession is precious. Every stop is crucial. Every miscue is costly.
Those teams that don't follow along are almost always the first to be bounced from the NBA's big dance.
To be sure, many of the current title contenders don't typically play this way during the regular season. The Miami Heat, Oklahoma City Thunder and Los Angeles Clippers (among others) are all top-notch teams that can/will have to adjust the way they play to better suit the high-pressure environment of the playoffs.
These five teams, on the other hand—while not necessarily championship favorites—are already well-attuned to the peculiarities of playoff basketball because they've employed a similar brand throughout the regular season.
Begin Slideshow

»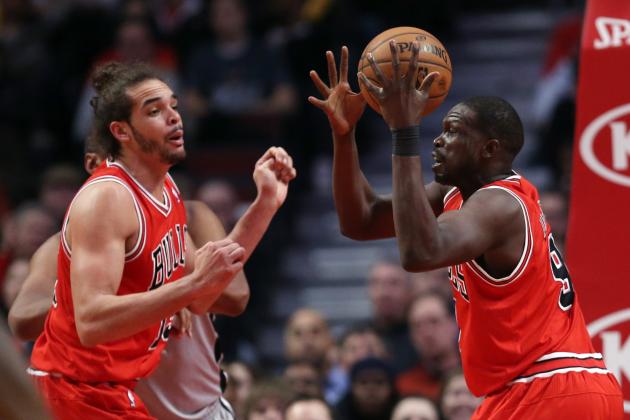 USA TODAY Sports

The vast majority of postseason success in the NBA is predicated on tough, unrelenting defense. With or without Derrick Rose, the Chicago Bulls do nothing if not that.
The Bulls currently rank fourth in the league in defensive efficiency, surrendering just 98.8 points per 100 possessions. They limit their opponents to an effective field-goal percentage (which takes into account the added value of three-pointers) of just 46.9 percent—good enough for second behind only the Indiana Pacers.
It certainly helps Chicago's cause that Luol Deng, Joakim Noah and Taj Gibson are all "plus" defenders by their very nature, but the Bulls' secret to success extends far beyond individual talent. Head coach Tom Thibodeau has established himself as a master of turning lemons into lemonade by squeezing his available players for every last drop, regardless of preternatural ability.
Thibs' motivational tactics and innovative defensive strategies have helped him to coax uncharacteristically effective efforts out of guys like Nate Robinson and Marco Belinelli while covering for their (and Carlos Boozer's) shortcomings on that end.
Of course, such has come at a steep price. Deng and Noah both rank among the top 10 in minutes played per game, and they appear to have tuckered out as of late as a result.
Even so, Thibs has his guys playing hard and playing plenty, which is precisely what they'll need to do to succeed come playoff time.
Well, that and get Derrick Rose back in the lineup, by hook or by crook.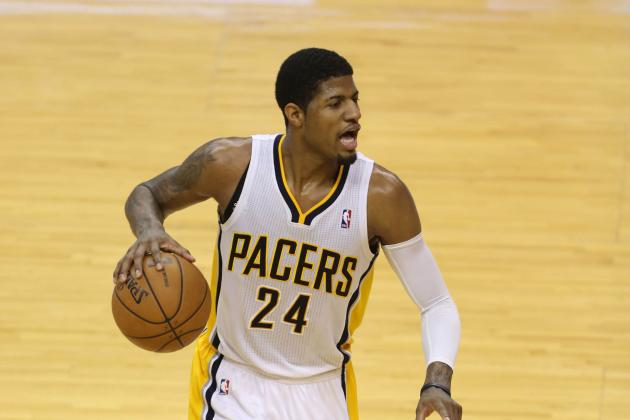 Brian Spurlock-USA TODAY Sports

In some ways, the Indiana Pacers are essentially a more talented edition of the Bulls sans Derrick Rose.
They have bigs who can protect the rim (Roy Hibbert) and hit mid-range jumpers (David West). Their best player (Paul George) can score between 20 and 30 points on offense while shutting down the opponent's best perimeter player on defense. Their bench has recovered more than adequately from an offseason gutting.
And, on the whole, their hard-nosed, top-ranked defense more than makes up for their more-than-occasional inability to put the ball through the hoop. The biggest difference, of course, is that the Pacers offense is rounding into shape, slowly but surely.
Now that Paul George has found his footing as an All-Star scorer, Lance Stephenson has emerged as a viable start at the off-guard spot and Danny Granger is back in action, Indy's offense is more than respectable enough now to make the 70- and 80-point outputs of yestermonth seem like little more than figments of Frank Vogel's imagination.
Better yet, the Pacers are the only team that's managed to give the Miami Heat consistent fits without completely letting up (sorry, New York Knicks). A March 10 meeting with the defending champions should serve as a key late-season litmus test of Indy's ability to truly challenge for Eastern Conference supremacy once everyone else starts playing the way the Pacers do.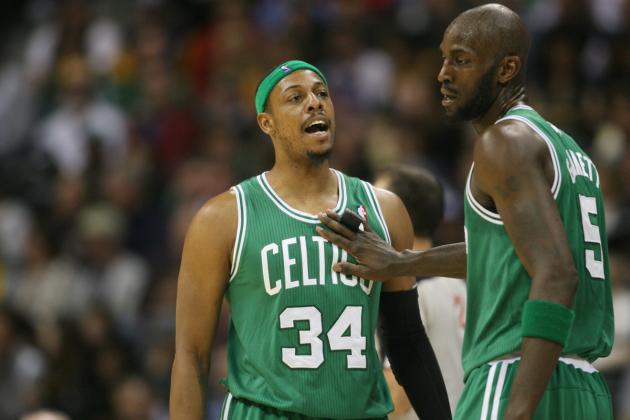 Chris Humphreys-USA TODAY Sports

To be sure, not even the Pacers have perfected the slow-it-down, grind-it-out style that so often makes minced meat of lesser foes in the postseason.
Just ask the Boston Celtics. They upended Indy in their most recent meeting, 83-81, on a well-executed play to get Jeff Green the winning layup.
That is precisely what the C's can and so often do, even without Rajon Rondo. With the championship-caliber veterans like Paul Pierce, Kevin Garnett and Jason Terry in tow, Boston is almost always a good bet to run its sets and get open shots, even (and perhaps especially) under pressure.
And when all else fails, any one of those three can take over in a pinch and get himself a clutch bucket. Pierce and KG both rank among the top 10 in the league in crunch-time scoring, per NBA.com.
It certainly doesn't hurt that Boston's D is among the five stingiest as far as efficiency is concerned, or that the C's take such great care of the ball. Their recent run of play and surprisingly close proximity to home-court advantage in the postseason should have the rest of the East on notice.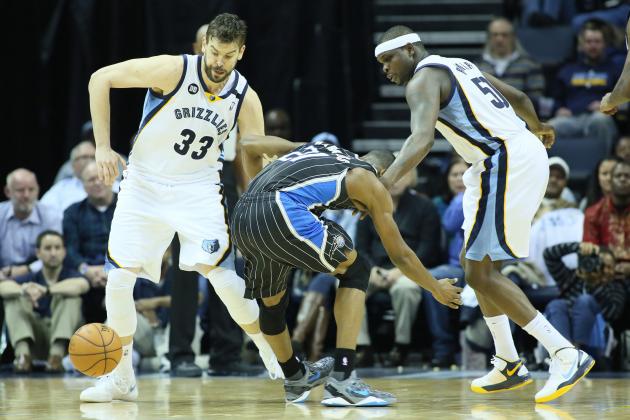 USA TODAY Sports

Grantland's Jonathan Abrams didn't call it the "Memphis Grind" for nothing. The phrase itself perfectly characterizes the typical way in which the Grizzlies chew up and spit out their opponents on a nightly basis.
The Grizzlies play at the third-slowest pace in the NBA, averaging just 91.71 possessions per game. They churn out a largely mediocre 100.9 points per 100 possessions—good enough for 19th overall.
It's on the boards where Memphis does its best work and earns its nickname. The Grizzlies rebound more of their own misses (31.9 percent) than any other team in basketball. They use those extra looks to turn in 16 second-chance points per 100 possessions, which is the fourth-best mark in the league.
That is to be expected from a squad that employs a pair of behemoths like Zach Randolph and Marc Gasol, though Memphis ultimately butters its bread on the defensive end. The Grizzlies allow just 97.1 points per 100 possessions (the second fewest in the Association) and force turnovers on a whopping 17.2 percent of their opponents' possessions.
In that sense, Memphis' decision to move Rudy Gay for Tayshaun Prince made sense both financially and from a basketball perspective. Prince may not be the singular shot-creator that Gay is, but his ability to bang on the boards and lock up the perimeter defensively renders him a more natural fit for the Grizzlies' grind.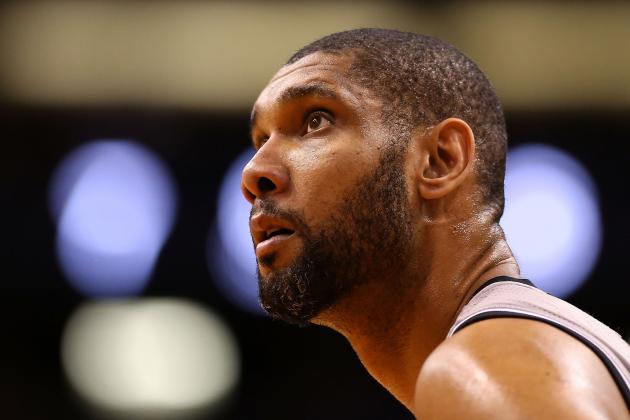 Christian Petersen/Getty Images

I'll admit, the San Antonio Spurs don't exactly fit in with the other four teams in this bunch. After all, they own the best record in the NBA, are firmly entrenched among the top title contenders and play a brand of basketball that's far more attractive (and far less exhausting) than anything you'll see out of their peers herein.
They're the only team that can claim to rank among the top five in both offensive (fifth) and defensive efficiency (third). Their effective field-goal percentage (.540) is second only to that of the Miami Heat. They rarely, if ever, turn the ball over—just 15 percent of the time, good enough for ninth. They share the ball beautifully, with assists on 63.7 percent of their makes.
They feature two guys in Tony Parker and Manu Ginobili who can create shots in crunch time. Tim Duncan and Danny Green, meanwhile, aren't afraid to hit said shots, be they inside (Duncan) or out (Green).
Perhaps it's troubling that the Spurs play at such a fast pace (96.5 possessions per game, sixth fastest) and don't corral many of their own misses (dead last in offensive rebounding). Then again, when you've got the horses that San Antonio has and you miss as rarely as the Spurs do, those numbers aren't quite so troubling.
Especially when you consider that, unlike last year, the Spurs are defending like gangbusters. They've held their foes to an effective field-goal percentage of .470—the third-lowest in the NBA.
Size remains a concern for the Spurs, as does the health of Parker's ankle. But they're well-coached under Gregg Popovich and can out-execute any and every team that crosses their path.