2013 NHL Season: Bold Predictions for the Second Half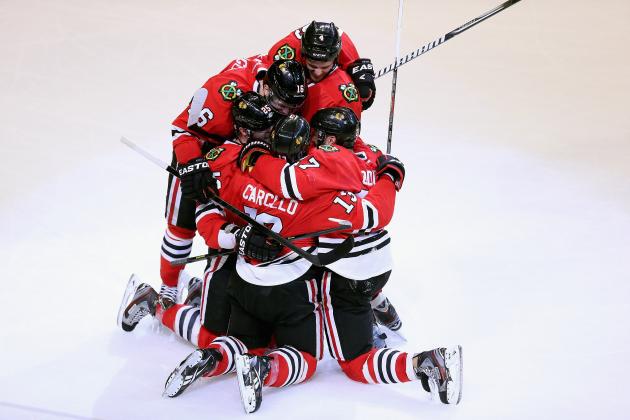 Jonathan Daniel/Getty Images

So we're about halfway through the season and everything is just as crazy as we had expected, if not crazier.
Two teams that finished last in their divisions in 2012 are leading them at the halfway mark of 2013, Columbus is only four points out of a playoff spot, and in case you haven't heard, that team from Chicago still hasn't lost a game in regulation yet.
Trying to predict the second half is like trying to predict what will pass as music ten years from now, but this is worth taking a stab at. Here are some bold predictions for what will happen in the next month and a half.
Begin Slideshow

»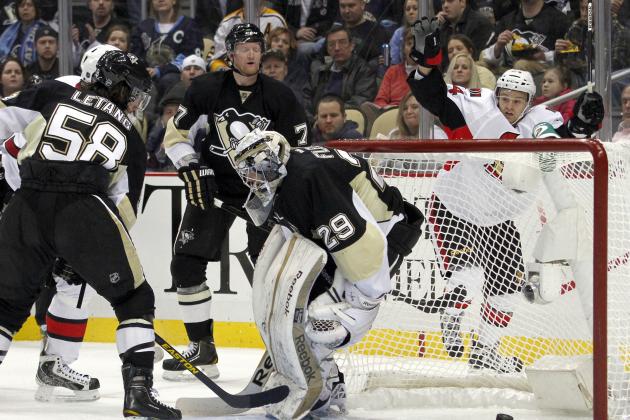 Justin K. Aller/Getty Images

Everyone knows how much the Penguins can score, but one thing that is ignored by many fans is how much other teams can score against them.
Pittsburgh has players like Sidney Crosby and Evgeni Malkin that can score goals at will, but the team is so offensively-minded that it gives up goals left and right as well. We saw it in last year's playoffs and we have seen shades of it this season, as the Pens have already surrendered 71 goals.
Pittsburgh needs to stop worrying about getting a winger for Crosby and instead get some players that can keep the puck out of their zone, or they will be in trouble come playoff time.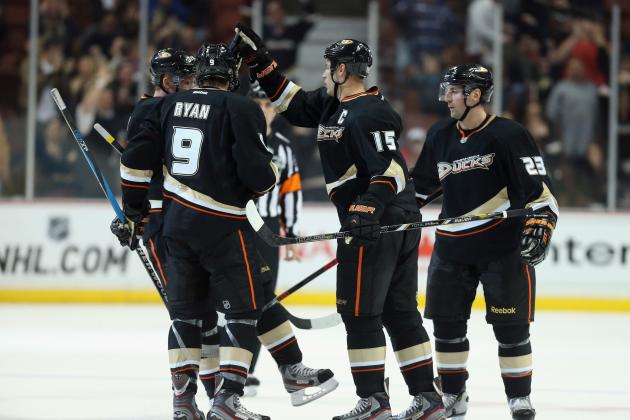 Jeff Gross/Getty Images

The Ducks have arguably been the most surprising team in hockey, shockingly leading the Pacific Division at the halfway point due in part to the stellar play of rookie goaltender Viktor Fasth.
Anaheim has a very solid team and will definitely make the playoffs, but the Pacific Division is extremely competitive and teams like Los Angeles and Phoenix are starting to catch fire.
They will still be one of the top teams to beat in the tight Western Conference, but one of the other Pacific Division teams will catch up to them by season's end.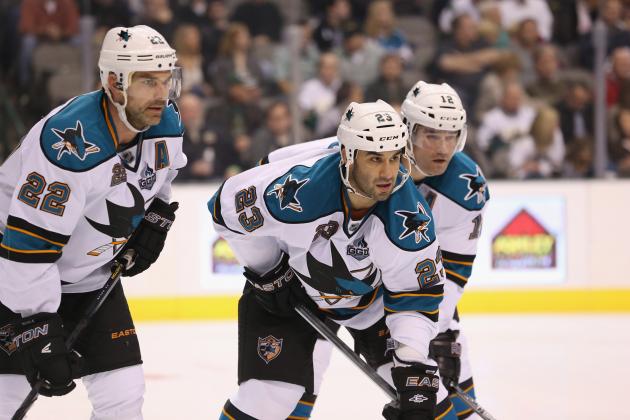 Ronald Martinez/Getty Images

Anaheim, as mentioned before, has been a huge surprise and the Stars, Kings, and Coyotes are all picking up their play. San Jose got off to a sweltering start but has been ice cold lately.
The Sharks have a good team on paper, but they looked nonexistent in last year's playoffs and have looked that way ever since their eighth game of the season. They only have seven regulation/overtime wins and while they have been solid defensively, they have had major struggles scoring goals.
San Jose has to deal with an incredibly tight Western Conference and an ultra-competitive Pacific Division. Unfortunately, they will be the odd team out.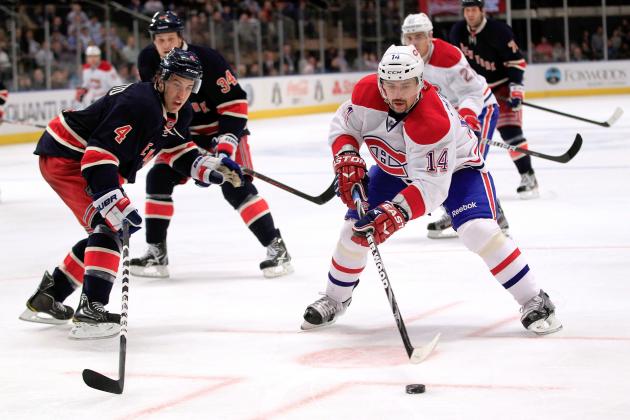 Chris Trotman/Getty Images

The Montreal Canadiens hold the best record in the Eastern Conference as of March 8, which comes as a shock to everyone. They haven't shown signs of slowing down, but one has to believe that the Boston Bruins will overtake them due to the fact that they have three games in hand and are still considered a top favorite.
New York got off to a very rough start, but Rick Nash has finally come to life and has reinvigorated the Rangers as they have won their last four games.
The Penguins will likely win the division over the Rangers and the Habs will likely settle for second in the Northeast to their arch rivals from New England, so everything is set up to produce a classic Original Six showdown right from the start of the Stanley Cup Playoffs.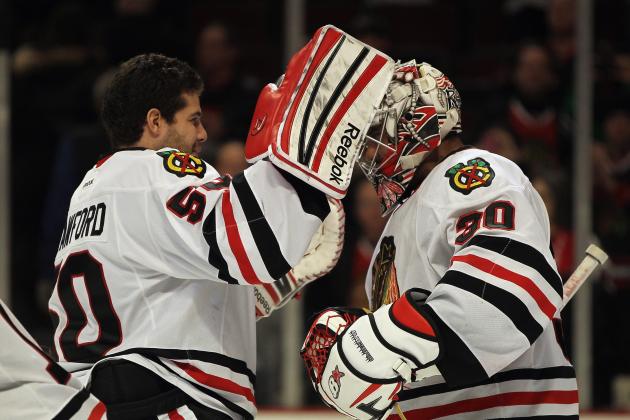 Jonathan Daniel/Getty Images

Chicago is going to lose a regulation game some time this season. I think.
The superb goaltending from both Corey Crawford and Ray Emery has been one of the biggest reasons the Hawks have gotten off to their historic start. This, however, raises somewhat of a red flag. Crawford hasn't been in the league for too long, but he was extremely inconsistent last season. Emery, on the other hand, is a journeyman veteran who has had shades of inconsistency throughout his whole career.
One has to believe that as soon as the Hawks falter, at least one of these two goalies will struggle a little bit.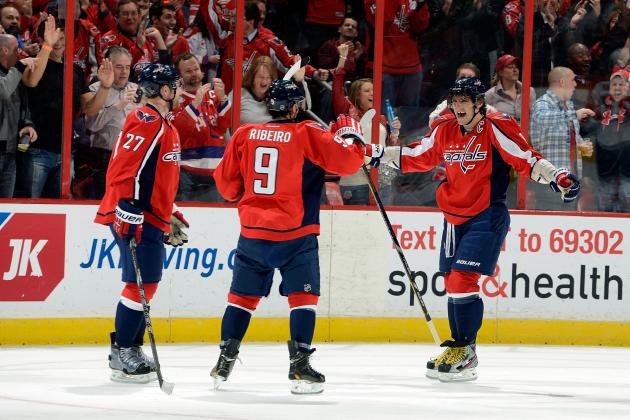 Greg Fiume/Getty Images

The Caps got off to an absolutely horrible start, but they have started to right the ship lately. They are up to third in the Southeast Division as of March 8, Alex Ovechkin is picking it up, and Mike Ribeiro has been one of the most productive players in the NHL again.
Cam Ward's injury will take a toll on the division-leading Carolina Hurricanes, and if Braden Holtby keeps up his decent pace as of late in net, the Capitals should be able to make a run at the division.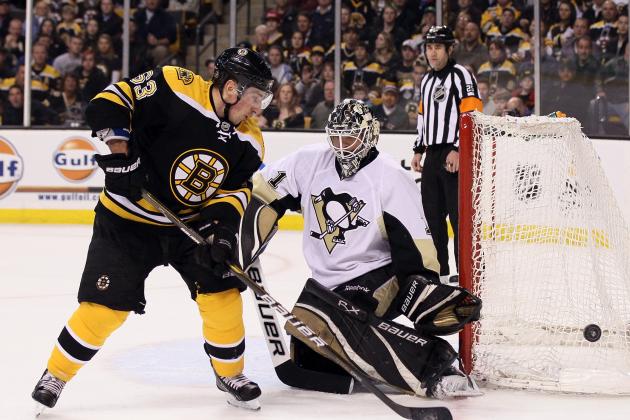 Elsa/Getty Images

1. Boston Bruins
The Bruins are in for a grind over the next month, but if there is any team that can survive a grueling schedule like they have, this is the team that can do it.
2. Pittsburgh Penguins
As stated before, Pittsburgh needs some major help defensively, but can score so much that they will be able to win the competitive Atlantic Division.
3. Washington Capitals
The Caps have won seven of their last ten, and they look like they are returning to form after an awful start. They will take advantage of the Cam Ward injury and surpass the Hurricanes.
4. Montreal Canadiens
Montreal has been a huge surprise, and while they will have trouble keeping their division lead away from the hated Bruins, the Canadiens are still one of the best teams in the Eastern Conference.
5. New York Rangers
The Rangers got off to a shaky start, but they have definitely picked up their play lately and if Rick Nash can keep up his pace, the Rangers should definitely establish themselves as a force to be reckoned with.
6. New Jersey Devils
New Jersey started off the season on fire, but they have slowed down recently, winning only two of their last ten games. They can be expected to turn it around soon, as New Jersey has one of the most complete teams in hockey.
7. Toronto Maple Leafs
The Leafs look like they will finally return to the playoffs as long as they don't suffer a major collapse. This team is talented up front and gets the timely goals when they need them.
8. Carolina Hurricanes
Despite the loss of Cam Ward, Carolina still squeezes into the top eight in the East after battling Philadelphia and Ottawa. The Flyers struggle against the tough Atlantic Division and the Senators will succumb to their injury woes while Carolina barely edges both teams out.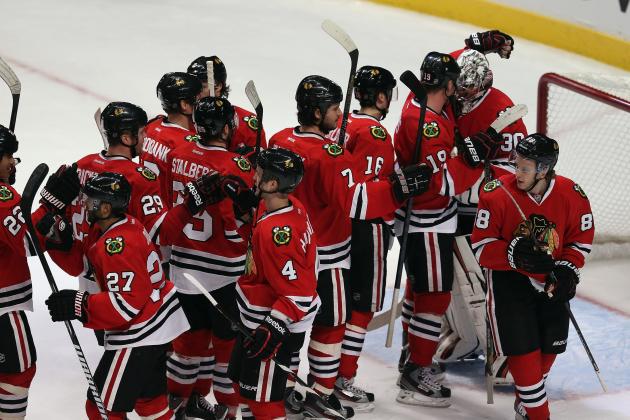 Jonathan Daniel/Getty Images

1. Chicago Blackhawks
Basically, if Chicago doesn't get the first seed, their fans should just boycott playoff tickets.
2. Vancouver Canucks
The Canucks have struggled lately, winning only three of their past ten games, but they should be able to turn it around against the weak Northwest Division and stockpile some wins.
3. Los Angeles Kings
The Pacific winner drops to third seed as all the other Pacific teams beat up on each other, but it will be the defending champs taking the Pacific crown. Los Angeles looks to have its mojo back as the Kings have won seven of ten and have looked great in doing so.
4. Detroit Red Wings
Detroit has dealt with some major injury issues, but has found a way to get wins. Ever since Brendan Smith has returned to the lineup on defense, they have averaged only one goal against per game. Coincidence? Maybe, but the Winged Wheel is rolling lately.
5. Anaheim Ducks
The Ducks will fall a little bit due to the toughness of playing in the Pacific Division, but they will still be one of the top teams to beat in the West.
6. St. Louis Blues
The Blues have struggled lately, giving up goals at a much higher pace than they did last season. They have been scoring a lot more too, and this team looks too good on paper to miss the playoffs.
7. Phoenix Coyotes
This is a good team. People keep doubting them, but they keep coming through and scratching out victories. They will go on a run at the end of the season to secure a playoff spot for the fourth consecutive year.
8. Dallas Stars
Dallas has been inconsistent all year, but they have what it takes to edge out Nashville, San Jose, and Minnesota. They have a lot of experienced players who can score, a decent goalie in Kari Lehtonen, and a hunger to make the playoffs after barely missing out the past two seasons.