New York Jets 2013 NFL Draft Big Board: Real Time Updates and Analysis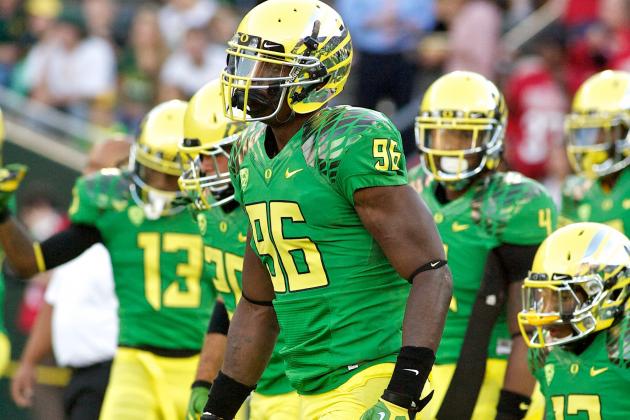 Craig Mitchelldyer/Getty Images

With a roster littered with holes and a new general manager calling the shots, this is one of the most important Jets offseasons in recent memory.
By now, it is almost common knowledge that the Jets are not going to be active spenders in free agency because of their limited cap space. This only emphasizes the importance of the draft this year for the green and white.
The good news is, the Jets finally have a full slate of draft picks to work with; former GM Mike Tannenbaum had a habit of mortgaging the future for the sake of the present.
Read on to see my full-draft rankings specifically tailored according to the Jets' needs, which will be continually updated as pro days commence and new information regarding prospects is released.
Begin Slideshow

»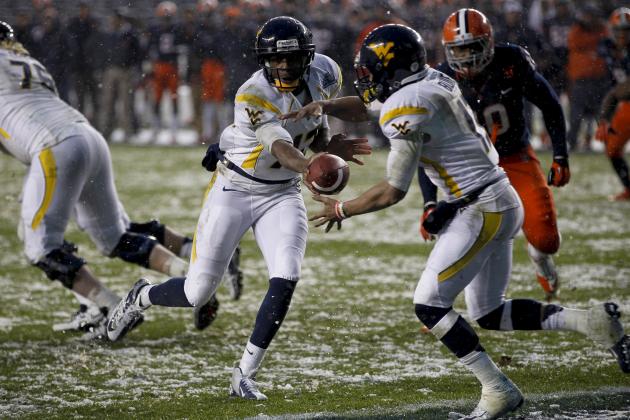 Jeff Zelevansky/Getty Images

The following list is essentially a guess of what the actual Jets draft board looks like as of now, taking into account team needs and the effects of free agency. This list will be updated according to changes in prospect rankings and the disappearance of roster holes.
1. Dion Jordan, OLB, Oregon
With two huge holes at both outside linebacker positions, the Jets are almost forced to take an outside linebacker with their first pick.
Unlike previous Jets linebackers, Jordan excels in coverage and has tremendous upside as a pass-rusher with his athleticism and flexibility. If Jordan is somehow still on the board nine picks into the draft, he should be the pick.
2. Geno Smith, QB, West Virginia
There are plenty of varying opinions of Geno, but there is no way the Jets can pass on him in the first round if he is still available (assuming Jordan is already off the board).
Geno has some accuracy issues, but a new, young face at the quarterback position is just what this franchise to turn the page form the Sanchez era.
3. Star Lotulelei, DT, Utah
Assuming his heart condition is not of a huge concern, Star is arguably the best and more scheme-versatile player in this draft. Adding him to the Jets' defensive line would immediately fix their run-defense problems and give them unmatched talent and depth along the line.
4. Sharrif Floyd, DT, Florida
One of the fastest risers in this draft, Floyd could be the first player taken overall as he has started to draw comparisons to Warren Sapp with his ability to penetrate.
While he is not an idea fit in a 3-4 defense, Rex would bend his fronts to get the most out of Floyd rather than limit his talent playing strictly as a 5-technique defensive end.
Update: The release of Sione Pouha and loss of Mike DeVito in free agency adds a need on the defensive line. (Previous spot: 6)
5. Barkevious Mingo, DE, LSU
You could make the argument for the explosive Mingo to be the top player on this board, but his lack of flexibility gives the edge to Dion Jordan. Still, if he fell to the Jets at nine, they should strongly consider snatching him up and finally give Rex Ryan the edge rusher his defense has needed for years.
6. Luke Joeckel, OT, Texas A&M
Offensive tackle is hardly an area of need after giving Austin Howard a second-round tender, but Joeckel is simply too good of a talent to pass up. Barring something totally unforeseen, Joeckel won't be a Jet, but this is about where he would sit on their board.
Update: After losing several defensive players in free agency, offensive tackle become even less relevant. (Previous spot:4)
7. Bjoern Werner, DE, Florida State
Werner would put together the best highlight tape of all the defensive ends, as he has tremendous burst and gets in the backfield in the blink of an eye.
However, he tends to give up on some plays where he loses early in the down. Werner is the riskiest of all the defensive end/outside linebacker prospects.
8. Ezekiel Ansah, DE, BYU
Having not played football until he got to BYU, Ansah is as raw as they come. Unsurprisingly, he blew up the combine, and his athleticism will prevent him from getting past the first 15 picks.
Ansah best projects as a base 4-3 end, but he has enough athletic ability to make the conversion to outside linebacker—depending, of course, on how patient a team is with him.
9. Kenny Vaccaro, S, Texas
With two gaping holes at the safety position, the Jets should strongly consider using their first-round pick on a safety. Vaccaro is the only prospect worth the selection, as his ability to cover and play the run without being too aggressive is exactly what NFL teams are looking for.
10. Jonathan Cooper, G, North Carolina
Alabama's Chance Warmack is the top guard on most draft boards, but Cooper has better tools to succeed in the NFL. Cooper moves like a tight end in space and would be a perfect fit in the Jets' new West Coast offense.
11. Keenan Allen, WR, Cal
If the Jets are going to take a receiver in the first round, that receiver is going to need to be able to get open right out of the gate. Allen is a great route-runner and has terrific hands, making him a perfect complement to Santonio Holmes even if he does not have elite speed.
12. Ryan Nassib, QB, Syracuse
If the Jets take a shot on a quarterback, it will likely be in the second round or later where the risk is much more manageable. Nassib has excellent poise in the pocket, but his throws beyond 15 yards are impossible to predict, and his odd throwing motion will turn off some scouts.
13. Cordarrelle Patterson, WR, Tennessee
Electric with the ball in his hands, any team could use a weapon like Cordarrelle Patterson on their team. However, the Jets need instant contributors on their offense, and Patterson's lack of hands and polished route-running ability makes him a bit of a project.
14. Tavon Austin, WR, West Virginia
If Austin was a few inches taller, he would be a top-five selection. Instead, he is an elite slot receiver prospect in the mold of Percy Harvin who can produce as a receiver, runner and punt returner.
15. Jarvis Jones, OLB, Georgia
Jones makes this list after news that he has been cleared by NFL doctors emerges, making him a viable option at nine or the linebacker-needy Jets. Jones is a pass-rushing specialist with great hands usage. He is already comfortable playing linebacker, as he stood up in Georgia's 3-4 system.
(Previous Spot: Unranked)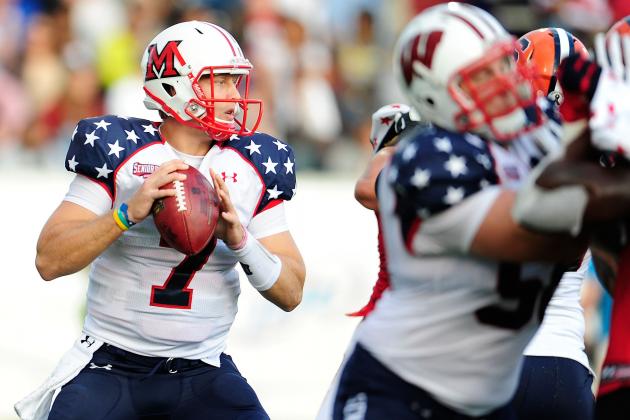 Stacy Revere/Getty Images

1. Geno Smith, West Virginia—Round 1
He's no Andrew Luck, but Smith is the consensus top quarterback this year. Smith has all the tools to succeed at the next level, as he can make all of the throws and is very good under pressure.
However, he does tend to struggle with accuracy at times and comes from a one-read, spread offense at WVU. Geno could very well become a good NFL starter, but he, like every other quarterback in this class, needs to clean up several areas of his game.
2. Ryan Nassib, Syracuse—Round 2
Nassib's best attribute is his poise in the pocket—he maintains a Philip Rivers-like stature with bodies flying around him. However, Nassib throws a very inconsistent deep ball and an awkward delivery that puts a ceiling on his NFL potential.
3. Zac Dysert, Miami (OH)—Round 2
Dysert's stock took a major hit after a poor showing at the Senior Bowl practices that exposed his mediocre arm strength, but it is hard to ignore some of the throws he makes on game day—his 2012 tape against Ohio State is particularly impressive.
He worked with one of the worst supporting casts in college football last year and found a way to produce, throwing with tremendous timing and anticipation. He will need to make the transition from a spread offense, but Dysert could be one of the sleepers in this underwhelming class of passers.
4. Tyler Wilson, Arkansas—Round 2
From a pure arm-talent standpoint, Wilson is the best in this class, with his ability was on display during the week at the Senior Bowl.
However, Wilson's final season at Arkansas was inconsistent at best, as he often struggled under pressure and committed far too many turnovers. Some of that could be chalked up to a rather hectic atmosphere at Arkansas, but Wilson is far from a finished product.
5. E.J. Manuel, Florida State—Round 2
The opinions on Manuel range from a late first-round pick to a mid-round selection. Manuel has plenty of tools to work with, including a strong arm, mobility and good deep accuracy.
However, he has a lot of mechanical issues he needs to clean up, including his robotic delivery and messy footwork. Manuel should not be an immediate starter, but with some time, he could develop into something special.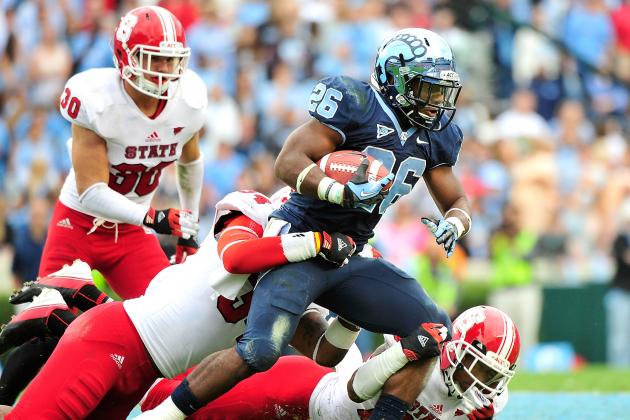 Grant Halverson/Getty Images

1. Eddie Lacy, Alabama—Round 2
Lacy is not quite the specimen Trent Richardson was when he came out of Alabama last year, but Lacy has great balance and toughness that make him the top runner in this year's class.
There are some concerns as to whether or not his production is more of a credit to Alabama's terrific offensive line, but Lacy still has skills that could translate into a potential No. 1 back.
2. Giovani Bernard, North Carolina—Round 2
While Bernard lacks elite physical tools, he is the most well-rounded back in this draft and could be an immediate contributor. His shorter, quicker strides give him good agility, and he is excellent catching the ball out of the backfield.
He is not, however, a power back who is going to push the pile, but he could be a very effective player early in his career when paired up with a runner like Bilal Powell.
3. Christine Michael, Texas A&M—Round 3
Michael has been more impressive with every workout he gets to do. With tremendous burst, agility and vision, Michael is arguably the most talented back in this year's class.
The downside for Michael is that he is known for his immaturity—he overslept some team interviews at the combine. If he can get his act together off the field, he could be the best back in this year's class.
4. Montee Ball, Wisconsin—Round 3
Ball takes a lot of criticism for the amount of wear on his body (826 carries in fours years at Wisconsin), but he is one of the more talented backs in this class. He ran faster than expected at the combine (4.46 40-yard dash) and should see his stock continue to rise as the draft process wears on.
5. Joseph Randle, Oklahoma State—Round 4
While he lacks ideal size to handle a the full load of an offense, Randle has everything you want in a third-down back who can run, catch and excel in protection. He is even a well-versed route-runner. He should be able to make an immediate impact on just about any team he would go to.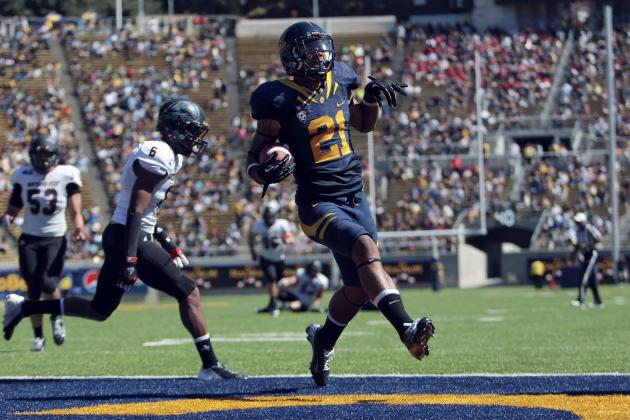 Kelley L Cox-USA TODAY Sports

1. Keenan Allen, Cal—Round 1
According to most mock drafts, Keenan Allen is not going to be the first receiver taken (Tennessee's Cordarrelle Patterson appears to be the front-runner for such an honor), but he is the best fit for what the Jets need out of the receiver position right now.
Allen is not a downfield burner, but he knows how to get open and get a ton of yards after the catch. Playing next to an established receiver like Santonio Holmes, Allen would be a great asset as a secondary target taking advantage of lesser attention.
2. Cordarrelle Patterson, Tennessee—Round 1
There is no one in this draft class who is more explosive with the ball in his hands than Cordarrelle Patterson. Problem is, getting the ball to Patterson is not always an easy task. He is hardly a polished route-runner and has a nasty habit of body-catching.
With time, Patterson can easily be the best receiver to come out of this class, but it may take some time—a luxury the Jets cannot afford.
3. Tavon Austin, West Virginia—Round 1
If Tavon Austin was a few inches taller, he may be the best prospect in this year's class. With lightning speed (4.34 40) and tremendous agility, Austin is drawing comparisons to Percy Harvin as a do-it-all slot receiver who can line up in the backfield and return punts.
4. Quinton Patton, Louisana Tech—Round 2
A smaller-school prospect, there is not much to dislike about Patton's game. He is tremendous off the line and has a knack for getting open and making tough catches.
The transition to the NFL may take some time with just a huge jump in competition, but Patton could be a second-day steal for a team that is willing to be patient and develop him properly.
5. DeAndre Hopkins, Clemson—Round 2
While Hopkins lacks elite speed that would warrant a first-round selection, Hopkins separates himself from other receivers as a terrific boundary receiver. He uses the sideline extremely well with his positioning and body control to reel in contested catches.
As long as he is not forced to be a team's top receiving threat right out of the gate, Hopkins can make an instant impact as a rookie.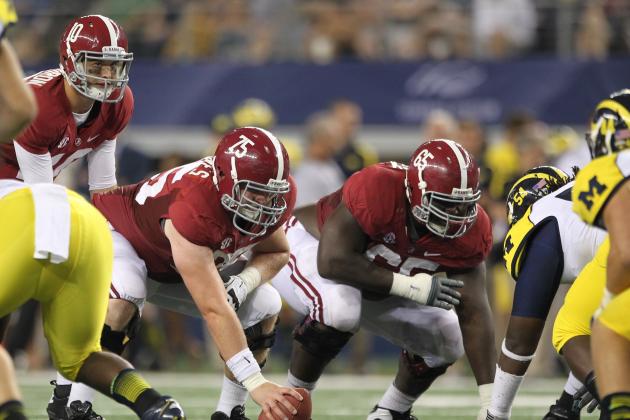 Matthew Emmons-USA TODAY Sports

1. Barrett Jones, Alabama—Round 3
With prior experience at both tackle and guard, Jones is arguably the most versatile offensive lineman in this year's class. While he is a bit overrated as a prospect because he comes from what was the best offensive line in the country last year, he can be an immediate hole-filler on the interior.
2. Travis Frederick, Wisconsin—Round 4
Frederick has experience at both guard and center. He is a very linear payer who is not going to do much at the second level, but he can be a mauler if put in the right system.
3. Brian Schwenke, Cal—Round 4
Schwenke is not going to blow anyone away with his raw power, but he is solid in all aspects of his game and could be a serviceable starter for a long time. He had a strong showing at the Senior Bowl and could continue to climb draft boards as the draft process wears on.
4. Khaled Holmes, USC—Round 4
Holmes had a chance to be the top center in this year's class, but inconsistent technique and concerns about his overall athleticism has led to a significant drop in his stock.
However, he is still a powerful blocker when he is able to get his hands on defenders, so perhaps, some quality coaching will help get the most out of this once highly-regarded prospect.
5. T.J. Johnson, South Carolina—Round 6
Johnson has good size for a center, but he has poor balance and gets knocked around easily. While a bit limited athletically, he is a tough competitor with a high football IQ.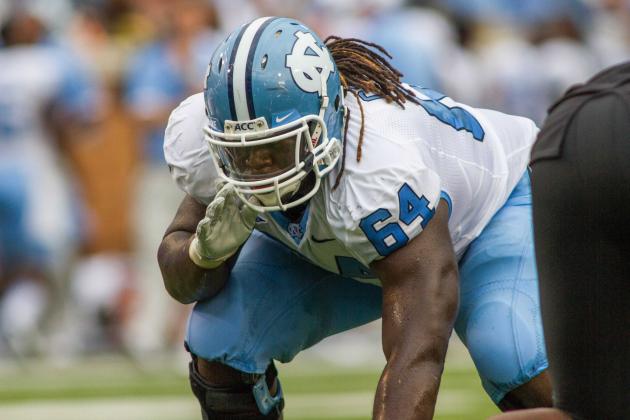 Jeremy Brevard-USA TODAY Sports

1. Jonathan Cooper, North Carolina—Round 1
What separates Cooper as a prospect is how athletic he is. He runs like a tight end, finding work at the second level consistently. He is the top guard prospect here because his athleticism would be a perfect fit for the Jets line that needs to be more versatile in their blocking schemes.
A tremendous character, if the Jets are going to dare think about taking a guard with their first pick, Cooper would be the right choice.
2. Chance Warmack, Alabama—Round 1
The most decorated interior lineman in this class, Warmack has everything you want in a guard. He fires off the ball with incredible power and can knock back the biggest of defensive lineman. Warmack is going to be a decade-long starter for whatever team he goes to.
3. Larry Warford, Kentucky—Round 2
In a "normal" year, Warford would likely be the top guard in his class, but he has been a bit overshadowed by the top prospects ahead of him. Warford is an absolute mauler in the run game and very smart in blitz pickup. He should be a starter from day one.
4. Alvin Bailey, Arkansas—Round 3
Bailey has tremendous size and has experience at both left and right guard. He struggles in his ability to mirror in pass protection, but he is very quick off the snap and can get to the second level in a hurry.
He also tends to struggle with his footwork, but some good coaching can turn this mid-round prospect into a starter.
5. Omoregie Uzzi, Georgia Tech—Round 3
Uzzi has a lot of starting experience under his belt and is at his best as a run blocker coming from Georgia Tech's run-heavy offense. He has experience at every position along the offensive line, but he is best suited to play along the interior where his flaws in pass protection are easier to conceal.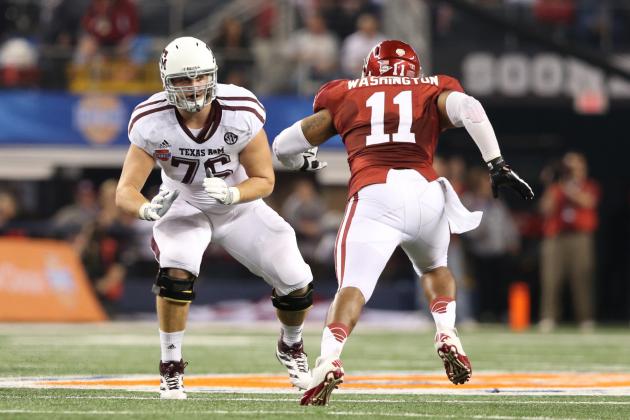 USA TODAY Sports

1. Luke Joeckel, Texas A&M—Round 1
Joeckel is one of the favorites to be the first player taken overall—and for good reason. He has a unique blend of power, technique and athleticism that makes him the best overall player in this year's class.
Considered by many to be the "safest" pick in the draft, Joeckel can step in at left tackle and start for the next 10 years for just about any team in the NFL.
2. Eric Fisher, Central Michigan—Round 1
After a stellar performance at the Senior Bowl, there was some chatter that Fisher was just as good of a prospect as Luke Joeckel.
While much of that discussion has died down, Fisher is a stellar pass protector with tremendous feet and athleticism. In most years, Fisher would be the first offensive lineman taken in the draft, but with Joeckel in the mix, he could fall to the middle of the top 10 picks.
3. Lane Johnson, Oklahoma—Round 1
Originally recruited to Oklahoma as a tight end and a former high school quarterback, Johnson could be the most athletic offensive lineman in this class. He explodes off every snap and has a wide base and long arms to keep defenders at bay.
He could put on a few pounds to help with his leverage, but he has everything you want in a pass-protecting left tackle.
4. D.J. Fluker, Alabama—Round 2
Although Fluker played tackle at Alabama, he is probably much better suited to play guard. He has tremendous power and leverage, but his feet area bit slow to play left tackle in the NFL.
Fluker has the makings of an average tackle, but if kicked inside to guard, he could become a perennial All-Pro.
5. Dallas Thomas, Tennessee—Round 2
Thomas has a ton of starting experience (37 starts at Tennessee playing both guard and tackle), but he has a few holes in his game that prevent him from being a top prospect.
Thomas has a lot of strength and initial quickness, but he is flawed in his lower body and hand technique that lead to too many pressures. With good coaching, he can clean up his game and become a solid starter at either tackle position.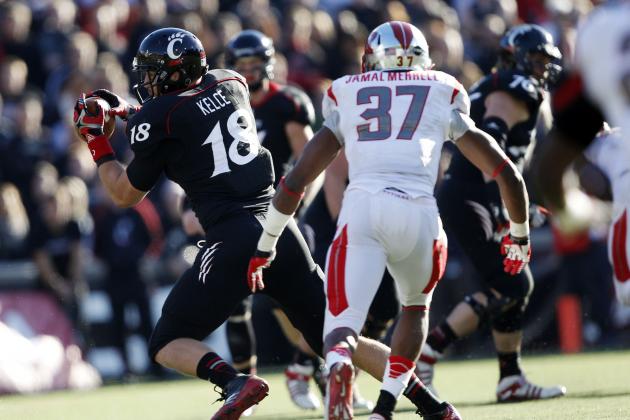 Frank Victores-USA TODAY Sports

1. Tyler Eifert, Notre Dame—Round 1
Eifert is the only true first-round prospect in this year's class. Eifert has a large frame that allows him to shield defenders and make contested catches. He could use some technical improvements in his blocking, but he gives a consistent effort.
He ran a much faster time than expected (4.68) that has cemented his spot as the best tight end in this class.
2. Travis Kelce—Round 2
Kelce is far from being the best receiving option in this class at the position, but he is the best blocker—which is what the Jets need more from the position than anything else.
Kelce has good speed when he has time to build it up, but he struggles to control his speed and has trouble changing direction. He also needs to clean up some drops and concentration issues to become a more complete player.
3. Zach Ertz—Round 2
Ertz is not much more than a receiver in a tight end's body. He is one of the worst blockers in this class, but he has a knack for getting open and has a tremendous set of hands. However, he has very short arms which put a ceiling on his already-limited blocking ability.
4. Jordan Reed—Round 3
After emerging as Florida's top receiving option in 2012, Reed has the athleticism and frame to add weight to become the best tight end to come out of this year's class.
Reed spent a lot of time split out wide and could fill the void potentially left behind by Dustin Keller as a "joker" tight end.
5. Gavin Escobar, San Diego State—Round 4
Prior to the combine, Escobar found himself inching closer and closer to the second-round range; then, he ran a disappointing 4.84 at the combine that sent his stock back to earth.
Much like Ertz, Escobar is a limited blocker who should only be used as a glorified wide receiver in the NFL.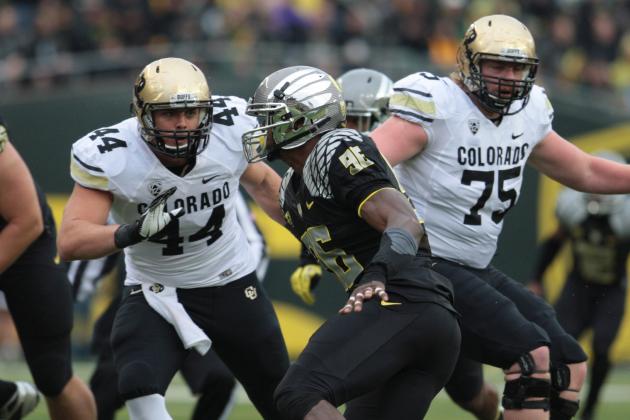 Scott Olmos-USA TODAY Sports

1. Dion Jordan, Oregon—Round 1
Jordan is one of the most intriguing defensive prospects in this class. A former tight end, Jordan has more athleticism and flexibility than anyone else at the position. He has excellent hand use and can bend around offensive tackles with ease.
However, what truly separates Jordan as a prospect is his ability in coverage. Not only is he comfortable in space, he played in man coverage against slot receivers at times. He will need to add a bit more bulk to defend against the run, but he has more upside than any other prospect at the position.
2. Barkevious Mingo, LSU—Round 1
Much like Jordan, Mingo is a bit undersized, weighing in at 241 pounds. He makes up for it with his elite burst off the line and ability to bend and dip around offensive tackles.
Mingo does not have the flexibility that Dion Jordan has, but his burst makes him a better immediate pass-rusher off the edge.
3. Bjoern Werner, FSU—Round 2
No defensive end is faster off the line than Bjoern Werner, but he is not a prospect without red flags. When he loses early in the down, he tends to give up on plays and can be taken advantage of in the run game.
There is enough upside with Werner to be in the mix for the Jets first pick, but he should only be considered if Mingo and Jordan are already off the board.
4. Ezekiel Ansah, BYU—Round 2
At 270 pounds, Ansah would be a major risk moving to outside linebacker—but as we saw with Muhammad Wilkerson and Quinton Coples, Rex is a master at turning "raw" prospects into studs (at least on defense).
Ansah is as unpolished as they come in terms of his technique, but he blew up the combine and has as much upside as any defender in this class. The problem is, the Jets don't have a lot of time to wait for Ansah to develop with two starting outside linebacker spots up for grabs.
5. Jarvis Jones, Georgia—Round 2
Based on ability alone, Jones would be a lock as a top-five selection. However, he has a serious spinal condition that could potentially drop him out of the first round.
If Jones checks out with the Jets doctors, he could be taken with their first pick. Otherwise, he will be off their board entirely.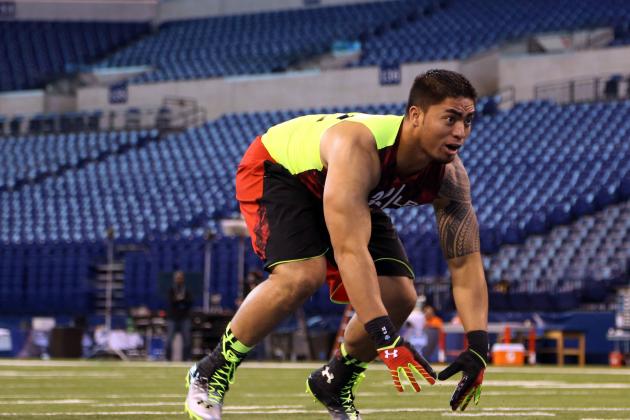 Brian Spurlock-USA TODAY Sports

1. Alec Ogletree, Georgia—Round 1
A former safety, Ogletree has more upside than any interior linebacker in this class. With tremendous explosiveness and physicality, Ogletree can be a dominant player—when he wants to. He tends to lose focus in game and has some off-field issues that draw red flags.
At 234 pounds, he is a bit undersized for a 3-4 defense, but he is too good of a prospect to not be considered as the top inside 'backer on the Jets board.
2. Manti Te'o, Notre Dame—Round 2
It is very unlikely that the Jets have any interest in drawing any more media attention to themselves by selecting Te'o, but he would be a solid fit for their defense nonetheless. Te'o struggles a bit in coverage, but he has good instincts and is a solid tackler.
As long as he avoids more performances like the BCS championship game, Te'o will make for a solid pro.
3. Arthur Brown, Kansas State—Round 2
If Brown was 20 pounds heavier, he would be the top player on this board, but 3-4 inside linebackers simply cannot survive at 228 pounds.
With tremendous explosiveness and underrated strength, Brown projects best as a 4-3 WILL linebacker. Ryan would find a way to use him if he fell in his lap, but Brown will be taken much earlier by a 4-3 team.
4. Kevin Minter, LSU—Round 2 (6'1", 245 lbs)
While he underwhelmed at the combine, Minter is the best fit for a 3-4 inside linebacker position from a size standpoint. A technically sound, physical player, Minter would be able to start from day one, but his limited athleticism puts a ceiling on his pro potential.
5. Jon Bostic, Florida—Round 3 (6'1" 247 lbs)
Also boasting ideal size for the position, Bostic also brings a high level of physicality to the position in combination with his underrated athleticism. A solid pro day could lead to him going much higher than most had originally projected.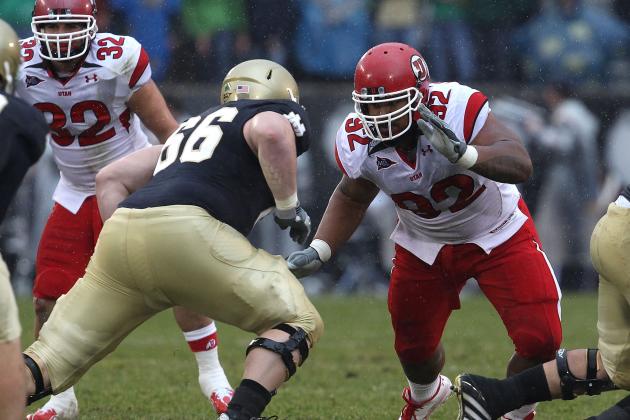 Jonathan Daniel/Getty Images

1. Star Lotulelei, Utah—Round 1
Star is one of the few prospects who has the athletic ability to play in any scheme at any position along the defensive line. Using him as a two-gap nose tackle would be a bit of a waste of his talents, but he would still be the best player in this class to do it.
2. Jesse Williams, Alabama—Round 1
While he would be better suited to play defensive end in a 3-4 scheme, he has enough power and leverage to be a nose tackle in the middle of a 3-4 defense. Williams excels as a run defender who can disengage blockers with his hands while maintaining control of his gap.
3. John Jenkins, Georgia—Round 2
One of the biggest linemen in this class, Jenkins has the ideal build of a 3-4 nose tackle. He has impressive size and strength, but his lack of quickness limits his versatility as a run-stuffing nose tackle.
4. Sylvester Williams, North Carolina—Round 3
Williams looks as dominant as a first-rounder at times, but there were several games last year in which he was simply invisible. Williams has enough athletic ability to play several positions along the defensive line, but he will need to be much more consistent at the next level.
5. Kwame Geathers, Georgia—Round 4
Geathers has the kind of massive size you want in a two-gap nose tackle, but he does not always play like his size suggests he can because he struggles with his leverage and technique.
However, he shows good effort chasing down plays and is lighter on his feet than you would think for such a large man. If he can get some good NFL coaching and fix his technique issues, he could be a a good starter for a low, mid-round price.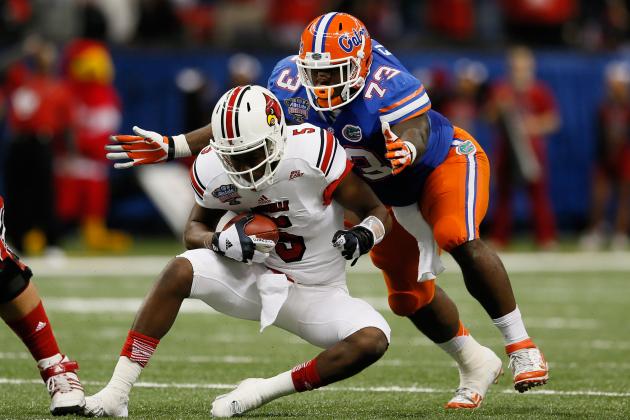 Kevin C. Cox/Getty Images

1. Star Lotulelei, Utah—Round 1
As long as his heart condition is not a factor, Lotulelei would be the best defender at any spot on the defensive line. In a 3-4 defense, his best role would be at defensive end where his size is best suited for a dual role of both stopping the run and rushing the passer.
2. Sharrif Floyd—Round 1
Floyd has seen his stock taken a steep rise as the draft process has worn on—and for good reason. He is very flexible in his hips and has great initial burst, making him great a blowing up run plays before they even develop. His size is perfect for a 3-4 defensive end position where he can play all three downs.
3. Jesse Williams, Alabama—Round 1
While he would be better suited to play defensive end in a 3-4 scheme, he has enough power and leverage to be a nose tackle in the middle of a 3-4 defense. Williams excels as a run defender who can disengage blockers with his hands while maintaining control of his gap.
4. Jesse Williams, Alabama—Round 1
Like many of the other defensive tackles in this class, Williams would be able to play in just about any position. Williams size makes him best suited for the 5-technique defensive end spot where he would excel at setting the edge in the run game.
5. Sheldon Richardson, Missouri—Round 1
Arguably the quickest defensive tackle in this class, Richardson would be a much-better fit as a penetrating 3-technique in a 4-3 defense. However, if he landed on the Jets roster, Rex Ryan would find a way to make it work moving him all along the defensive line to the most out of his talents as an interior pass-rusher.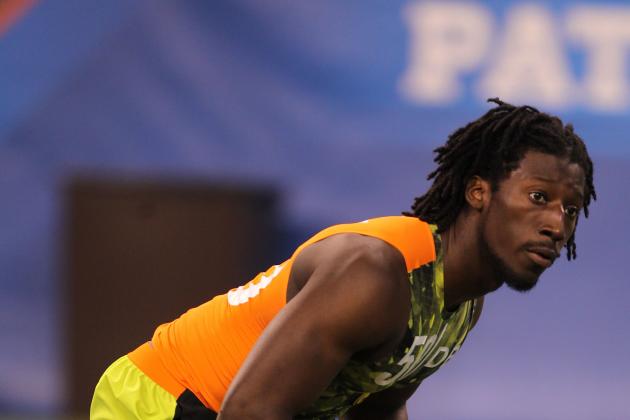 Brian Spurlock-USA TODAY Sports

1. Dee Milliner, Alabama—Round 1
The consensus top corner, Milliner has all of the makings of a Pro Bowl-caliber NFL cornerback. He lacks the elite athleticism that other top-10 cornerbacks have had in recent years, but he is a great technician with enough deep speed to run with faster receivers.
Milliner will most certainly be gone by the time the Jets find themselves in a position to draft a defensive back.
2. Xavier Rhodes, Florida State—Round 1
Rhodes has the largest frame out of any other corner in this class, which is becoming more of a favorable trait in today's NFL. Rhodes is excellent in press coverage, which is a trait the Jets covet when selecting defensive backs.
There was some concern that Rhodes did not have the speed to run with deep receivers, but his 4.43 time at the combine was enough to solidify his status as the second-best corner in this class.
3. Desmond Trufant, Washington—Round 1
Like Rhodes, Trufant excels in press-man coverage, making him a perfect fit for the Jets' defense. He sometimes struggles in his technique when pinning receivers against the sideline, but he has excellent timing and ball skill that allow him to break up passes and get turnovers.
Trufant also carries himself with a tremendous amount of confidence, which is exactly what you want to see in a defensive back.
4. Johnthan Banks, Mississippi State—Round 1
Banks has good length and a nice frame for the position with ball skills to complement his natural agility and flexibility. However, he tends to get lazy with his technique and has poor eye discipline.
Banks has as much upside as any corner in this draft, but he will need good coaching to get the most out of his talents.
5. David Amerson, NC State—Round 3
Prior to the start of the season, Amerson had a chance to be the top cornerback in this class, but a slew of bad games in which he was abused on long passes have killed his draft stock.
Still, Amerson has some ability as a man-coverage corner who would be a good fit for the Jets if he is taken in the right spot in the draft.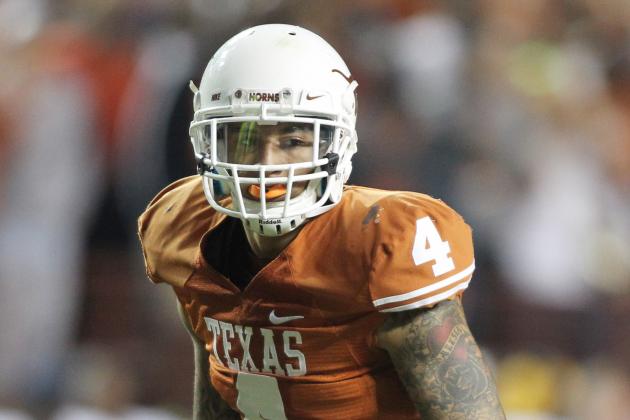 Tim Heitman-USA TODAY Sports

1. Kenny Vaccaro, Texas—Round 1
Hands-down, Vaccaro is the most well-rounded safety prospect, excelling in coverage and up in the box against the run. He can also run with tight ends and slot receivers, making him a do-it-all safety who is becoming a must-have in today's NFL.
If there is a safety prospect worth the ninth pick in the draft, Vaccaro is it.
2. Jonathan Cyprien, Florida International—Round 2
One of the fastest risers in the draft after an impressive showing at the combine, Cyprien has all of the tools to succeed in the NFL, despite coming from a smaller program at Florida International.
The biggest flaw in Cyprien's game is that he is not the most technically sound run defender; he tends to stay high and attack the shoulder. If he can clean up some of his technique and adjust to the NFL game, he can become a Pro Bowl player in no time.
3. Eric Reid, LSU—Round 2
Like Vaccaro, Reid is a versatile safety that is capable of playing in deep coverage and covering tight ends. He has great closing speed and athleticism that suggest that he will only get better as a pro.
However, Reid is sometimes overly aggressive, leading to him giving up big plays on busted coverages. If he can learn to control his movements, he could be a tremendous pro.
4. D.J. Swearinger, South Carolina—Round 2
Swearinger is best known his ability to change games with bone-crunching hits, but he is a bit better in coverage than most strong safety types. His aggression can lead to him getting burned in coverage, but he will bring a level of physicality to the secondary that will rival any other player in this draft.
5. Matt Elam, Florida—Round 2
Like Swearinger, Elam is more of a strong safety whose game is more predicated on delivering big hits in the box than in coverage. While an instant hole-filler at strong safety, his limitations in coverage prevent him from being the versatile safety that NFL teams covet.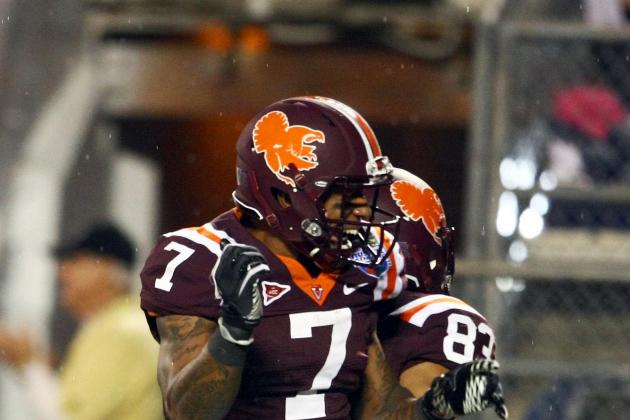 Douglas Jones-USA TODAY Sports

1. Marcus Davis, WR, Virginia Tech
Davis is blessed with a tremendous amount of athletic ability and balance that makes him a tremendous big-play receiver, but issues with effort and concentration have held him back form becoming an elite prospect.
With some good coaching, Davis has a chance to be one of the top receivers to come out of this class.
2. Stepfan Taylor, RB, Stanford
While he lacks any unique physical gifts, Taylor has tremendous vision and can do it all as a runner, blocker and a receiver. The Jets are going to be in the market for a complement to Bilal Powell, and Taylor would be the perfect man for the job as a smart, savvy rookie who can play on third downs.
3. Shamarko Thomas, S, Syracuse
Thomas' stock is slowly rising up draft boards—and for good reason. Thomas was the heart and soul of Syracuse's defense last year, setting the tone with his big hits. He can be a bit too aggressive in coverage and needs to be better with his eye discipline, but he could be a steal if taken in the third day of the draft.
4. Kenny Stills, WR, Oklahoma
Stills is an interesting prospect in that he plays like a receiver who is five inches taller than he is. At just 6'0", Stills excels at making contested catches and tracking the ball.
He is not the fastest or quickest receiver, but he knows how to get open and could make for an interesting projection as a slot receiver at the next level.
5. Theo Riddick, RB, Notre Dame
Riddick compares well with Darren Sproles in that he can be utilized in a multitude of offensive positions in the NFL. A solid route-runner and a shifty runner, Theo could be a tremendous third-down back if he can learn protection schemes quickly enough.