The Chicago Blackhawks have a pair of games against what could be two dangerous teams this weekend.
Sure, the 'Hawks have victories against both Colorado and Edmonton this season. However, Chicago trailed in both of those contests and had to rally to pull out wins. The going could be rough in the second go-around with the Avs and Oilers.
Beginning Friday night in Denver, Chicago will have it's hands full with two teams who are more than capable in winning a track meet over the Blackhawks. The Avalanche are a familiar opponent, with the 'Hawks pulling out a 3-2 win in the final seconds Wednesday night.
Chicago comes into the weekend's action riding high on an 11-game winning streak. They are finding a new way to win with each passing game and have confidence on their side, even if the picture isn't as rosy on the health front.
Marian Hossa, Michael Frolik and Andrew Shaw all traveled to Colorado with the team and could be in the lineup Friday. Steve Montador, whose concussion symptoms have kept him out of action for over a year, was activated this week and is cleared to play if called upon.
Patrick Sharp looks to be suffering from a shoulder injury which could keep him out several weeks, but the team isn't ready to discuss a timetable for a return. Brandon Bollig, who was sent to Rockford earlier this week, was recalled yesterday.
It will mostly be the usual suspects for Chicago. Perhaps Daniel Carcillo, who potted the game-winner Wednesday, may find himself on one of the top two lines. Maybe coach Joel Quenneville will use Sharp's absence to juggle the lines a bit.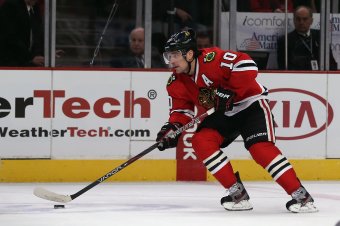 Jonathan Daniel/Getty Images
I would expect Corey Crawford to handle net duties Friday and possibly Sunday against Edmonton as well. Crawford is the hottest goalie in the league and such a weekend would be a nice test for him.
The Avalanche are going to benefit from a night off before hosting Chicago. The Oilers face Nashville on Friday but will also have a day off before taking on the Blackhawks Sunday in a 6 p.m. start.
Edmonton is nearing the end of a long road trip when it pulls into Chicago. The trip got started at the United Center February 25 when the 'Hawks won in overtime 3-2. The Oilers are 1-3-2 on the road jaunt heading into the Nashville game.
Taylor Hall, who was suspended for the last meeting with the Blackhawks, will be added to the lineup. Starter Deven Dubnyk will likely be in goal for Edmonton, as Nikolai Khabibulin is nursing a groin injury.
Both Colorado and Edmonton present challenges to the 'Hawks, as evidenced by the last meetings between the clubs. Defensive slip ups can put Chicago into a hole quickly as their opponents have good speed on the ice.
Frolik has been suffering from an illness, while Shaw may be shaking off the effects of an elbow from Paul Stastny Wednesday. Hossa was a late scratch but could be in tonight's lineup.
The records may not show it, but Chicago is taking on two tough matchups this weekend as the Blackhawks try to keep their winning and points streaks alive.