West Virginia Football: Spring Practice Position Battles Tracker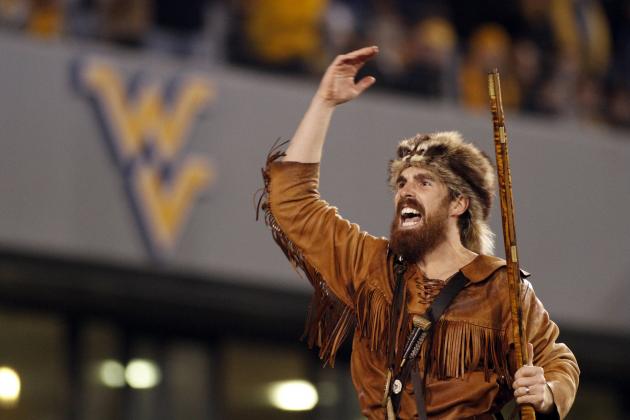 Justin K. Aller/Getty Images

Dana Holgorsen stepped into a great situation at West Virginia when he became the head coach three years ago. Now his team must reload in the dangerous Big 12, and after last season, it is clear the path won't be easy.
This program is on the mend after a number of key players departed following 2012. A number of positions are open this spring, and this is a look at the progression of those battles and news that is coming out of Morgantown.
The spring game is set for Saturday, April 20, at 2 p.m. ET, but before it kicks off, this will be your guide to the news and developments out of the Blue Mountains.
Note: This slideshow will be updated with the latest news, position battles, injuries and more.
Begin Slideshow

»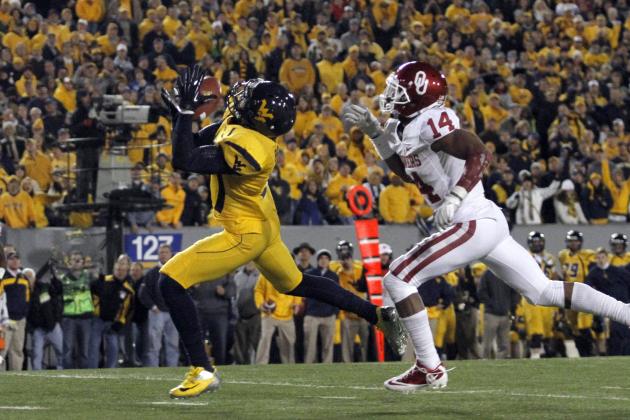 Justin K. Aller/Getty Images

Update: March 11
The Mountaineers opened spring practice on Sunday in shorts and helmets.
According to Scott Grayson with wvillustrated.com West Virginia provided quality snaps for three quarterbacks as expected with Paul Millard, Ford Childress and Chavas Rawlins all making throws.
Childress and Millard are expected to be the frontrunners.
There are currently eight running backs on the spring roster with Andrew Buie and Dustin Garrison leading the way to playing time. Incoming JUCO transfer Dreamus Smith also looks like a contender according to the report.
West Virginia will get back to the practice field on Tuesday.
Update: March 8
Heading into the spring practice session, there are a number of key position battles to watch for West Virginia.
The most-watched position group will be the quarterbacks, but head coach Dana Holgorsen has made indications that he is not willing to settle the job in just 15 practices.
There are also key battles at receiver and on defense that will hope to bring new life to a team that struggled through a first-year transition into the Big 12.
The first practice is set for March 10, and there will be updates that follow the Mountaineers throughout spring practice.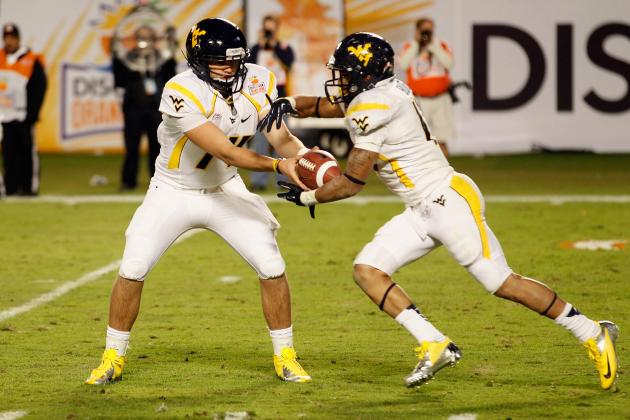 J. Meric/Getty Images

Quarterback
Ford Childress (Fr.) vs. Paul Millard (Jr.)
The Mountaineers are heading into the new year with a battle on their hands at the quarterback position. The Mountaineers are losing their star signal-caller Geno Smith heading into the new season, and there are two front-runners in the race.
Paul Millard and Ford Childress are very strong contenders in the race, with Millard bringing some experience and Childress bringing the intangibles.
This is a key position to fill, and despite Holgorsen calling for a lengthy process, focusing in on one guy should be the plan by the end of spring.
Projected Starter: Ford Childress
Actual Starter: TBD
Receiver
Devonte Mathis (Fr.) vs. Kevin White (Jr.)
The Mountaineers are looking to replace three key contributors in the passing game this spring, and there are two players that are looking to battle for one of the outside positions.
Incoming JUCO transfer Kevin White is hoping his blend of size and speed will help him gain the edge, but redshirt freshman Devonte Mathis is a player that can make waves and steal the show this spring.
This battle will include a number of names, but these two should lead the headlines in spring.
Projected Starter: Kevin White
Actual Starter: TBD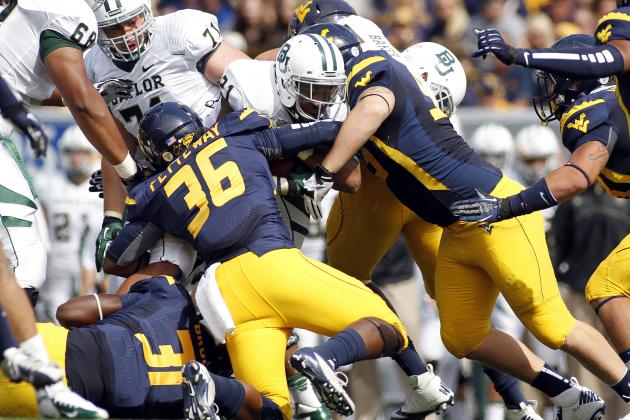 Justin K. Aller/Getty Images

Cornerback
Terrell Chestnut (So.) vs. Nana Kyeremeh (So.)
The West Virginia secondary was one of the worst in the game last year. This season, they are heading in the right direction, putting players with experience on the field, but there are still questions heading into spring.
The corner position is wide open, and Terrell Chestnut and Nana Kyeremeh are in a lockdown heading into practice for the position.
Chestnut is the leader right now, but things could change easily in 15 practices.
Projected Starter: Terrell Chestnut
Actual Starter: TBD
Linebacker
Shaq Petteway (Jr.) vs. Wes Tonkery (Jr.)
Anytime a defense was as bad as West Virginia's this past fall, there is a time for change.
This year, there will be changes at the star position after the departure of Terence Garvin, and Shaq Petteway and Wes Tonkery appear to be leading for the job.
Petteway is the favorite heading into spring, but Tonkery added nearly 10 pounds this offseason and is looking to make a push for playing time.
Projected Starter: Shaq Petteway
Actual Starter: TBD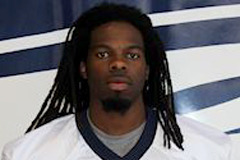 Kevin White, WR | Photo via 247Sports
Dreamius Smith, RB, 5'10", 215 lbs (3-star)
Dreamius Smith is heading into the spring looking for playing time in a stacked backfield.
Smith is a JUCO transfer, but West Virginia returns Andrew Buie and Dustin Garrison to the fold this year. Smith is a big bodied runner and could step in and fill a role that neither Buie or Garrison can.
This spring will be interesting to watch unfold for Smith, but expect him to enter summer as a co-starter.
Post Spring Grade: TBD
Chavas Rawlins, QB, 6'3", 190 lbs (3-star)
Rawlins is entering a crowded field of signal-callers, but he will get his shot this spring to show what he is worth. The other incumbents are firmly entrenched as possible starters however, so expect Rawlins to take a redshirt after this spring.
Post Spring Grade: TBD
Hodari Christian, OLB, 6'1", 195 lbs (3-star)
Christian is a transitional-type player that will fit the star position well for this team. He is coming into spring expecting to gain a lot of experience, but no playing time should come this year.
If he has a breakout spring, that could change.
One year in a college system would serve him well, and the need isn't there for Christian to be forced into early action.
Post Spring Grade: TBD
Kevin White, WR, 6'4", 210 lbs (3-star)
Kevin White walks into a battle at receiver. Losing the three top receivers is tough for this team, but it leaves an open road to playing time for JUCO transfers like White.
Look for White to exit spring as a front-runner for a starting role on the outside of the offense this fall.
Post Spring Grade: TBD
Malik Greaves, S, 6'3", 200 lbs (3-star)
Malik Greaves is a talented safety that could play immediately, but the Mountaineers are thick with young safety talent. Greaves will use spring for instruction, but early playing time doesn't appear in his future.
Post Spring Grade: TBD
Wendell Smallwood, RB, 5'11", 190 lbs (3-star)
Smallwood is a dangerous all-purpose back that has a lot of upside. He will use the spring to develop and head into the new season looking for a redshirt year. A few more pounds will benefit him as the Mountaineers future big-bodied back.
Post Spring Grade: TBD
Daikiel Shorts, WR, 6'1", 200 lbs (3-star)
Shorts is as talented as they come on the outside, carrying all the skills that this offense needs to thrive, but it won't start this year.
He is quick in his routes and has great hands, but the loaded receiver group may keep his talents sidelined in 2013. A redshirt year will benefit Shorts. Expect him to return in 2014 ready to contribute.
Post Spring Grade: TBD
Justin K. Aller/Getty Images

Dreamius Smith, Running Back
West Virginia is loaded at tailback with both leading rushers returning in 2013, but Dreamius Smith is a special talent at running back.
Being a JUCO transfer, Smith is game ready, and he has the talent to take over as the feature back for this team this spring.
Fans that follow recruiting know the name, but casual observers haven't heard of Smith yet.
The spring game will change that.
Kevin White, Receiver
Kevin White is another impact JUCO that is headed to Morgantown.
The Moutaineers lost the top three receivers from a year ago, and there is a major need for playmakers to step into this offense.
At 6'4", 210 pounds, White has the frame to be a game-changer for the Mountaineers and help take this offense to the top of the Big 12.
This spring will be huge for White to showcase his skills.