Winners and Losers from This Week in the NBA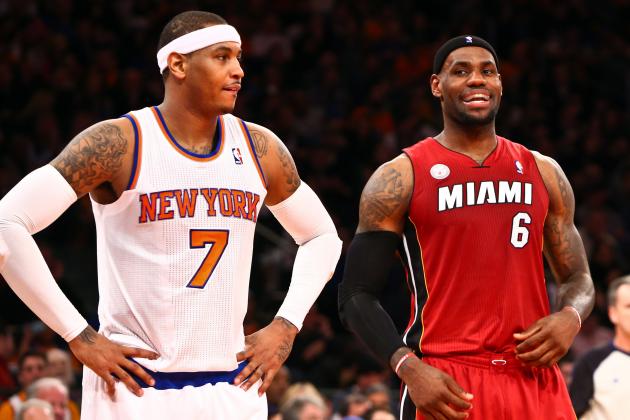 USA TODAY Sports

March in the NBA is typically a time for separating the boys from the men amidst the league's hierarchy. With no trade deadline to worry about or All-Star game to distract, it's time for teams to either get busy livin' (i.e. pushing for the playoffs) or get busy dyin' (i.e. tank for ping pong balls in the draft lottery).
That much was clear this past week—the first full week of the last calendar month of the regular season—as contenders, pretenders and bottom-feeders continued to sort themselves out from one another in earnest.
This year's postseason fields in each conference are all but set, save for the Los Angeles Lakers' late rally to right the ship during what's largely been a disastrous campaign. However, the seeding on both sides remains up for grabs.
The middle is plenty muddled out West, though even the ongoing battle between the Denver Nuggets, Memphis Grizzlies and Los Angeles Clippers pales in comparison to the calamity of the game-and-a-half that separate the seventh-place Boston Celtics from the fourth-place Brooklyn Nets.
We're still a ways away from designating the ultimate winners and losers, but for now, handing out some ups and downs from the week that was should suffice.
Begin Slideshow

»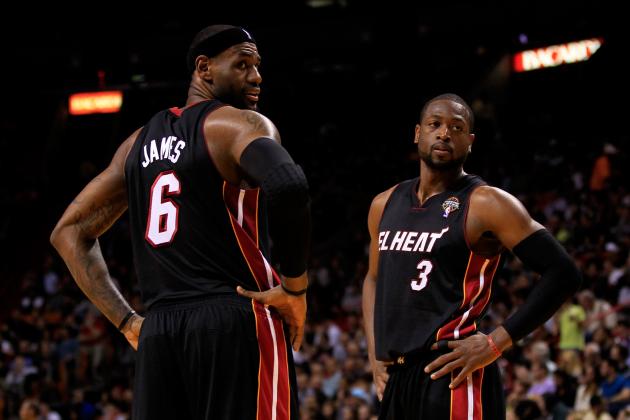 Chris Trotman/Getty Images

There's winning, there's WINNING!...and then there's whatever it is the Miami Heat are doing.
What I'm trying to say is, LeBron James, Dwyane Wade, Chris Bosh and company are putting Charlie Sheen to shame by way of their franchise-record 17-game streak.
Not that there aren't plenty of holes to be poked in this particular run, which dates back to early February. Only seven of those victories have come at the expense of teams currently in playoff spots, with close calls against the Bobcats, Cavaliers, Kings and Magic sprinkled in between.
And, truth be told, it doesn't yet carry quite the historic significance of the Chicago Blackhawks' not-losing-in-regulation streak over in the NBA's sister league, the NHL (aka pro basketball on ice...with more Scandinavians).
But, in the here and now, the streak has allowed the Heat to open up an eight-game chasm between themselves and everyone else in the Eastern Conference while reasserting their claim to title-repeat-favorite status.
While the Heat rise (as heat tends to do), the New York Knicks continue to slump their way back toward the pack in the Eastern Conference. This past week saw the Knickerbockers lose both of their games against the 2012 NBA finalists, including a 16-point second-half choke in which LeBron James punctuated his punking of Carmelo Anthony with a game-sealing steal-and-dunk.
But 'Melo's pride wasn't the only part of him that suffered. The very next day, Anthony fell victim to a knee injury during the first half of the Knicks' tilt with the Cleveland Cavaliers. What's worse (for Anthony, anyway), the Knicks dug themselves a 22-point hole in Cleveland.
One out of which they eventually climbed, but only after 'Melo was ruled out.
Despite apparent evidence to the contrary, the Knicks had better hope that Anthony's bum knee doesn't prove too problematic, lest they rely on the streaky J.R. Smith and the frumpy Raymond Felton to fuel another first-round flameout.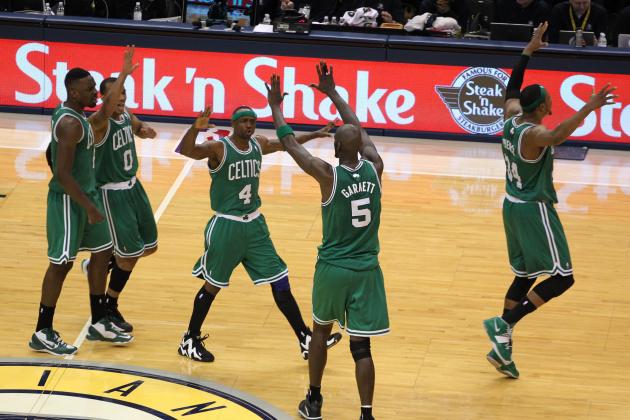 Brian Spurlock-USA TODAY Sports

Elsewhere in the Atlantic Division, the Boston Celtics are probably licking their chops in anticipation of the Knicks' misfortune. The C's have won five in a row to up their record to 14-4 since Rajon Rondo's season-ending ACL tear and move within four games of their bumbling rivals from the Big Apple.
To be sure, making up four games is no cakewalk with just 21 games left on the schedule. But don't underestimate the playoff-push power of Boston, which is moving the ball with greater fluidity sans Rondo while still defending at an elite rate on the other end.
And with two games left on the schedule against the Knicks, the Celtics will have ample opportunity to narrow the gap themselves. Though, truth be told, the C's have no shortage of other tough games (at OKC, at Memphis, at Miami, vs. Indiana) that could just as well render their pursuit of the Knicks moot.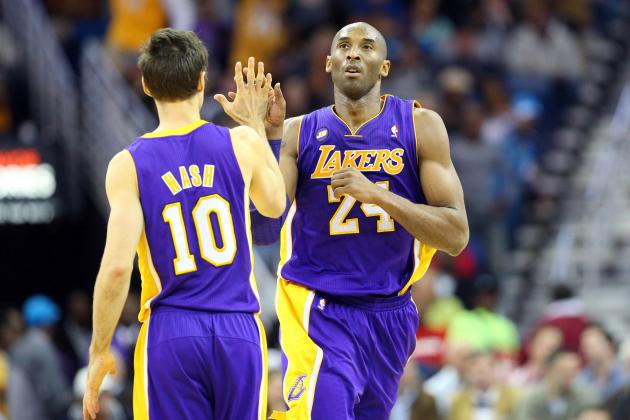 Crystal LoGiudice-USA TODAY Sports

Speaking of the Celtics, Kobe Bryant has been on an absolute tear since his 16-point (on 5-of-15 shooting) "dud" during a 113-99 win over Boston on Feb. 20. Here's Kobe's line in the seven games since then: 35.1 points, 56.4 percent shooting from the floor, 47.2 percent from three, 9.4 free-throw attempts, 6.6 rebounds, 6.1 assists, 37.8 minutes.
In other words, it's as if Kobe (and his German doctors) jumped in a time machine back to 2005-06, Blake Griffin-style.
His throwback play was particularly impressive this past week, when he willed his Lakers to wins over the Hawks and Hornets and nearly led them all the way back from a double-digit deficit in OKC. His tally from that stirring 25-point comeback in New Orleans (42 points, 12 assists, seven rebounds) is one that's only been matched or exceeded seven times in NBA history.
And one that'd never been done as efficiently (on 14-of-21 shooting) as Kobe did it in the Crescent City.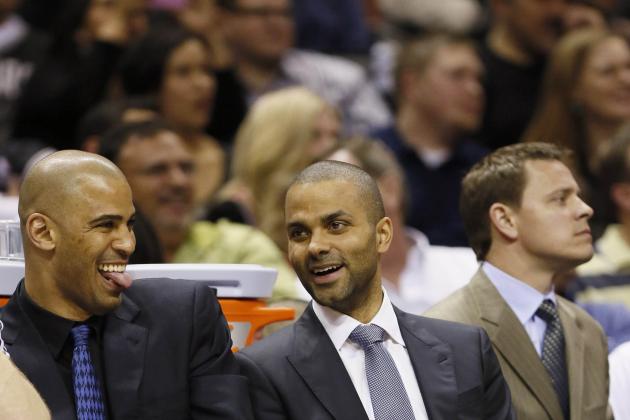 USA TODAY Sports

Let's make one thing absolutely clear: So long as LeBron James and Kevin Durant were performing at an otherworldly level, Tony Parker was never going to be the 2012-13 NBA MVP.
That being said, Parker has been "in the discussion" this season, partly because he's the best player on the team with the best record (San Antonio Spurs). And partly because he's been friggin awesome on the court in his own right.
However, San Antonio's ongoing surge sans T.P. may well throw a bit of a wrench in the point guard's "plans" to move from "underrated" to "properly rated" within the basketball world. Parker went down with a nasty ankle sprain during the Spurs' most recent visit to Sacramento, which ended with a 28-point pummeling of the calamitous Kings. The Spurs followed that up with a 39-point throttling of Detroit and an 18-point pounding of the still-Derrick Rose-less Bulls (more on them in a bit).
Granted, we're not exactly talking about a murderers' row of opponents for San Antonio. But if the Spurs continue to pile up the W's in Parker's absence—including when they welcome the Thunder to the Alamo City—the perception of Tony as a "system guy" under Gregg Popovich will only spread, rightly or wrongly.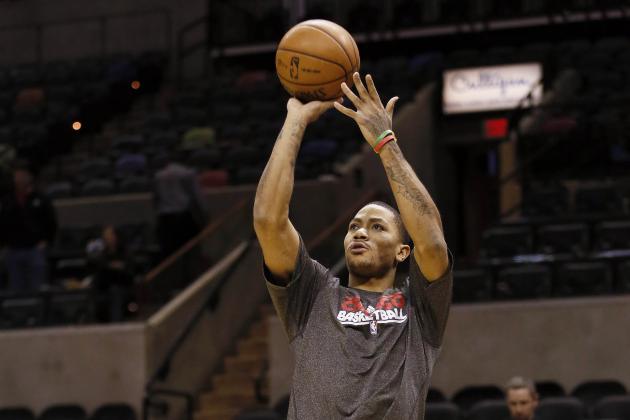 USA TODAY Sports

Hard times have officially befallen the Chicago Bulls. They've looked worn out from playing big, taxing minutes under Tom Thibodeau since the start of February, to the point where they were barely able to pick a fight against the Spurs sans Tony Parker.
It's an admittedly depressing turn of events for a ballclub that'd hung so tough all season without Derrick Rose. Chicago has slipped to fifth in the East—albeit just a game back of fourth-place Brooklyn—with four losses in its last seven games and 10 in 17 dating back over a five-week period.
As for D-Rose, the latest news regarding his injury is either encouraging, because he's been cleared to play by his doctor, or wholly frustrating, since he insists that he won't return until he can "confidently dunk off his left foot" (via Melissa Isaacson of ESPN Chicago).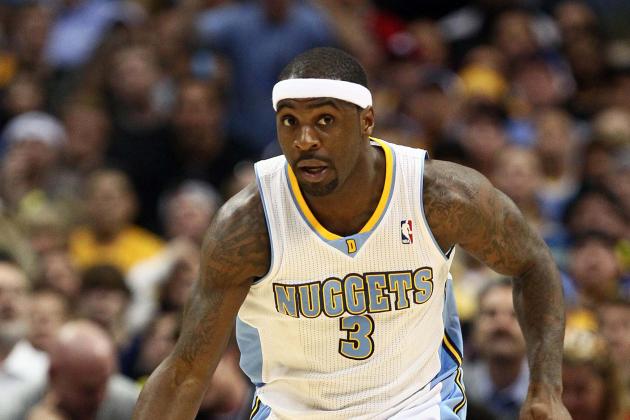 Isaiah J. Downing-USA TODAY Sports

But enough with the depressing point guard news. Here's a decidedly more uplifting tidbit from the world of floor generals: Ty Lawson is playing like an honest-to-goodness quasi-All-Star.
Whatever that means.
Lawson put together one of his best games of the season against the Clippers Thursday nighr, torching Chris Paul and Co. for 21 points, 11 assists, six rebounds and a steal to propel the Denver Nuggets to a 15-point thumping.
Better yet, the win was Denver's seventh in a row and moved the Nuggets within a game of home-court advantage in the first round of the Western Conference playoffs. Since the start of that streak, Lawson has averaged 20.9 points, 7.4 assists and 1.4 steals—which is probably right around what the Nuggets figured he'd be putting up all season after signing him to a four-year, $48 million extension on Oct. 30.
But hey, better late than never, right?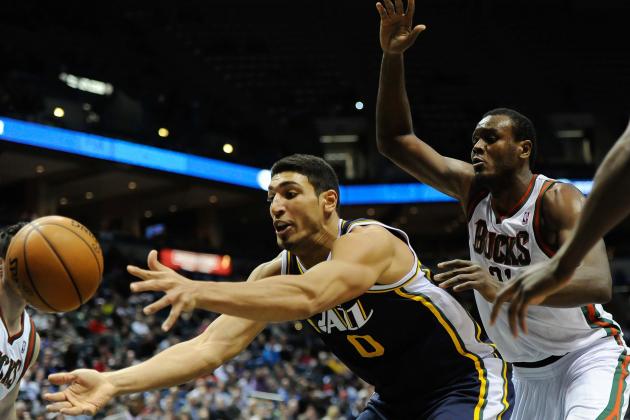 Benny Sieu-USA TODAY Sports

It's bad enough that the Jazz have tumbled to the eighth spot in the West—just a game ahead of the hard-charging Lakers—on account of narrow losses to the Bucks, Cavaliers and Bulls.
What's worse is that Utah's ongoing slide (six losses in the team's last seven games) has been exacerbated by the intermittent absences of Al Jefferson and Paul Millsap. The Jazz may well have been able to offload either big (or both) at the trade deadline to bring back guard help and open up more playing time for Enes Kanter and Derrick Favors. Such moves would've likely set Utah back in the present while improving the organization's prospects for the future.
Whether there was actually a decent market for Jefferson and Millsap is a matter of some speculation at this point. Still, it's tough not to wonder what could've been for the Jazz had they gotten something for at least one of the free agents-to-be.
Especially now that they've both been bitten by the injury bug, and that the Jazz's playoff hopes have continued to fade anyway.