NHL Player Rankings: First-Half All-Star Team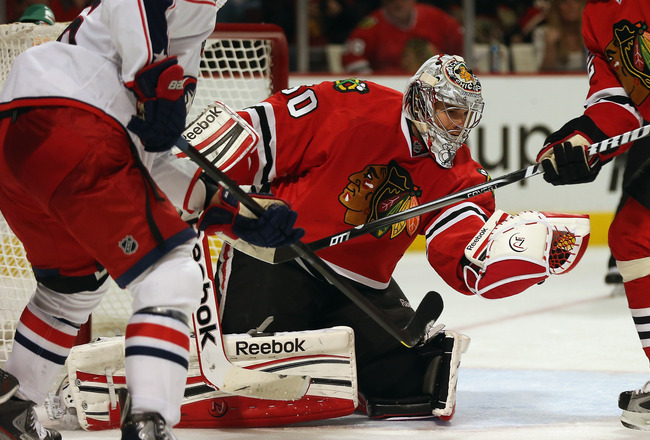 Jonathan Daniel/Getty Images
We are just about halfway through the abbreviated 2013 NHL season.
Some teams have impressed us, such as the Chicago Blackhawks and Anaheim Ducks, while others have disappointed, enter Washington Capitals and Tampa Bay Lightning.
Who has been playing well enough to headline a first line of NHL All-Stars to this point?
Let's take a look, shall we?
Stats courtesy of ESPN.com.
Honorable Mention
Justin K. Aller/Getty Images
Mike Ribeiro, C, Washington Capitals
Ribeiro is near the top in the league with 28 points and has helped a resurgence in Washington that could very well lead them back to the postseason.
Chris Kunitz, LW, Pittsburgh Penguins
It's always nice to have the leading assist man in the NHL playing on your line, but Kunitz has lit the lamp 14 times so far in 2013, to go along with 17 assists. Oh yeah, don't forget about the plus-17.
Eric Staal, C, Carolina Hurricanes
If Staal's 28 points weren't impressive enough, the Hurricanes captain leads the league with a plus-17 plus-minus rating.
Niklas Kronwall, D, Detroit Red Wings
If anyone could partially fill Nick Lidstrom's skates, Kronwall was going to have to be the guy. He has filled in nicely with 18 points thus far in 2013, good enough for second place among defensemen.
P.K. Subban, D, Montreal Canadiens
Subban missed the first six games of the season due to contract negotiations gone bad. Since his return, Subban has tallied six goals and nine assists, leading the Montreal Canadiens to the best record in the Eastern Conference.
Ray Emery, G, Chicago Blackhawks
When your backup goalie is 10-0-0 and holds the NHL record for most consecutive wins in net to start a season, you know things are going well for your team.

Top-Performing Rookie

Jonathan Huberdeau, C, Florida Panthers
When your team is the worst in the NHL and you have 10-11 guys on the injured list, it is impressive to score 11 goals and lead your team.


Most Disappointing Player
Ryan Nugent-Hopkins, C, Edmonton Oilers
Through 22 games in 2013, the 2012 No. 1 overall pick has only tallied one goal and seven assists. Needless to say, Nugent-Hopkins needs to elevate his game.
Patrick Kane, RW, Chicago Blackhawks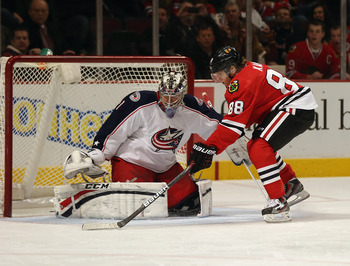 Jonathan Daniel/Getty Images
The top performer on a team that hasn't lost in regulation in 24 games in 2013 is worthy of a spot on the All-Star team.
Patrick Kane has lit the lamp 12 times, to go along with 15 helpers, leading the Chicago Blackhawks to a 21-0-3 record at the halfway mark in this abbreviated NHL season.
It has been remarkable watching what him and his Hawks have been able to do.
If you ask me, aside from Sidney Crosby, there is no better playmaker in the league than Kane.
Sidney Crosby, C, Pittsburgh Penguins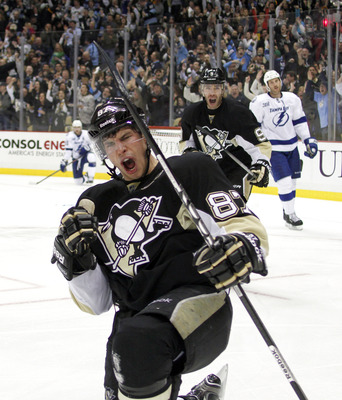 Justin K. Aller/Getty Images
28 assists and 11 goals through 24 games. That's 39 points if you can do simple math.
Sidney Crosby looks to have fully recovered from his concussion that he suffered a few years back. His Pittsburgh Penguins have a semi-cushiony five-point lead in the toughest division in hockey.
To this point in the year, Crosby is my favorite for the Hart Trophy, which is awarded to the NHL's MVP.
Steven Stamkos, LW, Tampa Bay Lightning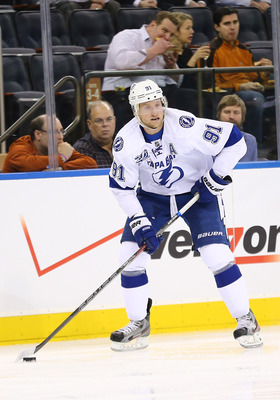 Al Bello/Getty Images
Steven Stamkos is a natural center, but I am sure he wouldn't mind suiting up at right wing for the All-Star team.
Once again, Stamkos is on pace to lead the league in scoring. This would be the third time in the last four seasons that he would hoist the Rocket Richard Trophy.
Stamkos' 18 goals are two ahead of Jeff Carter for the league lead.
Although, it would be nice if he could get some help from a teammate not named Martin St. Louis, as his Lightning are falling towards the bottom of the Eastern Conference standings by the day.
Kris Letang, D, Pittsburgh Penguins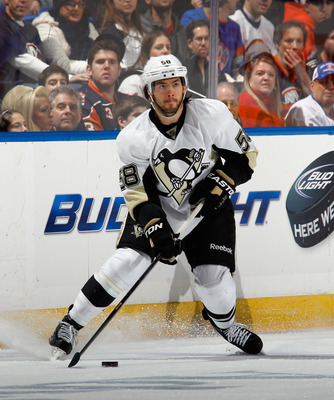 Bruce Bennett/Getty Images
With three goals, 19 assists and a plus-6 rating, Kris Letang has been remarkable for the Pittsburgh Penguins thus far in 2013.
He has played an intricate role in keeping the Penguins atop the Atlantic Division and will need to continue his pace-of-play in order to hoist a second Stanley Cup in Pittsburgh since 2009.
Francois Beauchemin, D, Anaheim Ducks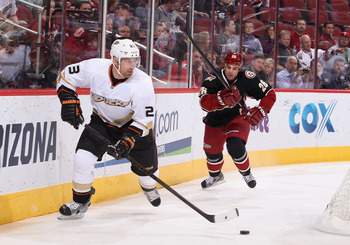 Christian Petersen/Getty Images
Francois Beauchemin is plus-13 on the season and has played a pivotal role in keeping the Ducks in pace to catch the Chicago Blackhawks for the top spot in the Western Conference.
In fact, the Ducks are one of three NHL teams to oust Chicago in a shootout this season.
To go along with his terrific plus-minus numbers, which are second among NHL defensemen, Beauchemin has added two goals and 11 helpers.
Corey Crawford, G, Chicago Blackhawks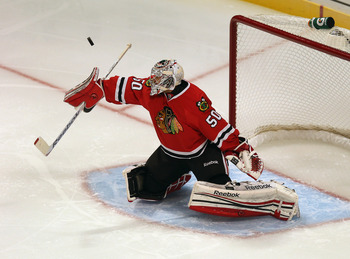 Jonathan Daniel/Getty Images
It was difficult to even come to a conclusion as to who the goalie on the All-Star team would be. With the second-best save percentage in the league (.940) and second-best goals-against average in the league (1.53), Corey Crawford took the cake.
Through 14 starts in net, Crawford is 11-0-3 and has been remarkable protecting the cage for the record-setting Chicago Blackhawks.
Keep Reading