The Mountain West conference tournament will look a little different this year.
Because of TCU's move to the Big 12 and the addition of Fresno State and Nevada, the tournament will consist of nine teams with a play-in game between the eighth and ninth-seeded teams.
The New Mexico Lobos won the 2012 conference tournament, and they have distanced themselves from the pack during this regular season.
Are they primed to repeat, or is there another team lurking and poised to reign supreme?
Here's how you can watch the action, some deeper analysis and my predictions.
When: March 12-16
Where: Thomas & Mack Center in Las Vegas
TV: CBS (Championship Game: 5 p.m. ET on March 16) and CBS Sports Network (March 13, coverage starts at 2 p.m. ET; March 15, coverage starts at 8 p.m. ET)
Brackets
The final pairings won't be finalized until after Saturday's regular season finales, but New Mexico is locked into the top spot with a 13-2 conference mark.
Fresno State (4-11) will be the seventh seed, Wyoming (4-12) eighth and Nevada (3-12) ninth. Even though all could wind up with the same conference record, tie-breakers (MWC.com) determining the final three seeds will be as previously stated.
Because of this, we know the Lobos will take on the winner of the Wyoming-Nevada play-in game. But that's about all we can be certain of.
Here's how the pairings will look.
First round




No. 8 vs. No. 9
Quarterfinals




No. 3 vs. No. 6






No. 2 vs. No. 7






No. 1 vs. Winner of No. 8/9 game






No. 4 vs. No. 5


Semifinals




Winner of 3/6 quarterfinal vs. 2/7 quarterfinal






Winner of 1-8/9 quarterfinal vs. 4/5 quarterfinal


Championship




Semifinal Winners


Stars to Watch
Anthony Bennett, UNLV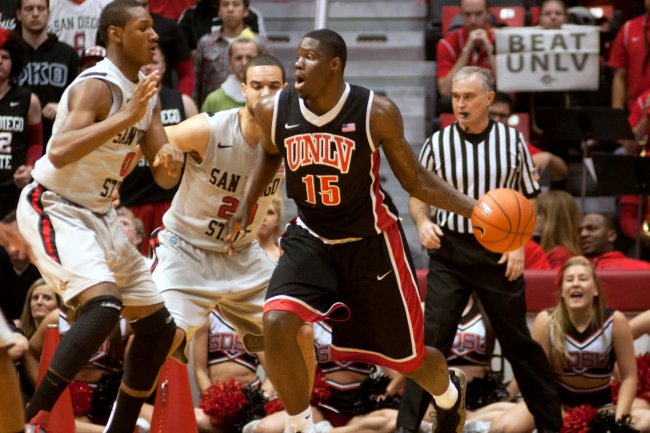 Kent Horner/Getty Images
The Running Rebels' freshman is one of the nation's best pro prospects and a bona fide scoring and rebounding threat.
He is fifth in the conference in scoring (16.2) and rebounding (8.3), and one of the few players in the conference capable of taking a game over.
Bennett gives the host team a great weapon, and he is the premier draw for scouts and fans.
Michael Lyons, Air Force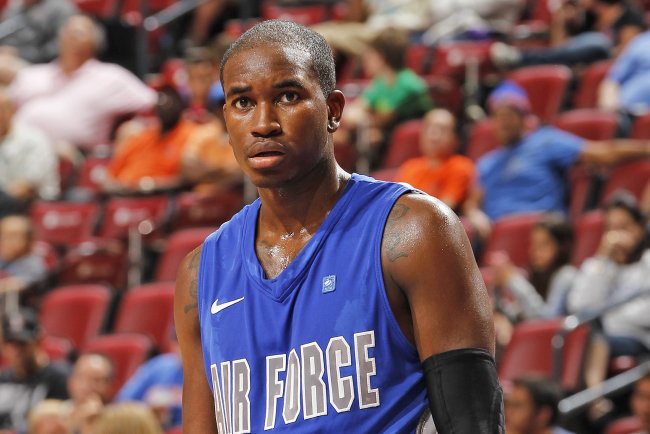 Joel Auerbach/Getty Images
Lyons leads the conference in scoring at 17.9 points per game. The 6'5" senior brings leadership and a solid overall offensive game to the table.
His three-point shooting percentage has been decent this season at 32 percent, but getting to the line will be important for the Falcons.
Lyons shoots 4.5 free throws per game this season. He'll need to be more aggressive attacking the basket if the Falcons plan to make some noise.
Colton Iverson, Colorado State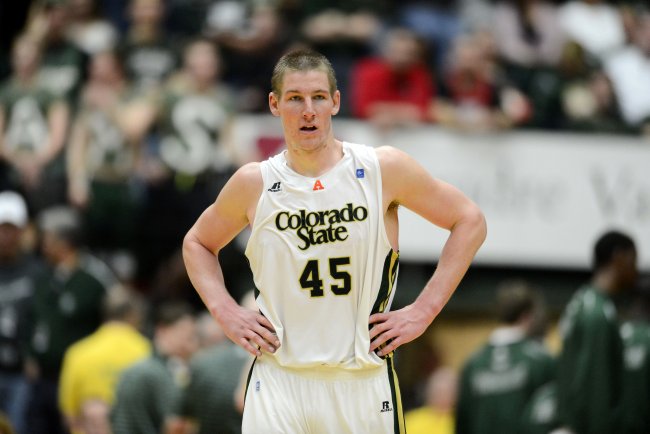 Ron Chenoy-USA TODAY Sports
The big man transferred from Minnesota, sat out all of 2011-12, and he's been a huge part of the Rams' success this season. He leads the conference in rebounding (9.7) and field goal percentage (59.2 percent).
Even though the Rams haven't beaten the top-seeded Lobos this season, Iverson has played big against them.
In two games, he is averaging 20.5 points and 14.5 rebounds against the conference's top regular season team.
Jamaal Franklin, San Diego State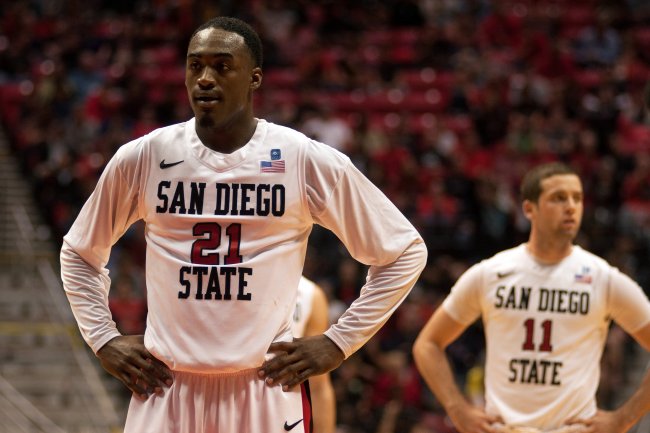 Kent Horner/Getty Images
Franklin is, perhaps, the most physically gifted player in the country, and one of the most gifted athletes in the nation.
He is an incredible rebounder for a swing man and an explosive scorer. He's averaging 9.3 rebounds and 17 points per game. He's gone for 20 or more points nine times this season.
You may remember Franklin pulling off this ridiculous self alley-oop off the glass earlier this year.
Anthony Drmic, Boise State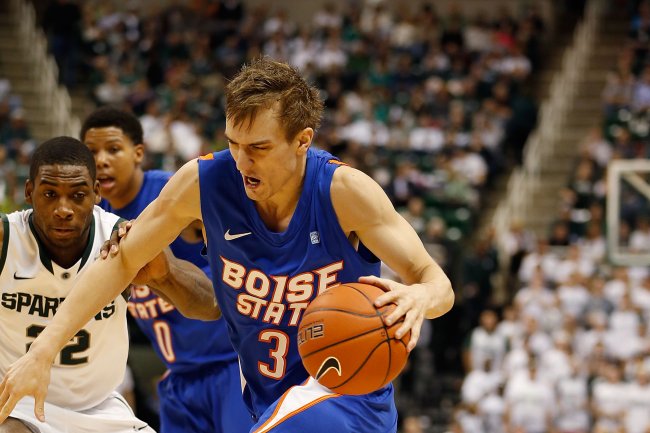 Gregory Shamus/Getty Images
Who will be the conference tournament MVP?
In a year or two, we may begin to hear Drmic's name mentioned as an NBA prospect. With a strong postseason performance, you may even hear whispers in a few months.
Drmic can shoot the basketball and he plays with great energy. His 17 points per game is second in the conference, and he's knocked down 39.2 percent of his attempts from beyond the arc.
He's just a sophomore, so the best should be yet to come from him.
Favorites
New Mexico: 13-2 conference record, 26-4 overall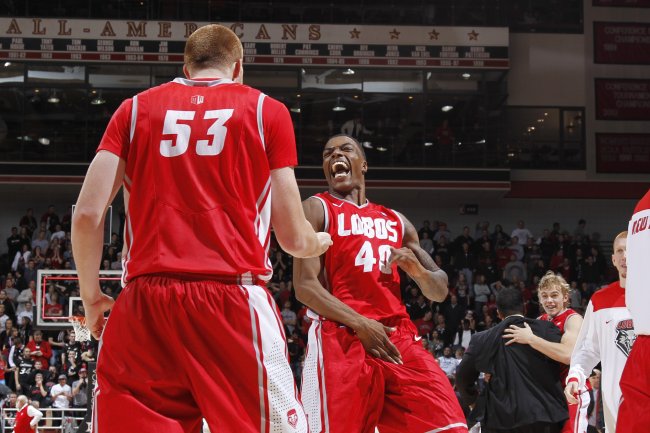 Joe Robbins/Getty Images
The Lobos won the 2012 conference tournament and they have been the best team in conference play during the regular season.
Their only two losses in the conference came at San Diego State on Jan. 26 and at UNLV on Feb. 9. The key stat in both of those losses was the field goal percentage.
The Lobos shot just 25 percent from the floor against the Aztecs and 31.8 percent against the Running Rebels. Avoiding the putrid shooting nights will be key if the Lobos are going to defend their title.
UNLV: 10-5 conference record, 23-7 overall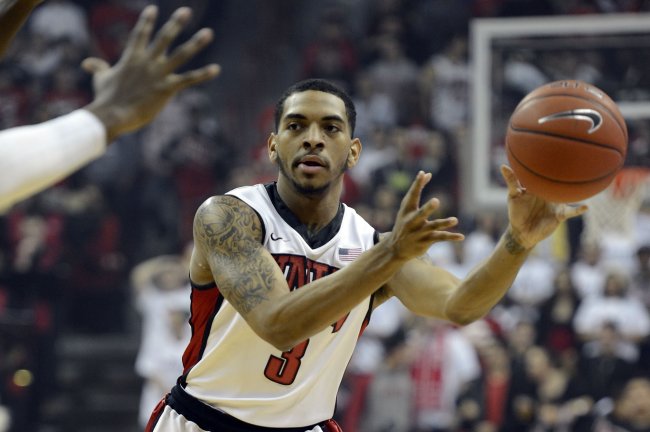 Jeff Bottari/Getty Images
As the host team, the Running Rebels have a clear advantage, but that doesn't equate to automatic victory.
The tournament has been held at the Thomas & Mack Center since 2007, and UNLV has only gone on to win it twice (2007, 2008).
That said, this UNLV squad has the pieces to make it a third conference title. Led by Bennett and Anthony Marshall, the conference leader in assists, UNLV can play with most teams in the nation.
They own wins over the Lobos, Aztecs and the Rams. Playing at home will only make them even tougher to handle.
Colorado State: 10-5 conference record, 23-7 overall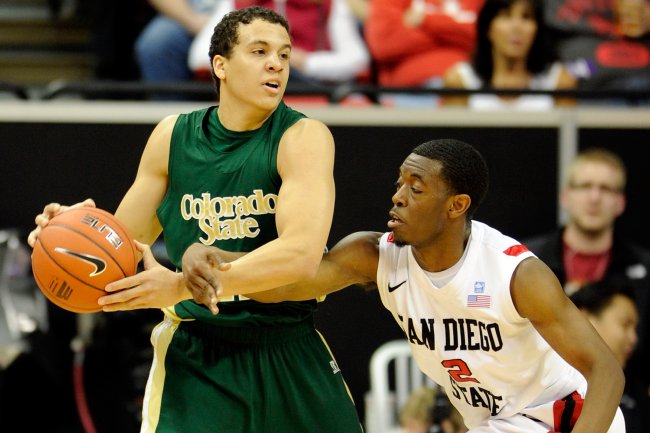 Ethan Miller/Getty Images
The Rams have beaten UNLV at home already this season, and they have played the Lobos tough in both of their meetings, though they haven't come away with a win.
It is clear that Iverson and Co. have the talent to compete with any team in the tournament, and they have proven they can beat the Running Rebels in their building.
They are an especially strong rebounding and scoring team that will enjoy an advantage on the inside against most opponents.
They are second in the conference in points per game and boards. Their strong inside presence, balanced by the three-point shooting of Dorian Green and Wes Eikmeier, makes them dangerous.
Sleeper
Boise State: 8-7 conference mark, 20-9 overall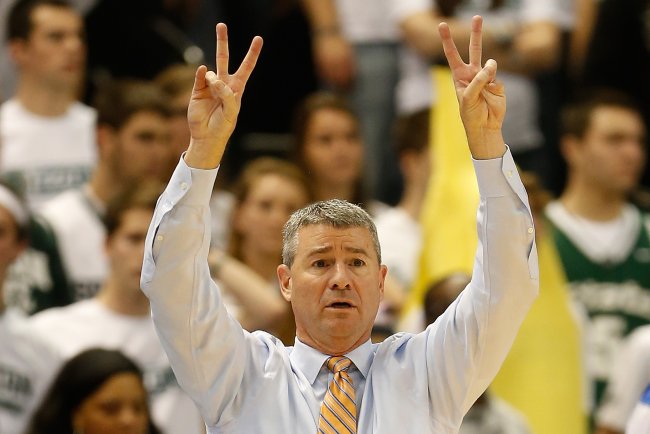 Gregory Shamus/Getty Images
Some may consider the Broncos a bubble team in regards to the NCAA tournament.
Who wins the Mountain West conference tournament?
They may need a win over San Diego State in the regular season finale or a strong showing in the conference tournament to clinch an invitation to the Big Dance.
This team is capable of accomplishing both goals.
They are well coached by Leon Rice, and they defend consistently. The Broncos have allowed only 64.7 points per game this season, and that is tops in the conference.
When Drmic and Derrick Marks are knocking down perimeter shots, this team can be dangerous. They narrowly lost to UNLV 68-64 on March 5, but the game should give them confidence in their ability to compete with the conference's best teams.
Outside of the top four teams, the Broncos have the best shot at doing major damage in the conference tournament.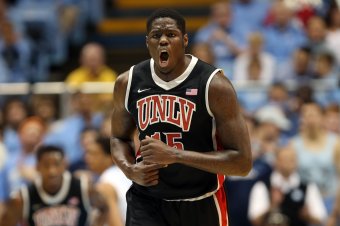 Streeter Lecka/Getty Images
Prediction
Bennett is beginning the stretch run of what will likely be his only season at UNLV. He's an almost certain lottery selection, and I expect him to turn it up a notch in the postseason.
This is the time of year where major prospects like Bennett affirm their superiority, and he has the talent to be the driving force in this tournament run.
Bennett's strong play and the home court advantage will make UNLV too tough for the rest of the Mountain West teams, and they will win their third conference tournament in seven years.
Follow Brian Mazique and Franchiseplay on YouTube and Twitter for reactions, analysis and news from the world of sports and sports video games