5 Changes Bigfoot Silva Needs to Make Before UFC 160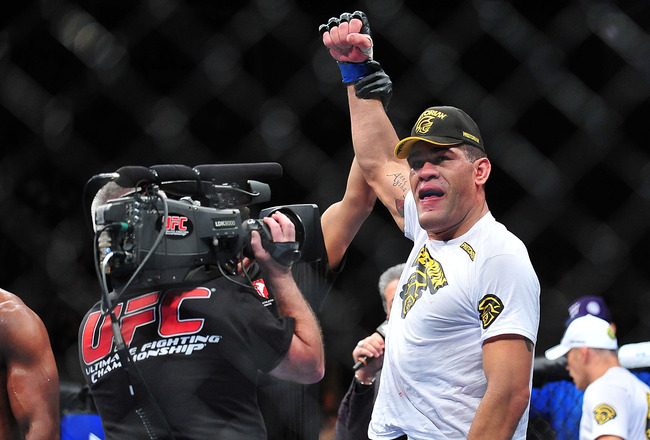 Gary A. Vasquez-USA TODAY Sports
After last May's massacre, no one thought Antonio "Bigfoot" Silva would be back in the cage so soon against Cain Velasquez—this time fighting for the UFC heavyweight crown.
However, that is exactly what has happened after the Brazilian won his next two matches unexpectedly, both by TKO, to become the No. 1 contender once again.
The pair are set to meet at UFC 160 in Las Vegas, almost a year after their first bloody encounter. Considering the brutal way in which Velasquez ran over Junior dos Santos only months ago to wrest back his belt, few give Bigfoot any chance in the second encounter.
However, as an elite MMA fighter, Silva could pull off the upset—as long as he makes these five changes to his game.
Work on His Takedown Defence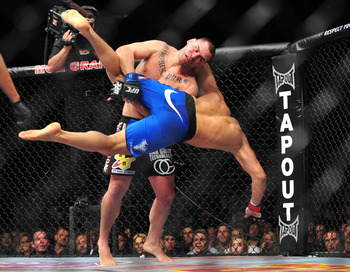 Gary A. Vasquez-USA TODAY Sports
No one can stand in the way of a Velasquez takedown. He's like a steamroller trampling concrete giants in his path.
Dos Santos, who'd spent seconds on his back in his entire career before he met Velasquez, was thrown to the mat for five full rounds—at least during the moments when he wasn't absorbing punishment on his feet.
In the first fight, Silva offered even less of a challenge than dos Santos to Velasquez's wrestling. When Silva was put on his back, he stayed there until the referee intervened.
That's the biggest hole he needs to fix. He and everyone else in the heavyweight division.
Utilise His Jiu-Jitsu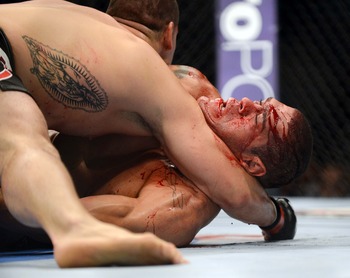 Ron Chenoy-USA TODAY Sports
Silva is a black belt in jiu-jitsu and judo. This should give him a full range of submissions capable of trapping an elite wrestler as well as the ability to fight off his back.
However, we've rarely ever seen either from Silva. He only has two submissions in his 22-fight career and didn't even look close to pulling a shock reversal, like his middleweight namesake and Black House teammate pulled against Chael Sonnen in their first encounter.
Considering that he'll be spending much of his time on his back in this fight, tightening up his submissions could be his only hope.
Fight in the Clinch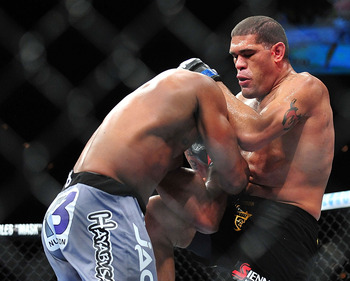 Gary A. Vasquez-USA TODAY Sports
Realistically, you can't see Silva beating Velasquez anywhere in the fight. Not on his back and not on his feet.
In the stand-up, if Silva gives Velasquez any sort of distance, he'll take out Bigfoot's legs.
One option for Silva—something we rarely see from him—is to press Velasquez up against the cage and keep him there. With his larger size, this is a potential area where he could frustrate his opponent and perhaps land one of those short uppercuts that felled Alistair Overeem.
Develop Crazy Cardio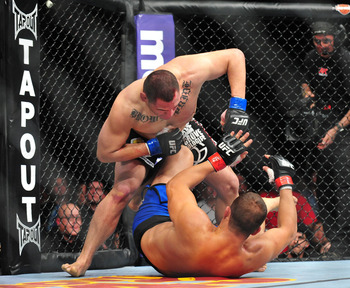 Gary A. Vasquez-USA TODAY Sports
Velasquez sets a pace that no heavyweight in the UFC has ever experienced. From the first round to the last round, he's relentless.
Anyone who can survive the first round against him—and there are few—will be gradually destroyed over the course of the match.
Silva needs to survive the Velasquez onslaught if he is to pull off the upset. His cardio needs to be better than it's ever been.
Don't Bleed
Ron Chenoy-USA TODAY Sports
Velasquez was dominant in their first match and would most likely have squished Silva's oversized head ala Lesnar vs. Mir if he had been given the chance.
However, the pair's first encounter was stopped primarily because of the blood dripping into Silva's eyes. In the rematch, not bleeding could give the Brazilian the extra time to catch his opponent—perhaps like dos Santos did on UFC of Fox 1—or even give Velasquez a chance to get injured.
That's his best hope of winning...a forlorn one.
Keep Reading