Nick Diaz vs. Anderson Silva Head-to-Toe Breakdown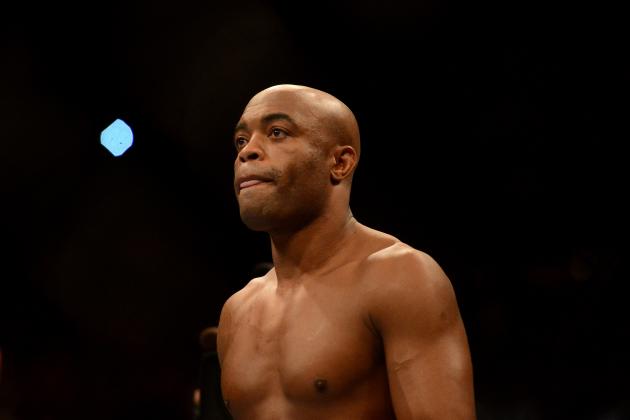 Mark J. Rebilas-USA TODAY Sports

Anderson Silva is the topic of nearly all superfight requests. His name is continually thrown out when naming potential opponents for Georges St. Pierre and Jon Jones. However, GSP has not been vocal about wanting that fight.
Nick Diaz thinks St-Pierre should be, and said if he were in St-Pierre's position that is the fight he would go after.
As recently as this past November, Cesar Gracie claimed Silva's camp was interested in this particular fight. Although, no official word has come from the Silva camp itself.
Diaz vs. Silva would surely get the MMA community interested. Diaz, a former Strikeforce welterweight champion, would not back down or run away from the top pound-for-pound fighter in the world, and the pre-fight antics might be worth the price of admission alone.
The fight currently looks unlikely, but should Diaz get past GSP, it could be on the horizon. If so, this is how the fight breaks down between two of the best in the business today.
Begin Slideshow

»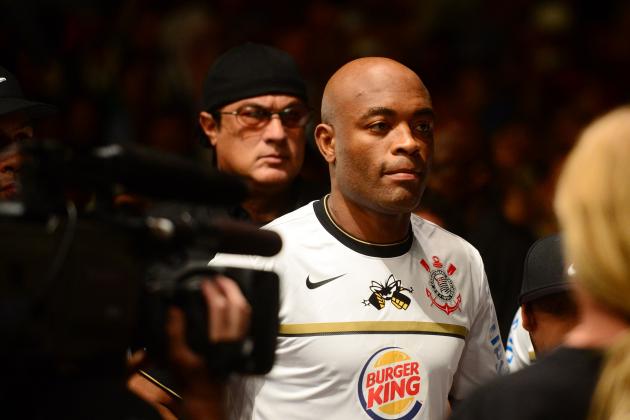 Mark J. Rebilas-USA TODAY Sports

Diaz has transitioned his boxing skills into MMA very nicely. He works patiently and goes to the body as well as the head. He is fun to watch in a good old-fashioned stand-up fight.
However, in this particular matchup, he would be standing across the Octagon from one of the single best strikers in the sport today.
There are better pure strikers in the sport, but not many have adapted their striking for MMA as well as Silva. He is not the pound-for-pound best fighter in the world for nothing.
Also, Silva mixes his striking up phenomenally. Diaz does not. Diaz is primarily a boxer who will throw leg kicks from time to time.
Silva utilizes a wide array of techniques against his opposition. Punches, high kicks, low kicks, knees, elbows, upward elbows, front kicks, and the list goes on.
For Diaz to compete on the feet, he would have to draw Silva into a boxing match. That is dangerous in and of itself. The middleweight kingpin holds a clean and concise advantage standing.
Edge: Silva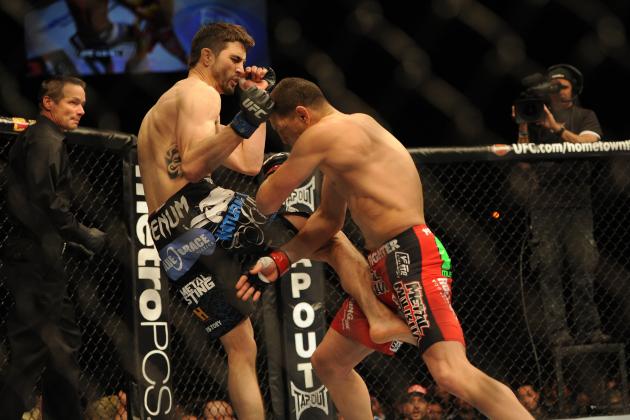 Kelvin Kuo-USA TODAY Sports

Diaz and Silva love to strike, but they are both Brazilian jiu-jitsu black belts as well. And they earned them.
Diaz is a black belt under Cesar Gracie, and Silva is a Nogueira black belt. They are legit threats on the mat.
Each man has several submissions to their credit from both top and bottom positions. Looking purely at it from a jiu-jitsu perspective may put this category at a push, but the totality of grappling has to include wrestling, clinch work and various other aspects.
That is why Silva sneaks ahead for the advantage.
There may be no one better at positioning in the clinch. Silva is able to move foes around with his long frame, and he works fantastic underhooks against the fence to achieve better position. He is no slouch in the wrestling department, either.
While the middleweight champion may not be shooting for a double-leg takedown anytime soon, he is able to defend and counterattack with his own wrestling ability. Ask Nate Marquardt.
The standing grappling exchanges clearly favor the 185-pound champion. And since that is where this fight will likely take place, he claims the category.
Edge: Silva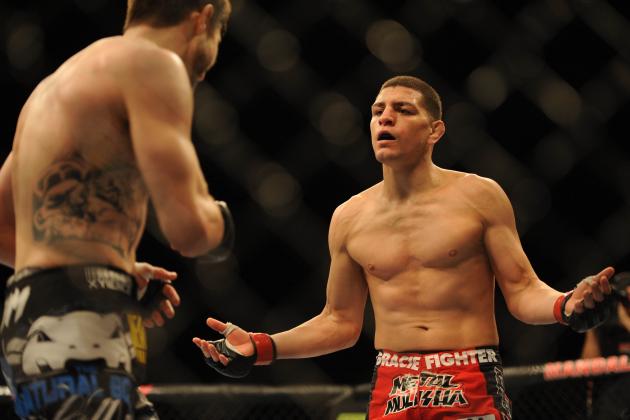 Kelvin Kuo-USA TODAY Sports

Diaz's X-Factor: Can He Draw Silva Into His Kind of Fight?
The Stockton native needs to draw Silva into a boxing match.
Silva is the more athletic of the two fighters and has superior movement. We have already seen how that can play out with Carlos Condit. And Condit is not Silva.
Diaz has to be able to keep Silva standing in front of him and not moving side to side. Diaz will walk down Silva if need be, but he cannot allow him to escape as he did with Condit. That is his best chance to utilize his boxing ability to beat up Silva's body.
A takedown is probably not going to work. Clinching is not a great idea. Diaz must draw this fight out for as long as possible and find opportunities to engage in a brawl.
Silva's X-Factor: Not Letting Diaz Into His Head
One would suspect this would not be an issue for the pound-for-pound king. However, it is. We have seen Silva allow trash talk from others to change his game plan.
It was not just Chael Sonnen.
Fortunately, Silva's mesmerizing skills have allowed him to deviate from said game plan and still come out on top. Often he makes his opponent look foolish for trying to get inside of his head. Diaz could be just another number, but there is no doubt he possesses the ability to change how the "Spider" fights.
Silva has nothing to prove to Diaz. He has nothing to prove to anyone. He can let the trash talk roll off of him and stick to what he does best.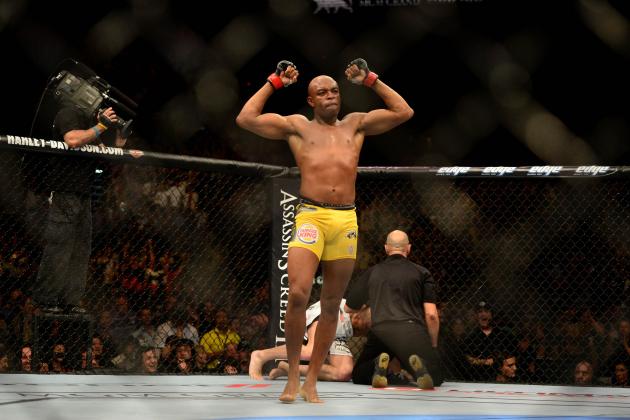 Mark J. Rebilas-USA TODAY Sports

This would be an incredibly entertaining bout from pre-fight press conferences to the bell signaling the end of the fight. If Diaz upsets GSP and Silva gets past Chris Weidman later this year, then the UFC should give significant thought to making this fight happen.
The fight itself looks like a clear-cut victory for Silva, and it probably is. But do not count out Diaz in this crazy sport.
Diaz is able to take an incredible amount of punishment, but we have seen Silva rock, and knock out, other fighters with a granite chin in the past. Diaz is a very good boxer, but Silva is a much better striker. Diaz has fantastic submission skills, but he is not likely to get Silva to the mat.
One thing is for sure: If Silva hangs back or throws fancy creative strikes, Diaz will be standing there to respond with some vulgar language. I might pay $55 for that alone.
Silva will feel out Diaz on the feet for much of the first round, and they will mix it up a bit until the horn sounds. The second round is where Silva will finish the fight.
The middleweight champion can shut anyone's lights out, and Diaz is no exception. He will catch Diaz with something and put him on the mat, where he will force the referee to intervene.
The fight will be entertaining, but the outcome will be predictable.
Prediction: Silva defeats Diaz by TKO in Round 2.