Atlanta Hawks vs. Boston Celtics: Postgame Grades and Analysis for Boston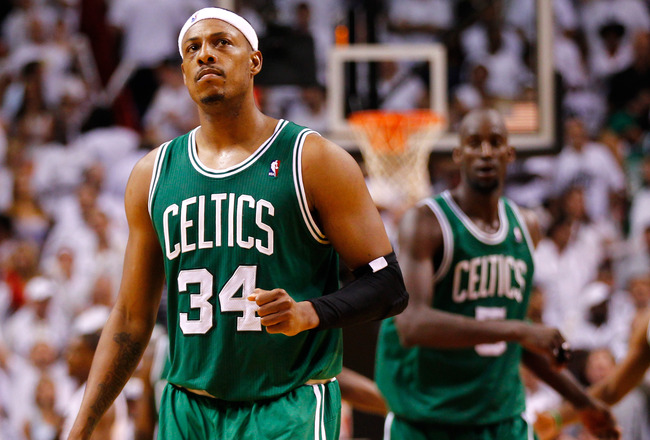 Mike Ehrmann/Getty Images
The Atlanta Hawks flew into TD Garden on Friday night for a rematch with the Boston Celtics. They needed overtime to decide things, but the C's came away 107-102 victors, thanks to some heroics from Jason Terry.
These two teams have been kindling a rivalry lately. Last year, Boston bounced Atlanta from the first round of the playoffs in a hard-fought six-game series.
Then, when they met on January 25, Rajon Rondo tore his ACL during a double-overtime loss, so the C's surely sought to exact a measure of revenge.
In familiar fashion, Paul Pierce and Kevin Garnett led the way for Boston, with 27 and 17, respectively; Jason Terry spurred the Celtics to a huge advantage in bench scoring.
For Atlanta, Josh Smith had a game-high 32 points and flirted with a triple-double (eight rebounds, nine assists). Al Horford posted 22 and 13, while Jeff Teague scored 26 points with nine assists.
After Boston led by 10 points in the second quarter, Atlanta fought back and managed to tie it prior to the half.
Even though the Celtics outshot the Hawks in the first half (58.8 to 42.5 percent), they only held a five-point advantage. Atlanta attempted six more field goals than Boston through two quarters, partly due to their superiority on the offensive glass (four to one) and in the turnover battle (five to nine).
The Celtics' 10-0 run early in the fourth quarter stretched the lead to 12, but Boston was unable to hold off a late rally by the Hawks. Smith had a look at the game-winner for Atlanta, but his 10-footer was way off as the buzzer ended regulation.
All the Celtics needed in OT were a couple of big three-pointers from Pierce and Terry, and they went home winners of five straight games. Boston has been playing excellent ball at home, posting a 21-9 record entering Friday.
Atlanta had been 34-26, just a half-game behind the Brooklyn Nets for fourth place and home-court advantage in the first round of the playoffs.
But the Hawks are part of a logjam, with just one game separating them from the seventh-place Boston Celtics. Now they're all even.
Point Guard
Avery Bradley, PG: B-
Though Bradley scored only five points, he also tallied four rebounds and four dimes. He struggled from the field, finishing the game 2-of-7, but the Texas Longhorn also offered supreme defense by his stifling pressure on the ball.
And his defense is what will keep him on the floor, regardless of whether the shots are falling.
After Rajon Rondo went down on January 25, Avery Bradley stepped in to fill the void. Since then, Boston has powered to 13 wins over 17 contests.
In February, Bradley saw an uptick in not only his minutes and field-goal attempts but also his shooting percentage, scoring average, assists and steals. He's been even better so far in March.
He was yet again topped by Paul Pierce in the assist category, but Bradley turned in another serviceable performance in Friday.
Shooting Guard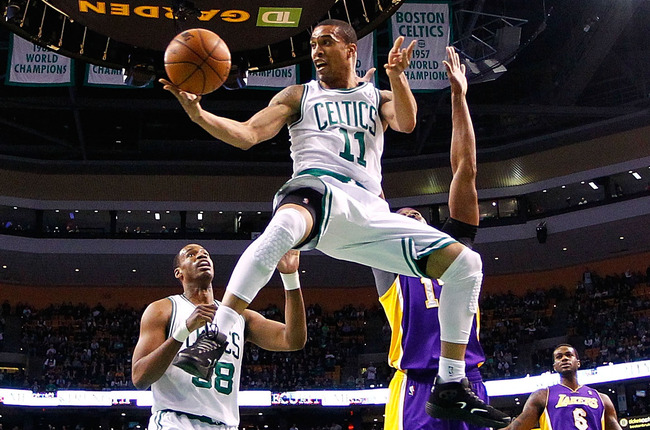 Jared Wickerham/Getty Images
Courtney Lee, SG: C+
Lee struggled to make an impact in the first half, missing his only shot.
He finished the game with only four points and three turnovers, but he also added four rebounds, two assists and a steal. Despite his overall lack of production, Lee finished regulation as the highest-rated Celtic at plus-six.
Small Forward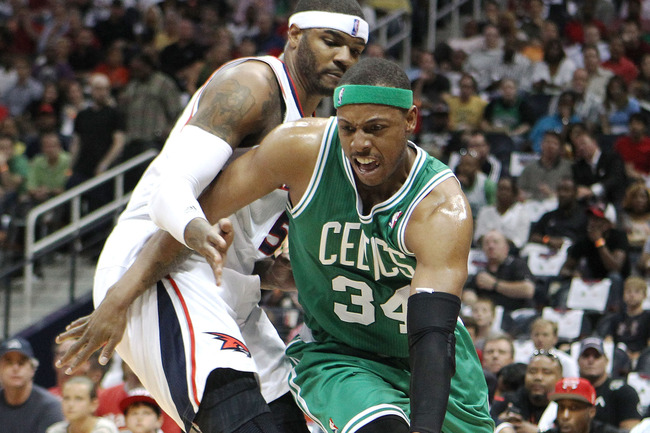 Mike Zarrilli/Getty Images
Paul Pierce, SF: A
Pierce looked strong in the early going, dropping 13 points on 5-of-7 shooting to lead Boston in the first half.
But it's very telling that when interviewed on ESPN following the second-quarter buzzer, Pierce simply credited his teammates and highlighted his two turnovers as something to improve.
Well then, who else would you expect to hit a big three-pointer in overtime? The Truth gave Boston a 102-101 lead with less than two minutes to go in the extra frame. He finished with 27 points, seven boards, a team-high seven assists and two steals.
Pierce has markedly increased his assist numbers since Rajon Rondo was lost to a knee injury. After averaging 4.3 dimes per game in January, Pierce pushed that figure to 6.8 a night in February. Oh, and his scoring average is up as well.
It was interesting to learn Friday from Yahoo! Sports' Adrian Wojnarowski that Pierce was very nearly shipped to the Dallas Mavericks. The deadline deal would have netted the Celtics Josh Smith from Atlanta. This could have been a very different matchup in that case.
Power Forward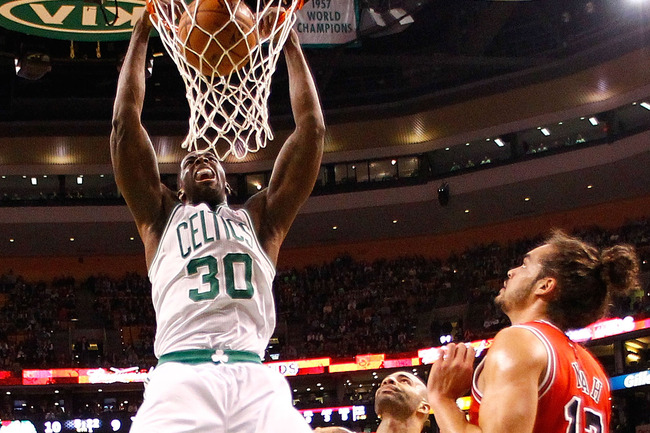 Jared Wickerham/Getty Images
Brandon Bass, PF: B-
Bass totaled just four points in the first half, but they came on 2-of-3 from the field. He was efficient in the second half as well and finished with eight points. He also tallied two boards and a block.
Bass was also not on the court for much of crunch time, as Jeff Green again saw more playing time. Bass, the starting PF, saw just 23 minutes.
Center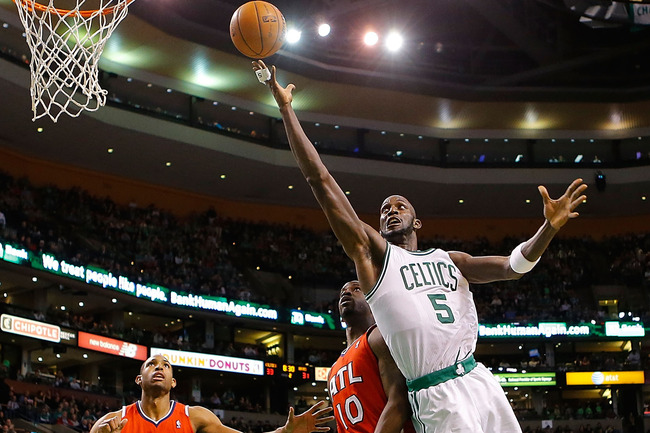 Jared Wickerham/Getty Images
Kevin Garnett, C: A-
Garnett was very efficient in the first half, notching nine points on 4-of-5 shooting. He also captained a frontcourt that did a solid job of holding down Atlanta's tandem of Josh Smith and Al Horford for the first two quarters (8-of-18 shooting).
KG ended with with 17 points, eight rebounds and two steals. While Pierce had the finer night, Garnett is still one of the best, even at his advanced age. His leadership was invaluable in the overtime victory, as Smith committed backbreaking turnovers on the other side.
Sixth Man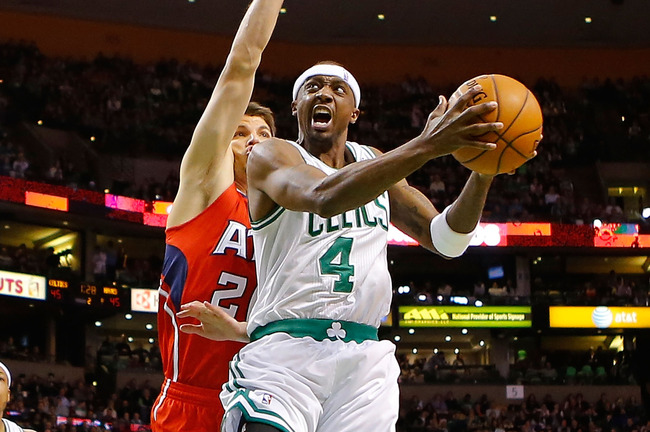 Jared Wickerham/Getty Images
Jason Terry, SG: A-
Terry played well in the first half, even though he was just 2-of-4 from the field. Both of his makes were triples, and he sank all four of his foul shots. Terry added two boards and two assists in the early going.
But when the game was on the line, that's when Terry really stepped up. His three-pointer with 35 seconds left in overtime broke a 102-102 tie. Terry iced the game with a pair of free throws shortly thereafter.
He finished with 19 points, five assists, four boards and two steals. This is exactly why Boston signed the energetic veteran.
Rest of Bench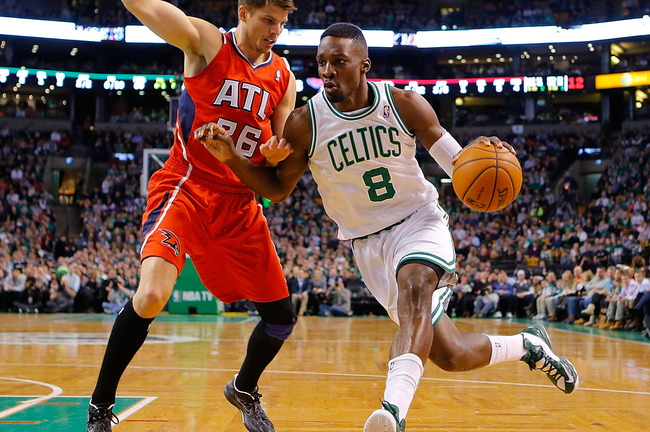 Jared Wickerham/Getty Images
Rest of Bench: B+
Boston's bench outscored the Atlanta reserves 46-8. That is almost all that needs to be said, but let's see how it added up.
Jeff Green saw huge minutes in Boston's win over the Indiana Pacers on Wednesday. He played 34 minutes off the bench, and though he was just 5-of-14 from the field, his 11 points included the game-winning layup with less than a second remaining.
Green enjoyed another solid game Friday, scoring a dozen points and dishing three dimes. His defense was on display as he grabbed a steal and swatted one shot, but he also altered numerous looks near the basket with his menacing efforts.
Green caused a pivotal steal in the final minute of overtime with the game tied, leading directly to a huge Jason Terry trey.
As for the rest of the bench, when Boston acquired Jordan Crawford from the Washington Wizards, it seemed to fans like a lopsided trade.
However, it was a quintessentially NBA trade. Washington had a surplus of talented guards, and they swapped Crawford for a pair of expiring contracts.
While Crawford is still finding his footing in Boston, they made out like bandits in the deal. Crawford scored nine points in his 15 minutes.
Chris Wilcox enjoyed an efficient night if nothing else. In his 13 minutes, he made his only field-goal attempt and sank all four foul shots. He also had two boards and a block.
Next, Boston will stake their five-game winning streak at Chesapeake Energy Arena when they face the Oklahoma City Thunder on Sunday afternoon.
Keep Reading

Boston Celtics: Like this team?