Philadelphia 76ers' All-Time Dream Team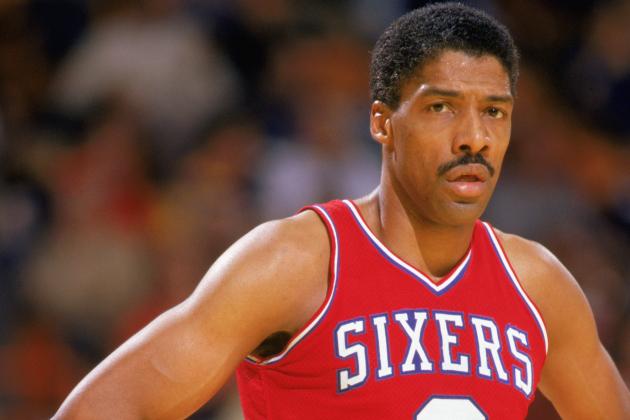 Stephen Dunn/Getty Images
Dr. J is one of the greatest Sixers of all time.
From a completely unbiased standpoint, the 76ers" target="_blank">Philadelphia 76ers have one of the best all-time dream teams in NBA history.
Okay, this statement might be coming from a slightly biased perspective, but it could end up being an accurate one after seeing who makes the list.
There wasn't any specific criteria involved for judging what players made the list and what ones didn't. There were 12 available positions: Five starters and seven coming off of the bench. It was quite simple, if they were a great player, then chances are strong that their name will be one of the ones that follows.
The hardest part was deciding on what positions each players played. If you can think back to a certain player that had a difficult time practicing (hint, hint), then you could see how he could be classified as either a point guard or a shooting guard. Especially because he played at both positions throughout his career.
Those decisions aside, Philadelphia has a stacked squad, and it would be a blast to see them take on another organization's best rotation of all time.
Let's take a look at Philly's all-time dream team.
Begin Slideshow

»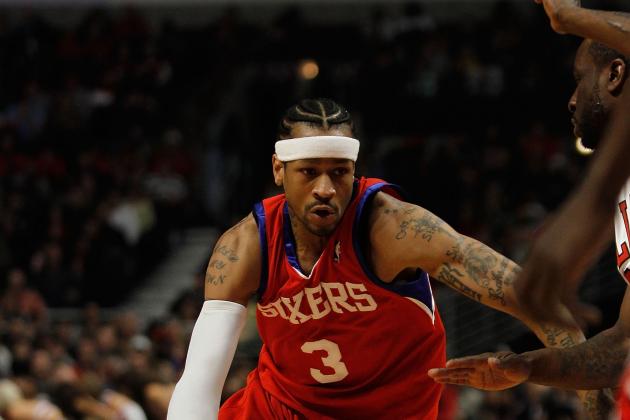 Jonathan Daniel/Getty Images
It's hard to believe that Iverson was playing with the Sixers in 2010.
Some might criticize Allen Iverson's position as a point guard, but that's where he needs to be if we are trying to put together the best dream team.
Iverson defined leaving your heart on the floor and playing every game like it was his last. There were not many games where he didn't have multiple—yes multiple—little nagging injuries that would have sidelined the majority of players. Instead, it seemed like he was never okay with not playing.
The basketball court was his sanctuary, and that ultimately proved to be both his biggest strength and biggest weakness.
Iverson would bring instant scoring whenever the Sixers were looking for a basket, but his passing ability would really be what puts this dream team on a different level. Sure, the man could put the rock in the hoop, but people fail to acknowledge just how good of a passer he actually was.
When your point guard is the "heartbeat" of your team, then you know you are off to a great start.
Career Stats: 26.7 Points, 6.2 Assists and 41.1 Minutes Per Game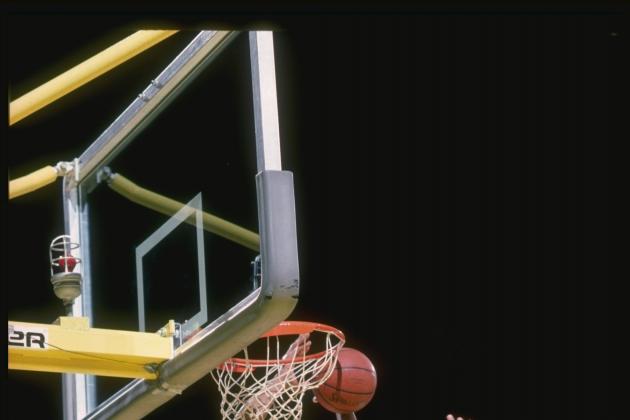 Stephen Dunn/Getty Images
Erving is an absolute legend.
Putting Julius Erving at the shooting guard position seems like a bit of a stretch, but it adds to the dream team's size and versatility.
When it came to the game of basketball, there wasn't really anything that Erving couldn't accomplish. His athleticism was unbelievably ahead of his time, and combine that with his abnormally large hands and you can see why he continually made people's jaws drop.
His major weakness was that he was never a long-distance shooter. He was able to turn that into a strength, however, by barely ever taking any three-pointers.
Some would say that Erving is the best Sixers player of all time. People will agree and disagree on that fact, but nobody will say that he doesn't deserve to be on the Sixers' dream team.
Career Stats: 24.2 Points, 4.2 Assists and 8.5 Rebounds Per Game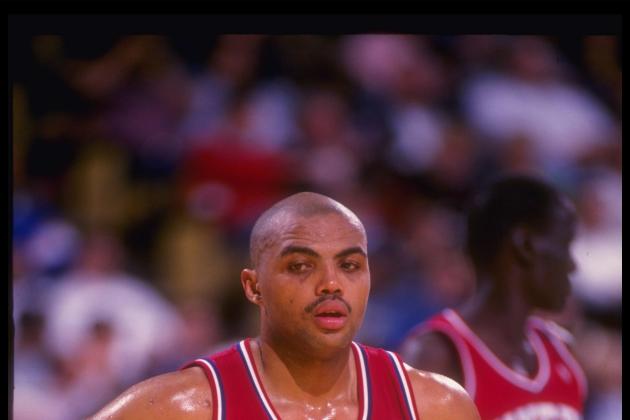 Stephen Wade/Getty Images
Barkley is a legend.
Charles Barkley is no three-point sniper either, but imagine how good Philadelphia would be at rebounding if they had him line up at the small forward spot.
Anybody really rolling their eyes by now needs to realize that shooting is the only area of concern with Barkley at the 3. His feet were quick enough to keep up with exceptionally fast players, and he was stronger than nearly everyone he played against. He might have only been 6' 6", but none of the power forwards that he faced will tell you that he was too small.
Barkley was great at taking the ball off of the rim and going coast-to-coast with the rock. His high-tempo game would fit in perfectly with Iverson, and it wouldn't be surprising to see a couple of highlight-reel plays.
If all of that isn't enough, every team needs a player that doesn't know when to shut up.
Barkley is the perfect guy for the job.
Career Stats: 22.1 Points, 11.7 Rebounds and 3.9 Assists Per Game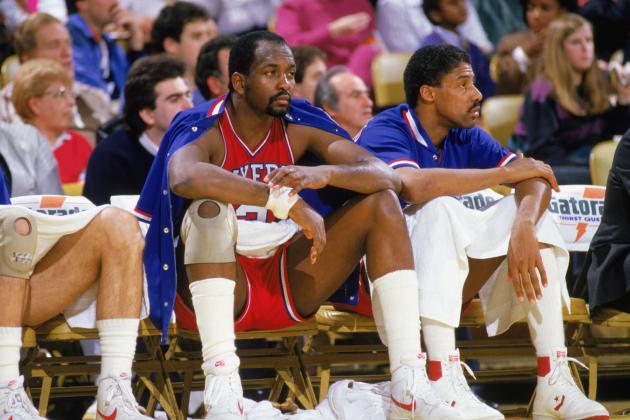 Rick Stewart/Getty Images
It's time to pair these two up again.
Moses Malone's nickname for this team would be "The Dinosaur" because of his 19-year career, but nobody is saying that's a bad thing.
Any Philly fans that aren't familiar with the impact that Malone made on the Sixers just need to look at the 1982-1983 season. They would go on to win the NBA championship in what was both his first year in Philadelphia and the city's last title.
His performance that season was absolutely dominant. He averaged 24.5 points, 15.3 rebounds and 2.0 blocks per game. Being the final piece to Philly's puzzle seemed like a fitting spot for the big man.
Being able to rebound doesn't come easy to everyone, but it felt like it did for Malone. Combine his rebounding ability with Barkley's and we can start to see where this dream team's strength lies.
Career Stats: 20.3 Points, 12.3 Rebounds and 1.3 Blocks Per Game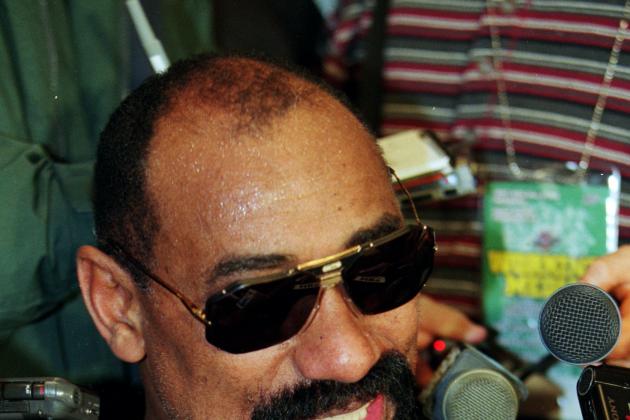 Brian Bahr/Getty Images
"Yes yes, everything you've heard about me IS true."
I know what you're thinking: "This is a pretty good starting lineup for the Sixers!" Well guess what? You couldn't be more right.
Chamberlain rounds out the starting five as the flamboyant big man that wants to be the center of attention, all while being incredibly productive.
He faces one large flaw that we've yet to run across, though. Chamberlain played the majority of his career in an era that didn't have athletic seven-footers. Sure, he was a great player and one of the most dominant of all time, but could he really do that in today's game?
Could he really average 50.4 points per game like he did in the 1961-1962 season?
Okay, clearly he couldn't average that many points, but it's hard to believe that he wouldn't still be one of the best big men in present-day basketball.
Regardless of if he would be as dominant or struggle to get anything going at all, his impact on the Sixers' all-time dream team would be immense. There's a lot that comes with being the only seven-footer, and something tells me that Chamberlain would have been able to deal with any added attention.
He never really had a problem with that.
Career Stats: 30.1 Points, 4.4 Assists and 22.9 Per Game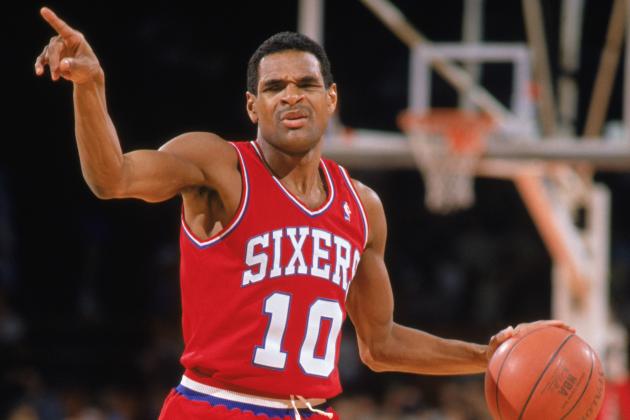 Mike Powell/Getty Images
Cheeks would bring stability off of the bench.
Suspensions are a viable threat in today's game. You never know when a player is going to get hit with one—let alone your star player—so it's important to have a reliable guy off the bench that you know will come in and take care of business.
Maurice Cheeks is the dream team's sixth man more for his strong character traits and his ability to manage a team. If this is the Sixers' all-time best team, then why would we need a character guy for that player starting at point guard named Allen Iverson?
Iverson tended to carry around controversy as if it were a backpack, so Cheeks becomes a crucial element toward this team's success.
Career Stats: 11.1 Points, 6.7 Rebounds and 2.1 Steals Per Game
Here's our first taste of a guy that was part of the first generation of NBA players. Dolph Schayes' career might have taken place in the 1940s, 1950s and 1960s, but that shouldn't stop him from making this team.
In fact, he's done one of the more impressive things in NBA history, so he definitely deserves to be on the team.
A broken arm once forced Schayes to practice shooting the basketball with this left hand (he was right-handed) making him into one of the toughest matchups in the league because of how he was able to shoot with either hand.
His old-school set shot wouldn't be too effective in 2013, but he might draw some great pre-game attention with the look of it.
Career Stats: 18.5 Points, 31. Assists and 12.1 Rebounds Per Game

Paul Arizin is the definition of a good, hard-working guy.
He had a line-drive jump shot that looked like it was aiming for something other than the rim. He's also the second guy on this team to score 100 points in a game, as Arizin did it in college when he played for Villanova University.
Perhaps his most impressive accomplishment comes from when he took two years off to serve in the Korean War. That sounds like it would be enough to keep a player away from the game, but Arizin returned to the court following his service.
Great character plus great production equals a spot on the Sixers' all-time dream team.
Career Stats: 22.8 Points, 2.3 Assists and 8.6 Rebounds Per Game

Billy Cunningham is best known for his nickname as "The Kangaroo Kid." He could jump out of the gym and was an electric offensive weapon.
Sorry, but I have to go back to it. How great of a nickname was that?
Cunningham eventually transitioned into coaching basketball and happened to be Philadelphia's head coach when they won their last title in 1983.
No basketball team can have enough energy or smarts, so adding "The Kangaroo Kid" to the squad is only going to help.
Career Stats: 21.2 Points, 10.4 Rebounds and 4.3 Assists Per Game
Hal Greer was a member of Philly's squad in the 1960's and played with Chamberlain during that time.
No player has played more games in a Philadelphia uniform than Greer, yet he's relatively unknown to newer Sixers fans.
Anybody looking to hit their friends with a little trivia can always ask them to name a player that shot free throws like a jump shot. Not only was it effective for Greer, but it will also get you some bonus points in the trivia department.
Greer played the majority of his career in Chamberlain's shadow, but seemed to thrive in that role. An unselfish personality is one of the most important character traits, and Greer clearly possessed it.
Career Stats: 19.2 Points, 4.0 Assists Per Game and 80.1 Percent from Free-Throw Line
Every 12-man rotation must have a defensive stopper.
Enter Bobby Jones.
Jones was an instrumental piece to Philly's 1983 championship, but he didn't do it by putting numbers on the scoreboard. He did it by keeping the other team's numbers off of the scoreboard. He was one of the NBA's first transition blockers, as in he would track down an opposing player from behind and block his shot.
The video above is full of great plays, but there are some really great things said about Jones and his production.
Career Stats: 12.1 Points, 6.1 Rebounds and 1.4 Blocks Per Game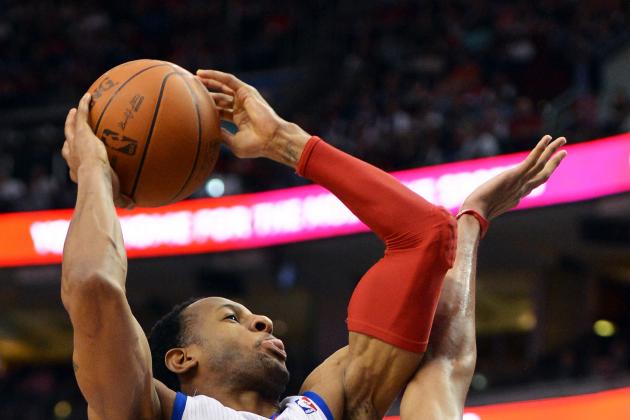 Drew Hallowell/Getty Images
Iguodala was a great Sixer.
You were probably wondering if all of the players on the bench were going to be older and more unknown guys, but fear not.
Another name is on his way.
Philadelphia fans may have sour feelings toward Andre Iguodala, but that's probably because they are starting to realize that he was an impact player for the Sixers. He was one of the top defenders in the league and could lock nearly anybody down. On offense, if you even gave him a hair of space, then you could expect to get dunked on or over.
He didn't last in Philadelphia because he was unfairly given the "New A.I." nickname. Those are lofty expectations to deal with, and they only seemed to push him further away from Philly.
In the end, though, he still makes the Sixers' all-time dream team list because of his defensive ability and non-stop energy.
Career Stats: 15.1 Points, 4.9 Assists and 4.7 Rebounds Per Game