NBA Players Embarassing Themselves This Season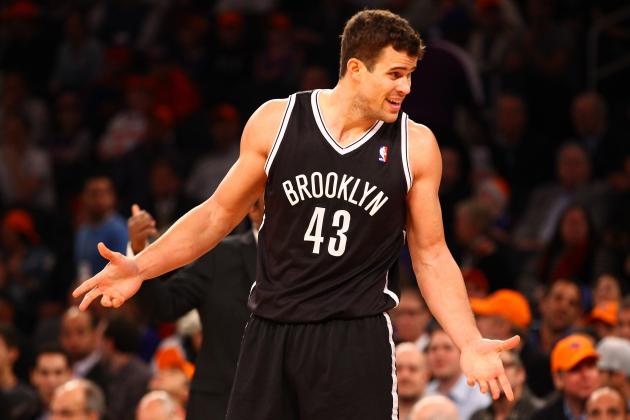 Al Bello/Getty Images

The potential for uncertainty and surprise is part of what makes watching the NBA so compelling. On any given night, a star could emerge from obscurity or a struggling veteran could turn the back the clock for one vintage performance.
However, the opposite is also quite possible. A once reliable piece can simply lose confidence or fail to accept their role on the team, which can eventually lead to a completely lost season.
Beyond just game-time conduct, players in recent years have become more and more infamous for their actions off the floor and their inability to make good decisions.
With the stretch run of the 2012-13 season upon us and teams beginning to consider what they will do with the talent they have when free agency nears, here are eight NBA players who have thoroughly embarrassed themselves this year.
*Note: Special consideration was given to players who have had underwhelming years but have been clearly playing injured (i.e. Dwight Howard, Pau Gasol or Danny Granger).
Statistics accurate as of March 7th, 2013.
Begin Slideshow

»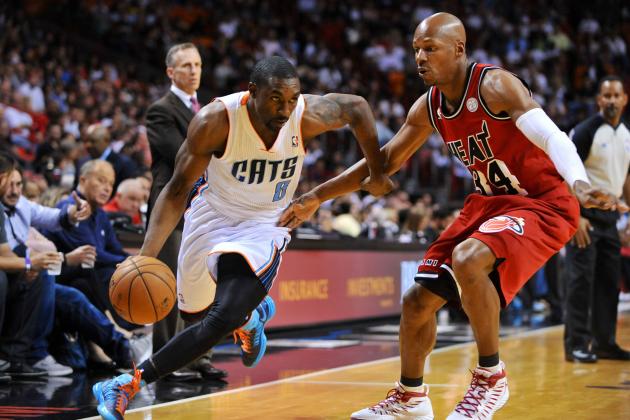 USA TODAY Sports

The primary motivation for the Charlotte Bobcats in acquiring Gordon was to bring in a first-round draft pick from the Detroit Pistons, but the performance of Gordon has been poor enough that Charlotte should be second guessing whether the move was even worth it.
After a troubled tenure with the Detroit Pistons, a clean slate awaited Gordon with the Bobcats, but he is mired in yet another mediocre season surrounded by controversy.
Averages of 12 points, 1.8 rebounds and 2.1 assists are decent, but he is shooting a mere 41.9 percent from the field and logging 21.2 minutes per night.
Looking to develop their young guards Kemba Walker, Gerald Henderson and Ramon Sessions, Charlotte has given Gordon a relatively small role in the rotation. When he does enter the game, though, he continues to be a shoot-first player who has no problem throwing up a contested attempt.
He is not a particularly disciplined passer or defender and still demonstrates the kind of questionable shot selection that plagued him with the Pistons.
As if that was not enough, Gordon was engaged in a dispute with head coach Mike Dunlap at practice. That kind of behavior is unacceptable for a rookie, let alone a 29-year-old veteran with nine seasons of experience in the NBA.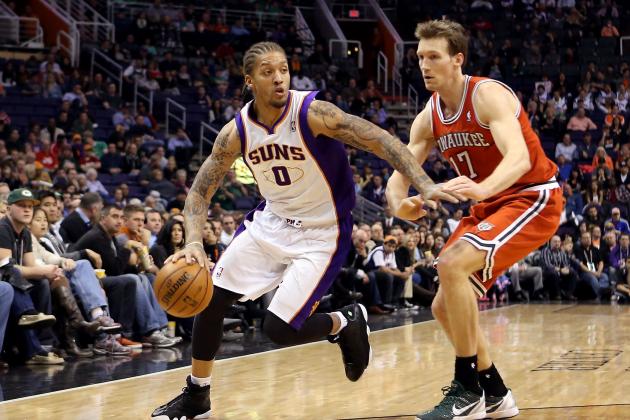 Christian Petersen/Getty Images

The Phoenix Suns knew they were gambling by signing the mercurial Michael Beasley in free agency, but no one could have anticipated how far he would fall off in his first season with the team.
Beasley has always been an offense-first, defense-second small forward with questionable shot selection, but that has shone through at a higher level in 2012-13 than ever before.
On the year, Beasley is posting 9.9 points, 3.8 rebounds and 1.6 assists per game on 39.3 percent shooting from the field and 33 percent from outside. Bear in mind that he is a 6'10" forward and shooting less than 40 percent.
His 21.2 minutes per game are the lowest of his career, and Beasley has been in and out of both Alvin Gentry's and Lindsey Hunter's lineups during different times of the year.
Beasley was never renowned for his defense, but he has never been more atrocious than with this Phoenix team which hardly emphasizes play on that end of the court. He has the athleticism and length to at least be serviceable defensively, but puts in an effort that ranges from shaky to outright horrendous.
He is still just 24 years old and has two more seasons on his current deal to turn things around, but it's hard to see Beasley regaining the form that had him averaging 19.2 points in his first season with Minnesota.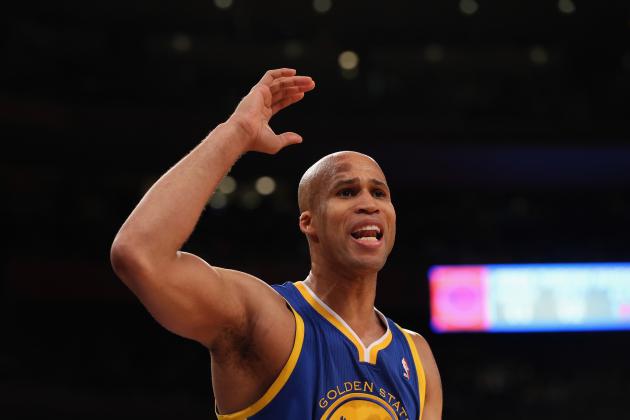 Bruce Bennett/Getty Images

At one time, Richard Jefferson was an upper-echelon scorer in this league.
Those days are long past, and RJ now finds himself serving as a marginal role player off the Golden State Warriors' bench.
His athleticism has declined somewhat as he has aged, but as recently as the 2011-12 season, Jefferson was averaging at least nine points per game and shooting well from three-point range.
However, with the Warriors committed to developing Harrison Barnes, Klay Thompson capable of logging time at small forward and Draymond Green making valuable effort plays, there simply is not much opportunity for Jefferson these days.
On the year, he is posting 3.4 points, 1.6 rebounds and 0.6 assists while shooting 43.8 percent overall and 32.5 percent from beyond the arc.
The Warriors are a deep team, but conventional wisdom would say that having a veteran presence like Jefferson out on the court would help their very young core to grow.
Unfortunately, he has just not been able to provide enough production to warrant Mark Jackson giving him any kind of extended run.
With Barnes and Thompson only going to improve, Jefferson will have to seriously consider whether he wants to use his player option for 2013-14 or seek a team for which he can actually contribute.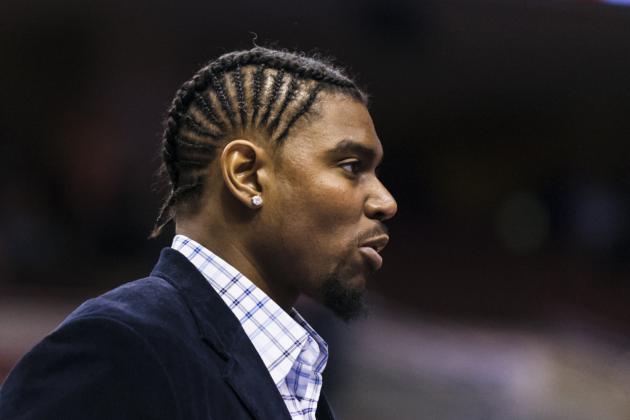 USA TODAY Sports

Although Andrew Bynum has not played a minute of basketball for the Philadelphia 76ers, it is safe to say that anyone who leaves their home sporting hair like that can be considered an embarrassment.
Obviously, Bynum did not ask to be traded from the L.A. Lakers, and it was not necessarily a poor decision on Philly's part to try and land the coveted franchise center they have been lacking for so long.
Given Bynum's previous injury problems, there was always going to be the risk his ailing knees sidelined him for long stretches of time or, worst of all, that he would never be fully healthy again and his 2011-12 campaign was nothing more than fool's gold.
Bynum began the season rehabbing, but suffered a humiliating setback while bowling in November. Had Bynum been running or working out in the gym, this would have easily been ignored, but the absurdity of an injury sustained through bowling only adds to the bizarre saga that is Bynum's 2012-13 season.
Now, with the looming possibility that the All-Star big man is shelved for the entire year, it appears Bynum will not have the chance to change the tune of his team's embarrassing season until 2013's tipoff.
In the short-term, a haircut would probably help.
Anthony Gruppuso-USA TODAY Sports

The triumphant return of swingman Gerald Green to the NBA with the New Jersey Nets was one of the better stories of the 2011-12 season. Green, known primarily for his athleticism and dunking ability, improved as a shooter and a defender to the point where he was a key piece of the Nets' rotation.
That success turned into a multi-year deal with the Indiana Pacers, but Green has failed to live up to expectations in 2012-13.
Fighting for minutes with Paul George, Lance Stephenson and now Danny Granger, Green is averaging a mere 6.3 points, 2.4 boards and 0.7 assists per game. To make matters worse, he is shooting a horrid 33.8 percent from the field and 28.3 percent from three-point range.
On paper, an athletic young wing player like Green should fit well with Indiana, even if he is only playing rotation minutes. However, Green has barely played for Frank Vogel, logging just 40 minutes in the entire month of February.
Granger may be shipped out in the offseason, giving Green a greater opportunity to prove his 2011-12 success was not a fluke, but it appears unlikely a shot at redemption will come this season barring a fluke injury.
Factor in his poor showing in the 2013 Dunk Contest, and it has truly been a lost year for the high-flying scorer.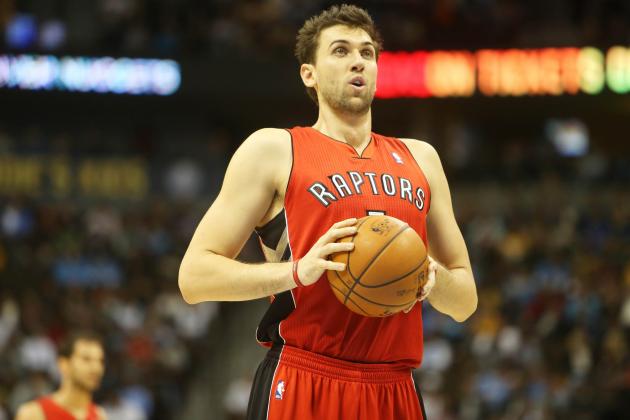 USA TODAY Sports

Sometimes it is worth wondering whether Andrea Bargnani is aware he's seven-feet tall. Bargnani has never quite lived up to expectations since being drafted first overall by the Toronto Raptors, but his 2012-13 season has easily been his worst.
Missing extended time due to an elbow injury, Bargnani has simply failed to make an impact in any way other than scoring inefficiently and hitting the occasional three. On the year, he's averaging a respectable 13 points but a measly 3.7 rebounds. He's also shooting 39.9 percent from the floor and 31.1 percent from three-point range.
His game consists almost exclusively of outside jump shots, and those have simply not been going down for him as of late. He struggles to create his own shot and is not a true post scoring threat despite his size and length.
Defensively, he is a complete liability. He cannot block or alter shots, he is slow to rotate over for help and is a poor post defender. He provides none of the interior grit that a team seeks from their center.
To make matters worse, Bargnani rebounds like he is a 6'5" shooting guard, not a franchise big man. He does not box out well, is a complete non-factor on the offensive boards and routinely is outworked by smaller, more active players.
His contract will make him hard to move, but for his sake and the team's future, this marriage must end.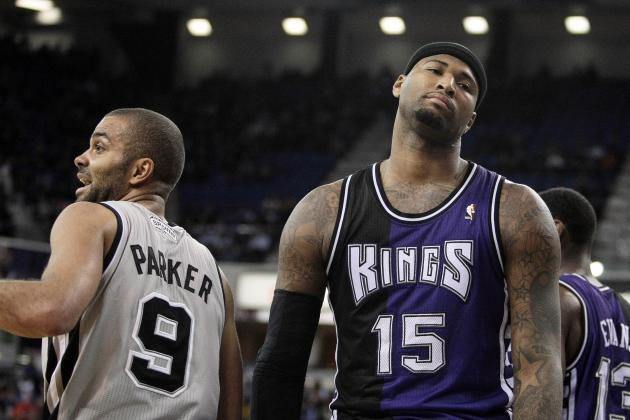 USA TODAY Sports

Based purely on statistics, DeMarcus Cousins is having a pretty solid 2012-13 season. He is averaging 16.8 points, 9.9 rebounds and 2.9 assists per game, which are good numbers, even with his pedestrian shooting percentage of 44.6 percent.
However, the game is about more than just numbers, and Cousins has continued to be a hothead who struggles putting the team above himself and not making questionable, impulsive decisions on the floor. In addition to his 11 technicals, Cousins has been ejected from three games.
Those included a cheap shot on the Dallas Mavericks' O.J. Mayo and getting tossed at halftime against the Utah Jazz for arguing a technical he had previously received.
With his strong skill set, rebounding ability and polished offensive game, Cousins could be one of the best big men in the NBA. There are few players in the league with his mix of strength, talent and size.
However, he cannot seem to get out of his way long enough to truly flourish on the court.
Perhaps, in time, Cousins could emerge as the All-Star player he is capable of being, but he will likely suffer several more humiliating campaigns like 2012-13.
Add his absurd three turnovers and 3.5 fouls per game to the equation, and Cousins has certainly earned a spot on this list.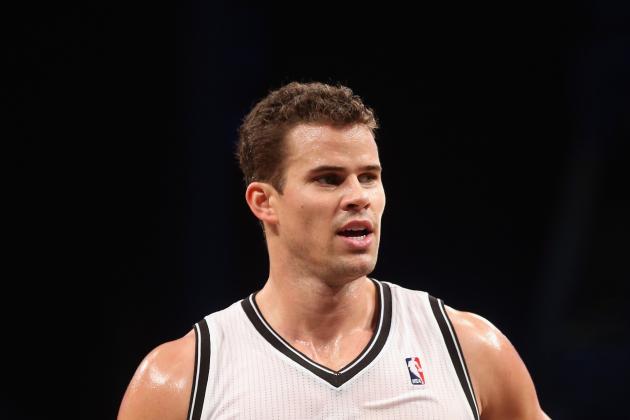 Bruce Bennett/Getty Images

The Brooklyn Nets never expected Kris Humphries to blossom into a star, but every indication he gave was that he was a starting-caliber power forward with a great nose for the ball. His previous performances led to the team tendering him a two-year, $24 million contract extension when they moved to Brooklyn.
In his first year wearing Brooklyn black, however, Humphries has looked dreadful. For the season, he is averaging 5.5 points and 5.9 rebounds on 43.5 percent shooting, but those numbers are not reflective of how poorly he is playing.
Losing time to rugged rebounder Reggie Evans, scoring big man Andray Blatche and intriguing rookie Mirza Teletovic, Humphries has looked like a shell of his former self.
To make matters worse, ESPN's Mike Mazzeo reported that Humphries was informed he is no longer a part of the team's frontcourt rotation.
To go from being a starter earning eight-figures to a player shut down for the year after playing just 18.4 minutes per game is as fast as any descent NBA player has had in 2012-13.
Somewhere in the NBA, a team could use a rebounder and finisher like Humphries, but they will have to take him on knowing he is coming off of the most humiliating year of his professional career.