Ranking the 12 Best Moments of LeBron James' Historic 2012-13 Season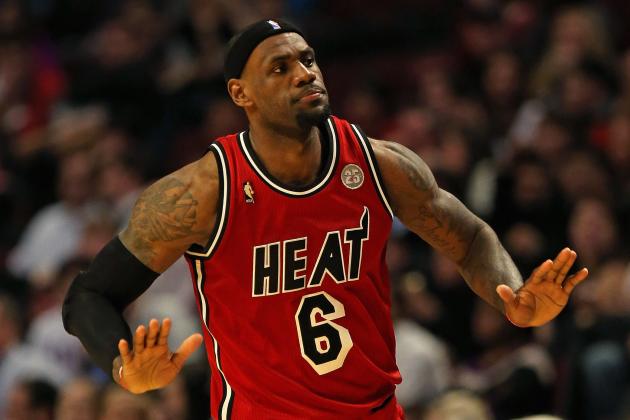 Jonathan Daniel/Getty Images

The 2012-13 season has been nothing but historic for LeBron James.
Not only does he have the Miami Heat sitting atop the Eastern Conference. He's also had some historic individual performances and record-settting stretches throughout the year.
From dropping at least 30 points while shooting 60 percent from the field in six straight games, to not committing a personal foul in 254 minutes of action, LeBron's had an absolutely mesmerizing season thus far.
He's had a season that 99.9 percent of NBA players could only obtain by playing NBA 2K13. The bad news for the rest of the NBA, it's not even close to being over yet.
Ahead is a ranking of the top 12 moments of LeBron's historic 2012-13 campaign.
Begin Slideshow

»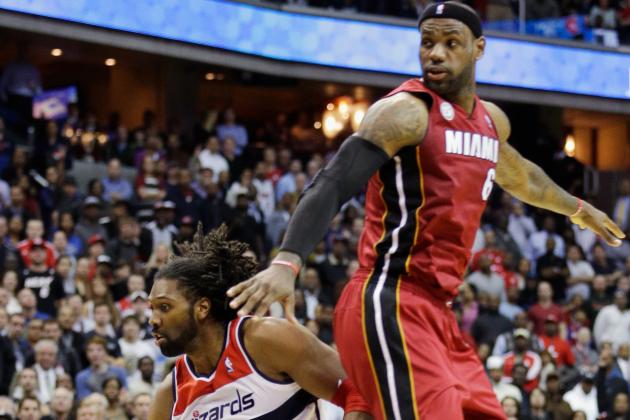 Rob Carr/Getty Images

It's not often the Miami Heat lose to one of the NBA's worst teams, but when they do, it clearly doesn't mean anything—at least to LeBron James it doesn't.
After a loss to the Washington Wizards, a reporter from CSNWashington.com asked LeBron what the Heat would learn from their loss to the lowly Wizards.
LeBron aptly responded, "There isn't a lesson for us. It's just a loss. That's all it is. We've seen and been through everything, so we don't need a loss to teach us a lesson to do better."
While his critics will say that LeBron should learn something from every game he plays in, in all honesty, LeBron said exactly what everyone was thinking.
No, it didn't show his lack of a competitive nature. It showed the fact that LeBron knows he's capable of taking over and leading the Heat whenever he wants to.
Scott Halleran/Getty Images

Remember that time when Kobe Bryant decided to play full-court defense on LeBron James for a long stretch of the 2013 NBA All-Star Game?
As the NBA world was going crazy about Kobe's defense on LeBron, LeBron wasn't thinking anything about it.
When asked for his thoughts on the Black Mamba's defense, LeBron responded by saying, "I am absolutely not surprised. It was all in good spirit. It was just two guys who love to compete, love to go at it. It was a lot of fun."
While you could argue that LeBron should've proved more on the court at the All-Star Game against Kobe, it was clear that LeBron couldn't have cared less about Kobe's decision to all of a sudden play airtight defense in a meaningless game.
LeBron's response made Kobe seem like more of a goof for playing that kind of defense in an All-Star Game, and it was a solid 2012-13 moment for the King.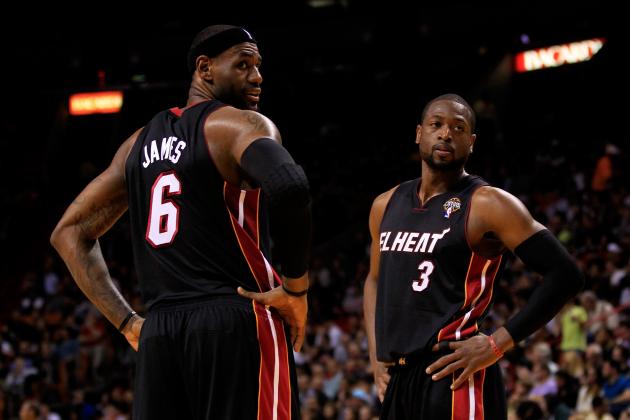 Chris Trotman/Getty Images

LeBron's loyalty as a teammate came into question a time or two during his stay in Cleveland—specifically during his final playoff run with the team. But he made sure not to leave that to discussion in South Beach.
When Charles Barkley talked about Dwyane Wade "losing his athletic ability,"according to USA Today, LeBron responded with six beautiful words: "Charles Barkley needs to shut up."
LeBron didn't leave his loyalty up to the tabloids; he came out and blatantly defended Wade. It was exactly what LeBron needed to do, and while it wasn't on the court, it was certainly a big moment for the King.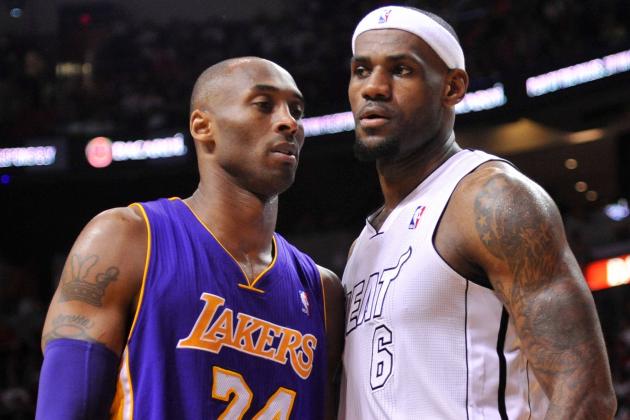 USA TODAY Sports

In LeBron's 18 games against the Black Mamba, he's won 13 of them—giving him a 68.4 percent winning percentage against Kobe.
That dominance continued when the two superstars took the court in January and February.
LeBron dropped an average of 35.5 points, seven rebounds, six assists and three steals on the Lakers, while shooting 68.7 percent from the field.
While LeBron and Kobe don't always guard each other, it's clear that LeBron has Kobe's number, and this season's two meetings were a reminder of that.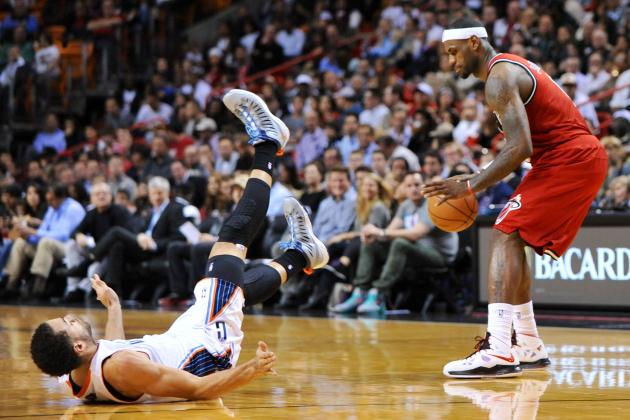 USA TODAY Sports

The Charlotte Bobcats couldn't stop a turtle trying to escape from the Time Warner Cable Arena, and LeBron made that even more evident when the Heat took the floor against them.
LeBron went off for 31 points, and he did so shooting 92.9 percent from the floor.
That kind of shooting is impressive if you're in the gym shooting around by yourself, and it's even slightly more impressive when someone's trying to stop you—even if it's a member of the Bobcats.
13-of-14 shooting in 38 minutes isn't the norm for LeBron, but he's slowly moving toward it.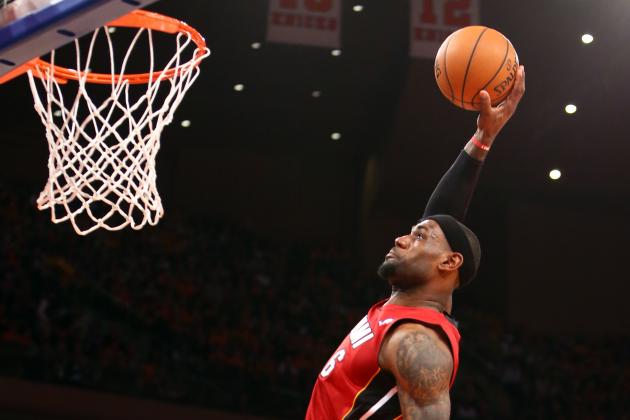 USA TODAY Sports

Heading into the Heat's third meeting with the New York Knicks, the Heat had lost both previous matchups by a combined 40 points.
With a 13-game winning streak on the line, LeBron wasn't prepared to let the Knicks get the better of him one more time.
Not only did he put together a complete performance, with 29 points, 11 rebounds and seven assists, while shooting 52.2 percent from the field. He also sealed the game doing what he does best—dominating the defensive side of the ball.
Sure, J.R. Smith threw one of the laziest passes of the year. But LeBron still read the pass and closed the game with an emphatic "we're the top in the East" slam dunk.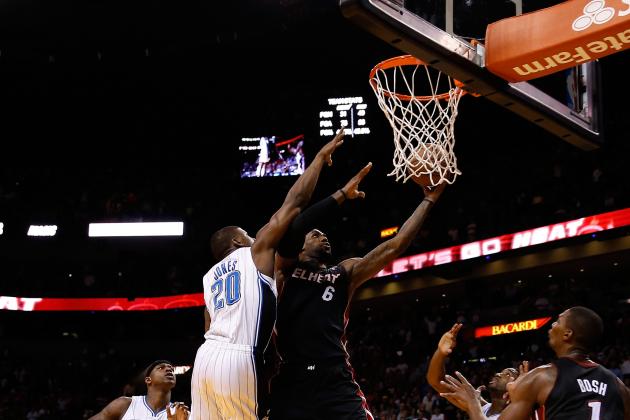 Chris Trotman/Getty Images

Believe it or not, but LeBron James hadn't hit an actual game winner since his dagger against Dwight Howard and the Orlando Magic in the 2009 Eastern Conference Finals.
We've all heard the knocks on LeBron concerning his late-game heroics and his ability to hit game winners, and apparently he was getting sick of it too.
With the game on the line and the ball in his hands, LeBron not only won the game for the Heat, he also finally figured out that going to the bucket late in games is much smarter than pulling up for a jumper.
Oh yea, and he also kept the Heat's then-16-game winning streak alive. Impressive stuff by LeBron.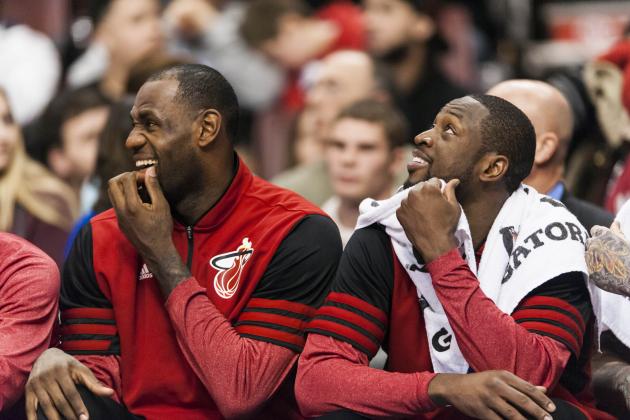 USA TODAY Sports

It didn't take long for LeBron James and company to put the Philadelphia 76ers away.
More impressive, though, was LeBron's triple-double in just 32 minutes of action. He ended the night with 16 points, 11 rebounds and 10 assists. Oh, and he shot 58.3 percent from the floor.
Triple-doubles aren't all that uncommon, but they aren't common when a player's played just a hair over 30 minutes.
He was five minutes behind Marcus Camby and the NBA's fastest triple-double—13 points, 15 rebounds and 10 assists in 27 minutes. But it was an impressive feat nonetheless.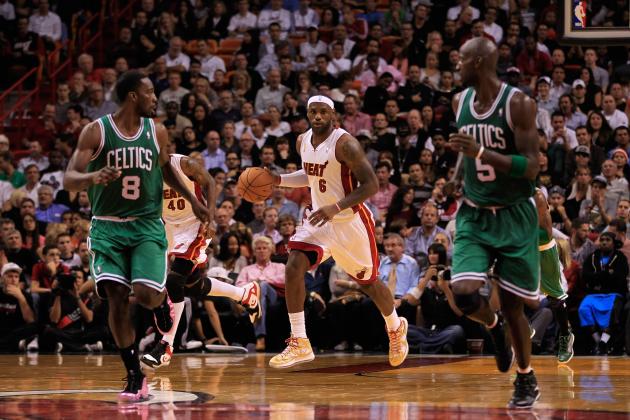 Chris Trotman/Getty Images

If there were any question of how LeBron would lead the Heat after their 2012 NBA title and a busy summer in the 2012 Olympics, he answered them in his first outing.
Against his heated rivals, the Boston Celtics, LeBron accounted for 26 points and 10 rebounds in 29 minutes en route to a 120-107 blowout. He shot 62.5 from the field and 50 percent from beyond the arc too.
LeBron showed the NBA that 2012-13 would be his season, and he's certainly solidified that belief with his recent dominance.
A win against the Celtics is always sweet for LeBron, but when it's the first game of the regular season, it's that much sweeter.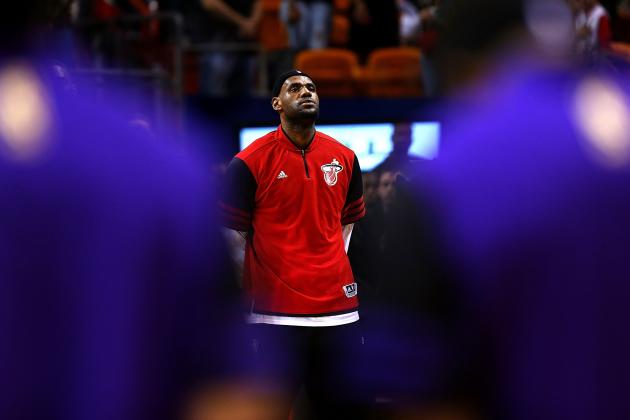 Mike Ehrmann/Getty Images

It took two overtimes for the Heat to keep their then-11-game winning streak alive. But LeBron put on quite a performance to make sure it didn't end.
He scorched the Kings for 40 points and 16 assists—having his hand in at least 72 of the Heat's 141 points. Yep, that's half of their points.
He shot 60.8 percent from the field, and he only missed on of his 12 trips to the charity stripe.
Sure, it was against the Sacramento Kings, but LeBron still proved that he can explode offensively while helping his team win games by being their best facilitator.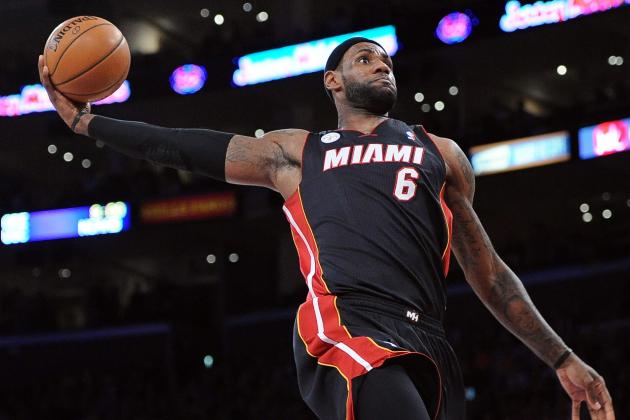 Jayne Kamin-Oncea-USA TODAY Sports

We may never see LeBron James compete in an NBA Slam Dunk Contest, but at least those who attend games and/or have a computer can see him throw down his best dunks on the hardwood.
LeBron is giving fans what they want with his pregame dunk routines, and it's helping him earn more love from fans around the league.
It's also earning him some criticism form people saying, "If he can do this in pregame warm-ups, then why can't he do it in a dunk contest."
Either way, his pregame dunks have been nothing short of mesmerizing. And it makes fans wonder what kind of dunks they could see from LeBron if he finally entered a dunk contest.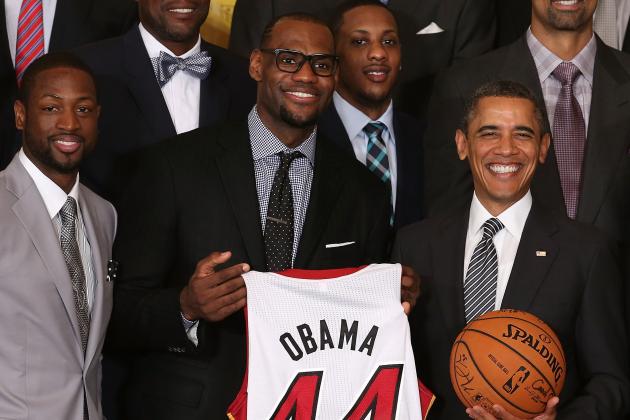 Mark Wilson/Getty Images

When LeBron and company took their talents to the White House to celebrate their 2012 NBA title, LeBron looked like a little kid in a candy store.
He was ecstatic and he let it show. If you haven't seen just how happy LeBron was, you need to watch this video where LeBron says, "We in the White House. I mean, Prez said we could keep this real casual."
You know you've made it when you can refer to the president of the United States as "Prez."
LeBron showed just how down to earth he is during his time with the president, and it certainly was a highlight of his season.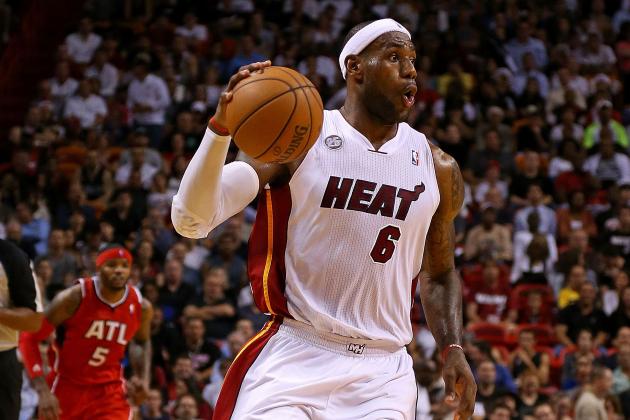 Mike Ehrmann/Getty Images

Thirty-three straight games with at least 20 points to start the season off? No problem for LeBron James.
That's unbelievably impressive, especially when you consider that he shot under 40 percent just five times during that stretch.
It wasn't like LeBron was jacking up 25 shots to get 20 points. He averaged just 18.6 field goals per game, while shooting 54.3 percent from the field and 41.7 percent from beyond the arc.
He also averaged 8.3 rebounds and 6.8 assists per game during that stretch. Pretty impressive isn't it?
It's LeBron's world, we're all just living in it.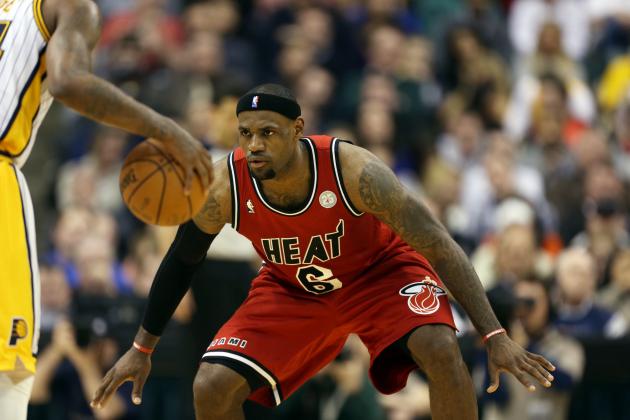 Brian Spurlock-USA TODAY Sports

We all underestimate just how difficult it is to play even a single game without committing a personal foul.
LeBron showed the world just how intelligent, disciplined and strong of player he is by not committing a foul in 254 minutes of action.
His streak came to an end against the Oklahoma City Thunder, but not before he displayed the discipline it takes to be the best player in the game.
While the NBA world is all about advanced stats, all we need to know is that LeBron posted a goose egg in the "PF" column for 254 straight minutes, and that's nearly unheard of.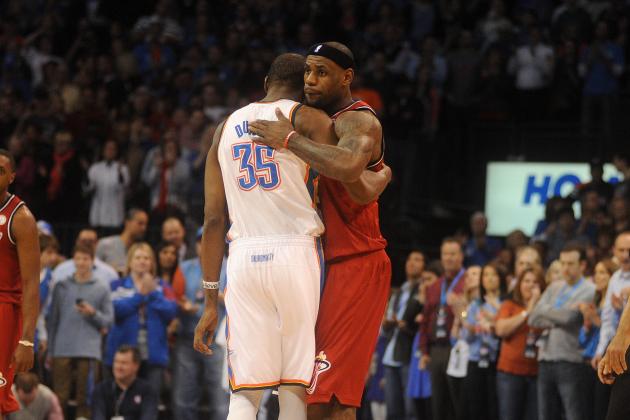 USA TODAY Sports

LeBron James did something that no player in NBA history had ever done before, and no, it had nothing to do with his receding hairline.
LeBron scored at least 30 points and shot 60 percent from the field in six straight games.
While that streak came to an end, mainly because he wasn't aware that a 25-foot three ball, up 10 points, would put him just under 60 percent, he led his team to an impressive road win against the Oklahoma City Thunder.
LeBron once again proved that he cares more about winning games than obtaining personal records. He also proved that the Heat still have the Thunder's number, both at home and on the road.