Duke vs. North Carolina: The 5 Best Subplots in This ACC Showdown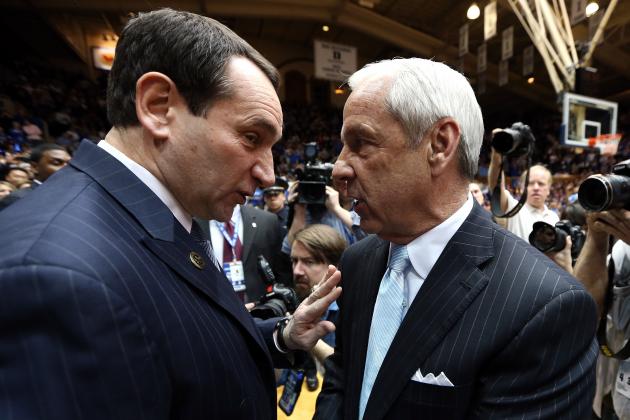 Streeter Lecka/Getty Images

My favorite part of sports is the narratives they create. Without that, sports are just a collection of stats and physiology. It's the stories behind the games that makes every dribble, pass and made shot pregnant with enough meaning to pull you out of your seat.
The Duke/North Carolina rivalry is never short on narrative. It's always a battle between two storied programs that represent the height of college hoops. From the combined history to the competition for top recruits, the past and future merge into the present for 40 minutes of monumental basketball.
You should study the stats and debate the keys to victory, but don't get lost in the numbers. Digits don't make this rivalry great; the narrative does.
So going into this Saturday's latest incarnation of good versus evil, these are the five best subplots that make the game more than just what happens on the court.
Begin Slideshow

»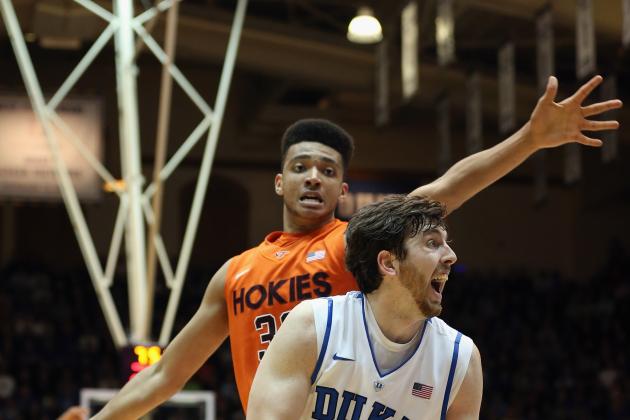 Streeter Lecka/Getty Images

Admittedly, momentum is a sort of ethereal quality and a fickle one at that. Regardless, on the eve of one-and-done tournaments it's highly advantageous for a team to be playing their best ball of the season.
Last year Florida State might have proved that such momentum doesn't guarantee a deep March run, but over the long haul of the season only teams that have discovered and refined their formula for success are equipped to survive the tournament. Connecticut's title run in 2011 evidenced the victory that can be found if a team hits its stride around conference tournament time.
North Carolina struggled to find a viable center for much of the season. Then, in the first game against Duke, the Tar Heels opted for a smaller lineup. That strategic stroke nearly secured an upset against the Blue Devils in Cameron Indoor Stadium. Even though North Carolina failed to blemish what turned out to be an undefeated season for the Blue Devils in Cameron, the smaller lineup produced long-term results.
Since the loss to Duke, North Carolina has won six straight games, and none of them were particularly close. The Tar Heels are back to playing the style Roy Williams is renowned for, running up and down the court to produce as many offensive possessions as possible.
Playing the style in which the Tar Heels are accustomed has shaken off the seeds of doubt that germinated due to early season turmoil. Now, North Carolina has confidence in its system and style and players who firmly grasp their roles. Such a state makes North Carolina a dangerous team, one that no one wants to see seeded next to them in the NCAA bracket.
Duke is similarly buoyed by a late season change. The return of Ryan Kelly saved the Blue Devils against Miami, and his play was also important during a slow start against Virginia Tech. Prior to him getting hurt, the Blue Devils were 15-0 with wins against the likes of Louisville, VCU, Minnesota and Ohio State.
After two home wins with Kelly back in the lineup, Duke continues remains undefeated with its full complement of players. That being said, prior to Ryan Kelly getting hurt, Duke had yet to play a true road game. There were plenty of neutral site clashes, but if the Blue Devils win at Chapel Hill it will be the first road win of the season with Ryan Kelly in the lineup.
The bottom line is that both teams have built a good head of steam to finish the regular season. A loss would undercut the confidence gained over that run of good form.
A loss for Duke would mean the Blue Devils were no longer undefeated with Ryan Kelly and still vulnerable to the frustrations of a poor shooting night. A loss for North Carolina would confirm that the Tar Heels can knock around average teams, but simply don't have the horsepower to push past the nation's best.
Whichever team takes a blow to their confidence will have to pick up the pieces quickly. The ACC tournament is likely to thrust these two teams together again. Whoever loses Saturday will have heaps of pressure to redeem themselves in Greensboro, and the result will likely sink or swim the loser's hopes for optimal NCAA seeding.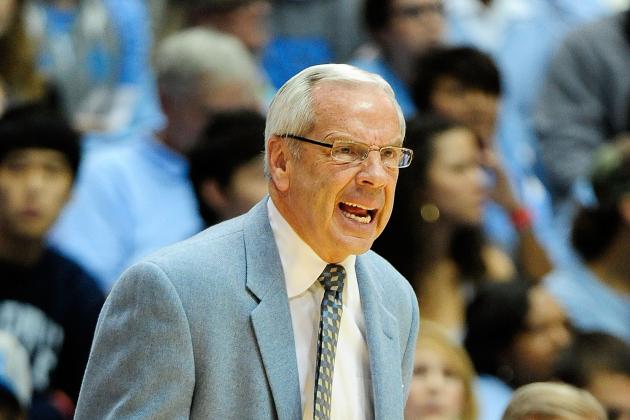 Grant Halverson/Getty Images

Imagine North Carolina as an eight seed in Gonzaga's bracket. The Tar Heels could win a first-round game, then upset a weak No. 1 seed and ride that momentum into a Sweet Sixteen matchup against no better than a four seed.
That's not a bad road map to a deep run, and right now a nine seed is probably as low as North Carolina could go. Currently, ESPN's braketology has the Tar Heels as a seven seed. A win against Duke and then one or two more in the ACC tournament would only improve North Carolina's selection committee credentials.
This season, North Carolina has been pretty predictable. The Tar Heels have beaten the teams you'd expect them to beat and lost to teams that were better than them. Unless UNC beats Duke, the best opponent to go down to North Carolina is either Virginia or UNLV and both those games were in Chapel Hill.
A higher seed would delay a confrontation with the sort of teams that North Carolina has struggled to beat all year.
Duke, meanwhile, is pretty much assured a one or two seed. A loss to North Carolina would mean that the path to a one seed would probably require winning the ACC tournament. A win on the road against their rival would likely give the Blue Devils some leeway in the conference tournament.
All in all, the competition for one of the four top seeds is extremely tight. A slip-up against North Carolina would give the selection committee a reason to slot someone other than Duke in a top spot.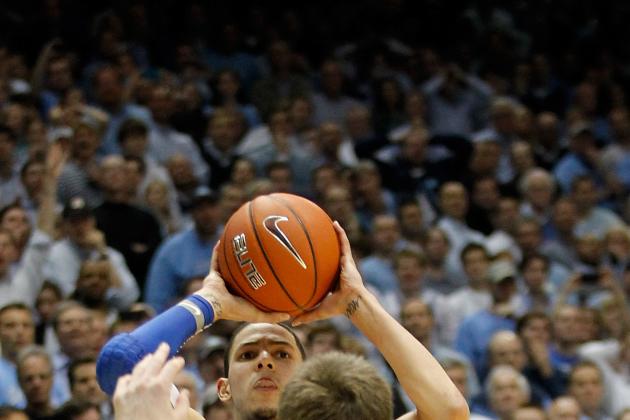 Streeter Lecka/Getty Images

Last season, Duke fans almost universally disliked Austin Rivers. He didn't play defense, didn't pass and forced bad shot after bad shot. He used Duke as a staging point for his NBA career and that sort of transient relationship with the university and team certainly didn't endear him with the fans.
Still, his buzzer-beater against North Carolina engrained him in Duke lore. For all the hard feelings and begrudging cheers, that one shot will stand as his Duke legacy. Over time, people won't remember that he was an offensive black hole, but they'll be showing the highlight of his game-winning shot as long as the Duke/UNC rivalry carries on.
Neither Mason Plumlee nor James McAdoo is as disliked as Austin Rivers was by his own fans. Nevertheless, both Plumlee and McAdoo have drawn a healthy amount of ire from their teams' supporters.
Plumlee has long held the promise of a dominant inside force. That potential made fumbles and Frankenstein footwork forgivable as an underclassman. At the start of his senior year, all that potential looked to have been realized. Mason Plumlee played himself into strong Naismith consideration by chalking up one double-double after the other.
Then Ryan Kelly got hurt. More of the scoring burden fell on Plumlee's shoulders and defenses, no longer forced to stretch to the floor to cover Kelly's shooting, could sag down to defend Plumlee in the post.
Those two things proved to be incompatible. With the exceptions of a few games, Plumlee proved that he couldn't carry the offense. Now the former National Player of the Year candidate may not even garner ACC Player of the Year honors.
North Carolina's James McAdoo has caused Tar Heel fans similar levels of frustration. The sophomore forward has doubled his minutes and points from last year, but that falls short of the mammoth expectations foisted upon him by preseason prognosticators.
McAdoo was meant to be a dynamic forward who could obscure the fact that the Tar Heels didn't have a reliable option at center. Instead, McAdoo has been a victim of an unreliable shooting stroke. The forward shoots 44.9 percent from the floor, but on some nights it seems like that average is the result of fuzzy math.
Last night against Maryland, McAdoo was just 3-of-11 from the floor. Last week against Clemson, he was 5-of-13. Even on nights when he puts up good point totals, McAdoo is a high-volume shooter. That works out alright in Roy Williams' fast-paced offense, but when opponents slow the Tar Heels down, his inefficiencies tend to manifest themselves to an extreme.
It's not that McAdoo is a bad player. It's just that he was supposed to the best player for a top-10 team. His failure to live up to that hype encapsulated the Tar Heel's early season struggles. And when North Carolina finally righted the ship by switching to a smaller lineup in the first meeting with Duke, it was Reggie Bullock, not McAdoo, who emerged as the key cog in the Carolina machine.
Yet in spite of all the frustration McAdoo and Plumlee have caused their respective fanbases, the Duke/UNC games offers an opportunity to obscure those memories of underachievement. A career night for either of those players en route to a victory would snuff out any cynicism directed at their college careers.
In the first meeting, Plumlee played well, scoring 18 points and grabbing 11 rebounds. Yet he looked confused by North Carolina's smaller lineup to start the game and lost the narrative to Tyler Thornton's triplet of critical three-pointers.
McAdoo, meanwhile, sputtered to nine points on 4-of-12 shooting (box score via ESPN).
So what's at stake for both is the fact that a career-defining moment on this biggest of stages would rewrite a lukewarm player history and cement the victor into their teams' storied history.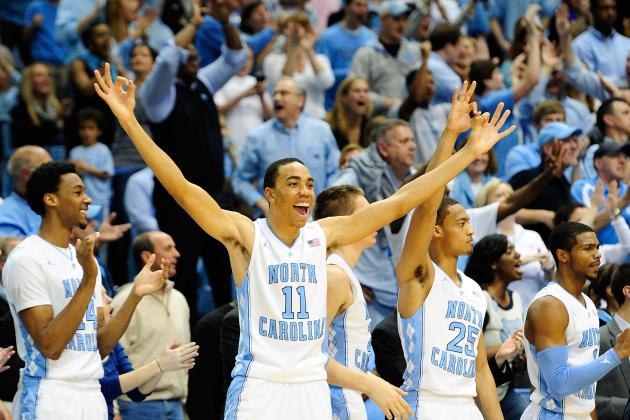 Grant Halverson/Getty Images

First of all, the whole Coach K court-rushing story was blown way out of proportion. If you watch the video of his postgame press conference, Coach K didn't bring the subject up. He was asked about it by a reporter, answered the question and then was eager to change the subject back to the game and Joe Harris' performance.
That being said, Krzyzewski's dislike of court rushing is now public knowledge. So a funny way to put an exclamation point on a Tar Heel victory would be to rush the court. Even as a Duke fan, I think that would be kind of funny.
There's actually a precedent for this. North Carolina students rushed the court in 2011. It's certainly not something that happens often, but it'd be an amusing jab at a sports media meme.
Of course, for this to come into play, North Carolina has to beat Duke. Unfortunately for the Tar Heels, the 2011 team was vastly superior to the one wearing light blue in 2013.
But hey, anything can happen. And if it does, it'd be the sort of minor upset that merits storming the court these days. After all, Virginia was actually the Vegas favorite when they stormed the court against Duke.
In a rivalry as intense as Duke versus UNC, rubbing in a win is fair play. And what better way could UNC rub in a home win against Duke than with a semi-satirical court-rushing?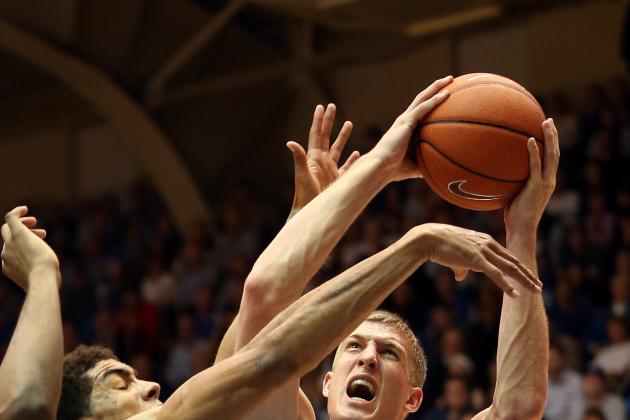 Streeter Lecka/Getty Images

This is may be a sub-subplot, but stay with me for a moment because it's something near and dear to my heart.
While all the analysts and media-types wax poetic about the greatness of the Duke/UNC rivalry, remember that the same mainstream sports media frenzy might actually end the rivalry it so loves to hype.
The SEC and Big Ten are desperate to break into the North Carolina television market. The Big Ten already swooped into to the coveted DC television viewership by luring Maryland away from the ACC. The SEC isn't going to simply stand pat if the Big Ten keeps making overtures to teams in the southeast (Clay Travis' excellent explanation of the situation).
SEC observers have long suspected the conference's interest in acquiring Virginia Tech and NC State.
Even if the ACC staggered on with the loss of NC State and/or Virginia Tech, the Big Ten would be pushed by the nuclear arms race for television markets to stretch into the Carolinas. Given the Big Ten's educational aspirations, the likes of Virginia and North Carolina would be prized assets.
Obviously, it'd be hypocritical for North Carolina to leave since they are currently part of the lawsuit against Maryland's departure, but in a battle between logic and money where do you think a college president would come down?
The bottom line is that conferences are driven by money accrued from television contracts for football. The research triangle is a highly valuable market, and if either the SEC or Big Ten can plant their flag there, then the other will be compelled to follow.
Welcome to the "free" market of modern college sports: where tradition and history make way for money that none of the actual athletes see.
Again, it's not a likely scenario, but in a week where the Syracuse and Georgetown rivalry is coming to an end and North Carolina beat Maryland for what was likely the last game between those two in College Park, it's not an impossibility.
Speaking as a Duke fan, Carolina can go to hell, but they can't go away from the ACC.
So enjoy the game. In this climate of college sports, take nothing for granted because you never know how many more you'll get.