Los Angeles Lakers Mount Furious Comeback to Beat New Orleans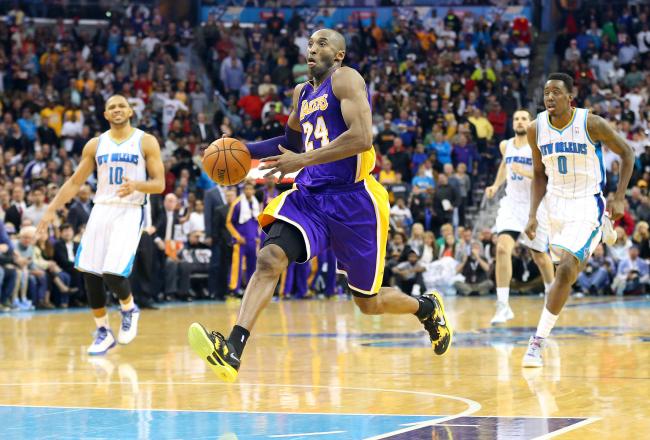 Crystal LoGiudice-USA TODAY Sports
This is what Lakers fans thought they were getting back in August when Mitch Kupchak pulled off a series of moves bringing Dwight Howard, Steve Nash and various other pieces to Los Angeles. No, not falling into a 25-point hole. Rather clawing their way out of it and in the process showing all the reasons Laker Nation were excited about this team.
The Lakers should have known better than to take the New Orleans Hornets (soon to be Pelicans) lightly. For a young team with a losing record, beating the Lakers on your own home court is the equivalent of winning Game 7 of the NBA Finals.
Of course the Hornets came out with energy and smelled blood as a tired Lakers team tried to rally on the second night of a back-to-back, less than 24 hours after they were run out of the building in Oklahoma City. That's how they found themselves down by 19 at the half.
We still don't—and may never—know what transpired in the locker room at the half. But I'm guessing someone, (Kobe?) either verbally or with a withering look made the point: Gentlemen, decide right now if you want this or not. We cannot lose this game. Our margin for error is long gone.
Choose your destiny.
The Lakers then came out for the second half and proceeded to trade baskets with the Hornets. Every little chip at the deficit was answered with another New Orleans basket.
I live in Los Angeles. I know so many huge Lakers fans who had just had enough in that third quarter.
How come the fans seem to understand how important this game was and the team did not? The Lakers had plenty of offense in the third, but where were the defensive stops? The reason that drives fans nuts is because defense, while certainly involving fundamentals of basketball, really boils down to effort.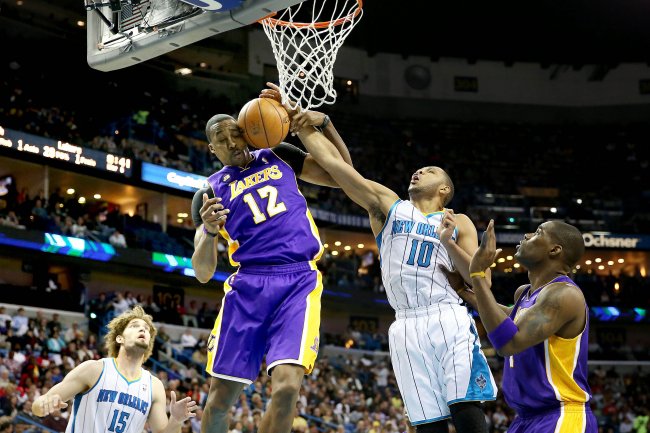 Crystal LoGiudice-USA TODAY Spor
Then, halfway through the fourth, season on the line (I don't think I'm exaggerating here), the Lakers turned it up. Kobe put the team offensively on his back and Dwight Howard, in spite of having five fouls, played absolutely one of his best games of the season. His block of Robin Lopez's possible game-tying shot with 30 seconds to go had me screaming at the TV in the immortal words of Suze Orman: You are DE-NIED!
This game was critically important for Howard. The person he needs to fear in the Lakers' organization is not Kobe Bryant, it's Mitch Kupchak. Kupchak holds Howard's future in his hands and if you don't think he is intensely scrutinizing every game and taking note of every effort or lack thereof, you have not been paying attention.
The media would have you think that the Lakers are the powerless suitors for Howard's services in the coming years. I would argue the opposite. The Lakers hold all the cards and what they are looking for is the kind of intensity and effort that Howard showed late in last night's game. They want to see that consistently.
It's wrong to try to compare Howard's intensity to Bryant's. No one will ever match that.
They broke the mold with Kobe, but what the Lakers do not want is someone anchoring their franchise who may or may not show up every game and give max effort. They won't hesitate to move on if they don't sense total commitment to the franchise and to winning. Ask Andrew Bynum.
But really, everyone came together on this. Jodie Meeks did what he does: shoot. Metta World Peace playing on a bum ankle contributed and Nash kept things moving. The Lakers even threw in a little trickeration at the end somehow fooling the Hornets into defending the wrong basket on an inbounds pass giving Kobe a highlight reel basket.
Props to the coaches too, who kept their heads and used timeouts very effectively in the final minutes.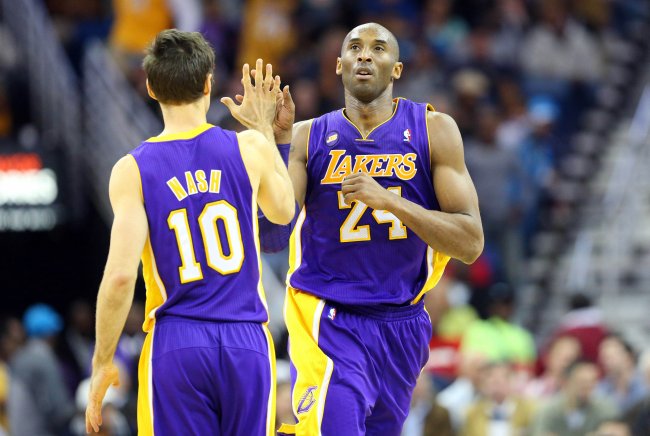 Crystal LoGiudice-USA TODAY Sports
Laker fans have been waiting for this. It's been a long time coming. The coaching merry-go-round at the beginning of the season, the injuries to key players causing rotations to fluctuate, the non-stop media drama and handwringing that goes with underachieving—it all seemed insurmountable at times.
There are no more games where the Lakers can take the night off, or even a quarter. They need to remember the intensity and ferocity of those final minutes in New Orleans and use that going forward. The playoffs are still not a sure thing.
The Lakers showed themselves something here and it wasn't just that they rallied to beat New Orleans.
For once, the Lakers didn't beat themselves.
This article is
What is the duplicate article?
Why is this article offensive?
Where is this article plagiarized from?
Why is this article poorly edited?

Los Angeles Lakers: Like this team?