When It Comes to the Media, Dwight Howard Must Learn That Less Is More
Bob Donnan-USA TODAY Sports
Chatty L.A. Lakers center Dwight Howard opened his big mouth to the media again, this time in an effort to clarify remarks he made about his former Orlando Magic teammates. And guess what; it didn't go well.
Shocking, right?
Backing up a bit, Howard put himself in hot water on March 4 when he told Kristine Leahy of CBS LA what he thought of his former Magic mates, saying, "And I always tell people: Hey, my team in Orlando was a team full of people who nobody wanted, and I was the leader and I led that team with a smile on my face."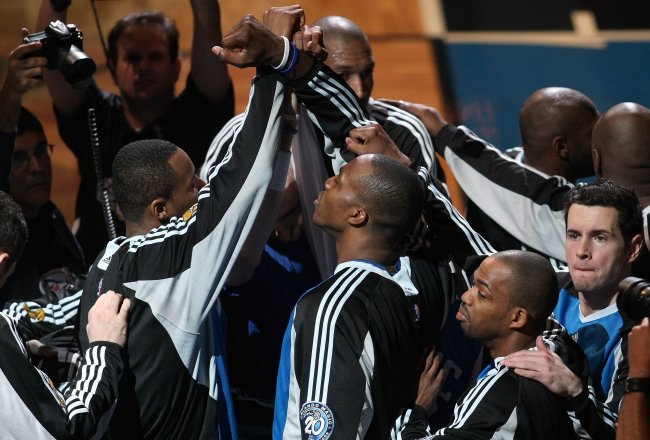 All for one, right guys?
Elsa/Getty Images
Well, instead of awarding Howard some kind of medal for dragging a group of unwanted castoffs to the NBA Finals, it turns out that those guys were actually unhappy with the way they were discussed.
NBA players who made it all the way to the game's biggest stage in 2009 were less than pleased with their ungrateful leader's dismissive assessment of their skills?
Go figure.
J.J. Redick, now a member of the Milwaukee Bucks, zinged Howard right back. And in true Redick fashion, his shots were accurate.
Per Ramona Shelburne and Dave McMenamin of ESPN LA, the sniping guard said, "I'm not surprised by it. I would be more surprised when Dwight starts taking responsibility. That would be the most negative thing I can say, but that's the truth."
Ouch.
But Redick wasn't done. He summed up his opinion on Howard quite succinctly, per a tweet from Shelburne:
Redick on Howard's quotes: "You can't take all the credit and not accept any of the blame."

— Ramona Shelburne (@ramonashelburne) March 7, 2013
Following the predictable backlash against Howard's ill-conceived remarks, the Lakers big man went right back to the microphones in an effort to conduct some damage control.
Again, per Shelburne and McMenamin, D12 said:
I would never say anything disrespectful to those guys and I think a lot of people took that and ran with it, twisted it into a negative thing. I love those guys. We've had some great memories and we thrived off people saying that we weren't going to make it to the Finals, we weren't going to be a good team. That's what pushed us.
It's hard to know whether Howard thinks we've all got incredibly short memories or if we're just gullible. Saying he never meant to be disrespectful and arguing that his words were twisted doesn't really fly here. After all, his initial comments were pretty clear, and it's not as though his former teammates seemed surprised by them.
So there's almost no way to take what the big man is saying now—after everyone on the planet has again come to the conclusion that he's selfish and ungrateful—at face value. He's just reacting to negative publicity by trying to take back what he said.
Well, it doesn't sound like anyone's buying it.
Alex Kennedy of Hoopsworld has a feel on the pulse of the league, and his sources have told him that the bloom is very much off the Howard rose:
It's crazy how far Dwight Howard has fallen. One Western Conference executive recently told me he wouldn't touch Howard with a 10-foot pole.

— Alex Kennedy (@AlexKennedyNBA) March 7, 2013
In addition, it appears that Howard's former teammates are now done responding to his statements in the media. That's yet another sign of how low league-wide perception of Howard has sunk. Instead of engaging with him, other players are simply choosing to ignore him.
I talked to a few of Dwight Howard's former Orlando Magic teammates last night. They chose not to comment on his quote, but weren't pleased.

— Alex Kennedy (@AlexKennedyNBA) March 6, 2013
Howard just keeps on talking, and whenever his obviously offensive words end up offending anyone, he throws his hands up as if to say, "Who, me?" If there had only been one incident of a quote being taken out of context, that reaction might be convincing.
But now that we all know Howard's history in Orlando (as a bad teammate, a petulant kid, a coach-killer, etc.), there are really only a couple of ways to view his repeated verbal missteps: Either he isn't smart enough to foresee the imminent backlash, or he just doesn't have a clue about what he shouldn't say.
Whatever the case, it's probably best if just shuts up.
That's what Jameer Nelson, one of the former teammates Howard threw under the bus, thinks anyway. Per Brian Schmitz of The Orlando Sentinel, Nelson wondered, "At some point, when are you [Dwight] gonna as a man, when are you going to take ownership and stay out of the media in a professional manner?"
Howard's image as a good teammate is essentially shot at this point. If he hopes to ever repair it, the best thing he can do is to learn that when it comes to the media, less is definitely more.
This article is
What is the duplicate article?
Why is this article offensive?
Where is this article plagiarized from?
Why is this article poorly edited?

Los Angeles Lakers: Like this team?