NY Knicks' All-Time Dream Team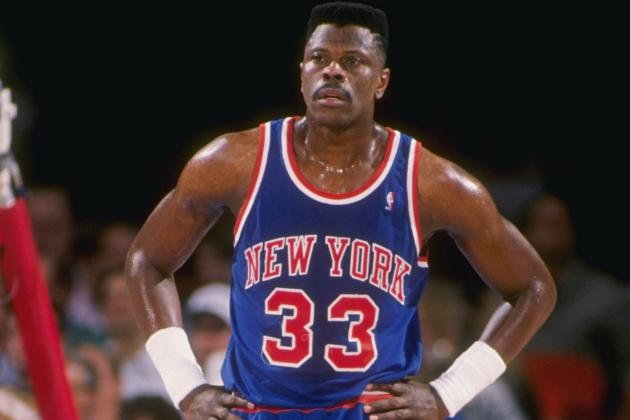 Tim DeFrisco/Getty Images
Patrick Ewing is arguably the greatest Knick to ever don the blue and orange.
The New York Knicks are one of the NBA's most esteemed teams, and for good reason. Their history dates back to the years immediately following World War II.
Despite only two banner-raising seasons to their credit, Madison Square Garden has been played host to some of the most memorable basketball games of all time, thanks to an eclectic array of Knicks greats.
Here, we sort those legends onto one 12-man roster: the Knicks Dream Team.
Rules are as follows:
1.) In order to make the cut, the player must have played at least 82 games (one full season) in a Knicks uniform, and at least a quarter of his career must have been spent in New York.
*Exceptions are current Knicks who are contracted to be with the team long enough to meet the criteria.*
Apologies to Bob McAdoo, who averaged 27 and 12 as a Knick, but in just two of his 14 NBA seasons.
2.) Their Knicks team must have made the postseason at least once during their MSG tenure.
3.) Selections aren't necessarily based off the player's career performance, rather their output solely as a Knick. Without this provision, guys like Tracy McGrady and Steve Francis would likely make the cut, and that just wouldn't seem right.
That's about it as far as rules go. Sit back, enjoy the collaboration between generations, and feel free to agree or disagree in the comments below.
Begin Slideshow

»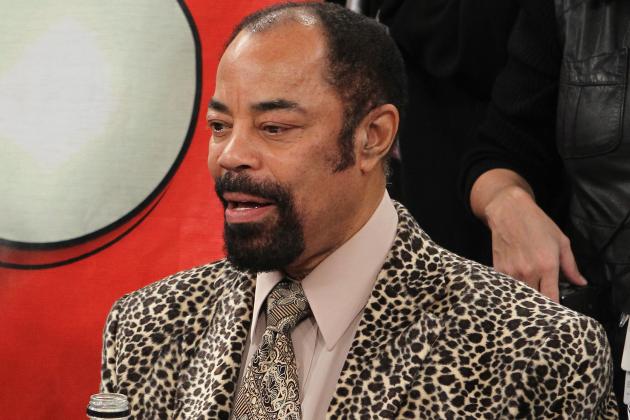 Bruce Bennett/Getty Images
Clyde is a sharp dresser, but was an ever sharper passer decades ago.
1968-1977 Stats: 19.3 PPG 6.3 APG 6.1 RPG 2.0 SPG .492 FG%
No decision was easy in crafting this list of all-time Knicks greats, but Walt Frazier is, without a doubt, the greatest point guard the franchise has ever employed.
Clyde, now known for his poetic color commentary and snazzy courtside apparel, was once responsible for dishing and swishing himself.
In the Knick championship 1969-70 season, Frazier's third NBA campaign, the point guard out of Southern Illinois averaged 21 points, eight assists and six rebounds over 77 games. Not that anybody knew it at the time, but Clyde's PER was 21.1.
Frazier's defining moment as a Knick rests in the shadow of a greater narrative. In Game 7 of the 1970 NBA Finals against the Los Angeles Lakers—the game memorialized by Willis Reed's dramatic entrance through the Garden tunnels—it was Clyde who stole the show, and won the title. He scored 36, dished 19 assists and grabbed seven boards, as the Knicks won their first NBA Finals in franchise history.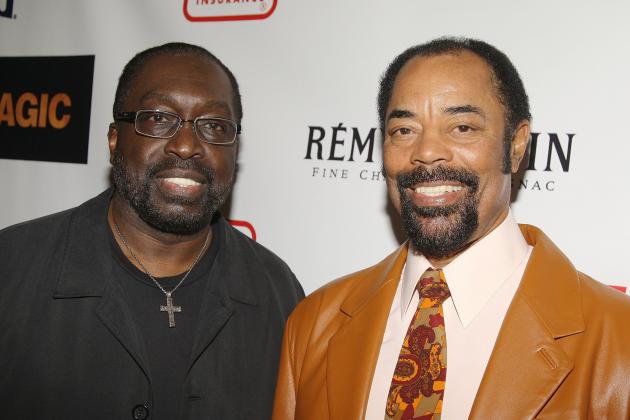 Stephen Lovekin/Getty Images
Clyde and Pearl in 2008
1972-1980 Stats: 16.2 PPG 3.5 APG 2.6 RPG 1.0 SPG .478 FG%
Yes, two-fifths of the team's starting lineup has cool nicknames. Earl "The Pearl" Monroe manned the off-guard for the Knicks in their second championship season, and averaged 15 points on 49-percent shooting in 1972-73.
Monroe was dealt to New York after four seasons as a Baltimore Bullet. With New York, he put up less shots on average thanks to the prowess surrounding him, but posted the highest field goal percentages of his career.
The Pearl's career was cut short in 1980 due to knee issues, and the league hasn't seen a player quite like him since. The backcourt duo of Monroe and Clyde Frazier rests in history as one of the best to ever collaborate, but undoubtedly the most vivacious.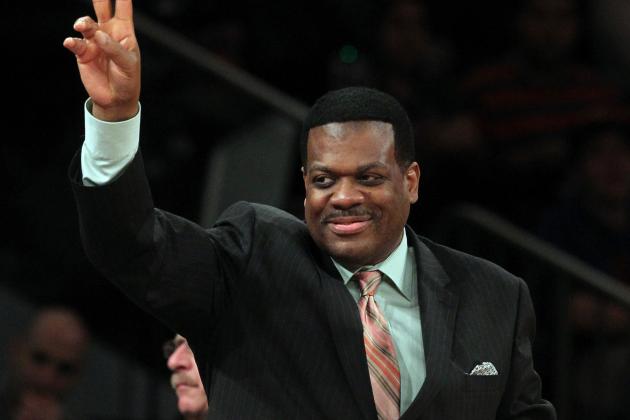 USA TODAY Sports
King was on the fast track to legendary territory until injuries derailed his career.
1983-1987 Stats: 26.5 PPG 5.2 RPG 2.8 APG 1.2 SPG .543 FG%
Bernard King only logged just 138 games in a Knicks uniform, but nearly each one was unforgettable to Knicks fans.
In January 1984 King became the first NBA player to log back-to-back 50-point games, on 20-of-23 and 20-of-28 shooting, respectively. On Christmas Day the next season, King dropped 60 points on the New Jersey Nets.
King's 1984-85 season was the most exciting scoring exhibition the franchise has seen. His 32.9 points per game are the most any Knick has averaged in a season to date.
Unfortunately for King and the Knicks, that season was cut short after just 55 games. King tore his ACL in March of 1985, and aside from six games the next season, that was the last New York ever saw of King. The legend was cut short before it even started.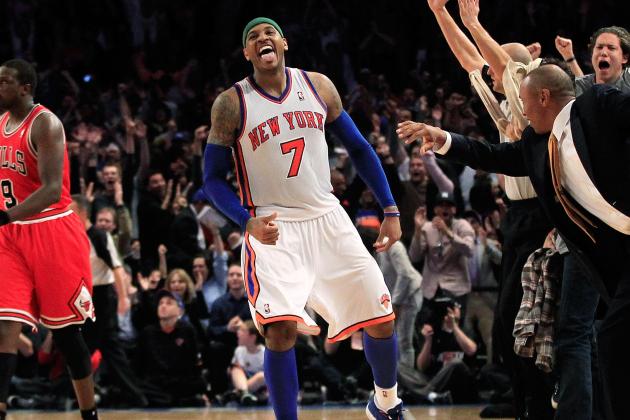 Chris Trotman/Getty Images
Carmelo Anthony may go down as the greatest Knick ever.
2011-2013 Stats: 25.5 PPG 6.3 RPG 3.2 APG .441 FG% .376 3P%
To put a new-age twist on this all-time lineup, we're going with some small-ball. Carmelo Anthony is bumping up to the four spot on the Knicks Dream Team.
In less than two full seasons worth of games as a Knick, Anthony has already cemented himself as one of the greatest players to play for the Garden faithful. When it's all said and done, 'Melo just may go down as one of the best to ever do it—regardless the team.
To this point, Anthony's Knicks tenure is devoid of the playoff success Knicks fans had hoped for. This season, however, is the best start the Knicks have gotten off to in over a decade. It appears that all the pieces to the puzzle are fitting together, and now is the Knicks' time to make their run.
And if they do, 'Melo will be the main reason why.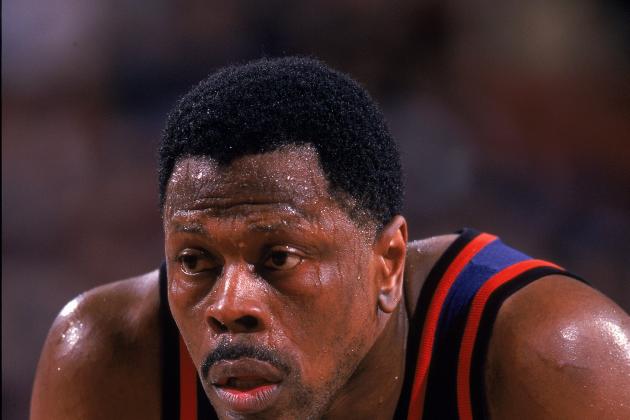 Otto Greule Jr/Getty Images
Ewing was the Knicks franchise cornerstone for 15 years.
1985-2000 Stats: 22.8 PPG 10.4 RPG 2. APG 1.0 SPG 2.7 BPG .508 FG%
We're closing in on 70 years of franchise history, and Patrick Ewing remains the best of all 423 men to call themselves New York Knicks.
Ewing was one of the several victims to the Michael Jordan era of basketball. Ewing never earned that coveted championship, but that's not to say he wasn't close.
Ewing's Knicks reached the 1994 finals, and lined up against Hakeem Olajuwon's Houston Rockets. The Knicks dropped that series in seven games, losing the final game in Houston 90-84.
The Knicks returned to the Finals in the wane of Ewing's career for the 1999 series against the San Antonio Spurs. Those Knicks were the first eighth seed to reach the postseason's final round, but fell in five games. Ewing was hobbled during those playoffs due to injuries, and was unable to suit up for the Finals.
Nonetheless, the seven-footer from Georgetown holds nearly every important Knicks record in the book. Ewing logged the most points, blocks, rebounds, steals, free throws, field goals and minutes of every Knick in history.
The numbers speak for themselves; Ewing is the best Knick ever. He'll man the middle for the Knicks Dream Team.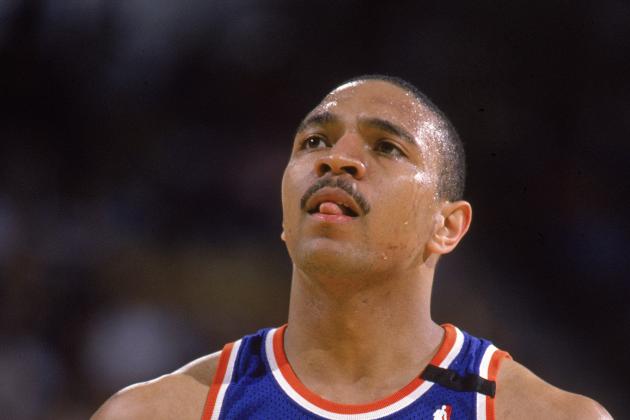 Mike Powell/Getty Images
Jackson ran the point better than most Knick point guards ever could.
1987-1992, 2000-2002 Stats: 11.1 PPG 4.0 RPG 8.0 APG 1.4 SPG .456 FG% .319 3P%
The Knicks franchise hasn't exactly been rich at the point guard position, but Mark Jackson was one of the gems.
The local Brooklyn product out of St. John's was drafted in the first round by the Knicks in 1987. He was immediately thrown into the New York fire, starting 80 games that first season and earning Rookie of the Year honors. Jackson averaged a double-double at 13 and 10.
Under head coach Rick Pitino, Jackson thrived. After Pitino left New York following Jackson's sophomore season, however, things weren't quite the same for Jackson. Under Stu Jackson, the point guard was playing significantly less minutes and showing his first signs of NBA struggle.
Jackson went from averaging 15.1 points, 9.7 assists and 4.8 rebounds through his first two Knicks years, to a respectable but diminished 10 points, 7.4 assists and 3.4 rebounds in his last three seasons at the Garden.
Jackson then spent the duration of his prime with a variety of teams as the Knicks chased the elusive title that never did come.
In 2000, at 35, Jackson poetically returned to the franchise that drafted him after stops with five other clubs. At the opposite end of his career arc than his previous New York stint, Jackson averaged eight points and eight assists for the 21st century Knicks, while starting all but two games combined in two seasons.
Jackson is now making a name for himself as a head coach with the Golden State Warriors, as he's leading the young Dubs to a likely playoff appearance in his second year at the helm.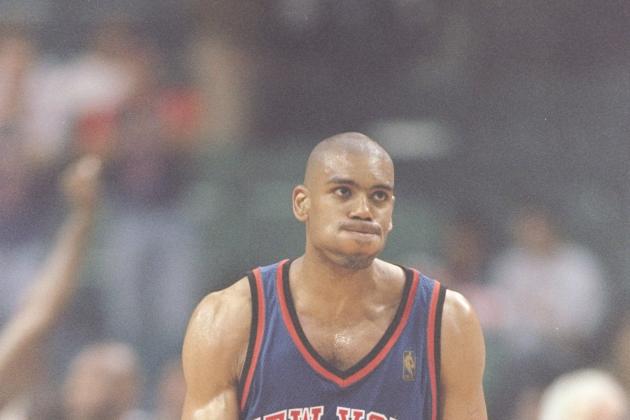 Andy Lyons/Getty Images
The Knicks of the late 90s wouldn't have achieved the success they did without Houston.
1996-2005 Stats: 18.5 PPG 3.1 RPG 2.5 APG .444 FG% .399 3P%
In the grand scheme of the Knicks franchise history, Allan Houston is probably one of the more underrated men to wear the blue and orange laundry.
Much was made of the ridiculous $100 million contract Houston signed to in 2001, and his subsequent early retirement that was forced upon him by chronic knee issues. But before all the issues, there was a great, productive career to take notice of.
Houston was one of the purest shooters the Knicks have depended on in recent memory. From 1997-2001, he shot 49 percent from the field, 40 percent from the arc and 86 percent from the free-throw line.
One of the Knicks most memorable moments of the last few decades came at the hands of Houston, when he sank a running jumper to knock off the first-seeded Miami Heat. It was as if the normally stoic Houston released a career's worth of bottled emotion after the shot, as he fist-pumped the Knicks to victory.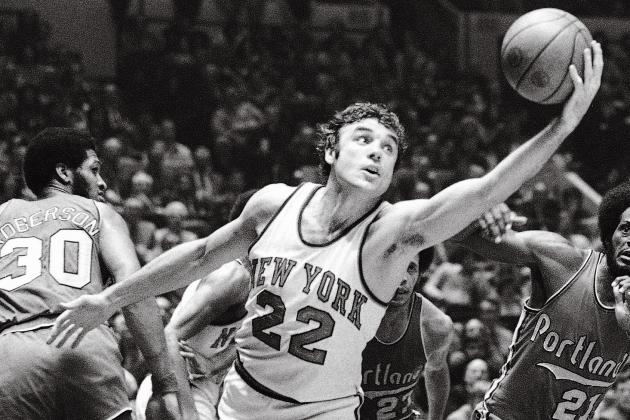 Photo via ESPN.com
1968-1974 Stats: 16.0 PPG 10.8 RPG 3.0 APG 0.9 SPG .439 FG%
Since the first team was on the smaller side, the reserve squad will play a little bigger.
Although he stood at just 6'6", Dave DeBusschere towered over opponents on the glass. He averaged 11 rebounds for his 12-year career, and just a shade under that mark during his Knicks tenure.
New York acquired DeBusschere during the 1968-69 season, in time for their championship run a year later. It was towards the twilight of the Michigan native's career, but the numbers hardly let it show.
DeBusschere averaged at least 15.4 points and 10.2 rebounds in each of his last four seasons as a Knick. His field goal percentage increased in each of those final four campaigns, and the Knicks won their only two titles with DeBusschere manning the boards.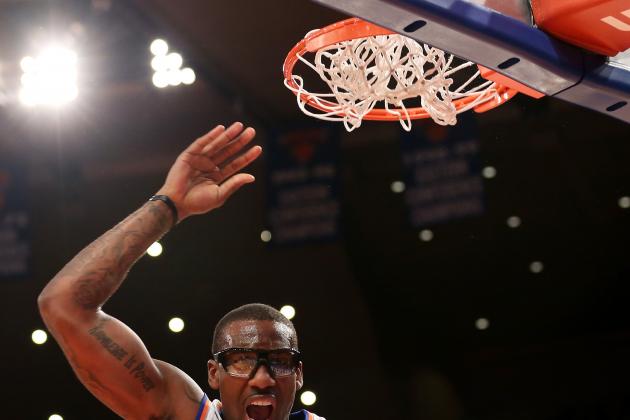 Nick Laham/Getty Images
STAT has more talent than most any Knick to ever pull on the uniform.
2011-2013 Stats: 20.9 PPG 7.5 RPG 1.7 APG 1.4 BPG .506 FG%
Some could make the argument that Amar'e Stoudemire doesn't have the Knicks accolades to stack up with other New York greats. If you look at the timeline of STAT's brief but eventful Knicks career, you'll realize this is exactly where he belongs.
2010-11
Stoudemire was the first impact player to sign with the Knicks after their 29-win season in 2009-10. It was his arrival that marked the revival of the franchise's success, and Amar'e was thriving in the biggest role of his career.
Though his first three months as a Knick, MVP chants were raining down on STAT. Prior to the arrival of Carmelo Anthony after the All-Star break, Stoudemire was among the league-leaders in scoring at 26.1 points per game on 50-percent shooting, and added more than eight rebounds to boot.
After 'Melo's arrival, Stoudemire still managed to get 18 shots up on average and net more than 22 points per contest. More importantly though, Amar'e was able to dodge injuries that too often hampered his career to that point. Until the postseason.
STAT made it through the regular season more or less unscathed physically, but suffered a back injury against the Boston Celtics in the teams' playoff matchup. Amar'e was never the same in that series, and the carryover lasted well into the next season.
2011-12
Stoudemire's sophomore Knicks campaign was the lockout shortened 2011-12 season. To compensate for the back injury, he bulked up and added 15 pounds of muscle, primarily to his back. Amar'e soon found out that the added bulk restricted his mobility and stole his lift. It took most of the season, but by mid-March, Stoudemire was back at a comfortable weight and appeared to be his dominant self again.
Then the back acted up again.
He made it back in time for the postseason, where he played decently, but we're all too familiar with the fire extinguisher incident. The Knicks were handed the second first-round playoff exit in as many years.
2012-13
This season, Amar'e was supposed to come back a new player. He and Carmelo finally had a full training camp together, and Stoudemire was at a comfortable playing weight. All signs were pointing to a resurgence until he was bit by the injury bug once again. A "knee bruise" soon turned into knee surgery, and Amar'e was forced to sit out the first two months of his third Knicks season.
Amar'e then faced a task that had never been thrown his way until this season, his 11th. A 30-year-old Stoudemire was being asked to accept a reserve role for the first time ever, as to not intrude on the existing starters' success. Putting any existing ego aside, he accepted Mike Woodson's proposal, proving that Stoudemire wants nothing more than for the Knicks to be a winning group.
And the cherry on top of the humble sundae? Amar'e is producing at one of the highest efficiencies of his career.
He's averaging just 23 minutes per game, but STAT's numbers normalize to 22 points and eight rebounds per 36 minutes. His PER of 22 isn't far off his mark from his 2010-11 MVP-esque run, and the trio of Stoudemire, Anthony and Tyson Chandler is producing greater than Mike D'Antoni could ever orchestrate it to.
All things considered, Stoudemire is a great talent that's fallen under some unfortunate circumstances. But considering the measures he's taken to ensure that his wants and the Knicks' success never clash, I'm not hesitating to include him on this team of all-time Knicks greats.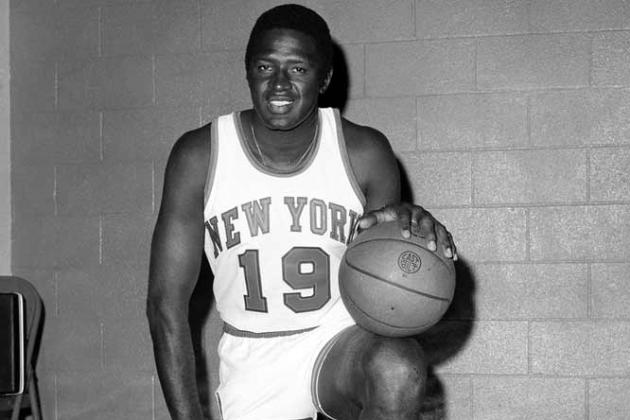 Photo via passionbasket.fr
1964-1974 Stats: 18.7 PPG 12.9 RPG 1.8 APG .476 FG% (Blocks weren't recorded until 1973)
When Willis Reed is forced to take a seat on the Knicks all-time roster, you know there's serious talent in the frontcourt.
He has Patrick Ewing to thank for the placement, but that's not to discredit any of Reed's accomplishments. Anyone familiar with NBA history recognizes Reed for his dramatic entrance before Game 7 of the 1970 NBA Finals, which was legendary beyond argument.
But we can't let the storybook tale take precedence over Reed's career as a whole. Over his 10 seasons as an NBA center (all as a Knick), he averaged a double-double in his first seven seasons. Various injuries ended Reed's career prematurely—he was only 31 years old during his last NBA season—but Reed averaged 19 points and 13 rebounds over a decade.
Through his first seven seasons, those averages were 20 and 14. Reed was a seven-time All-Star, and his No. 19 can be spotted atop the MSG rafters.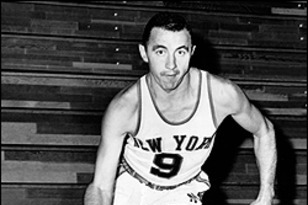 Photo via nbahoopsonline.com
1953-1963 Stats: 20.1 PPG 6.4 RPG 5.3 APG .411 FG%
It came in a different era of NBA basketball, but Richie Guerin dominated for a lengthy period of time.
His name is found scattered across Knicks record books, as he averaged 20 points, six rebounds and five assists over seven Knicks seasons, highlighted by a 1961-62 season where Guerin averaged 30 and seven assists.
His Knicks teams were never exceptionally winning ones, but the 1958-59 team did make it to the first round. They were swept in a three-game set against the Syracuse Nationals. Yeah, it was a long time ago.
Several generations have come and passed, but Guerin remains one of the most decorated shooting guards the Knicks have ever had.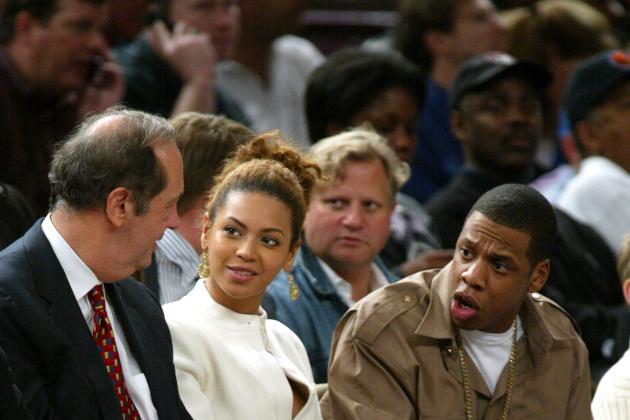 Ray Amati/Getty Images
Bradley, Beyonce and Jay-Z at MSG in '04
1967-1977 Stats: 12.4 PPG 3.2 RPG 3.4 APG 0.7 SPG .448 FG%
"Dollar" Bill Bradley (yes, the nicknames were much better in the old days) played the entirety of his 10-year career in New York, and was around for both banner-raising seasons.
From 1968-1976, Bradley averaged 14 points on 45-percent shooting. He also added three rebounds and four assists on average.
"Dollar Bill" was a Rhodes scholar, and attended Oxford University for two seasons in between his college and pro hoops careers. After his playing career ended, Bradley served as New Jersey State Senator from 1979 to 1997. He unsuccessfully ran for the Democratic Presidential bid in 2000.
Clearly, Bradley's expertise extends beyond the game of basketball. Guys as bright as this Missouri native don't exactly grow on trees, so he's a fine choice to round out the Knicks Dream Team's bench. His All-Star talent is just icing on the cake.
Follow me on Twitter at @JSDorn6.
All stats gathered from Basketball-Reference.