8 NHL Players to Watch During March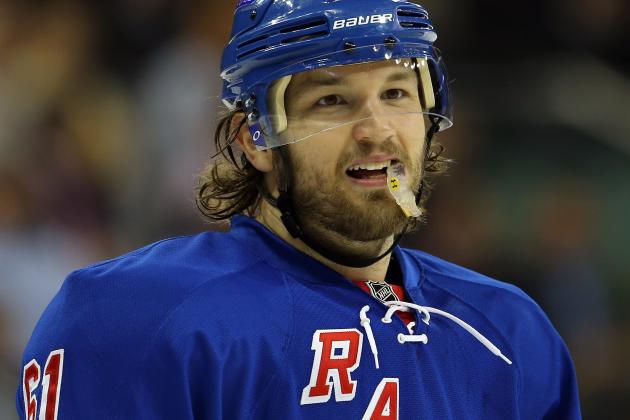 Elsa/Getty Images
Look for Rick Nash to assert himself in March.
The four-month NHL season moves into a critical stage.
Teams have set the table for the crucial part of the season with what they have done in January and February.
Now that teams are playing hockey in March, they can undo the damage of the first two months or continue to build on what they have done.
Bona fide superstars like Sidney Crosby and Steven Stamkos will continue to produce during March. Here's a look at eight players who will play vital roles in how their teams perform this month.
Begin Slideshow

»
John Tavares has been carrying the hopes of the New York Islanders since he was drafted in 2009.
Tavares has never been to the playoffs at any point in his career, and the standings make it appear as if he and his teammates will miss the postseason again this year.
However, the Islanders still have a chance. They are in 10th place in the Eastern Conference but only two points behind the New York Rangers. If the Islanders continue to get stellar performances from John Tavares, they just may have a chance.
Tavares has scored 14 goals and added 13 assists. He seems to produce for the Islanders on an every-game basis and he should continue to dominate in March.
Every time Tavares has the puck on his stick, Islanders coach Jack Capuano expects good things to happen and he usually gets the desired results.
Chris Kunitz has been a solid and productive player throughout his career.
He scored 23 goals in 2010-11 and 26 goals last year with positive plus-minus ratings. He has been giving head coach Dan Bylsma a consistent effort and has played a key role for the Pittsburgh Penguins.
But Kunitz appears to be a different player in 2013. He has a league-best plus-17 as of March 7.
Kunitz has a quick release and has been hitting the corners of the net with his shot (see video above).
With most teams paying attention to Sidney Crosby, Evgeni Malkin, James Neal and Kris Letang, look for Kunitz to continue his stellar play in March.
Jakub Voracek scored a game-winning goal in overtime for the Flyers last year in their first-round playoff series with the Penguins.
That goal seemed to transform Voracek from a solid player into a star.
Voracek has never scored more than 18 goals in a season, but he has moved into the league's top 10 scorers this season. Voracek has potted 10 goals and has 17 assists. He is using his 6'2", 215-pound frame to go to the dirty areas of the ice and make consistent contributions.
If the Flyers are going to make a run at the playoffs this year, look for Voracek to have a big performance this month.
If you think the Montreal Canadiens are going to come back down to earth and start to resemble the team that finished dead last in the Eastern Conference last year, think again.
The team is loaded with speed and quickness and new coach Michel Therrien has given them a disciplined defensive system to follow. While there have been a few goaltending lapses recently, the Canadiens have been solid in that area and are in first place in the Eastern Conference as of March 7.
The Canadiens have managed to play impressive hockey even though their best offensive player Max Pacioretty has only recent found his stride. For the longest time, Pacioretty could not find the back of the net.
However, he has found his scoring touch. Pacioretty has eight goals and 12 assists and is bringing back memories of angular Peter "Little M" Mahovlich with his swooping and aggressive style. Look for a huge month of March from Pacioretty.
Taylor Hall has not fulfilled the superstar status that he seemed destined for when the Edmonton Oilers chose him with the No. 1 pick in 2010.
However, he is taking steps to get there. He was productive in both of his first two seasons—22 and 27 goals—but he is becoming a more consistent player this year.
Through his first 19 games, Hall has 19 points. A point a game production level makes him a star player and that should be the jumping off point for Hall the rest of the season.
Look for Hall to stay just as involved in the playmaking and score more goals in March.
Rick Nash didn't hit Broadway like a storm in January. It seemed he was feeling his way through most of the first two months of the season.
But Nash, who was slowed by an "upper-body injury" in February, has just about hit his stride. He is a remarkable talent who combines size, strength, speed, agility and a sick pair of hands. He is making a brilliant adjustment to his teammates in New York and is probably the key to the Rangers' chances in the regular season and playoffs.
Nash has scored seven goals and 11 assists in 17 games. He has a seven-game scoring streak as of March 7 and has scored 11 points in that run. Look for an unstoppable run from Nash in March.
Jeff Carter has had a remarkable statistical year already.
Always a goal scorer, Carter has kept his mind on his business in recent weeks as he has piled up the goals.
Carter has already scored 15 times and he recently had a natural hat trick vs. the Nashville Predators March 4 (video above).
The shocking aspect to Carter's scoring totals is his assist total. As of March 7, Carter has two assists for the season.
Carter has regularly had higher goal totals than assists—quite unusual for a front-line center—but never to this extent.
Look for Carter to continue his goal scoring and pick up a few more assists throughout March.
Don Cherry's favorite player had known nothing but frustration prior to the 2013 season.
Nazem Kadri always had a remarkable pair of hands and incredible moves, but he could not put things together to win a regular spot in the Toronto Maple Leafs lineup.
That's all changed this year. The Leafs are one of the more surprising and improved teams in the league and Kadri is a huge factor for them.
He has already scored 10 goals and 14 assists as of March 7 and is a shocking plus-13 for head coach Randy Carlyle.
Kadri appears to be just getting warmed up. Look for a big month from him as the Leafs remain in prime playoff contention.