Grading 2013 NBA Draft's Top Prospects During College Basketball Regular Season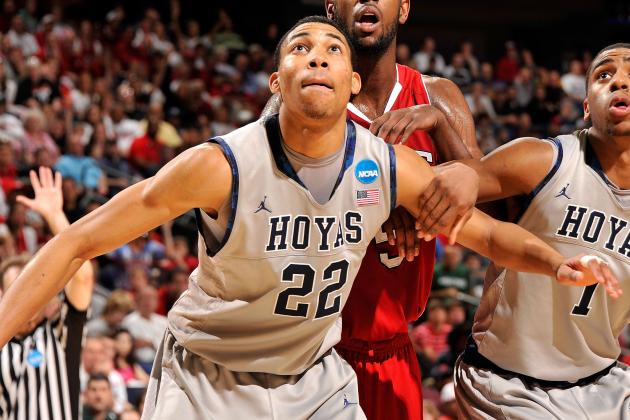 Jamie Sabau/Getty Images

It's hard to believe that final report cards are due already. I bet some of these prospects wish they weren't.
Overall it's been a wildly unpredictable regular season with the No. 1 overall pick still up for grabs.
The grades were based on performance plus expectations. Some of these guys are having stellar years but received less-than gracious grades because of their high expectations.
Almost all of the following were originally considered top of the class, and some new faces have emerged to join this decorated tier of talent.
Begin Slideshow

»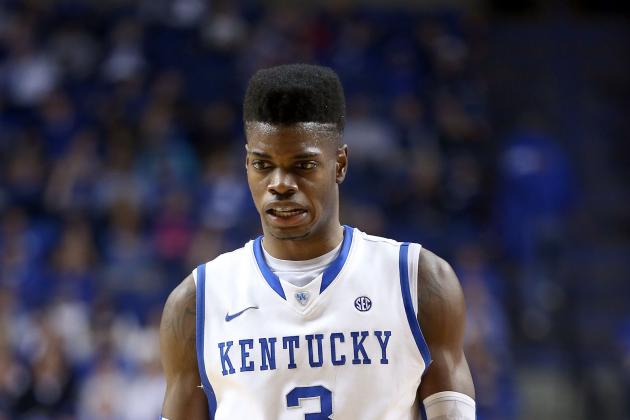 Andy Lyons/Getty Images

Grade: B+
It wasn't his fault his ACL tore.
Before going down with a season-ending injury, Nerlens Noel had been living up to the hype. He was, and currently is, the nation's leading shot-blocker at over four per game, illustrating a combination of size and defensive instincts that don't come around too often.
Though his offense never really developed, he showed the ability to at least create his own over-the-shoulder hook shot. He knew what he wanted to do in the post—it just came down to execution.
Other than that, Noel was rebounding (9.5 per game) at a high rate, shooting 59 percent from the floor and averaging 10.5 points despite lacking a refined overall game.
He's still got the chance to go No. 1 overall if the right team wins the lottery.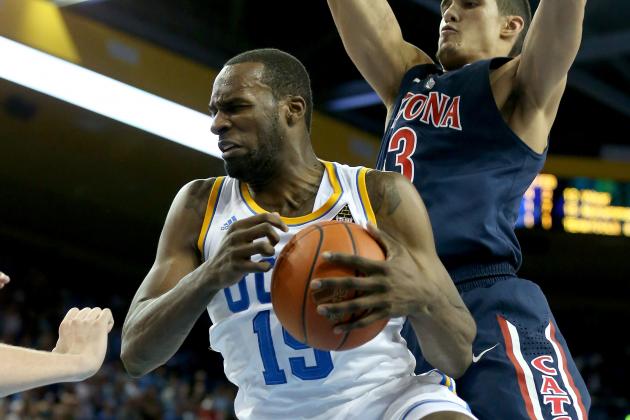 Stephen Dunn/Getty Images

Grade: B+
Shabazz Muhammad entered his freshman campaign with high hopes, and for the most part, he's met them.
He leads all freshmen in scoring at over 18 points per game and has surpassed anyone's expectations as a long-range threat, shooting 41.5 percent on 1.4 made threes per game.
What's most impressive is that Muhammad has shown the ability to play on and off the ball, creating his own offense within 15 feet and spotting up behind the arc.
However, he's been a below-average rebounder and hasn't demonstrated the ability to shoot off two feet when playing off the dribble.
These are concerns that have been there since his first game at UCLA, and he is no longer considered the favorite to go No. 1 overall.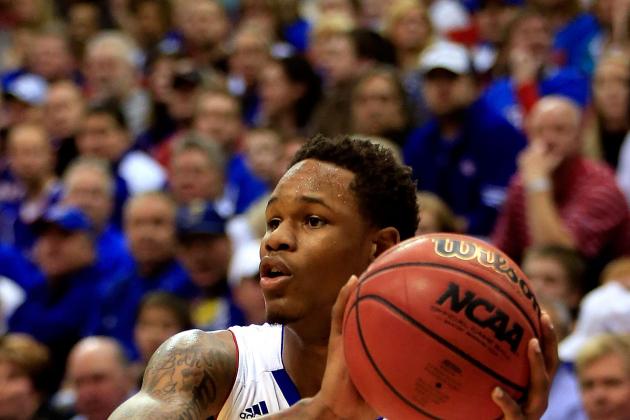 Jamie Squire/Getty Images

Grade: A
Nobody knew what to expect from redshirt freshman Ben McLemore before the year, which is why he deserves an A for establishing himself as a potential No. 1 overall candidate.
He's flashed one of the best-looking jumpers we've seen in years, nailing 1.9 three-pointers per game at a 42.5 percent clip. McLemore is extremely fluid off the ball and has shown a good understanding of how to create scoring opportunities without overusing the dribble.
With top-notch athleticism and ideal size for the position, McLemore projects as an elite complementary scorer.
He's averaging 16.5 points per game, converting scoring opportunities that are likely to translate from one level to the next.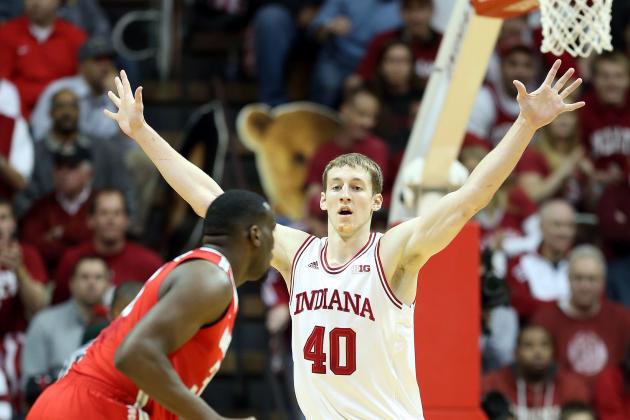 Andy Lyons/Getty Images

Grade: B-
Though Cody Zeller is averaging over 16 points per game, he hasn't done anything to show he's improved from one year to the next.
His offensive arsenal, though polished, looks the same as it was when he was a freshman. He's got effective post moves with the ability to score over the shoulder, spin baseline or attack his man facing the rim.
But we haven't seen much of the jumper we heard about this summer, and though his rebounding numbers are up from 6.6 to eight, all too often he gets shut out on the glass. Coincidentally, it usually comes against opponents with NBA size and athleticism.
He'll still go in the lottery based on his talent at the position and the weak field around him, but he doesn't project as the centerpiece we once thought he could be.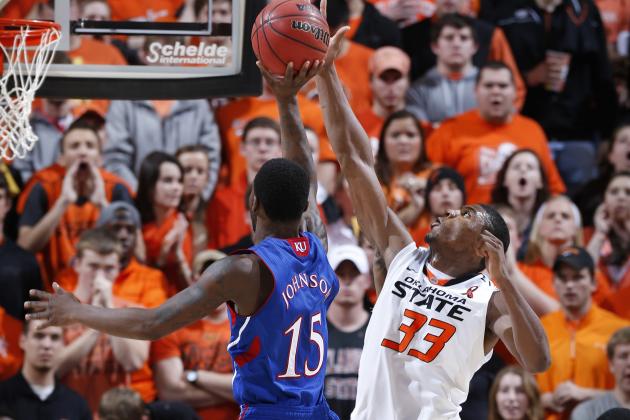 Joe Robbins/Getty Images

Grade: A-
In the humblest of boasts, we had Marcus Smart pegged as a top-10 pick before the year, so he's essentially meeting our expectations as a freshman.
Smart has been the floor general we thought he'd be, leading Oklahoma State to a top-15 ranking and bolstering his draft stock in the process. He's the ultimate leader, making plays when it counts for himself or his teammates.
Very few prospects can shoot 40 percent from the floor, 28 percent from downtown and turn the ball over 3.3 times per game, and still be considered a potential top-three pick.
Smart's intangibles and on-court maturity have allowed us to overlook his statistics and focus on the positives.
He's one of the few players in the field capable of changing the direction and culture of a franchise based on his leadership qualities and skill set at the point guard position.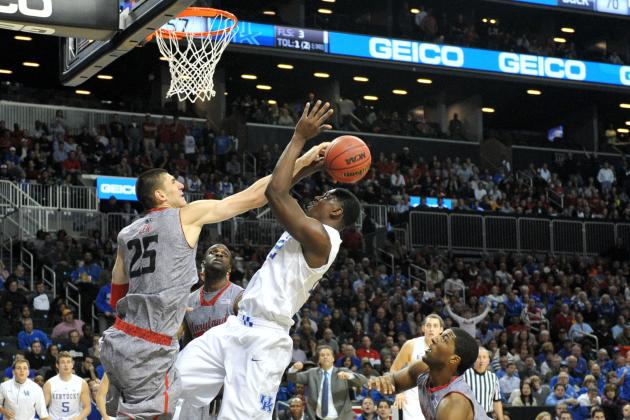 Jason Szenes/Getty Images

Grade: B
Alex Len has flashed all the tools—just never in one game alone.
He's almost an afterthought in Maryland's offense, and despite his ridiculous size and skill set he disappears all too often.
After opening the year by dominating Nerlens Noel for 23 points and 12 boards, Len hasn't reached the 20-point mark once and only eclipsed 12 rebounds twice.
It says more about his mental approach than it does about it future outlook, but Len could have helped himself by staying aggressive and looking for his offense.
All it takes is a few games against top competition to turn some heads—he did go for 19 points and nine boards on Mason Plumlee in a win over Duke—and considering how young and raw he is, the inconsistency won't kill his stock.
But Len was being thought of as a potential No. 1 overall pick earlier in the year, and he''ll likely enter the draft just hoping he lands in the top 10.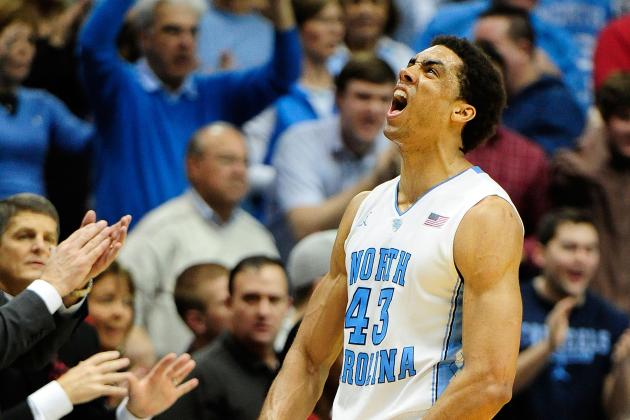 Grant Halverson/Getty Images

Grade: B-
The stats are there in terms of productivity, but James Michael McAdoo has failed the efficiency test.
Despite his immaculate physical tools, he's shooting less than 45 percent from the floor, struggling badly with shot selection and execution. All too often he's stuck taking fadeaway jumpers and off-balance runners, when he should be attacking the rim and exploiting his physical advantages.
The good news is he's creating his own offense, which technically raises his ceiling if he ever starts converting shots with consistency.
But his free-throw percentage is down to just 57 percent and he's turning the ball over way too much for a frontcourt player (2.8 per game).
McAdoo is still trying to figure the game out and is likely overwhelmed by the responsibilities coach Roy Williams has placed on his shoulders.
If he chooses to leave after the year, his draft stock won't be maximized, but it doesn't lower his upside in the long-run.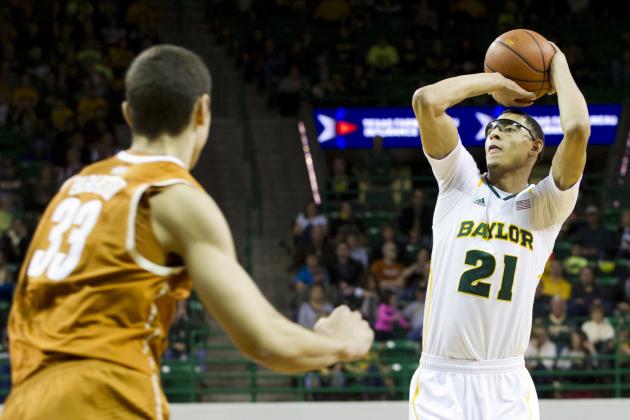 Cooper Neill/Getty Images

Grade: B
Isaiah Austin has been fairly productive and somewhat efficient, although you won't find too many guys at 7'1'' who sport a 46 percent field-goal percentage.
That's because it's been made pretty clear that Austin is a small forward with the body of a center.
The good news is he's grabbing almost nine rebounds per game. The bad news is that number is unlikely to translate because of how vulnerable he is inside against stronger, bulkier 4s and 5s.
He has shown the ability to connect from the perimeter, nailing 32 percent of his threes, including an average of one make per game.
He's also shown a soft touch in the post, with an array of moves where he can get off an uncontested shot.
The question is, what will his role be when he reaches the next level? He's simply too frail to bang inside and isn't overly quick on the perimeter.
There's no doubt there's talent and all sorts of intrigue considering his unique size, mobility and skill set. But he sounds a little risky as a top-10 pick, which is where we thought he might go earlier in the year.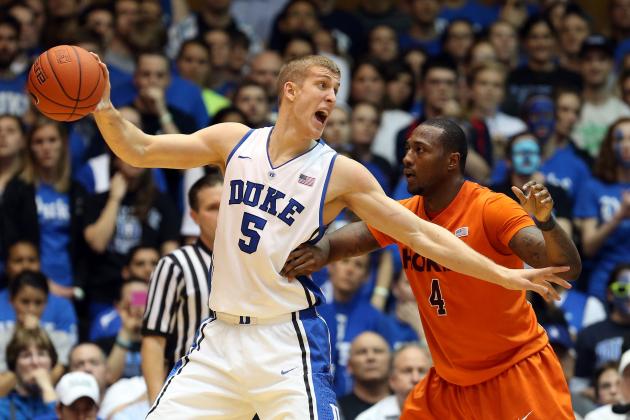 Streeter Lecka/Getty Images

Grade: B+
Mason Plumlee has essentially transformed himself from being an off-ball contributor to a scoring option in the post.
He's averaging 17 points per game up from 11 a year ago, while maintaining a double-digit rebounding rate and blocking over 1.5 shots per game.
Plumlee loves to flash the over-the-shoulder hook, which has become his go-to move in the post, but without room to operate, he's rarely given a chance.
We haven't seen much of a mid-range game, which is why his high scoring average is so impressive.
At 7'0'' with exceptional mobility and athleticism, Plumlee will hit NBA radars even if his game never develops.
He's been one of the best players in the country, and although he's fallen out of the National Player of the Year conversation, Plumlee has propelled his stock from the late first round to a potential 2013 lottery pick.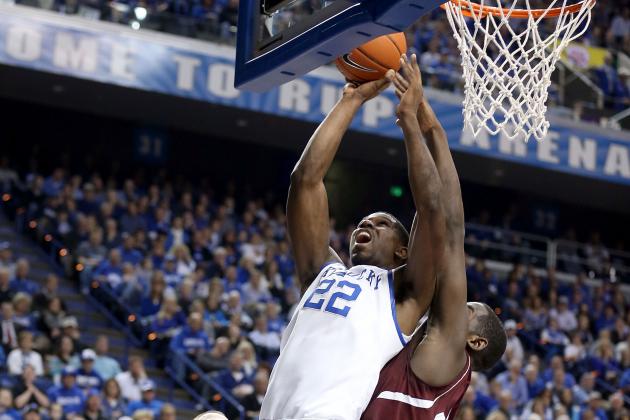 Andy Lyons/Getty Images

Grade: C+
Alex Poythress hasn't been the guy we thought he'd be after his hot start at Kentucky earlier this year.
While Poythress has been efficient, converting field goals at an excellent 59 percent clip and three-balls at 44 percent, he hasn't shown much of anything in the creativity department.
Unless it's a catch-and-finish or a put-back slam, Poythress has struggled to create his own offense off the dribble.
He's extremely limited right now, but with big-time athleticism and serious strength inside, he's got a chance at being a versatile mismatch down the road.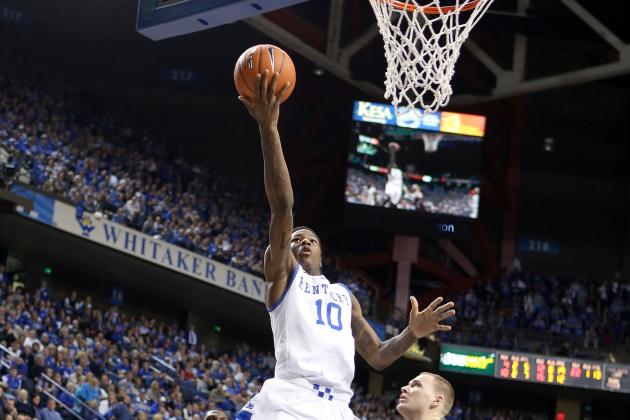 Andy Lyons/Getty Images

Grade: C
Archie Goodwin hasn't had the freshman year he'd hoped to have, scoring the ball at only a 43 percent clip and a disastrous 25 percent from downtown.
He's also averaging 3.2 turnovers per game, not a good look from someone who doesn't even run the offense.
Goodwin has shown flashes as an attacker, with the ability to explode towards the rim and finish violently over defenders, but there's been no sign of an in-between game, and without range he's limited.
There's a lot to work on moving forward, but chances are he declares this year with the Harrison twins looming.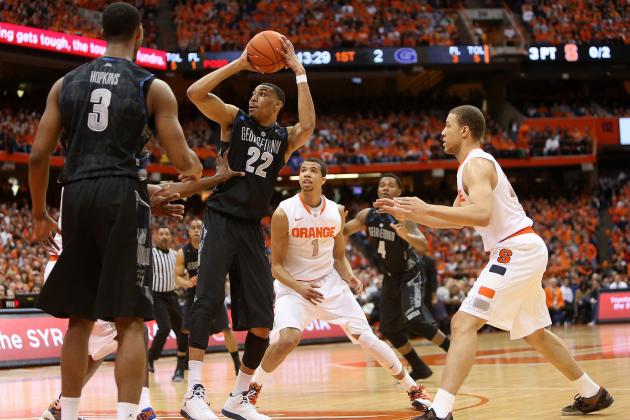 Nate Shron/Getty Images

Grade: A
Otto Porter has run away with the Big East Player of the Year honors, averaging 16.6 points and 7.4 rebounds on 50 percent from the floor and 44 percent from downtown.
The guy simply does it all, leaving his fingerprints on every possession as either a scorer, playmaker, rebounder or defender.
He's made everyone else around him better. And despite a roster lacking an overload of talent, he has helped Georgetown land in the conversation about getting a No. 1 overall seed.
He offers a sense of reliability on the floor you won't find anywhere else, which could go a long way in a draft filled with uncertain NBA prospects.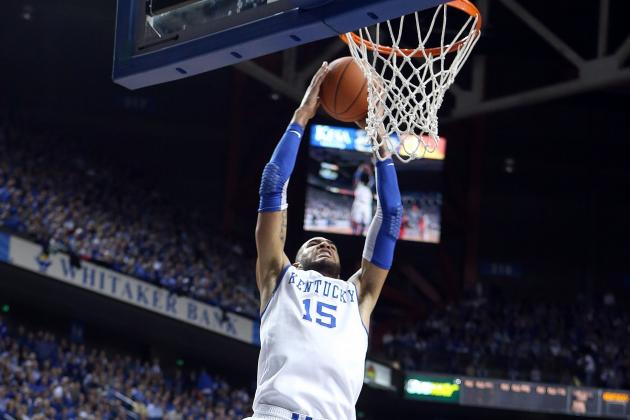 Andy Lyons/Getty Images

Grade: B+
We knew heading in that Willie Cauley-Stein was a raw offensive player, which is why it's been impressive that he's been able to impact games on both sides of the ball.
He's a physical specimen at 7'0'' with a chiseled upper body, long arms and explosive athleticism, and can contribute to a team despite lacking a refined skill set.
Offensively, he's shown some impressive agility in the post, and if he's not bothered by help defenders he can score over either shoulder. And though he lacks a face-up game, his job at the next level will be low-post scoring, where facing the rim won't even be necessary.
He's been a shot-blocking machine since Nerlens Noel went down and offers a defensive presence just by standing in the middle.
Cauley-Stein is a guy who will be taken based on potential, which could justify a lottery selection in this year's draft.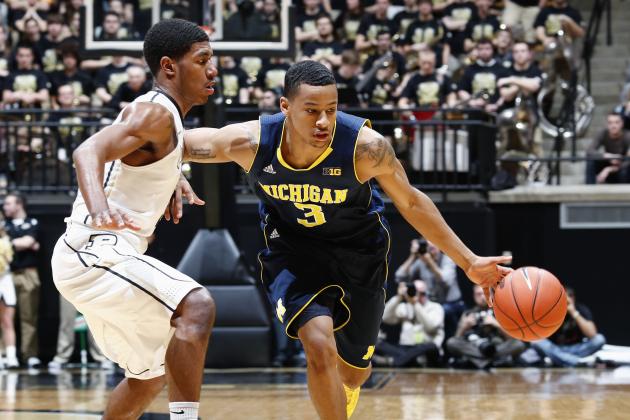 Joe Robbins/Getty Images

Grade: A
Trey Burke has been arguably the best player in college basketball and is likely the leader in the clubhouse for National Player of the Year.
He's become a defense's ultimate nightmare with his ability to break down the perimeter off the dribble, explode towards the basket, set up a teammate or consistently knock down jumpers.
Burke is a multidimensional threat with the ball in his hands. He offers a level of trustworthiness as a ball-handler you can only get from one other point guard in the field.
He returned to school last summer to improve his draft stock, and he's accomplished his goal with March Madness rapidly approaching.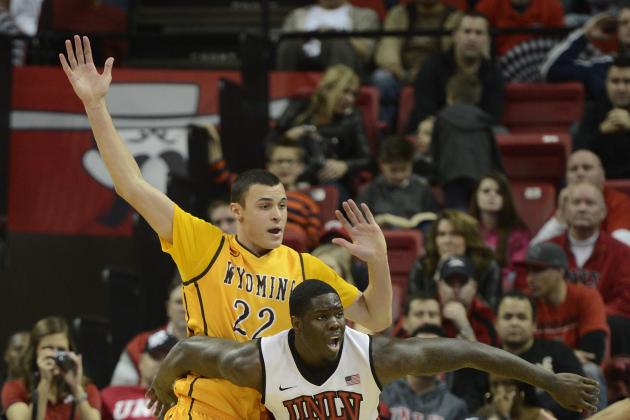 Jeff Bottari/Getty Images

Stock Report: B+
Considering nobody was talking about Anthony Bennett until the first month of the season had ended, I'd say he had a pretty successful regular season as a freshman at UNLV.
Bennett has exploded onto the scene, even generating No. 1 overall discussion because of the potential mismatch he offers as a combo forward.
He's scoring 16 points and averaging over eight rebounds a game, making up for a lack of size inside with brute strength and freakish athleticism.
On the perimeter, he's shown he can knock down spot-up threes at a 37.5 percent clip, while demonstrating the foot speed that allows him to attack his man off the dribble.
He's been vulnerable to disappearing if the ball doesn't find him, but it won't affect his draft stock come June. Bennett has been one of the more pleasant surprises this year and eases some of the pain from lottery teams who might have originally been turned off by the projected draft pool.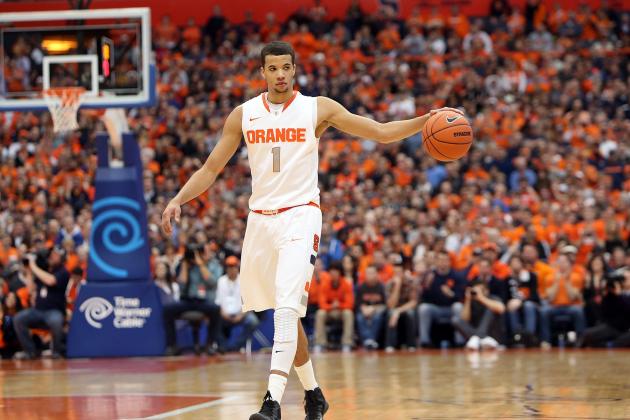 Nate Shron/Getty Images

Grade: B
Not many people had Michael Carter-Williams pegged as a potential lottery pick before the 2012-13 season, but after a hot start to the year he raised the bar for himself for the foreseeable future.
He was leading the country in assists until about midway through conference play, when teams started to take away his driving lanes and make him beat them from the perimeter.
But despite Carter-Williams' crafty break-down abilities, he's not a very talented jump shooter. He's only shooting 28 percent from behind the arc and struggles to create easy scoring opportunities for himself in the half court, hence the 38 percent field-goal clip.
But at 6'6'' with a ridiculous wingspan, he's able to do whatever he wants once he gets into the paint.
He's got work to do as a ball-handler, decision-maker and shooter, but if he ever figures them out he'll be one of the tougher covers in an NBA backcourt.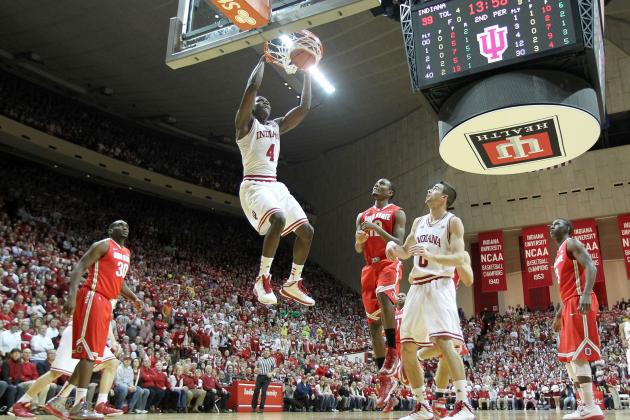 Andy Lyons/Getty Images

Grade: A
If you were to ask us to grade the top prospects about six weeks ago, it's probable that Victor Oladipo wouldn't have even been on the list.
He's improved dramatically in practically every category across the board as a junior, including scoring and rebounding, but most noticeably, his field-goal percentage and three-point percentage.
Oladipo has gone from a non-option offensively to someone who needs to see touches. He's raised his field-goal percentage from 47 percent to 63 percent, a number that typically reflects an interior scorer or big man.
And now all the sudden he's a three-point threat. Though he doesn't take a lot of them he's making the ones he does, converting from behind the arc at a 49 percent clip.
Between Oladipo's lock-down defense and revamped offensive repertoire, he now offers teams a legitimate two-way package who can play off the ball.
He's gone from potential second-rounder to a possible lottery selection. Yes, that deserves an A.