Why The Shield Will Probably Lose at WrestleMania 29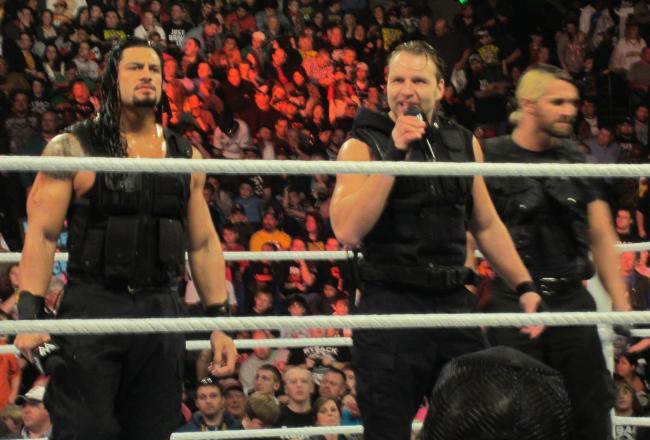 Photo: WWE.com

The Shield have been on a rampage since debuting in WWE, taking out everyone in their path and winning matches against the biggest names in WWE at pay-per-view events and TV tapings.
Roman Reigns, Dean Ambrose and Seth Rollins should be thanking their lucky stars for being gifted a storyline and opportunity like this, and WWE should be equally grateful that they chose the right three superstars to carry out the angle.
This is where things get interesting. The Shield have been making the best in WWE look like rookies week in and week out for months.
Heels, whether popular or not, are there to serve a purpose. They are meant to lose to the babyfaces eventually.
As much as love the heel performances of guys like Randy Orton and CM Punk and much as we crave heel turns for superstars stuck in a babyface rut, the heels are not meant to be the stars of the show.
Wrestling is a struggle between good and evil, and good usually wins that struggle in the end.
CM Punk had an epic title reign that will be remembered for years, maybe decades, but many forget that he did a lot of it as a babyface.
We are supposed to cheer for The Rock, John Cena and Sheamus and boo CM Punk and Brock Lesnar. It may not always happen that way, but that is the goal of WWE and their writers.
The Shield have been pushed to a height nobody expected when they first arrived, but the higher they climb the more likely it becomes that they will fall.
WrestleMania is a time when WWE wants fans cheering their hearts out and going home with fond memories, bags of merchandise and sore throats from screaming. It is not a rule that the babyface always wins at WrestleMania, but it is a staple for sure.
Look at the main-event matches that closed the show for the past several years and you will see a trend of good guys prevailing. There also seems to be a trend of two good guys facing off in main events over the last decade.
Even though both men were

babyfaces

, The Rock defeated John

Cena

at WM28.

Miz

may have won the match, but the show ended with The Rock standing tall at WM27.
The Undertaker defeated Shawn

Michaels

at WM26, again, both

babyfaces

.
Triple H defeated Randy Orton at WM25.
The Undertaker won the World Title at WM24.
Two

babyfaces

fought again when John

Cena

and Shawn

Michaels

faced off at WM23.
Triple H lost to John

Cena

at WM22.
Batista defeated Triple H at WM21.
Chris Benoit won the World title at WM20.
Brock

Lesnar

defeated Kurt Angle at WM19.
The Shield may not close the show at WrestleMania, but the show has a tendency to make the good guys come out ahead, and The Shield will most likely be a victim of that truth.
WrestleMania's most memorable moments always feature the good guys doing something incredible like pinning someone in 18 seconds for a World title or slamming a 500-pound giant.
For every fan The Shield has cheering them as they make their way through the crowd, WWE wants 50 fans to boo them. Depending on the city they are in, sometimes they get their wish and sometimes they don't.
Whether WWE puts them up against three superstars in another tag match or splits up the group into more than one match, the likely end will see The Shield fall.
The great thing about this is that a loss at WrestleMania won't necessarily kill their momentum. They could very well continue to dominate everyone for months afterwards.
But, come WrestleMania, they will be on the losing side if history is any indicator of how these things work.
We already know John Cena won't be involved due to his match with The Rock, which leaves a lot of major names open to be a part of this match.
Sheamus, Randy Orton and Ryback seem like likely candidates to do the job considering the many times The Shield have attacked and decimated them.
With the rare exception of the nWo, a heel stable will be the ones on the losing side of the battle more often. Just look at The Four Horsemen's win record at War Games over the years to see what I mean.
The Shield are an interesting group that have managed to stay relevant for a long time without major television exposure prior to their debut, but their time is up.
WrestleMania is not a show for the heels, it is for the good guys. Not every match will end with a babyface winning, but you can almost bet on the fact that a babyface will win most of the big matches on the card.
Follow me on Twitter @BR_Doctor
This article is
What is the duplicate article?
Why is this article offensive?
Where is this article plagiarized from?
Why is this article poorly edited?