The Complete Guide to Minnesota Vikings Free Agency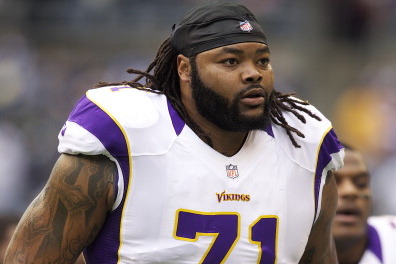 Stephen Brashear/Getty Images

That picture isn't sexy or splashy. Welcome to the 2013 free agency period for the Minnesota Vikings.
The Vikings still have until 12:01 a.m. ET Saturday to sign any of their 10 unrestricted free agents, but at after that point, the NFL will enter a new three day period where teams are able to begin negotiations with UFAs before the official signing period begins at 4 p.m. ET on Tuesday afternoon.
The new three-day window will probably lead to a frenzy of signings Tuesday evening. The NFL made the new three-day window in an effort to quell complaints that teams were negotiating out of turn.
Vikings general manager Rick Spielman told the St. Paul Pioneer Press:
"It's funny because now if anything gets done when free agency kicks off, you'll know why -- because there has been negotiations going on," Spielman said. "You won't have to get a multi-million deal done in an hour now."
That being said, don't look for the Vikings to make any major moves, other than trying to keep their own free agents.
Spielman has made no secret that his idea of building a successful, sustainable franchise is through the draft and nurturing the players in your system. This doesn't mean the Vikings are averse to signing a free agent or two, but don't look for them to spend a lot of money on any big names that are out there.
Like that approach or not, that's the path the Vikings will take as the NFL begins its free agency period beginning on Saturday.
Here's your complete guide to how the Vikings will move in free agency.
Begin Slideshow

»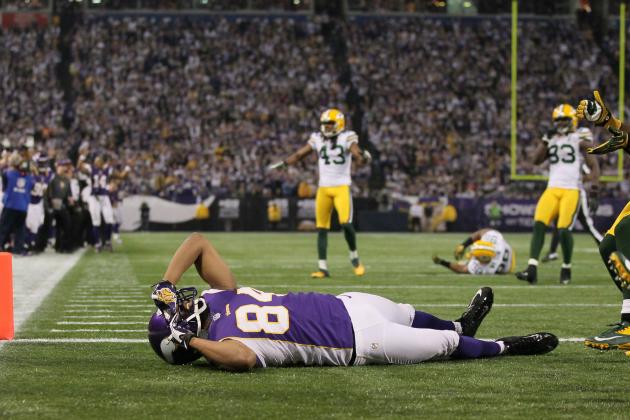 Andy King/Getty Images

As expected, the Vikings released wide receiver Michael Jenkins this past week. Jenkins was due a $2.45 million roster bonus on March 16, and the Vikings were never going to pay him that.
Jenkins was a steady pro and filled his role with the purple, but his case is typical of how NFL contracts work. Jenkins re-structured his deal last August to take less money on his 2012 season, but it bumped his roster bonus due in March from around $700,000 to $2.45 million.
The only way the Vikings weren't going to cut Jenkins is if he had a huge year in 2012 and they just had to keep him. As desperate as the Vikings are for receivers, they can find people at Jenkins level for half that price.
Releasing Jenkins saves the Vikings $3.25 million in cap space, entering the free agency period about $17.5 million under the NFL salary cap of $123 million.
Expect most of that money to go towards signing their own free agents.
Yes, the Vikings are desperate for wide receiver help and yes, Mike Wallace and Greg Jennings might be tantalizing players, but it would be absolutely stunning if the Vikings dropped big money on either player.
Spielman went out of his way at the NFL combine to reiterate that wide receiver Percy Harvin isn't going anywhere. If that's true, then the Vikings are going to have to pay Harvin big bucks soon, and there are no free agent wide receivers on the market that are nearly as good as Harvin anyway.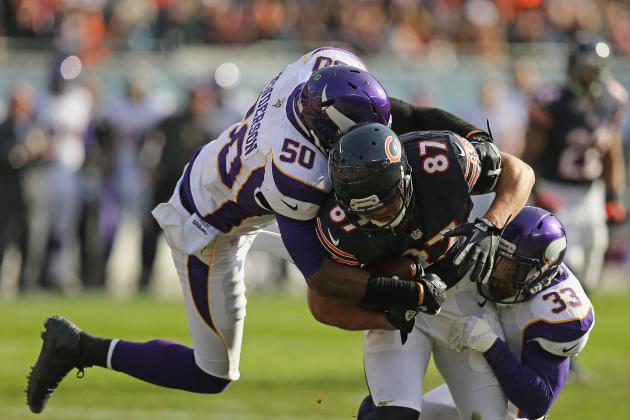 Jonathan Daniel/Getty Images

The Vikings have 10 unrestricted free agents, one restricted free agent and three exclusive rights free agents.
Minnesota will hope to re-sign most of its free agents and of their 10 unrestricted, the signing priority should be as such:
Phil Loadholt
Jamarca Sanford
Jerome Felton
Erin Henderson
Jasper Brinkley
Jerome Simpson
Joe Berger
Marvin Mitchell
Geoff Schwartz
Devin Aromashodu
A.J. Jefferson is a restricted free agent who should be an easy re-sign if the Vikings want him. (And the Vikings would be happy to take a draft pick for him if he's signed away.)
Exclusive rights free agents Marcus Sherels and Andrew Sendejo really have nowhere to go, so if they can make the team, then they will probably both be back with the club.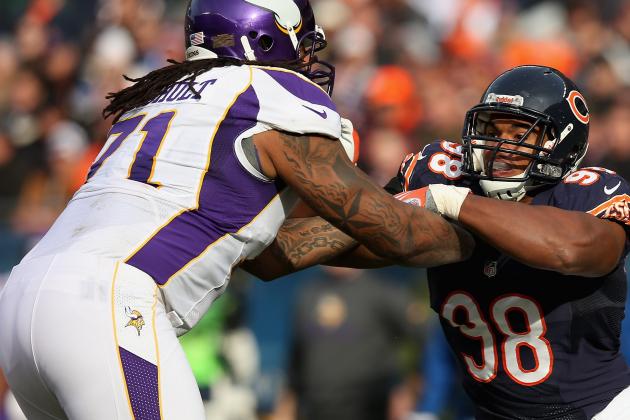 Jonathan Daniel/Getty Images

To the surprise of absolutely no one, the Vikings didn't use their franchise tag on right tackle Phil Loadholt, who was the only candidate to receive the tag of the Vikings free agents.
As valuable as Loadholt is, and as crucial as it is for the Vikings to re-sign him to a lucrative deal, it would have been ridiculous to tag him, which would have cost the Vikings $9.828 million in 2013. Loadholt is only the third best lineman on the Vikings, and as much as continuity and familiarity are crucial on offensive lines, paying that amount for him would have been absurd.
The Vikings are lucky in that their free agent class is pretty simple to deal with. None of the players are good enough to require either the franchise tag or even a transition tag.
None of them, other than Loadholt, can command any more than an average salary at their position.
As far as the franchise tag goes, Percy Harvin could be heading toward it if the team doesn't work out a deal before the end of the 2013 season.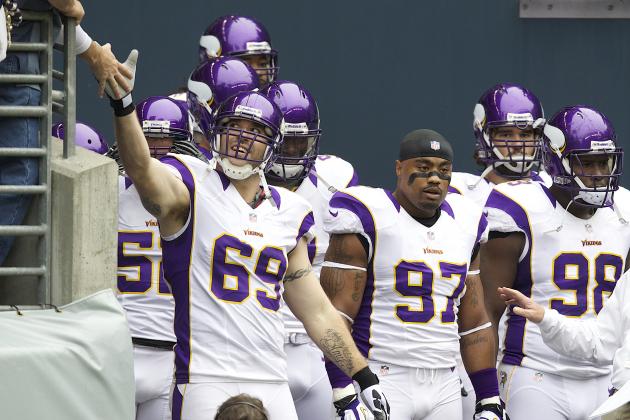 Stephen Brashear/Getty Images

Contract restructuring in the NFL is always a tricky business.
The Vikings have a handful of contracts on the books for 2013 that are begging to be restructured, and if any of them can be done, then the team will open up more room under the salary cap to add players.
Was it dumb for the Vikings to sign Jared Allen to a six-year, $73.26 million dollar deal in 2008? Absolutely not. Allen has been a monster on the field and an exemplary locker room figure during his entire stay with the team.
That said, Allen will be coming off shoulder surgery and will be 31 years old heading into the 2013 season. His cap hit of over $17 million heading into 2013 isn't as absurd as it sounds, if anyone has earned it, it's Jared Allen.
However, expect the Vikings to approach Allen about a restructure that would add years to his contract that expires at the end of 2013. Allen clearly has plenty of gas in his tank but will probably never again be the player he was in 2012. The Vikings would do well to give Allen a three-year extension, which would also significantly reduce his cap hit in 2013.
Kevin Williams won't be back with the Vikings if he doesn't also agree to a restructured deal. Williams is due $7.5 million next season, and as valuable as he's been over the years, he's probably only worth a little over half of that. Williams wants to remain with the team, so it would be surprising if a deal isn't worked out.
Antoine Winfield seems like another candidate to restructure a deal that owes him $7.25 million in 2013. But you know what? He earned every penny of that in 2012. It seems every year there is talk of reduced snaps and a lesser role for Winfield, but every year he only seems to get better.
Offensive guard Charlie Johnson is another candidate. Johnson is due to make $4.35 million in 2013, but his play just doesn't warrant that kind of money. The Vikings will probably see how free agency and the draft shake out before making any decisions on the future of Johnson, but they will more than likely try to reduce his 2013 salary.
Jason O. Watson/Getty Images

Hey, have you heard the Minnesota Vikings need some help at wide receiver?
After Percy Harvin, it's really not a stretch to say that the Vikings would have gladly switched receiving corps in 2012 with the Tennessee Volunteers or the USC Trojans.
I wish I was exaggerating.
Having said that, the Vikings will take the prudent route and stay away from expensive names like Mike Wallace and Greg Jennings. They will instead opt to draft one or two receivers in the early rounds and throw them into the mix with Jarius Wright, Stephen Burton, Greg Childs and a lesser free agent or two.
The next most glaring need for Minnesota is at linebacker.
Starters Jasper Brinkley and Erin Henderson will both hit the free agent market on Saturday, along with backup Marvin Mitchell. None of the three can expect huge deals.
Both Henderson and Brinkley were underwhelming in 2012. Neither was terrible, but neither one is irreplaceable. They combined for three sacks and four passes defended on the season.
The Vikings need help in the interior defensive line as well, but all expectations are that they will address that in the draft, which is extremely deep in quality defensive tackles.
Beyond that depth is needed across the board, from quarterback to the defensive secondary.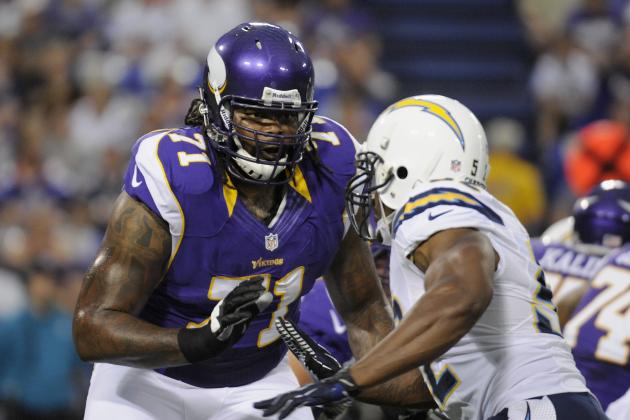 Hannah Foslien/Getty Images

Adrian Peterson averaged over eight yards a carry running over the right tackle spot in 2012.
Phil Loadholt isn't a great football player, but he's certainly an above average right tackle. At 6'8", 345 pounds, he's a mountain of a man who is exceptional at run blocking and fairly inconsistent in pass protection.
He's the quintessential "you'd miss him if he was gone" type of player.
Loadholt will benefit greatly from the fact that it is a pretty weak free agent class when it comes to offensive lineman. His agent's phone will be busy starting Saturday morning when the negotiation process begins, and he's one of those players whose value will ratchet up as the negotiation period begins to unfold.
As stated earlier, it was a no-brainer for the Vikings to not tag Loadholt. As much as they need him, paying him over $9 million would have been downright silly. They are probably going to have to overpay to keep him, and they must for several reasons.
GM Rick Spielman has said ad nauseam that keeping his own is priority number one. If he ignores the big name free agents on the one hand, then he can't let Loadholt go with the other.
Continuity goes a long way on offensive lines in the NFL. With John Sullivan, Matt Kalil and Loadholt, the Vikings have three players that can anchor their line for at least five more seasons.
Re-signing Loadholt is priority number one for the Vikings.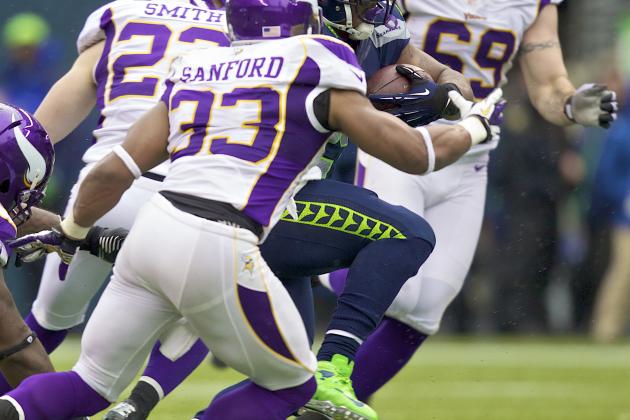 Stephen Brashear/Getty Images

Jamarca Sanford will never be a superstar or even a Pro Bowl player. He might not even be a starter when the 2013 season begins.
What he is a very valuable player to the Minnesota Vikings, and it would be shocking if they didn't re-sign him and bring him back in purple.
Sanford is one of the vocal leaders on the Vikings defense and is a great glue guy in the locker room. He's just one of those guys that makes coming to work more enjoyable for everyone around him. Guys like that are invaluable in that they control the temperature of the team and are always positive and upbeat, things that are needed in the grind of an NFL season.
Sanford will more than likely battle Mistral Raymond for the starting strong safety spot once again in training camp. Raymond won the job last year, but Sanford took it over when Raymond was injured and never gave it up.
When Rick Spielman talks of drafting well and nurturing his own, Sanford is a great example, having made huge strides forward as a player each year in the league. Spielman will get a deal done with Sanford.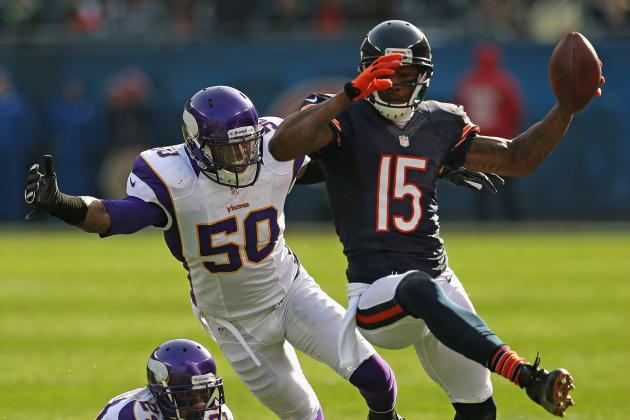 Jonathan Daniel/Getty Images

The Vikings signed linebacker Erin Henderson to a one-year "prove it" contract for 2012. Henderson had hoped that his play in 2011 had earned him big money, but the market proved to be very soft for him and he re-signed with Minnesota.
Not a lot has changed over the course of a year.
The market for Henderson will be far greater in 2013 as it's a soft linebacker class and Henderson did put up respectable numbers in 2012.
The Vikings will probably be taking a wait and see approach when it comes to re-signing Henderson. If the market brings him more than he's worth, Minnesota probably won't lose any sleep in losing him. Henderson has proved to be a decent player, but nothing more than that.
The Vikings like Henderson and he's a good locker room guy, but he's just not a great player and they shouldn't overpay to keep him.
One player the Vikings might have an eye on is OLB Daryl Smith of the Jacksonville Jaguars. Smith is 31 years old, but when healthy would be a large upgrade over Henderson. Smith only played two games in 2012 but appears to be healthy again. Smith is also a high-character, team leader type that the Vikings covet.
It's 50/50 if Henderson is back with the Vikings.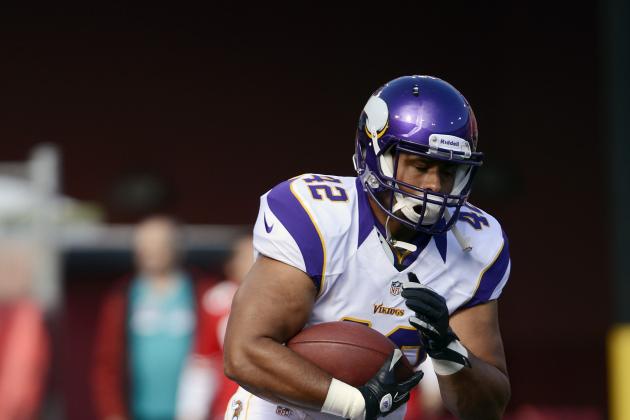 Thearon W. Henderson/Getty Images

Free agent fullback Jerome Felton will be back with the Minnesota Vikings.
Felton made the Pro Bowl last season because Adrian Peterson was running behind him. The guy at the cubicle next to you might have made the Pro Bowl given the same circumstances.
So be it, Felton was the guy and he's earned a raise.
Felton loves it in Minnesota and doesn't want to leave. Who wouldn't want to be the lead blocker for one of the best running backs of all time?
The negotiations shouldn't take long.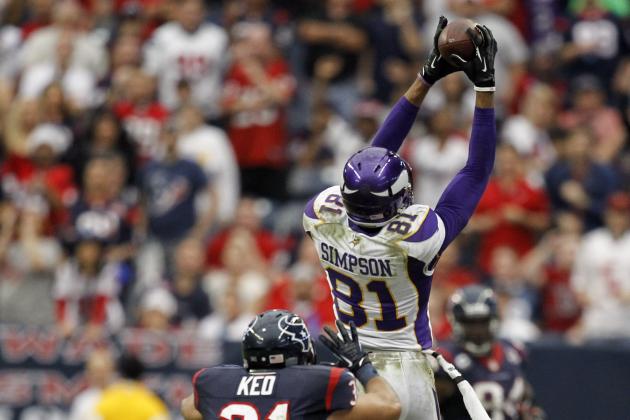 Bob Levey/Getty Images

There's no question Jerome Simpson was a bust in 2012.
What's up for debate is why. Did his back injury slow him down all season? Was his lack of production due in part to the feeble quarterback play? Did the Vikings over-value his potential when they signed him last offseason?
Whatever the answers, the most important one is his injury and his long-term prognosis. Simpson flashed enough athletic ability and speed to be a part of the Vikings receiving corps.
Yes, the Vikings need to overhaul that group, but no, they can't do it all at once.
Simpson is fast and athletic, and that's a good place to start. The positive note is that he proved absolutely nothing in his "prove it" year with Minnesota, so he won't cost them a lot of money to re-sign.
If Simpson isn't re-signed, then it will probably be because the Vikings saw enough of him on his good days, and they came away unimpressed. If they judge his immaturity to be to a degree where he's not going to work his butt off to become a better player, then they should let him walk.
If he's willing to commit himself to getting the most out of his talents, then there doesn't seem to be a reason not to bring him back.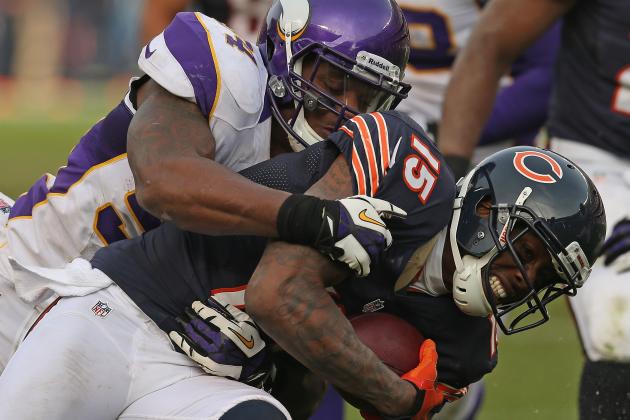 Jonathan Daniel/Getty Images

Jasper Brinkley will be an interesting test case in this year's free agency period.
Vikings GM Rick Spielman preaches drafting well and nurturing, and Brinkley is a great example of doing just that. The problem is that it's decision time on Brinkley, and he hasn't done enough to prove he belongs.
He's only been a starter for one season, and he was certainly inconsistent, playing well for stretches and vanishing for parts of games. The market for Brinkley probably won't be great, so the Vikings will probably be able to re-sign him to a reasonable deal.
Do they want to?
Spielman and staff will have to evaluate what they've seen from Brinkley over the course of his career and project whether or not they think he can continue to improve. One problem in not re-signing Brinkley is that there are not a lot of options out there.
Look for Minnesota to try to re-sign Brinkley to a reasonable deal and then to try to draft someone who can come in and challenge for playing time.
Stephen Brashear/Getty Images

Look for the Vikings to try to re-sign both Geoff Schwartz and Joe Berger as solid backups on the offensive line.
Schwartz had a frustrating season in 2012, battling nagging injuries all year long. He and Berger are both valuable in that they can slide up and down the line and fill in at multiple positions, something that every NFL coach loves out of his backup lineman.
It would be surprising if the Vikings don't try to upgrade their depth on the offensive line in the draft, and depending on who they might get, the roster spots for the linemen coming back might shrink a spot.
However, both Schwartz and Berger will probably be re-signed simply because they are cheap and versatile.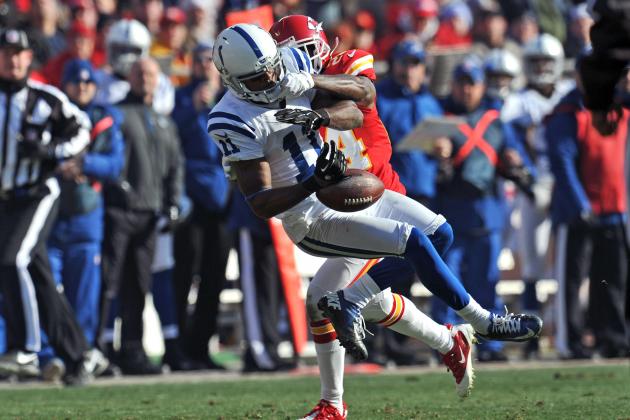 Peter Aiken/Getty Images

Again, don't expect much when it comes to signing free agents that weren't with Minnesota last season.
Speaking at the NFL combine last month, Vikings GM Rick Spielman said:
"You have a lot more success when you sign your own players as unrestricted free agents," Spielman said. "Because you know them the best. And if you screw up signing one of your own guys and he doesn't pan out, then that's a fault on you."
Last year saw Spielman stay in the shallow end when it came to outside free agents, and his two biggest signings, John Carlson and Jerome Simpson, were complete flops. That doesn't mean that spending a few dollars on a second tier free agent is out of the question, but Spielman might be a little gun shy after Carlson caught eight passes for 43 yards.
Are their free agent players out there who would make the Vikings better? Of course, but the cost might not be worth it. Greg Jennings and Mike Wallace won't be in purple next year. Donnie Avery and Daryl Smith probably won't be either.
The Vikings will be looking to keep their own.