With around three-fourths of the 2012-13 NBA season in the books, it's a perfect time to evaluate and power rank every single team in the league.
There's just a handful of weeks remaining before the playoffs begin, but that doesn't mean the seedings—or even the teams competing (especially out west)—are even close to set.
Let's take a look at how the contenders and pretenders are faring with the stretch run about to begin.
1. Miami Heat
After some early season concerns about how the Heat weren't serious about defending their championship, they have responded with 16-game win streak and squarely positioned themselves as team to beat for a third-straight year.
LeBron James, Dwyane Wade, Chris Bosh and the veteran role players on this roster look downright impossible to vanquish in a best-of-seven series and we're not sure any opponent will pull it off in 2013.
2. San Antonio Spurs
No Tony Parker, no problem for the Spurs. The squad has won their two games without the PG in the lineup and should continue to be fine for the month he's sidelined.
Unless the Thunder or Clippers are able to go on a monumental run, we don't foresee the Spurs giving up an inch of ground and should go into the playoffs as the top seed in Western Conference.
3. Oklahoma City Thunder
Despite the Spurs' regular season success, we're penciling in the defending conference champs as the team to beat this spring.
Kevin Durant continues to score at will, Russell Westbrook is evolving into an all-around talent that rarely makes the bad decisions of his youth, Serge Ibaka and Kendrick Perkins bring a toughness that champions need and the rest of the roster contributes at a high level on a nightly basis.
4. Los Angeles Clippers
The Clippers were nearly able to score a victory against the Thunder for the first time this season, but had their hopes derailed after Ibaka hit Blake Griffin in the groin.
Regardless, this team should be a lock to make it back to the Western Conference semifinals and may even push through depending on how their stars play and who they match up with in the seven-game series.
5. Indiana Pacers
Danny Granger returned for five relatively ineffective contests before heading to the bench for another week of rest.
This squad has been rolling without their star swingman, but eventually will need him in the lineup to even have a chance at besting Miami in the postseason.
6. Denver Nuggets
The Nuggets are rolling and Ty Lawson is developing into the go-to player for this deep, athletic group.
With so many great defenders, shooters and scorers on the roster, no one is going to want to take on Denver when the playoffs roll around, especially not with Lawson answering the crunch-time issues the team had in the past.
7. Memphis Grizzlies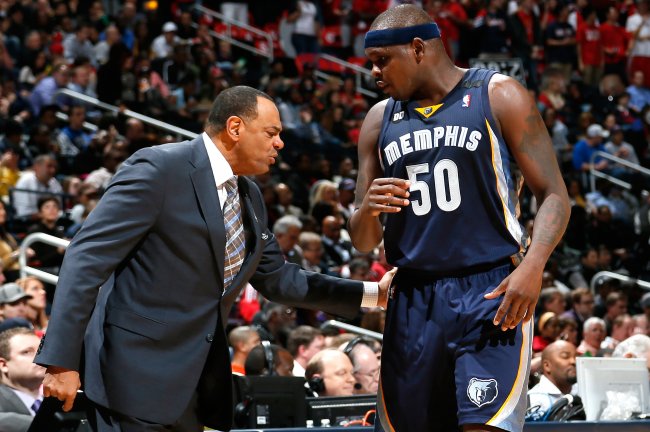 Kevin C. Cox/Getty Images
Memphis' frontcourt players are absolutely dominant, but the front office is going to have to find a replacement for the wing defense and scoring that Rudy Gay brought to the table.
Until a new star swingman can be installed, the Griz are a fringe contender at best.
8. New York Knicks
New York is facing the rash of injuries many expected would eventually plague the organization after acquiring so many aging veterans in the past few years.
This has certainly hurt the Knicks production, but they could challenge anyone this spring with a fully healthy roster.
9. Houston Rockets
With James Harden leading the way, the Rockets are rolling and should be one of the eight teams to make the playoffs in the West.
The team will need to get a bit better play from the secondary stars—Jeremy Lin, Omer Asik and Chandler Parsons—but eventually this group will be able challenge anyone in the conference.
10. Boston Celtics
After the Celtics capped an incredible comeback against the Pacers on Wednesday night, they proved that they still have the feisty defensive identity and offensive swagger that helped win a championship in 2008.
No matter what seed the C's wind up with in April, they are going to be a contender and a nightmare to eliminate.
11. Los Angeles Lakers
The Lakers' epic comeback against the Hornets would have been more impressive if it wasn't against, you know, the Hornets.
While Kobe Bryant was absolutely dominant during the second half, his team should have never given up 39 points in one quarter to the HORNETS. Unless defensive lapses like that are eliminated, L.A. isn't going to be around long this spring.
12. Brooklyn Nets
It seems that the Nets made the right decision by retaining Brook Lopez, but Deron Williams' max contract looks ugly in hindsight.
Unless the superstar PG lives up to his abilities, the Nets are another group that will flame out quickly in the playoffs.
13. Chicago Bulls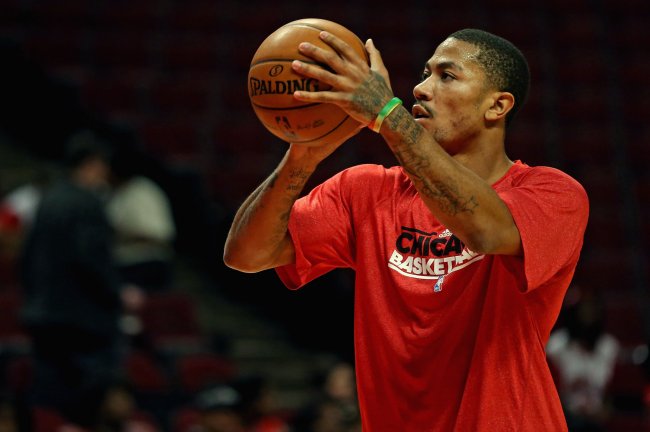 Jonathan Daniel/Getty Images
The Derrick Rose saga in Chicago is more exciting to watch unfold than coach Tom Thibodeau's defensive brand of basketball, but you cannot deny it's effectiveness.
Thibs has led this group of role players to a respectable record and should have them right in the middle of the postseason picture when all is said and done. Whether or not Chicago can capitalize on that and become contenders completely depends on D-Rose's status.
14. Atlanta Hawks
The Hawks struggled to win tough games on the road during their extended trip last week, but righted the ship against the 76ers.
Unfortunately, they will travel to Beantown to take on a Celtics team that has given them fits for years now. If the Hawks manage to steal a win, it could provide a big momentum boost going forward.
15. Golden State Warriors
While coach Mark Jackson continues to try and coach these Warriors up defensively, the ghost of Don Nelson still seems to haunt some of their players.
Even when Stephen Curry is shooting the lights out and the rest of the supporting cast is coming up huge on the offensive end, poor defense has plagued this squad.
16. Utah Jazz
The Jazz needed to make a splash at the trade deadline to land a point guard. Obviously, they didn't and still have a logjam in the frontcourt.
Until the front office can balance this roster out, Utah is going to struggle and remain nothing more than a token playoff team that isn't good enough to pass the first round, but not bad enough to bottom out and land a solid lottery pick.
17. Milwaukee Bucks
Brandon Jennings, J.J. Redick and Monta Ellis make up one of the more interesting backcourts in the NBA.
They are good enough to haul Milwaukee to the No. 8 seed in the East, but it's going to take some incredibly heroic performances from each to go further than that.
It'll be most interesting to see who the franchise winds up keeping and who walks in free agency this summer.
18. Dallas Mavericks
It's unlikely the Mavs can muster up what it takes for a playoff run, not with so many big meltdowns and defensive lapses taking place in recent weeks.
On the plus side, Dirk Nowitzki has been steadily improving and should bring fans hope for 2013-14.
19. Portland Trail Blazers
The Trail Blazers starting unit is one of the best in the league, but this team is going to remain on the outside looking in until they can start adding free agents and young talent via the draft to their bench.
The organization will probably have another lottery pick in the 2013, so hopefully it can hit another home run as it did with Damian Lillard last year.
20. Toronto Raptors
Rudy Gay certainly isn't going to be able to carry the Raptors by himself, meaning GM Bryan Colangelo is going to need to open his wallet this summer to get the most out of his midseason investment.
Until a second star is playing in Canada, Toronto will remain mired in mediocrity.
21. Washington Wizards
Bradley Beal is a legitimate star and should be in line for a great sophomore season if John Wall is healthy.
As long as he remains healthy and continues shooting the lights out, the sky is the limit for this rookie phenom.
22. Cleveland Cavaliers
The Cavs are on the cusp of success and it's largely due to their excellent talent at evaluating draft picks.
Dion Wiaters and Tristan Thompson have joined Kyrie Irving as slam-dunk selections, which is notable since the team is getting another crack at the lottery in 2013.
Should they nail that selection, the Cavaliers will soon become a force to be reckoned with.
23. Minnesota Timberwolves
The T-Wolves were an interesting pick to make some noise in the Western Conference prior to a rash of injuries and chemistry issues impacting the franchise.
If Minnesota can return most of the key pieces in tip-top shape this summer, expect the squad to make a run next year.
24. Philadelphia 76ers
Aside from Jrue Holiday, the Philadelpha 76ers have been an absolute trainwreck during the 2012-13 campaign.
Unless Andrew Bynum makes a miraculous return—unlikely at this point—the franchise is going to continue skidding towards the bottom of our power rankings.
25. New Orleans Hornets
The future looks bright in New Orleans, as long as Anthony Davis can get healthy and Eric Gordon can return to pre-injury form.
Those are two huge "ifs," but it's all fans in the Big Easy can hope for.
26. Phoenix Suns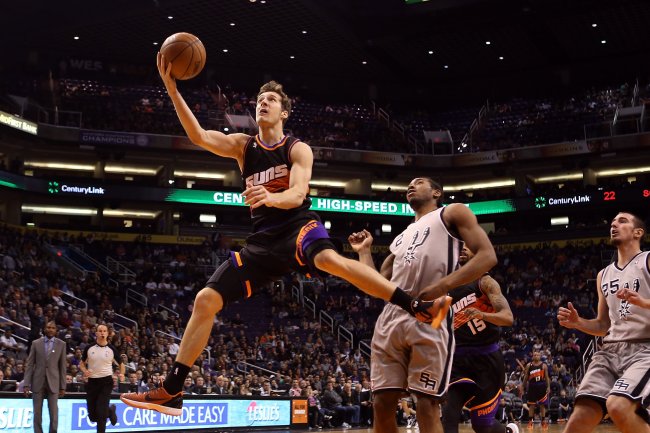 Christian Petersen/Getty Images
It's incredible how quickly the Suns collapsed without Steve Nash, but it's even more ridiculous to see their demise despite Goran Dragic actually picking up the slack at the position.
Unless they somehow strike gold, Phoenix is at the very start of a long and arduous rebuilding process.
27. Detroit Pistons
Jose Calderon was a nice addition for the Pistons and it's a shame he likely won't be around after his contract expires this summer.
What's also a shame is Andre Drummond's stress fracture in his back, a devastating injury to such a promising young talent.
28. Sacramento Kings
The Kings have plenty of questions and hardly any answers, including where they will be playing ball to start the 2013-14 campaign.
Until a sale gets finalized, we don't blame this unit for being one of the worst in the league.
29. Orlando Magic
Which team do you have last in your power rankings?
In the first year of a major rebuilding effort, Orlando is expectedly near the bottom of the league.
Fortunately, many of their players have been a nice surprise—including center Nikola Vucevic—as they quickly look to move on without Dwight Howard.
30. Charlotte Bobcats
The Bobcats need to continue to build around Kemba Walker and Michael Kidd-Gilchrist.
Those are the only two players worth much on the roster and could help this franchise eventually turn things around.