6 Reasons Phil Neville Is as Important to Everton as Marouane Fellaini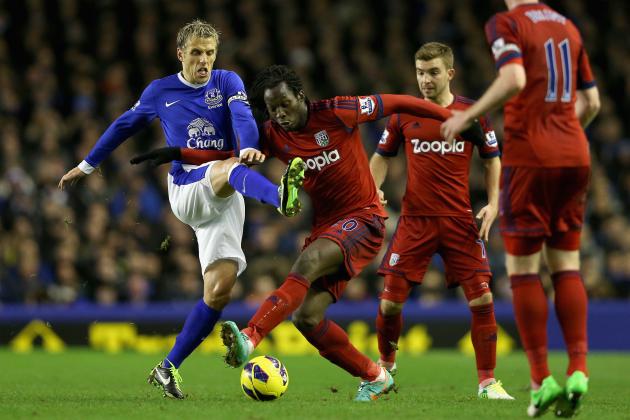 Clive Brunskill/Getty Images

Phil Neville and Marouane Fellaini both play in the same Everton side, but to a certain extent the similarities stop there.
In so many ways the two are vastly different, both as players and in terms of their personalities.
Fellaini regularly grabs the headlines with his performances and is a source of frequent controversy due to his on-field behaviour.
Neville, by contrast, is one of the less-vaunted members of David Moyes's squad, going about his business in a fashion that attracts far less attention.
Both are essential to the functioning of the team.
In fact, you could go as far to say that in his own way, Neville is just as important to Everton as his Belgian teammate.
Let's take a look at the reasons why.
Begin Slideshow

»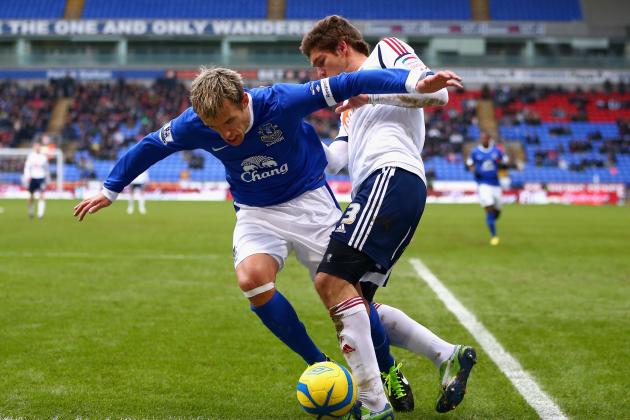 Michael Steele/Getty Images

Whereas Fellaini is subject to the attentions of a number of Europe's top clubs and may well be set to leave Goodison in the summer, Neville recently signed an extension to his current deal and seems content to finish off his career on Merseyside.
He's been an integral part of the side since joining from Manchester United in August 2005, and were they to lose him, he would prove difficult to replace, as much for his leadership qualities and his influence as for his ability as a player.
Fellaini might well be a key member of Everton's side currently, but it's only really in the past couple of seasons that he's developed into such a role.
Neville has occupied that role pretty much since his arrival.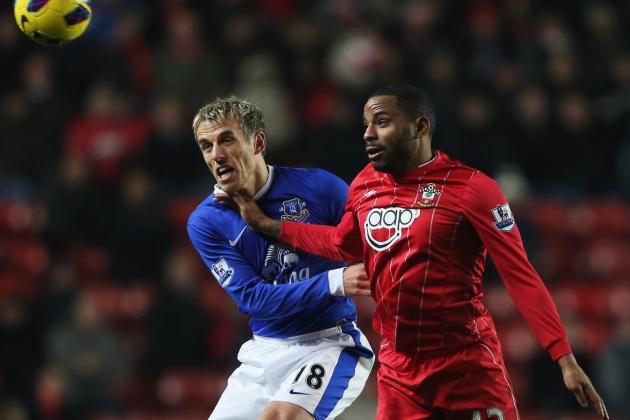 Ian Walton/Getty Images

Everton sit eighth in the Premier League in terms of goals conceded, and as a team, they owe a great deal of their success to their defensive record and how well-organised and well-structured they are at the back.
Neville plays a huge part in this, helping organise the back four from his position at full-back or providing a protective shield for the defense when playing in his sitting position just behind the midfield.
His tackling has always been one of his strong points, and his ability to read the game contributes a lot to his overall ability as a player.
Fellaini, of course, plays a different role.
He's key in an attacking sense and is capable of running the game from the centre of the park, but taking Neville out of the team would prove just as detrimental as if they were to have to make do without the Belgian.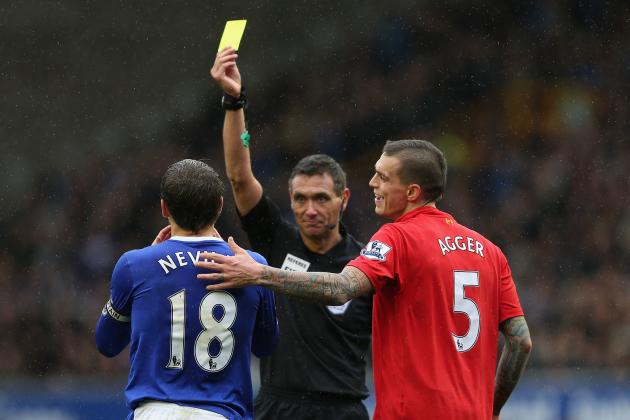 Clive Brunskill/Getty Images

It's no secret—Marouane Fellaini isn't exactly a favourite with referees.
He's picked up a total of 43 yellow cards (including 13 in his first season) and one red card since signing for Everton back in 2008, and as a result he has often been missing through suspension.
There's no doubt as to his talent as a player, but his temper can get the better of him, and it's something he'll need to address as he develops.
In the same period, Neville has only been booked 25 times, picking up only three over the course of the 2009-10 season where he featured 29 times, and hasn't once been shown a straight red.
Neville's comparatively exemplary disciplinary record means that he's rarely forced to miss games, and more often than not, he's available when called upon.
Ask any manager, and they'll tell you how valuable it is to have a player who's combative defensively, but is also intelligent enough to avoid picking up unnecessary yellow cards.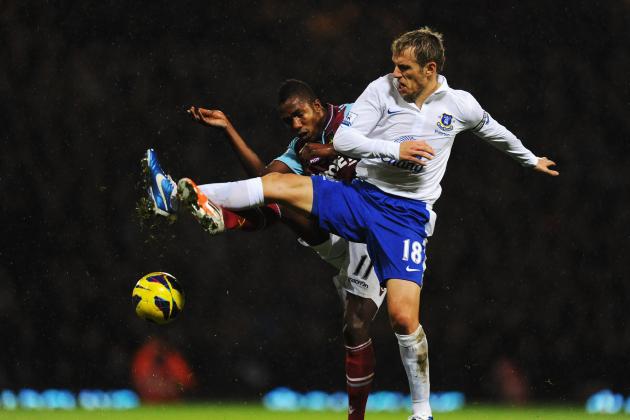 Steve Bardens/Getty Images

Fellaini occupies a number of positions for Everton—defensive midfield, central midfield, just off the front, or as a striker in his own right.
Similarly, Neville's versatility is an invaluable asset to Everton, and it's one of the reasons why he's been able to rack up so many appearances.
While some players can find it difficult to get back into the side if they lose their place, the fact that Neville is just as comfortable playing at left-back, right-back or in central midfield means he's rarely out of the team for long, if at all.
In a squad where competition for places is fierce, and in a league where there is a constant pressure on managers to strengthen the squad each season, his adaptability is an essential attribute.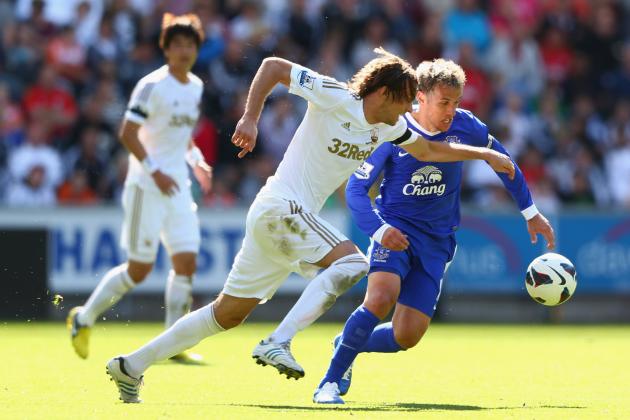 Michael Steele/Getty Images

As Everton captain, Neville provides an excellent role model for the rest of the squad, for the older, established players as well as those just making their breakthrough into the first team.
His work-rate is fantastic, his discipline, as we've already seen, is excellent, and he's always ready to put the needs of the team ahead of his own.
Even Neville's lack of goals, which could be a worrying sign for someone who regularly plays in midfield, is more an indication of his selflessness and his intelligence as a player than it is of his deficiencies as an attacking threat.
In an advanced position, he'll always look for the pass to a teammate in a better position rather than going for goal himself, and it typifies the attitude of Neville as a footballer, and the example he sets for those around him.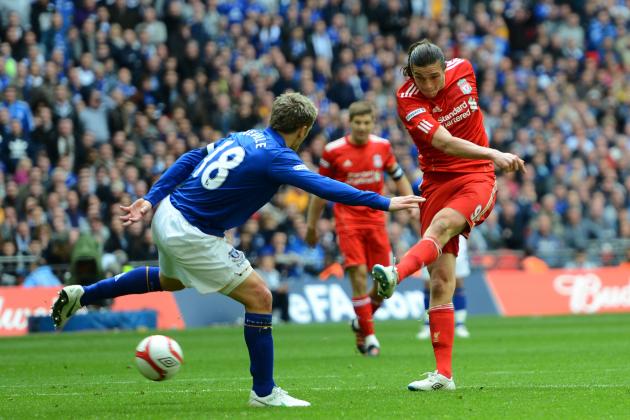 Mike Hewitt/Getty Images

In a squad as young and as green as that David Moyes has at his disposal at Everton, experience is at a premium, and very few have more experience in the game than Phil Neville.
During a decade spent under Alex Ferguson at Manchester United, Neville made 263 appearances, winning the Premier League six times, the FA Cup three times, the Community Shield three times, the Champions League in 1999 and the Intercontinental Cup the same year, and since joining Everton he's almost doubled his total number of appearances in club football (242 with Everton to date).
At international level, Neville has been capped 59 times for England, and while some might argue that his performances might have seen him earn more, having this sort of experience is a massive bonus for the whole team.
As a player, he's seen it all, and even if he's yet to get his hands on silverware with Everton (he has an FA Cup runners-up medal from their defeat in the final to Chelsea in 2009) he knows better than anyone what it takes to succeed.