The 10 Best-Kept Secrets on the 2013 NFL Free-Agent Market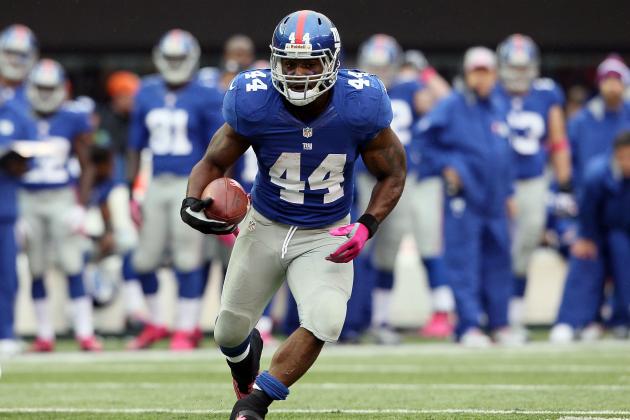 Alex Trautwig/Getty Images

With free agency set to begin in a few short days, the same names are on the lips of NFL fans and media types alike:
Mike Wallace. Greg Jennings. Reggie Bush. Cliff Avril. Paul Kruger. Jake Long.
While the aforementioned players certainly deserve the attention they're receiving, the 2013 NFL free-agent market is quite deep, and as such, there are many diamonds in the rough that are ripe for the taking—or, in this case, signing.
So, while the 10 players on this list aren't exactly a "secret" themselves, I believe that they still aren't receiving the hype and plaudits that they deserve as they get set to hit the open market.
Here are the 10 best-kept secrets on the NFL free-agent market this offseason.
Begin Slideshow

»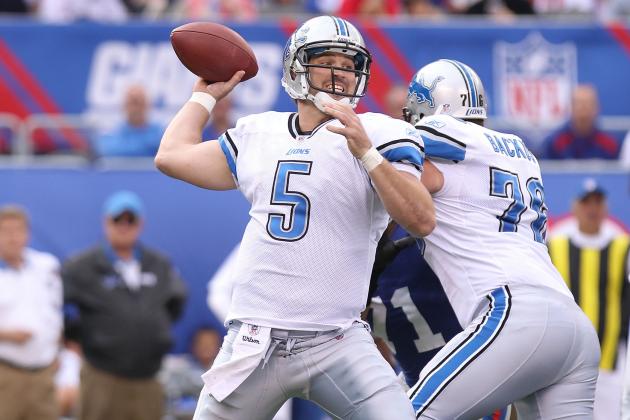 Nick Laham/Getty Images

While Drew Stanton hasn't yet lived up to the expectations associated with being a second-round pick (selected 43rd overall by the Lions in 2007), he's still liked and respected in league circles for his competitive fire and desire to help the team.
Stanton has "plus" physical skills, but he hasn't had a true opportunity to showcase his wares, as he's only made four starts in his professional career.
Think about it: Before the Jets traded for Tim Tebow last year, Stanton was ensconced as Mark Sanchez's backup. How much better off would the Jets have been if they'd had Stanton to turn to once Sanchez started playing hot potato with the football?
Stanton joined SiriusXM Blitz a few weeks ago and talked about how he's a team guy, and while he wants the opportunity to play, he's more concerned with helping a team win. That's a tremendous attitude to have from a backup quarterback.
I'm not saying that Stanton is a world-beater at the quarterback position—he's not. But he's certainly good enough to be a top backup and step in for a few starts if needed.
Don't be surprised to see Stanton wind up in Arizona with Bruce Arians, who coached him last year in Indianapolis.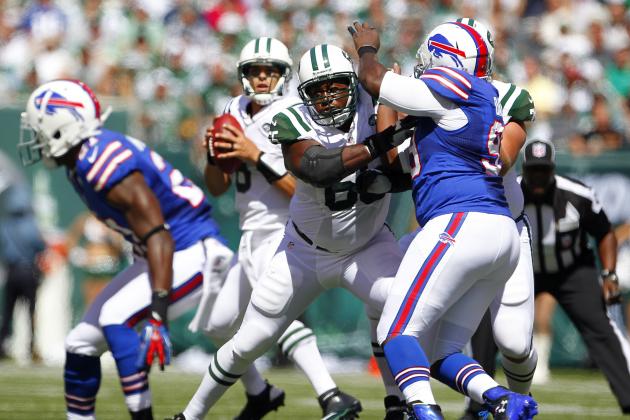 Rich Schultz/Getty Images

Poor Brandon Moore.
Much like Chris Webber ("The Timeout"), Metta World Peace ("Malice at the Palace") and Zinedine Zidane ("The Headbutt"), Moore is likely remembered for one infamous moment: the butt fumble.
The shame of that is, Moore is a terrific player and teammate. It's not his fault that Mark Sanchez decided to slide into his backside—just typing that gives me the heebie-jeebies.
In all the times I've heard Moore on SiriusXM NFL Radio, he's been intelligent, thoughtful and wholly supportive of his team. He's a fantastic locker-room presence.
There's no question that Moore could step into many NFL offensive lines and offer instant improvement. He's definitely one of the best-kept secrets on the market.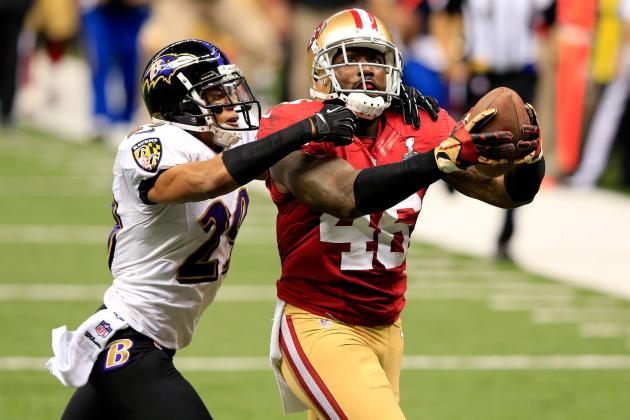 Jamie Squire/Getty Images

Delanie Walker has long played in the shadow of fellow 49ers tight end Vernon Davis, a star who rightly receives the majority of passes from San Francisco quarterbacks when they target that position.
But Walker has the ability to be a very good player in his own right, and he now has the opportunity to do so.
Walker is just 28 years old and is coming off his best season. He has been used as a jack of all trades in Jim Harbaugh's offense, lining up successfully as both a traditional, blocking tight end as well as a wide receiver at times. Plus, he can make some spectacular catches.
I expect Walker to step out of Davis' shadow and make an impact in 2013 and beyond.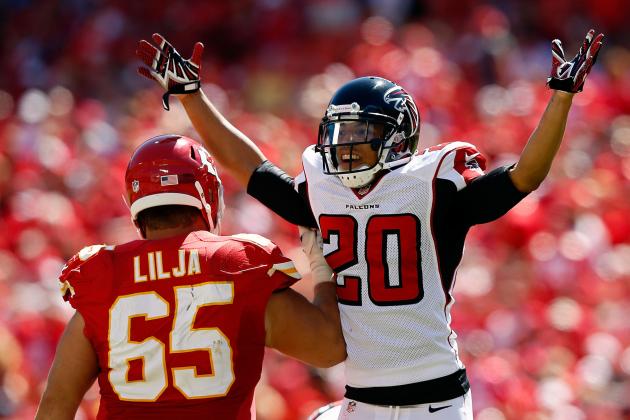 Jamie Squire/Getty Images

This ranking has absolutely nothing to do with Brent Grimes' ability because, when healthy, he is one of the very best pound-for-pound players in the league, regardless of position. Instead, it has everything to do with the torn Achilles' tendon that sidelined him for the vast majority of last season.
Because of that injury, Grimes isn't receiving the love that he should. If he were healthy, he'd be mentioned prominently when referring to this year's free-agent class.
I understand the risk associated with paying big money to a player coming off a significant injury, so I acknowledge the likelihood that Grimes will receive a short-term deal this offseason. Still, I believe the team that rolls the dice with Grimes will end up satisfied with their decision.
And come next year, if Grimes hits the open market again, we'll all be talking about him.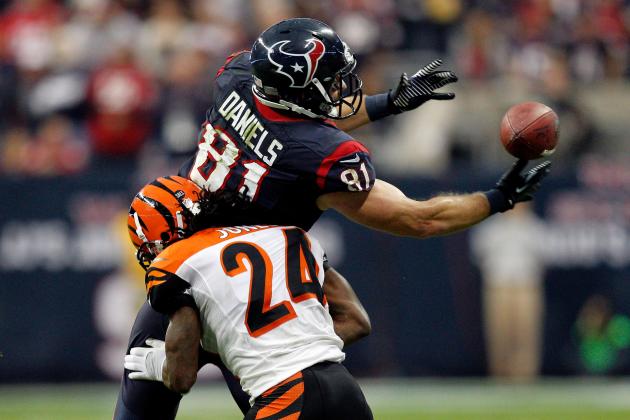 Bob Levey/Getty Images

While Adam "Pacman" Jones was once the poster child for "bad-boy" NFL players, he's managed to turn his career around while playing for Marvin Lewis, Mike Zimmer and the Cincinnati Bengals.
Jones quietly authored a terrific 2012 season. He excelled at defending receivers in the slot, in addition to his usual brilliance on kick returns.
There's no question that any team signing Jones would be taking a risk, as he has too many red flags in his past for anyone to be fully comfortable with him. But his on-field play would merit someone giving him a chance, whether in Cincinnati or elsewhere.
If Jones can keep his nose clean and stay out of trouble, he'll be a valued member of any team's secondary, especially as the NFL continues to be a pass-happy league.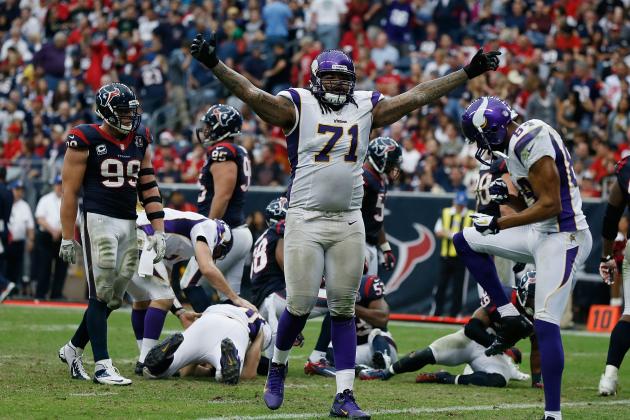 Scott Halleran/Getty Images

While Adrian Peterson deservedly receives the plaudits for his legendary 2012 season, it's important to note the jobs of the men who blocked for him, specifically right tackle Phil Loadholt, who is an absolute road-grader.
Loadholt is a terrific run-blocker who has proven to be durable, as he hasn't missed a start since the beginning of the 2010 season.
I believe Loadholt is criminally underrated, and he would be a terrific piece to any team looking to improve both their offensive line and running game.
He does have some issues in pass protection, but it's more important for a right tackle to help in the run game, and Loadholt is a throwback right tackle who mauls defensive ends off the ball.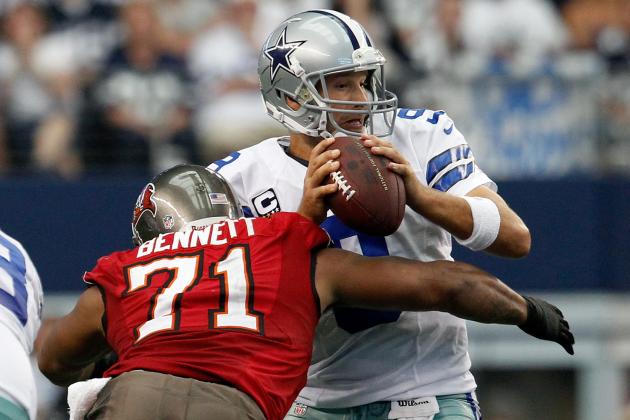 Tom Pennington/Getty Images

Michael Bennett, the brother of fellow free agent Martellus, really came on strong in Greg Schiano's defense last season, sacking the quarterback nine times and forcing three fumbles.
While pass-rushers like Cliff Avril, Paul Kruger, Dwight Freeney and Osi Umenyiora get all the attention in this year's free-agent class, Bennett is an ascending player in his own right and should be the subject of more hype.
Teams put a premium on quality pass-rushers, and Bennett has proven to be one. He will get paid; there's no doubt about that. I'm just surprised that he hasn't been talked about more leading up to the start of free agency.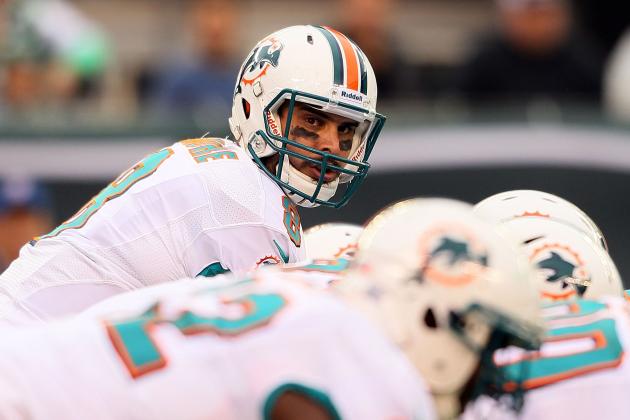 Alex Trautwig/Getty Images

Don't get it twisted: My ranking of Matt Moore on this list in no way, shape or form means that I believe a team should lavish him with "starter" money and anoint him as "The Guy."
However, if you don't think Moore is one of the best 32 quarterbacks in the league, you've got another thing coming.
Moore is one of the very best backup options in the NFL, and he's someone with whom any team would be comfortable if forced to start a few games.
He has a 13-12 record in 25 career starts, and he has thrown 33 touchdown passes against 26 interceptions. Those aren't spectacular numbers, but they make him look better than a handful of the incumbent starters in the league right now.
Plus, last season, Moore handled the ascendancy of Ryan Tannehill with class and aplomb, putting aside personal disappointment to help Tannehill in any way that he could. That's the mark of a good teammate.
For a team looking for a stopgap while their young signal-caller is groomed, or for a team looking for insurance against injury to their starter, Moore is your guy. I'm stunned that he doesn't receive more credit amongst fans or media types.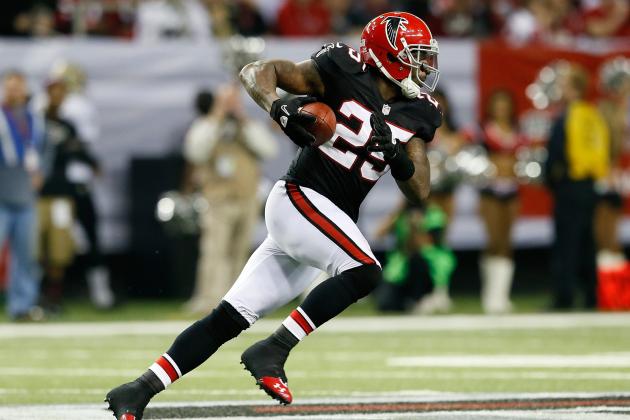 Kevin C. Cox/Getty Images

Falcons safety William Moore had a sparkling 2012 campaign that really showed his versatility at the position. He was a physical presence in the secondary and showed great playmaking ability as well.
But for whatever reason, you never hear his name mentioned alongside the top free agents on the market, and I believe this is a mistake.
With the league continuing to evolve, Moore possesses everything that NFL teams look for in a safety: a player with aggression to strike fear into the hearts of opposing receivers who is also a threat to make a game-changing interception.
I'd be stunned if Moore didn't mature into one of the very best safeties in the league sooner rather than later.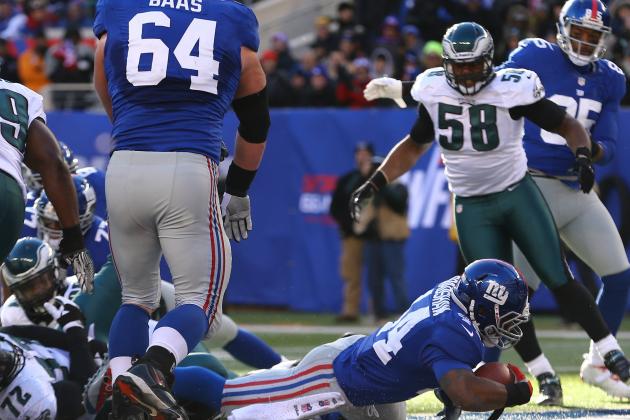 Al Bello/Getty Images

For a guy who seems like he's been around forever, Ahmad Bradshaw will only be 27 at the start of the 2013 season. While he has a history of injuries, there can be no questioning Bradshaw's toughness and will to win.
Throughout his time with the Giants, Bradshaw has been the consummate tough guy, playing through pain and willing himself to exemplary performances. Without his contributions, there is no way that the Giants would have won either Super Bowl XLII or XLVI.
I definitely don't think Bradshaw should be a clear-cut, No. 1 running back, mostly because his body simply wouldn't be able to handle 300-plus carries in a season. But there's no team that Bradshaw couldn't help improve immediately.
He is the best running back on the market, is tough as nails and has a championship pedigree. While everyone has been talking about Reggie Bush, another top free-agent running back, the real focus should be on Bradshaw this offseason.
He is the best-kept secret in this free-agent class.
Nick Kostos is the executive producer of the "SiriusXM Blitz," hosted by Rich Gannon and Adam Schein, on SiriusXM NFL Radio. You can follow Nick on Twitter.