Ranking the Boston Celtics' 5 Most Improved Players This Season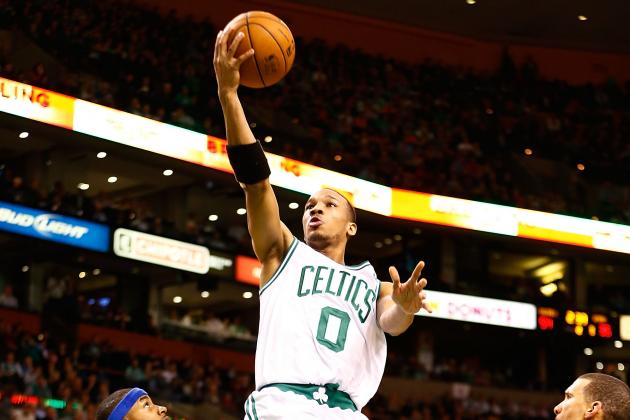 Jared Wickerham/Getty Images

Since late January, much of the talk in the NBA's Eastern Conference has been about the Boston Celtics and their continued success despite the significant absences of Rajon Rondo and Jared Sullinger. While their overall team chemistry has mainly contributed to Boston's 13-4 record since Rondo's injury, the individual improvements of many returning Celtics continue to pay huge dividends.
The past year has been a difficult transition for the Green. Jason Terry was summoned to replace future Hall-of-Fame sharpshooter Ray Allen. The center position proved as meager as ever, with Kevin Garnett as the only formidable big man to plug in to the starting 5 spot. Also, injuries have forced GM Danny Ainge to bring in new talent, in order to avoid a short-handed bench.
Somehow, the team has withstood adversity and rallied to a 19-11 record in this calendar year, pushing Boston to 33-27 overall. The C's sit at the No. 7 spot, on the heels of the Brooklyn Nets (35-26), Atlanta Hawks (34-26) and Chicago Bulls (34-27).
Boston's triumphant last-second victory over the Indiana Pacers on Wednesday only verifies the Celtics' utter will to contend. Indiana, the Eastern Conference's second-place team and best defensive squad in the league, was favored by most of the nation to surmount the injury-plagued C's in Bankers Life Fieldhouse. But Boston once again prevailed.
Time and time again, the Celtics have proved that heart often outlasts cumulative talent or statistics, led by a returning cast of dedicated players. The following five slides highlight Boston's most improved players since last season (from smallest impact to largest), and explain why their contributions have pushed the Celtics back into a considerable championship push.
Begin Slideshow

»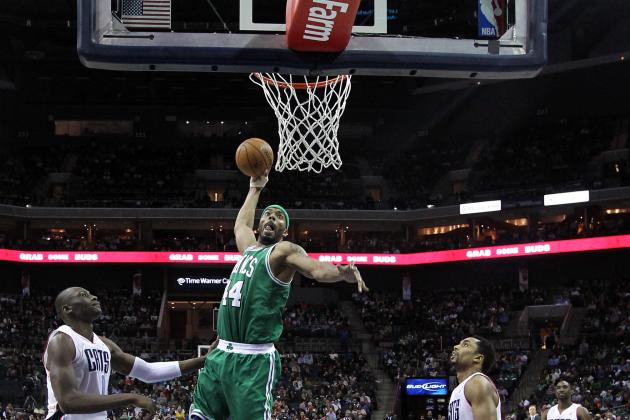 Streeter Lecka/Getty Images

Many Celtics fans shuddered in disbelief when Jason Collins was sent to the Washington Wizards as part of the Leandro Barbosa trade for Jordan Crawford. Most would have rather parted ways with fellow big man Chris Wilcox, the inconsistent 10-year journeyman.
But the fact that Wilcox stayed in Boston has already proved to be a huge blessing in disguise. He has upped his points and rebounding numbers, helped out offensive half-court sets and benefited guards by continually getting himself in the right place at the right time.
Wilcox still lacks decisive ability on the defensive end, but he has disrupted shots to a certain extent. He also does a better job on rebounds per 36 minutes than starting power forward Brandon Bass. He plays with confidence and never turns down an open lob for an alley-oop, whether on a transition play or in a set offense.
Wilcox, who denied GM Danny Ainge from dealing him to the Wizards by not waiving his early Bird rights, might have done the C's a huge favor by staying aboard. He spoke to coach Doc Rivers about his role since Collins' departure, and the veteran big has been locked in ever since.
In a convincing win over the Phoenix Suns, Wilcox posted 14 points and eight rebounds. He also logged eight points (4-of-4 shooting) with seven rebounds in last Friday's 94-86 win against Golden State at the Garden. He added four points and grabbed six rebounds in Philly, and shot 3-of-3 in Indiana.
Averaging roughly four minutes less per game than last year, Wilcox has increased his field-goal percentage from .598 to .689, and upped his free-throw ratio from .615 to .667. He's blocking more shots (0.5 in 13 minutes per game) while committing fewer fouls (1.9). Best of all, he has committed the fewest turnovers per game in his entire career, losing the ball only once every two games.
Wilcox may not be considered a valuable player by the fair-weather fan, but diehard Celtics followers understand his role on this Boston team. His veteran experience, gritty play and ability to catch good passes in traffic will continue to help this team down the stretch.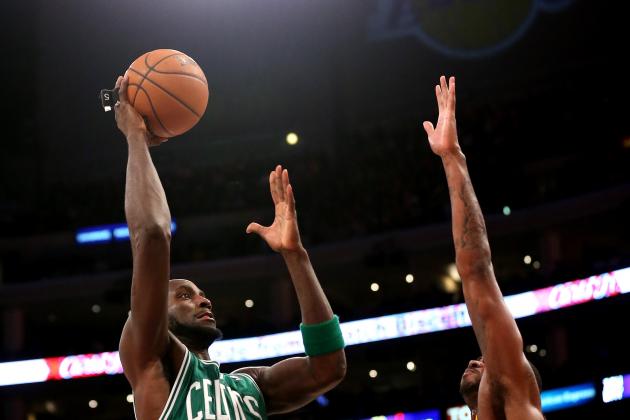 Stephen Dunn/Getty Images

It's hard to consider a perennial powerhouse like Kevin Garnett a huge improvement from one year to the next. However, KG has once again picked his team up when it needed him the most, perhaps even more impressively given his age and the absence of Rondo and Sullinger.
Maintaining his role as the anchor of the hard-nosed Celtics defense, Garnett averages a block and a little over a steal per game to go with his 15 points and 7.8 rebounds. These numbers may largely dwarf in comparison to his past years in green, but his already-proven leadership has somehow grown even more since Rondo's injury.
The Big Ticket has continuously pushed his teammates to perform better on the defensive end. He utilizes his knowledge and vocal leadership to ensure that teammates gets to their spots. He constantly slides to meet opponents on the drive when wing players get beat and remains one of the toughest low-post defenders in the NBA. The 18-year veteran's numbers may be down, but his impact on the Celtics' play has still risen.
Garnett could have been traded to the Los Angeles Clippers on the February 21 deadline, a move he vehemently stated he would block. The fiery big man with a heart of gold assured reporters that he bleeds green until the day he dies, and continues to demonstrate that he wants nothing more than to hoist banner 18 in the TD Garden.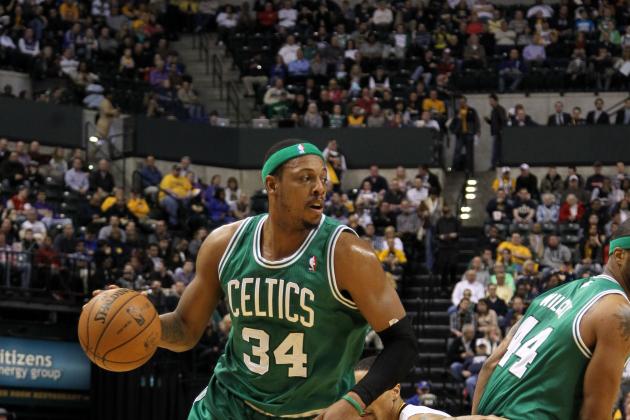 Brian Spurlock-USA TODAY Sports

The captain only seems to improve with age. Paul Pierce may be feeling more aches and pains than usual this year, with prolonged minutes affecting his tired 35-year-old legs as well as the pinched nerve in his neck, but he still manages to lead Boston's offense in stride.
Pierce's 18.6 points per game has dropped since last year, but his rebound rate has gone up. He averages 6.4 boards a game, 1.2 more than 2011-12, adding 1.2 steals.
Much like Garnett, the Truth has stepped up in crucial moments for the Celtics. His clutch shots in tough moments have helped Boston on its current run to the playoffs, and his unselfishness seems to be easing fresh acquisitions Jordan Crawford and Terrence Williams into their new home.
Many will argue that Pierce has stepped down a notch since last year, which seems ridiculous given the circumstances. Not only has Boston lost a key frontcourt contributor in Sullinger, it has also gone this entire rally without its star floor general in Rondo. Pierce now acts not only as the franchise wingman, but also as the frequent point guard for an entire roster that looks up to him.
The 2012-13 Boston Celtics can only go as far as Paul Pierce can take them. He has led the way to a 13-4 streak since Rondo's injury, highlighted by seven consecutive wins. Nobody in the NBA will be surprised if he continues to carry this squad up the Eastern Conference standings.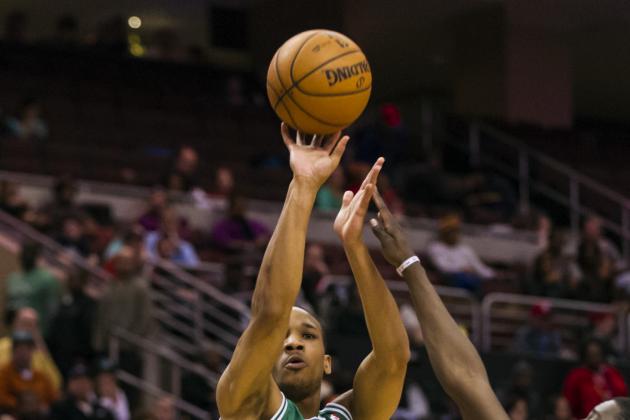 USA TODAY Sports

Upon being drafted by Ainge and the Celtics, many analysts believed Avery Bradley could eventually pan out as an average NBA player. Nobody expected he would be an emerging star by his third year.
Bradley, who showed flashes of defensive brilliance despite injury woes last season, has come back with an absolute vengeance this year. The 6'2", 180-pound guard has shined since returning from his injury in January. He has the Celtics playing some of the best basketball in the league since taking over at point guard upon Rondo's ACL tear.
The mere 22-year-old has improved his averages in points (9.7 vs. 7.6), rebounds (2.5 vs. 1.8), assists (1.8 vs. 1.4), steals (1.4 vs. 0.7) and blocks (0.4 vs. 0.2) since last season. For the most part, he makes better decisions and doesn't force the ball into tough positions like he did at times last year.
Bradley has also improved his range, hitting key jump shots when teammates are covered. He seems to be clicking in Boston's current offense—undoubtedly a welcome revelation to the masses of Boston sports radio fans who once considered him nothing more than a smaller Tony Allen.
But despite constant improvements on offensive possessions, Bradley's true excellence remains on the defensive side. His ability to stay with even the most potent scorers in the league makes him a serious threat to any playoff opponent.
Veteran Celtics guard Jason Terry once likened Bradley to Gary Payton, and with merit. He can take guards off of their rhythm on shots or drives to the hoop, in turn completely disrupting the opposing team's offensive sets. He also ranks among the league's best defenders away from the ball.
Boston continues to cash in on Bradley, who seems destined to be a future star. His budding confidence on the offensive end matches his ongoing tenacity on all-around defense. Both will play crucial roles in the Celtics' postseason push.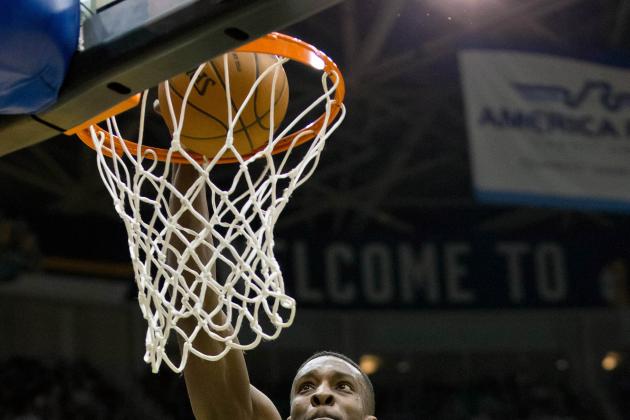 Russ Isabella-USA TODAY Sports

For once, it seems Jeff Green can be referred to as something other than "Danny Ainge's mistake." The 6'9", 235-pound swingman has waged a furious return from a season-long absence due to heart problems, coming out of his shell and benefiting the Celtics in major ways.
Green's jump shot has improved by leaps and bounds, and he continues to excel on the slash-and-drive. He currently maintains a 34 percent rate from three, while shooting 46 percent overall from the field. His .822 mark from the free-throw line is the best of his career, and his passing ability has flourished as well.
Since January 25, Green has scored in double digits in 15 out of Boston's 18 games, averaging a total of 15 points. He posted 31 points on 11-of-14 shooting in his lone start of the season, completely dismantling the Phoenix Suns. He also shot 6-of-7 from the stripe that night and grabbed seven boards.
"The Green without a nickname" seems destined for a role in Boston's short and long-term future, considering his endlessly-growing confidence both inside and outside the paint. He now flashes a jump hook, a mid-level shot, an indefensible finger roll and reliable three-point range.
Green may not be taking as many shots this season as he did in his Oklahoma City Thunder days, but he has certainly made a bigger impact. This proved truer than ever Wednesday night, when he was called upon to hit the dramatic last-second shot against a tough Indiana Pacers squad.
Green has adapted into the player Ainge always imagined and seems poised for a fruitful future as No. 8 in a Celtics uniform. The 26-year-old has been the biggest transformation for Boston and only stands to improve further as time goes on.