Jose Aldo vs. Benson Henderson: Head-to-Toe Breakdown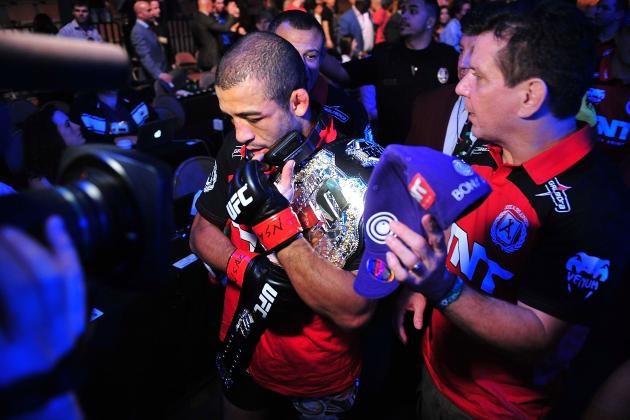 Gary A. Vasquez-USA TODAY Sports

UFC featherweight champion Jose Aldo will put his title on the line against Anthony Pettis in early August. The winner of the fight will earn themselves a shot at the UFC Lightweight Championship.
Currently, Benson Henderson stands atop the lightweight mountain. He defends his title against Gilbert Melendez on April 20 in San Jose.
Both fights are evenly matched bouts that could see the champions lose their title, but let's project that chalk holds and Aldo and Henderson prevail. Those two would meet in late 2013 in a high-profile fight between two of the pound-for-pound best fighters.
Here is how a lightweight tilt between these two champions breaks down.
Begin Slideshow

»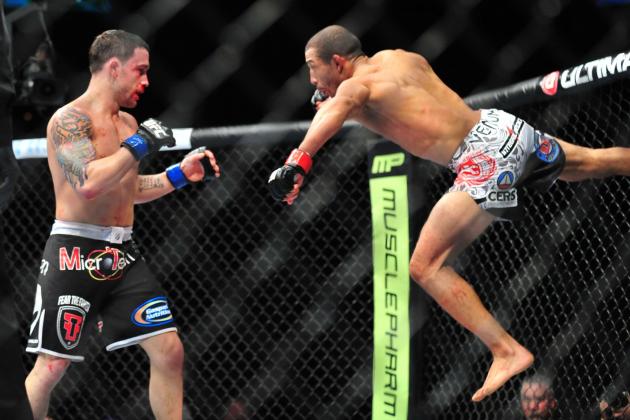 Gary A. Vasquez-USA TODAY Sports

Let's start with the featherweight champion first: Jose Aldo.
Aldo is a powerful striker that can end the fight in the blink of an eye. He has destroyed the division so much so that the UFC has sent former lightweight Frankie Edgar down to challenge him, and now they will allow Pettis to do the same.
His leg kicks are devastating. They can alter the course of a fight after just a couple land flush.
Benson Henderson is another dynamic and creative striker, but he has yet to show fight ending power on a consistent basis. Furthermore, he is not as technical. That is the true difference between the two fighters.
Aldo is the more technically proficient of the two, and his speed advantage should rear its head as well.
Edge: Aldo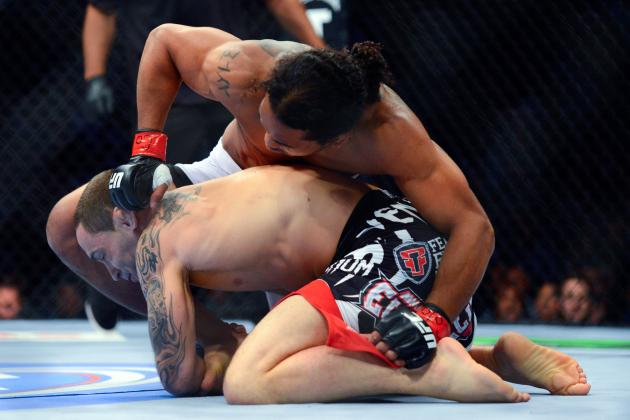 Ron Chenoy-USA TODAY Sports

Much has been said on telecasts about Aldo's jiu-jitsu, but we have yet to see him display it inside the cage. He prefers to strike.
Henderson, on the other hand, uses his grappling frequently. And to great effect.
He was a NAIA All-American at Dana College in Nebraska. He uses his wrestling background in nearly every fight. His grappling skills are why he is at the top of the division.
Aldo has been able to stuff takedowns from most of his opponents, but Henderson is a big and athletic lightweight. He can exploit Aldo's conditioning if he is able to take him to the mat and implement his typical gameplan. The lightweight holds a significant advantage from top position.
Edge: Henderson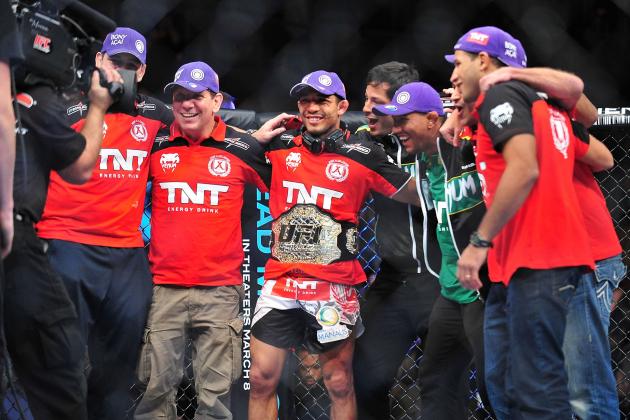 Gary A. Vasquez-USA TODAY Sports

Henderson has eight career submissions to his credit, but the edge goes to Aldo.
Aldo's lone non-striking submission came in his third professional bout, but he is no slouch on the ground. His utilizes his ground knowledge to get back to his feet should he be taken down. Should he be required to seek the submission he has all the tools to catch Henderson.
Henderson's last two submission wins allowed him to capture the WEC Lightweight Championship and defend it. He has a nasty guillotine choke.
Henderson's wrestling ability can put him in better positions to get the tap, but technical ability in the submission department leans toward Aldo. That's why he edges out Henderson.
Edge: Aldo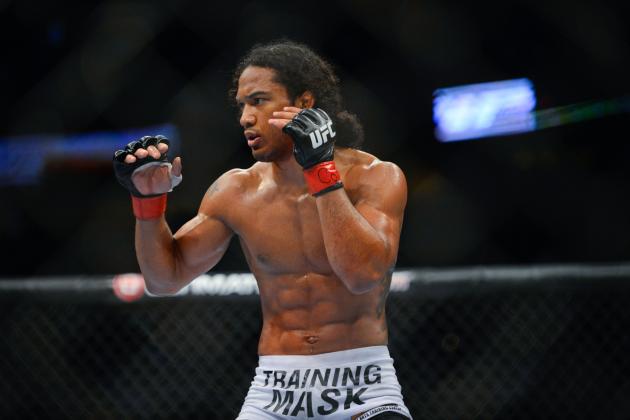 Ron Chenoy-USA TODAY Sports

Aldo's X-Factor: Conditioning
One aspect of Aldo's game that has been criticized has been his conditioning. He has faded in the later rounds in more than one of his title defenses.
That will not cut it against Henderson. If Aldo avoids a late stoppage he will likely not avoid losing the championship rounds on the scorecards. That puts pressure on him to win all three early rounds against a larger opponent.
Henderson's pace and wrestling will factor in to how Aldo's cardio holds up. He should not rely on his takedown defense or his ability to dictate the pace. He needs to come in to this fight able to go a full 25 minutes under a high pace.
Henderson's X-Factor: Keeping Aldo Down
Henderson has the wrestling skill to take Aldo down, but it is keeping him there that is important.
The UFC lightweight champion must make Aldo work early. He needs to slow the blistering speed of Aldo, and keeping him down and making him work back to his feet will do just that.
Aldo is fantastic at working back to his feet, but he has done it against featherweights. Henderson is a huge lightweight with excellent submission defense. He has the confidence in himself to keep up a strong pace and drain his opponents. He'll use that in this fight.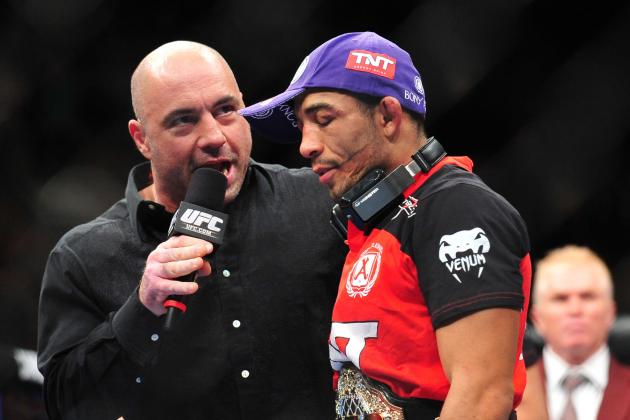 Gary A. Vasquez-USA TODAY Sports

The first two rounds of the fight will be the most important. If Henderson is able to take Aldo down early that would spell trouble for the Brazilian, but if the featherweight champion can utilize his leg kicks to chop down Henderson he could jump out to the early lead.
Frankie Edgar was able to use his speed and striking to find success against Henderson, and Aldo is a quicker and more diverse striker than Edgar.
Henderson is not likely to stop Aldo unless he gets a dominant position late in the fight, but that is a tall order against Aldo.
Aldo will take the first three rounds and have Henderson struggling to come back. Henderson may take the final rounds after Aldo slows, but expect the featherweight champion to win the early rounds and become the UFC's first fighter to hold two titles at the same time.
Prediction: Aldo defeats Henderson by unanimous decision