2013 Minnesota Vikings Mock Draft Bolsters Passing Game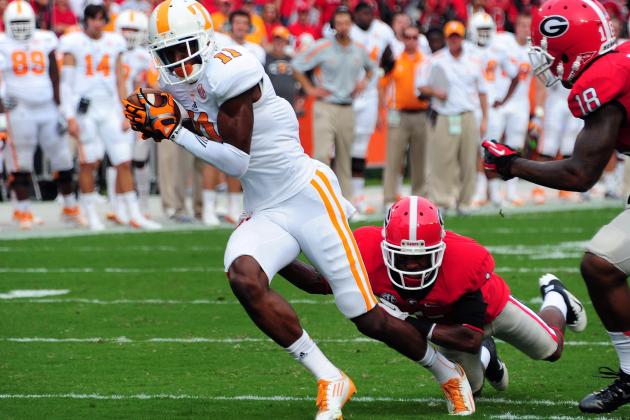 Scott Cunningham/Getty Images

For the Twitter draftnik community, it is indeed the most wonderful time of the year.
We're mocking our socks off on a daily basis, and the fine folks at MockOne.Net are once again dominating the hashtags with their crazy-popular #MockOne series. In a nutshell, each of the 32 teams is represented by a plugged-in Tweeter who is "more than just a fan, but someone who knows their team inside and out and can emulate what their team might do come draft day."
These people range from paid professionals in the scouting community to lowly hacks like myself.
Yes, I was called upon to play Minnesota Vikings GM for #MockTwo—the second mock in the series—in what's become a yearly stint. If you've read my work, you know that I don't expect Percy Harvin back. However, player-for-pick trades are prohibited, so for the purposes of this exercise, Percy is staying put.
I also went into this with the assumption that the Vikings will not get splashy in free agency, but will continue to make low-risk moves (save for the Carlson brain fart) and build through the draft.
Begin Slideshow

»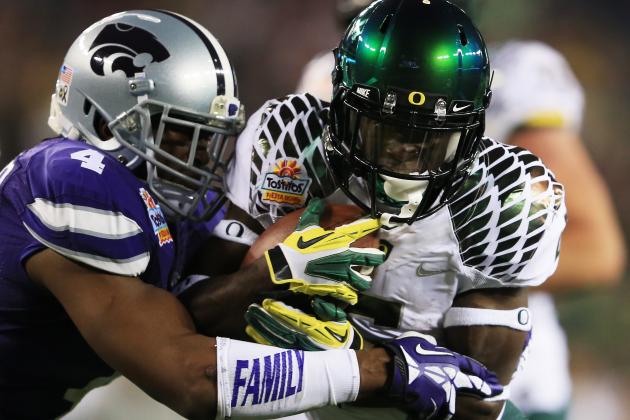 Doug Pensinger/Getty Images

Not a sexy pick, but a stellar pick.
Arthur Brown is the best LB in the draft, and with "Will/Mike" flexibility, he'll be an instant upgrade over either of our subpar UFAs (Erin Henderson and Jasper Brinkley). Smart, instinctive, powerful, tenacious, fast, fluid—he's the total package.
The only knock you'll find on Brown is his size (6'0", 241 lbs. is on the small side for a Mike), but he plays much bigger than that. A three-down backer opposite Greenway, Brown instantly improves both our run and pass defense.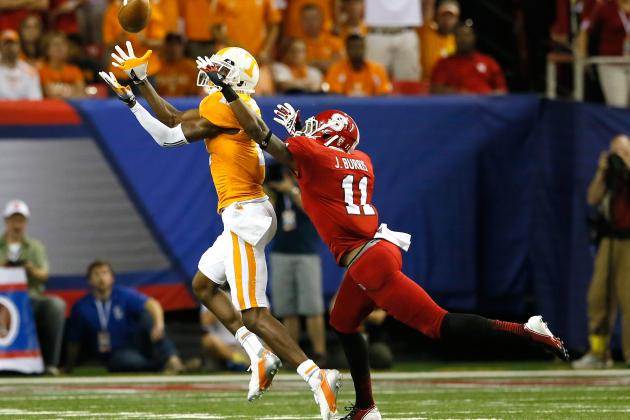 Kevin C. Cox/Getty Images

The Vikings couldn't be more thrilled with the injury discount we received on Hunter, a former blue-chipper who spent last season battling back from an ACL tear.
Hunter began to regain his form late in the season, and his quietly dominant combine performance sealed the deal for us (his 4.44 40 was just .02 behind teammate Cordarrelle Patterson, and he led all WRs with a 39.5" vertical and a 136" broad jump).
His blend of size (6'4", 196 lbs) and speed finally gives Christian Ponder a weapon who can win on the outside.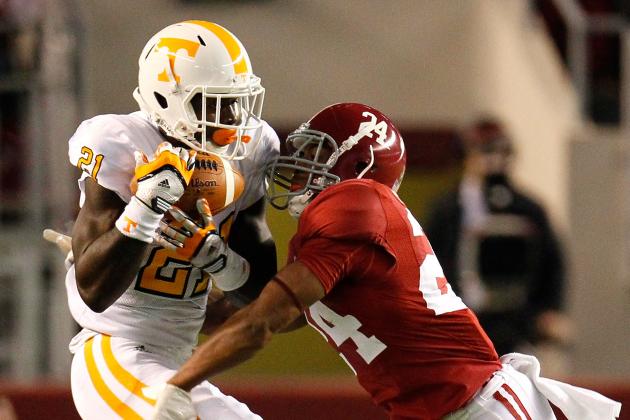 Kevin C. Cox/Getty Images

Vikings acquire pick 2.29 from the New England Patriots for picks 3.21, 4.05 and 6.21.
I'm not messing around—I'm going to fix this thing.
I felt that Da'Rick Rogers was the last player in this WR tier, and when the opportunity to move up for him arose, I jumped. Overnight, the Vikings WR corps goes from talent-deficient to talent-rich, as we've added the massive upsides of ex-teammates Justin Hunter (6'4", 196 lbs) and Rogers (6'2", 217 lbs.) to bookend Percy Harvin in the slot. Where Hunter has drawn Randy Moss stylistic comparisons, Rogers' name has been tied to Terrell Owens.
Big, strong and explosive, the pick also gives us flexibility going forward with Harvin. Like Hunter, Rogers is a physical specimen who comes at a discount—his has a drug history that we're convinced is behind him.
At the combine, he handled the interview portion admirably and then went out and finished top-five among WRs in the vertical, broad jump, 3-cone, short shuttle and 60-yard shuttle.
Remove the red flag and he's Keenan Allen.
Very few secondaries are equipped to match up with this collection of talent, especially when you take into consideration the presence of 6'6", 260-pound human vacuum Kyle Rudolph and the need to load up against MVPeterson.
You're welcome, Christian Ponder.
Andy Lyons/Getty Images

Vikings acquire picks 4.25, 6.25 and 7.26 from the Green Bay Packers for picks 4.23, 7.07 and 7.23.
I had Gratz queued up at 4.23 when multiple trade offers came in. I rolled the dice by moving back two spots and improving from 7.07 to 6.25. Thankfully, it worked out.
Gratz is a sleeper who I've really taken a liking to. He has the requisite size (5'11", 201 lbs.), speed and physicality to play the perimeter in our Cover 2, and his strength (combine-best 22 bench reps) and athleticism were on full display in Indy. A high-character kid with an impressive work ethic, he projects as an immediate contributor and a long-term leader in our secondary.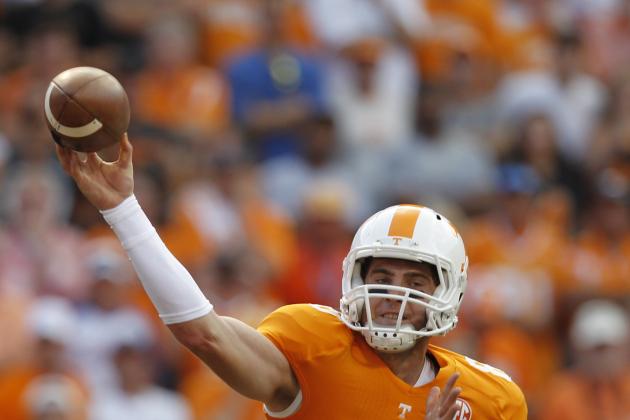 John Sommers II/Getty Images

Vikings acquire pick 5.16 from the St. Louis Rams for picks 5.22 and 7.26.
The highest ranked player left on my board, when Bray continued to slide I essentially gave up a UFDA to ensure that I didn't get jumped by another team looking to cash in on this ridiculous value pick.
Yes, DT remains a need, but I wasn't going to fix all of our holes in one draft.
I've been happy to address other glaring weaknesses with premium talent, and Bray fits that theme—Christian Ponder is merely a borderline starter, and Joe Webb...well...we know everything we need to know about him. We simply have to get better at the most important position in professional sports, and we did just that with Bray.
Blessed with prototypical size (6'6", 210 lbs.) and an absolute rocket, there's not an NFL throw this kid can't make. The consensus in the scouting world is that Bray is the cream of this crop in terms of arm talent. Physically, he's a day-one talent, and frankly, a better prospect than Ponder was coming out.
The rub is that he's pretty rough around the edges. Sloppy mechanics and a gunslinger mentality have led to inconsistency and inaccuracy, and he has a lot of maturing to do as well (the Ryan Mallett comparison is a common one).
Now that we've given Ponder his weapons in Hunter and Rogers, this becomes a critical year for him, and Bray gets a year to grow and develop in the classroom. Bray's ceiling is significantly higher than Ponder's, so if Ponder plateaus, Bray should be ready to reunite with Hunter and Rogers in 2014.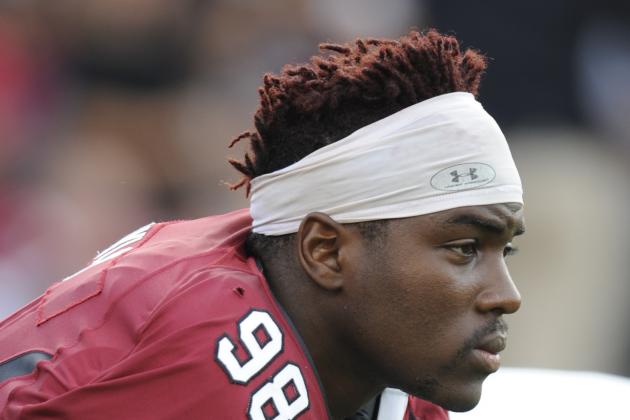 Mary Ann Chastain/Getty Images

Pick via the Packers (see: Dwayne Gratz).
Devin Taylor is an intriguing project pick. We won't be counting on him in 2013, but with Jared Allen, Brian Robison and Everson Griffen all in the final years of their contracts, it's time to start peeking ahead.
At 6'7", 266 pounds, the SEC product has a freakish wingspan (87") that's tailor-made for the Mutombo swat. He also has a great motor. Taylor's technique is very raw, so I can't wait for us to get our hands on this physical specimen. Our coaches have their work cut out for them, but the reward could be big.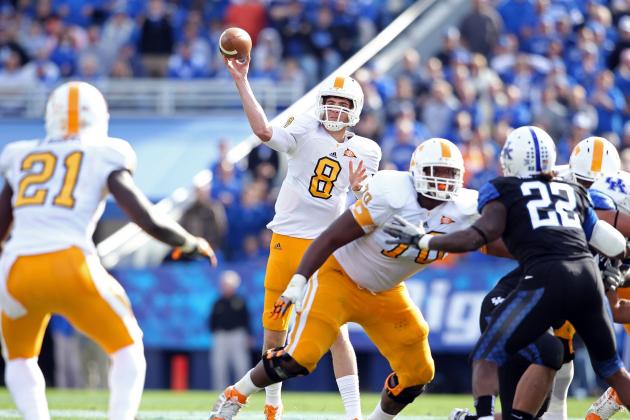 Andy Lyons/Getty Images

The value at DT never seemed to line up when I was on the clock (and I was sniped once as well). However, other glaring weaknesses were addressed aggressively, and in this scenario, DT becomes an easy FA focus.
This draft class provides the Vikings with four immediate contributors (Brown, Hunter, Rogers and Gratz), two of whom should help Ponder take the next step. However, it also sets us up for a potential shift back to a power-running/vertical-passing offense in 2014—without compromising the integrity of the 2013 season—if Frazier/Ponder/Musgrave fizzle out.
Sound off! I want your letter grades!