Why Kobe Bryant and Jerry Buss Will Be Tied Together Forever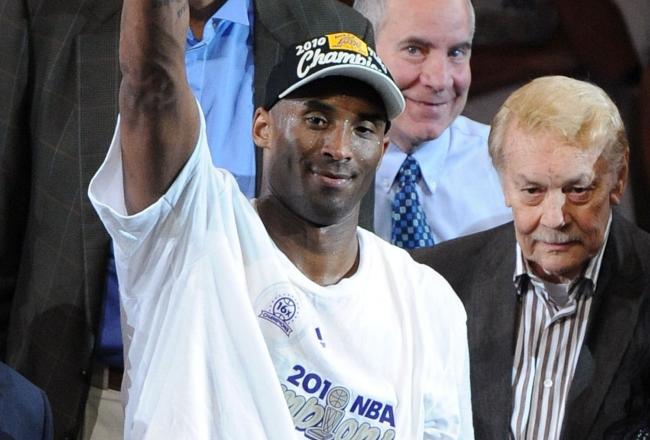 Kobe Bryant and Jerry Buss celebrate NBA title.
Lisa Blumenfeld/Getty Images
Kobe Bryant and Jerry Buss formed a partnership over the last 17 years that will undoubtedly tie them together forever. The pair have seen their fair share of success, but also suffered some setbacks throughout their union.
Back in the spring of 1996, Bryant was an incredibly gifted high school prospect who had declared for the NBA draft. At the time, the idea of acquiring players without collegiate basketball experience was seen as iffy at best.
Kevin Garnett had been drafted straight out of high school the season prior, but the idea of pairing teenagers with grown men was considered risky.
And yet, once Los Angeles Lakers general manager Jerry West saw the skinny Bryant in pre-draft workouts, he immediately fell in love with him. The Lakers acquired Shaquille O'Neal via free agency and then traded up in the draft to acquire the high school sensation with the blessing of the owner.
Buss and West both loved Bryant's skills, as well as his competitive spirit.
When Lakers head coach Del Harris sought for the rookie to earn his playing time, the owner and general manager made requests for the exciting player to participate in games.
I covered this topic in a review of the O'Neal and Bryant dynamic based on the big man's autobiography Shaq Talks Back. Here's a quick snippet of the post:
Kobe Bryant in his rookie season.
Todd Warshaw/Getty Images

Harris was intent on having Kobe Bryant earn his playing time by forcing him to integrate his game with that of teammates and also working hard on defense. While the veterans appreciated the gesture, management offered a different opinion. Jerry Buss and Jerry West wanted for the young prodigy to get some playing time in order to grow and mature as a player.
Bryant's insertion into the lineup created a rift with his teammates. The gifted guard broke plays, made mistakes by attempting spectacular plays and always looked to shoot the ball.
Eventually conflict arose between O'Neal and Bryant. Buss brought the one coach to Los Angeles that could make it all work: Phil Jackson.
Under Jackson's tutelage, O'Neal's Lakers made four trips to the NBA Finals and were victorious in three of those appearances.
The summer of 2004 brought changes in L.A., with O'Neal demanding to be traded. Complicating matters for the Purple and Gold, Bryant was now a free agent.
With an opportunity to leave the franchise and join the Los Angeles Clippers, the superstar guard remained with the one franchise he had called home for the duration of his career.
O'Neal was shipped out of town, and Bryant became the face of the organization. The role came with a heavy price: losses.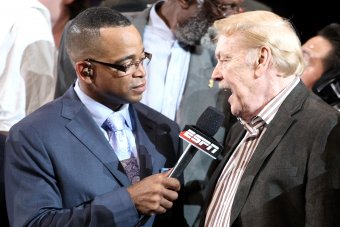 Jerry Buss interviewed after Lakers win 2010 title.
Christian Petersen/Getty Images
Instead of competing for titles, the Lakers were now in the business of battling for postseason appearances. The multiple early-playoff exits eventually came to a head in the summer of 2007, with Bryant requesting to be traded.
He appeared on the radio with Stephen A. Smith and vowed to never play again for the team. The superstar felt as though the franchise had betrayed him in failing to acquire players to help him reclaim the mountaintop.
This sequence of events prompted Buss to sit down with Bryant and outline his plans for a return to prominence once again. With Jerry West no longer part of the franchise, the owner's voice became the lone one the Hall of Fame guard was willing to listen to.
As reported by Adrian Wojnarowski from Yahoo! Sports, the conversation reassured the superstar and he decided to remain with the Lakers as opposed to co-signing on a trade which would ship him out of town. Bryant shared this nugget with Yahoo! Sports:
It hit me that I didn't really want to walk out on Dr. Buss.
A few months later, the Lakers brought in Pau Gasol via trade, and the franchise was back to contending for titles. The Purple and Gold were defeated in the 2008 finals by the Boston Celtics, but rebounded in ensuing seasons to capture back-to-back championships.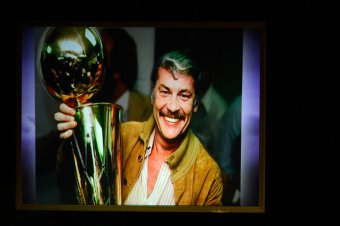 Jerry Buss photo at his memorial service.
Kevork Djansezian/Getty Images
Buss passed away on February 18th, 2013.
Prior to his untimely demise, he witnessed Bryant grow for 17 years. Under his ownership, the Black Mamba became a five-time world champion and the Lakers' all-time leading scorer.
And yet, those aren't his most impressive accomplishments. ESPN.com's J.A. Adande rightfully pointed out the former league MVP is the last great Laker left. Here's an excerpt from his column:
Pat Riley last coached a game at the Forum in 1990. Jerry West has not been responsible for the team's personnel since 2000. Chick Hearn called his final game in 2002 before moving up high, high above the Western sideline. We're coming up on nine years since Shaquille O'Neal last wore a purple jersey. Kareem Abdul-Jabbar is no longer working with the Laker big men. Magic Johnson sold his ownership stake in 2011. And now Jerry Buss, the one constant that tied them all together, has passed away.
Kobe Bryant Memorial Service Speech
Prior to the 2012-13 regular season, Buss successfully managed to insert his star player into situations beneficial for him, as well as for the franchise. And this occurred for the majority of Bryant's 17 seasons in the league.
The history and shared successes between both player and owner formed a bond that few can replicate in professional sports. Bryant gave a terrific speech at Buss' memorial service that exhibited not only how much he respected the late owner, but also how fond he was of him.
The man portrayed as the greatest owner in professional sports built a climate for a young 17-year old to develop into arguably the greatest Laker of them all. And for that, they will always be tied together.
J.M. Poulard is a featured columnist and he can be found on Twitter with the handle name @ShyneIV.
This article is
What is the duplicate article?
Why is this article offensive?
Where is this article plagiarized from?
Why is this article poorly edited?

Los Angeles Lakers: Like this team?