Gareth Bale: Looking at His Most Sensational Goals This Season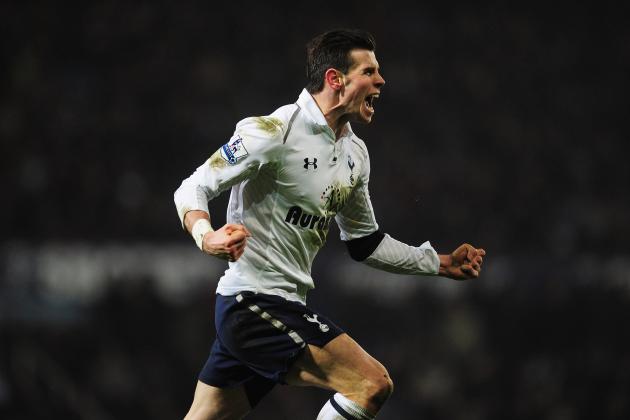 Jamie McDonald/Getty Images

Gareth Bale's form this season has been, in a word, sensational.
Arsenal were the latest team to find out that, no matter what you do, it is impossible to stop the Welshman from scoring at the moment. Any time he picks the ball up in the opposition's half, he is a threat to score.
Only Lionel Messi has matched the six league goals that Bale has scored from outside the box this season. Whether he can keep this up for as long as Messi has is a different question, but Bale is in elite company at the moment.
Because it is so enjoyable to watch a player as electric as he is do his magic, let's take a look at some of Bale's most sensational strikes this season.
Begin Slideshow

»
Take a look at the first two goals Bale scores in this video. Notice anything similar? These free-kicks were not only scored this season, which would be an accomplishment in itself.
They were scored in the same game.
And they were the two goals that won Spurs their first-leg Europa League game against Lyon.
The dip, swerve and pace that Bale gets on these knuckle-balling bullets reminds one of a left-footed Cristiano Ronaldo. No other left-footer in the world would be able to make a ball do this on a consistent basis, let alone twice in a single match.
Gareth Bale's left foot is capable of doing some magical things with a football, but one of the best goals he's scored this season actually came off his supposedly weaker leg.
Against Manchester United, who don't exactly have a leaky defense, Bale sprints through the heart of the back line using his trademark gazelle-like pace, outstripping the experienced Rio Ferdinand with ease.
All he had left to do was finish with his weaker foot, against his body, at full sprint, against one of the best goalkeepers in the world at pure reflex saves.
And he made it look easy.
This is when the recent phenomenon of the Welsh wizard began to really take off, and justifiably so.
The nonchalance with which Bale twists his hips and unleashes a missile past Jussi Jaaskelainen, who had been fantastic all night, is really striking.
After a hard tackle took him down (rather easily, it must be said), Bale stayed on the ground for a couple seconds, allowed West Ham's defense to forget about him and thus ensured a pocket of space when Moussa Dembele passed him the ball.
What happened next is just pure skill. To take a touch, look up and fire an unstoppable shot into the top corner is something few in the world can do. To do that in the 90th minute of a tied game is something rather more extraordinary.
Wales is extremely lucky to be able to call upon the services of one of the most talented and dynamic attackers in the world whenever a big game looms. And Bale's services were needed in a massive World Cup qualifying match against Scotland.
He won and converted a penalty to equalize, but that's not what gets Bale recognition anymore. What he did to win it for the Welsh was something truly extraordinary.
It was like a better, even more difficult version of the goal he scored against Manchester United. Again Bale sprinted past a defender outside the penalty box, and again he decided to shoot against his body while running at full speed.
He used his left foot here, but to be able to get that much power on a shot and place it right in the top corner is incredible.