Pitfalls the Dallas Cowboys Must Avoid in Free Agency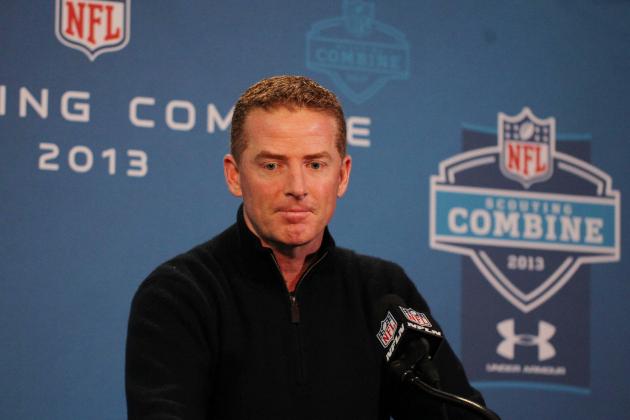 Brian Spurlock-USA TODAY Sports

With the NFL Scouting Combine now in the rearview mirror, it's time for the Cowboys to get down to the first order of business—free agency. The Cowboys have been busy restructuring a few contracts in order to comply with the parameters of the salary cap, and they even used the franchise tag on Anthony Spencer.
So with Jerry and Stephen Jones busy pushing paper in advance of the March 12 kickoff to free agency, it's time to start analyzing what the Cowboys should not do. With so much riding on the 2013 season, every move must be made with tactful and strategic planning.
Every personnel move, every dollar spent and every resource expended carry implications that will be felt in the standings and in Jones' wallet. Jones wanted to generate a feeling of uncomfortableness within the organization, and he did that within the coaching staff but what about the roster?
So as free agency knocks at the door, it represents the first chance the Cowboys have at getting better. Hopefully, they can avoid the pitfalls that come with the territory. Let's review.
Begin Slideshow

»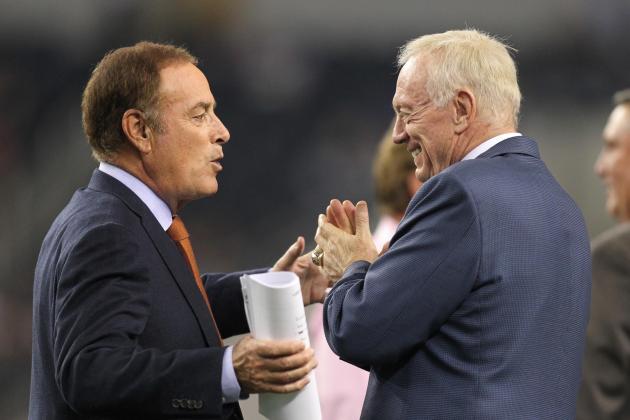 USA TODAY Sports

I don't see this as a potential issue, but you never know with Jerry Jones. Of course, limited cap space certainly puts a cramp in Jerry's style, but a leopard never changes his spots. Creating the wow factor is something that Jones can always pull out of his deck for many reasons.
First, it gives the illusion that he means business, he's tired of losing and willing to do whatever it takes, and spending big money is the way to the fans' hearts. Second, Jones is attracted to star quality, and he can't help himself.
Lastly, making a splash provides Jones with the opportunity to say that there is no salary cap obstacle he can't overcome, and he can operate without restrictions.
The Cowboys do not need to adopt this philosophy as it simply does not work. The Baltimore Ravens biggest acquisition last season turned out to have the greatest impact, even though the player is not headline-grabbing. Anyone watch Jacoby Jones in the Dallas game? The Super Bowl?
Resist temptation, Jerry.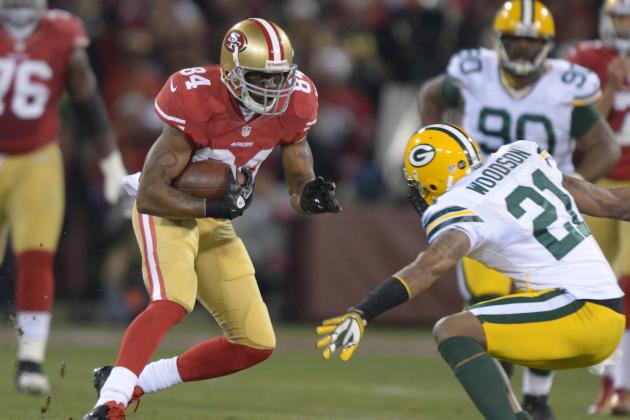 Kirby Lee-USA TODAY Sports

The ink wasn't even dry on Charles Woodson's walking papers, and I read three articles on how he's a perfect fit for the Cowboys. Let me understand this: a team coming off two consecutive 8-8 seasons with a slew of questions, a coach on the hot seat, a new defensive scheme and a suffering fanbase needs Woodson for one year?
Whether it be a 36-year-old safety or any other veteran free agent over the age of 32, the Cowboys need to realize that this is a young man's game. If this team was coming off a deep playoff run, they had a pair of young safeties who stayed healthy and produced results, the circumstances would be more suitable to bringing Woodson aboard.
Going the veteran route does work in a lot of circumstances and in the right situations, but not without having a foundation in place. Other veterans such as Osi Umenyiora, Michael Turner and Dwight Freeny are intriguing, but all are short-term solutions.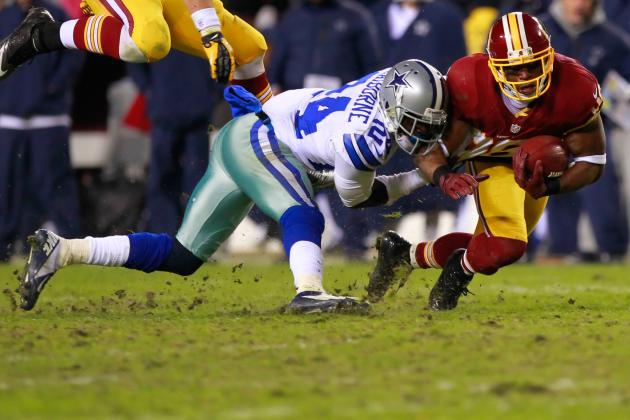 Geoff Burke-USA TODAY Sports

If the Cowboys are going to utilize free agency correctly, even on a shoestring budget, then they must take the proper lengths to adequately fill needs. By doing this, they can then properly maintain their best available-player approach in the draft.
In 2013, this would mean looking at veteran safeties, defensive linemen, offensive linemen and possibly linebackers. The Cowboys will also have to accomplish this by not targeting top-tier free agents as much and looking to the middle-tier players more.
This goes back to the evaluation process and the pro personnel department. In 2012, the Cowboys elected to sign Mackenzy Bernadeau rather than spend big money on Carl Nicks—a consensus favorite among the fans. Signing Nicks would come at the expense of Brandon Carr, and the secondary was a much bigger issue at the time.
In hindsight, the Cowboys are almost right where they were last year in terms of the development of the offensive line.
But identifying Bernadeau is a prime example of being able to evaluate and project how a younger veteran might fit in on a team. The Cowboys need to take the same approach in 2013, as they look to fill needs with limited resources in order to maximize their draft.
The season could depend on it.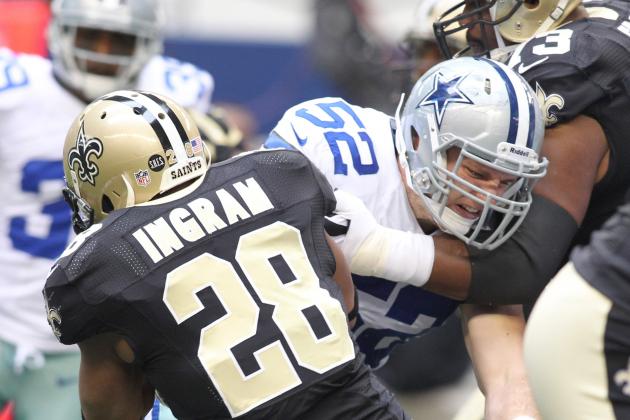 USA TODAY Sports

The Cowboys are notorious for hanging onto unproductive players for way too long. I don't know if it's being loyal to a fault or just being incompetent, but the faster the Cowboys can make determinations on their own players, the more efficiently they can operate in free agency.
There are numerous examples of this throughout the roster and none more glaring than tackle Doug Free. The Cowboys are in a position to save some major money by showing him the door. They can't be afraid to pull the trigger on a mediocre player.
Another example is Jay Ratliff—probably for more non-football reasons. His arrest for DWI months after the tragic accident surrounding Josh Brent is completely ridiculous in nature and an embarrassment to the organization. Combine that with a dreadful season of injury and ineffectiveness and the decision should be an easy one.
How about Orlando Scandrick? Marcus Spears? Lawrence Vickers? Dan Connor?
Conversely, the recent departure of safety Gerald Sensabaugh is a clear indicator of how much the Cowboys thought of his play. If it was good enough, he would probably still be around, right?
It's time to look in the mirror and ask some hard questions regarding the current roster composition. The goal should always be about getting better, improving and ultimately winning, but sometimes, it's hard to see the correlation to ownership's view.
Ultimately, better and faster decisions can lead to more ideal results.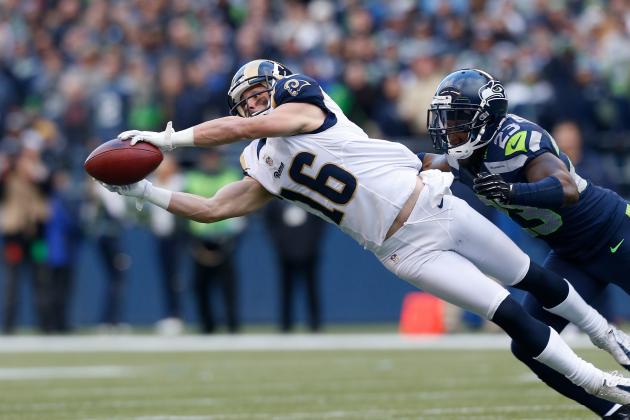 Otto Greule Jr/Getty Images

This probably isn't the year that Jerry Jones will send his private jet to whisk a free agent away to Dallas. But it doesn't mean that Jones and the powers that be should ignore market conditions and the opportunity to strike if it presents itself.
Sometimes, the most unlikely scenario could turn into an imminent reality. The Cowboys almost landed Nnamdi Asomugha a few years back, so anything is possible. But let's focus on 2013 and the task at hand regarding a few free agents.
Right now, it's hard to gauge the market on players such as Reggie Bush, Ahmad Bradshaw, Steven Jackson, Danny Amendola, Julian Edelman, Brandon Myers, Jermon Bushrod, Donald Thomas, Chris Canty, Kenny Phillips and Patrick Chung.
But while any one of those players could be an ideal fit for the Cowboys, they need to follow the market and not be passive if opportunity knocks. Some of these players and their agents will shoot for deals that are unrealistic and will leave them deep in the free-agency period without a deal.
That's where the market dictates the player's worth, and opportunity presents itself for the Cowboys. It's up to them to recognize it.