LA Lakers vs. New Orleans Hornets: Postgame Grades and Analysis for LA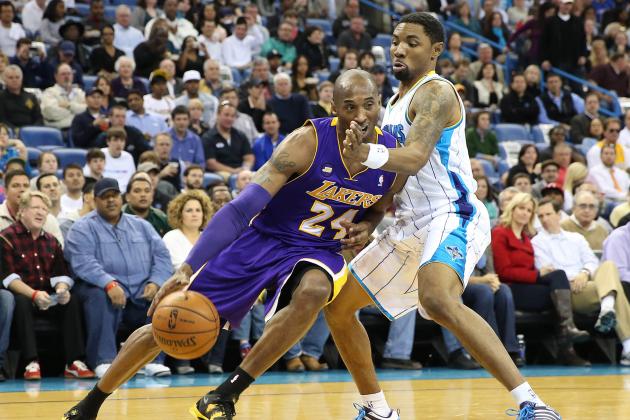 Crystal LoGiudice-USA TODAY Sports

Well, this one certainly wasn't pretty.
The Los Angeles Lakers overcame an 18-point deficit leading into the fourth quarter to beat the New Orleans Hornets, 108-102.
Though the Lakers spent much of the game trailing by 20 or more points (19 at halftime), they never hit the panic button or appeared lethargic. Or at least Kobe Bryant and Dwight Howard didn't.
Howard persevered through game-long foul trouble, and Kobe continued to power through pain to lead Los Angeles to a much-needed victory.
Bryant and Co. were far from consistent (especially on defense), but they outscored New Orleans 33-9 in the fourth to move within 1.5 games of the Western Conference playoff spot.
Fresh off a disheartening loss to the Oklahoma City Thunder, that's what matters most.
Begin Slideshow

»
Grade: C+
I hate writing anything remotely critical of Steve Nash. He's such a nice guy and one of the most selflessly consistent players in the game. He just couldn't get it going against the Hornets, however,
Along with Steve Blake, Nash struggled to keep Austin Rivers, among others, outside of the paint early on. With that said, he wasn't horrific on the defensive end. He was actually one of the Lakers' most consistent rotators.
Offensively, though, Nash disappointed. He posted five points on 2-of-7 shooting and finished with just one assist.
A certain degree of Nash's tapered offensive numbers are the direct result of the Lakers milking Kobe for everything he had. New Orleans' defense also did a nice job covering him and preventing him from getting too many open looks; he attempted just one three-pointer.
It was also unlike Nash to take some low-percentage shots like he did in the second quarter. With the Hornets locking him up and cutting off his passing and penetration range, he took a few contested mid-range shots. More likely than not, this was just him trying to shoulder some of the burden Bryant was carrying.
This wasn't one of Nash's better performances, but he didn't do anything to hurt the Lakers either. Chiding him too much would be futile.
Let's commend the Hornets on a defensive job well done instead. On Nash specifically, not their fourth-quarter implosion.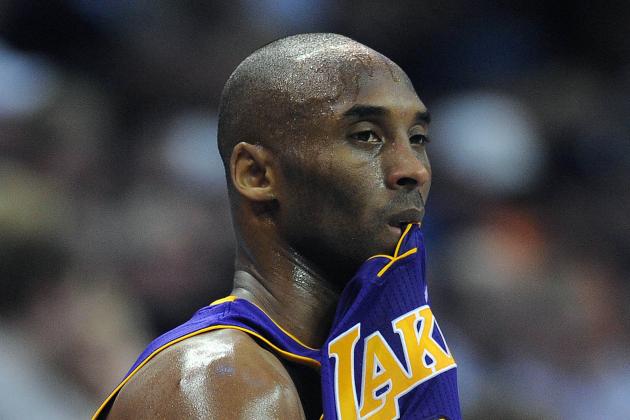 Mark D. Smith-USA TODAY Sports

Grade: A+
Is it just me, or does Bryant play better when he's hurt?
Nursing an ailing contusion, Bryant carried the Lakers throughout. He shot 14-of-21 from the floor for 42 points, dropped 12 dimes and finished three rebounds shy of a triple-double (seven).
Some would have hesitated to give him an "A+," what with him playing subpar defense through the first three quarters and committing six turnovers. If anything, though, Kobe's only fault was trying to do too much.
He could be found attempting to force the action on offense, both as a playmaker and scorer, when his teammates just weren't helping out. It also didn't help that with Dwight Howard on the bench to finish the second half, New Orleans' defense was able to zero in on him.
Looking at his defensive performance, Bryant looked absolutely exhausted from his offensive escapades. He was dripping sweat and just wasn't quick enough when defending on the ball.
Given what he did for the Lakers in the fourth quarter on offense, and quite frankly, the rest of the game, I fault Kobe for nothing in this one.
Instead, I attribute this victory to him.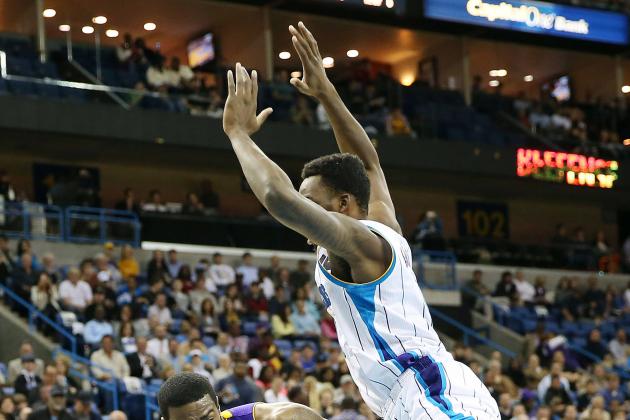 Crystal LoGiudice-USA TODAY Sports

Grade: B-
Truth be told, Earl Clark didn't have a great game when looking at the box score.
He scored just five points, missed all of his field goals, snagged just two rebounds and committed a couple of head-scratching turnovers.
At the same time, however, Clark also played some nice defense that could only be seen by the naked eye and wouldn't be represented within his stat line.
He did force one steal, but his real value came as a "floater." With Dwight Howard on the bench with three fouls in the second quarter, he acted as the NBA's version of a free safety, providing help wherever it was needed.
Clark (like nearly ever single Laker in this one) struggled on some of his rotations and was torched a few times from the outside, but he played tough, physical defense for a majority of the game.
His absence down the stretch was notable, though. For a while he was one of the most frequently used members of a thin supporting cast. I can't help but wonder if his offensive confidence is shaken by suddenly inconsistent minutes.
It will definitely be interesting to see how Mike D'Antoni uses him for the stretch run.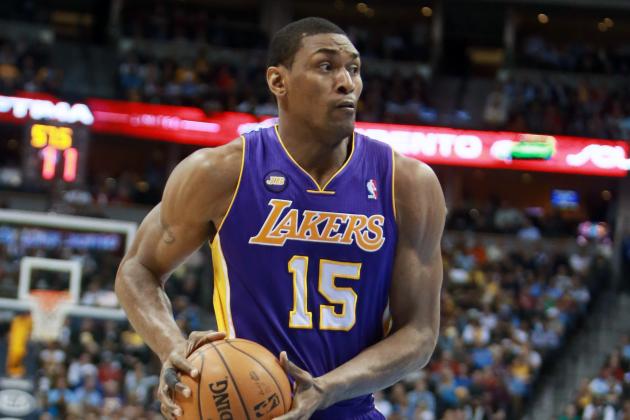 Chris Humphreys-USA TODAY Sports

Grade: B
Somewhat shockingly, Metta set the tone with his offense. He was lights out from three-point range (3-of-5) and moved the ball better than others.
Admittedly, World Peace's defense wasn't the greatest. At all. He struggled to defend off the dribble and was burned on a couple of rotations. He's normally Dwight Howard's most reliable complement on that end, so his shortcomings contributed to Los Angeles getting in a deep hole.
Those five fouls of his were slightly unnerving as well. If he was acting as an enforce then great, but they were mostly the result of poor footwork and unnecessary attempts at steals or blocks. Not grabbing a rebound is out of character as well.
Metta did help force some turnovers he wasn't credited for and he came up with two steals of his own, so there's that.
I was slightly generous in my grade, however, because (specifically in the third quarter) he seemed to be the only one knocking down shots (save for Kobe Bryant).
Without his three-point prowess, the Lakers would have found themselves down by more than 18 going into the fourth, which would have ultimately put them out of striking distance.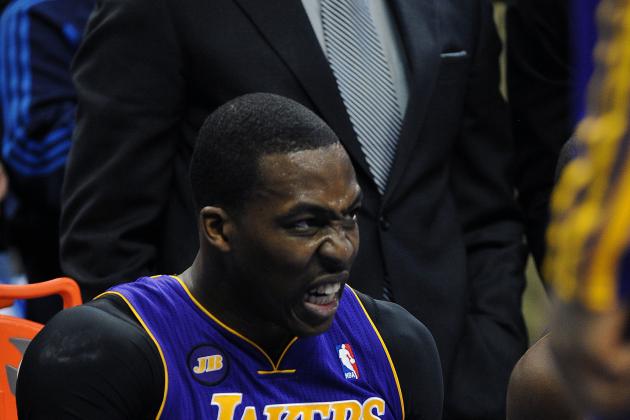 Mark D. Smith-USA TODAY Sports

Grade: A
I considered adding a "minus" to Dwight Howard's grade because of those three early fouls and even the fourth he picked up in the third quarter, but then I came to my senses.
If you're like me, you were wondering why those third and fourth fouls were called at all. The fourth especially. I don't even think he grazed Anthony Davis.
Howard overcame his foul trouble to put forth a dominant performance on both ends of the floor, though.
He dropped 20 points on 9-of-16 shooting from the field, brought down 15 rebounds (three offensive), forced three steals and blocked four (yes, four) shots. He even hit 50 percent of his free throws (2-of-4), and as sad as it sounds, that's a plus.
Now, if only he could get his teammates to rotate on defense consistently...
More impressive than his stats, however, was the way he was navigating the floor. We're seeing more of the mobile and explosive Howard we've come to love. That back of his must definitely be getting better, which is great news for the Lakers.
And crippling news for the rest of the league. Just ask the Hornets.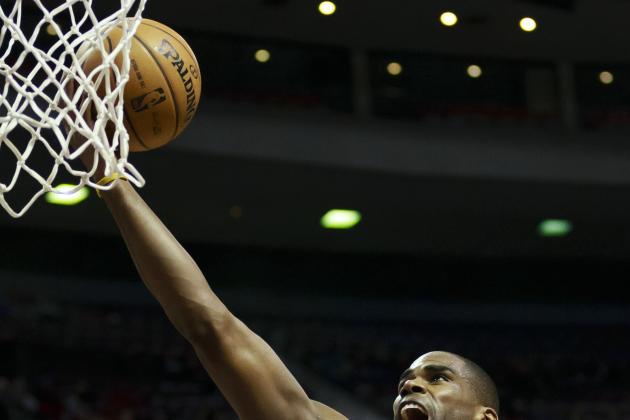 Rick Osentoski-USA TODAY Sports

Grade: B-
Antawn Jamison provided some solid minutes, but the Lakers needed more from him.
I was actually impressed with some of Jamison's defensive sets in the first half. He forced Ryan Anderson to pass the ball off a number of times.
He eventually regressed to his normal unreliable self, though, struggling to rotate and read switches off pick-and-rolls in the second half.
Jamison did shoot 3-of-6 from the field, but the six shots isn't enough, and he scored just six points. You would like to have seen that number rise, considering how many missed shots he had off drive-and-kicks courtesy of Kobe Bryant.
Still, 'Tawn helped space the floor, and while he attempted just six shots, he wasn't forcing the action. That's good enough for me.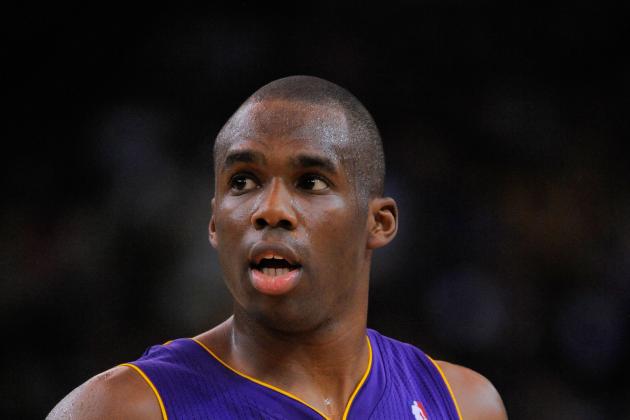 USA TODAY Sports

Grade: B
Holy Jodie Meeks.
Usually, there's really not much I can say about Los Angeles' bench. Or rather, there's not much I want to say. But color this an unusual occasion
Robert Sacre still looks unsure of himself every time he catches the ball, though he did move his feet nicely on defense. Outside of him, though, Los Angeles' bench fared quite nicely.
Meeks is still an enigma wrapped in another series of puzzles as well. He's such a deadly shooter, but he too failed to capitalize off some nice dishes from Kobe Bryant and Steve Nash.
That said, he wound up pitching 19 points on an impressive 6-of-11 shooting (5-of-9 from deep). His defense was also adequate. He did a nice job of keeping New Orleans' primary penetrators outside of the paint, save for a few lapses.
With regard to Blake, I've passed agitation and begun to pity him. He just looks overmatched on every on defensive possession, to the point where Dwight Howard must cringe.
Credit him with dishing out seven assists, grabbing four rebounds and forcing two steals, though. Despite missing all of his shots, he hung tough.
Like the rest of the team, the bench's collective faring wasn't pretty, but it got the job done.
For the Lakers to defy the odds, make the playoffs and then put up an admirable performance throughout, they're going to need their bench to string together more gritty displays like this.