Kentucky Basketball: 5 Keys to Beating Florida in SEC Battle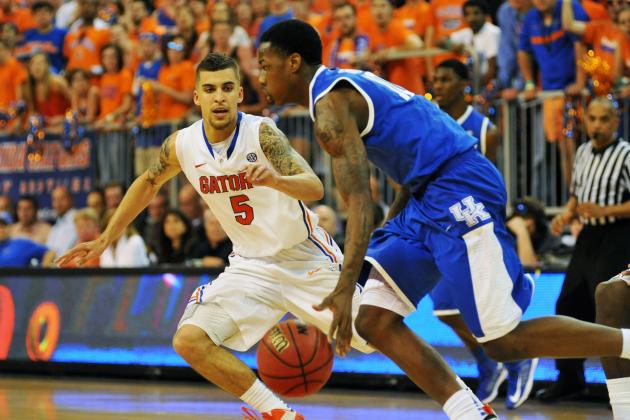 Al Messerschmidt/Getty Images

Kentucky basketball's up-and-down regular season comes to an end on Saturday in Rupp Arena against SEC rival Florida.
The showdown in Lexington very well could mean more to the Wildcats than sending Julius Mays off with a win on Senior Day. With Kentucky squarely on the dreaded bubble for the NCAA tournament, a win over Florida could help guarantee the Wildcats a spot for March Madness.
The Gators dominated Kentucky 69-52 in Gainesville back in February, which Kentucky fans remember more as the game where they lost Nerlens Noel to a torn ACL.
For as strong as Florida has looked this year, it has struggled on the road just as much. Read on to see five ways the Wildcats can take advantage of this to come away with the upset in Rupp Arena.
Begin Slideshow

»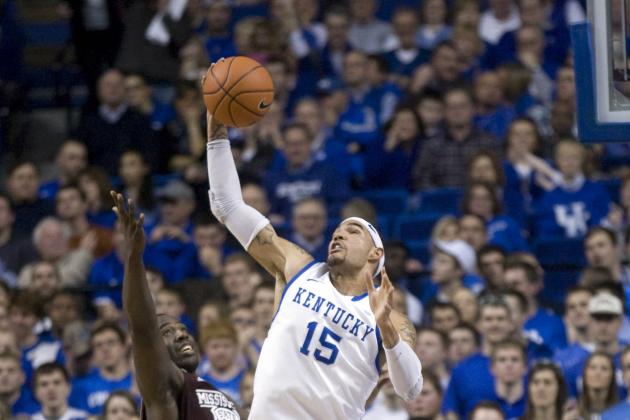 Mark Zerof-USA TODAY Sports

If Kentucky wants any chance to pull off the upset against Florida, it can't have a repeat of the Arkansas game.
Against the Razorbacks, Kentucky gave up 19 offensive rebounds. Twelve of those rebounds went to Marshall Powell and Coty Clarke, who both stand at 6'7".
Florida's frontline should pose a much bigger threat with Patric Young, Erik Murphy and Casey Prather. Young is 6'9", Murphy is 6'10" and Prather is a very athletic 6'6". They have combined for 142 offensive rebounds this year, with Young leading the way at 76.
The Gators have no problem when it comes to scoring with its deep threats in Mike Rosario and Kenny Boynton. However, giving Florida a second chance at hitting that three-ball makes it extra dangerous.
Obviously, my point is that Kentucky can't give up one offensive rebound to a very talented rebounding team. Simple enough to do.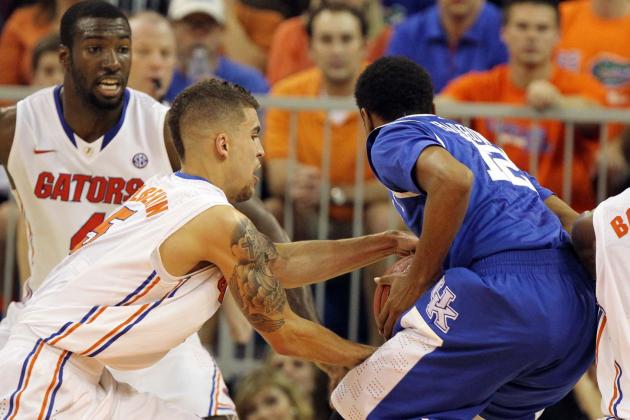 Kim Klement-USA TODAY Sports

Ryan Harrow doesn't need to outplay Scottie Wilbekin in order for Kentucky to win. He just needs to play him to a draw.
This isn't the most important matchup in the game, but it might be the most interesting. Wilbekin has had a breakout season, averaging more than nine points and five rebounds per game. Meanwhile, Harrow is averaging more than 10 points and three assists this season.
While both players are putting up similar numbers, Harrow means more to his team than Wilbekin. If Wilbekin isn't playing well or is in foul trouble, Florida can simply rotate Boynton or Rosario to the point position, while Kentucky has to rely on former walk-on Jarrod Polson.
In their previous matchup, Wilbekin had 14 points and eight assists, while Harrow didn't score and had just one assist.
If Harrow can duplicate Wilbekin's output this time around, it allows for Kentucky to exploit another mismatch, whether it's Alex Poythress or Archie Goodwin.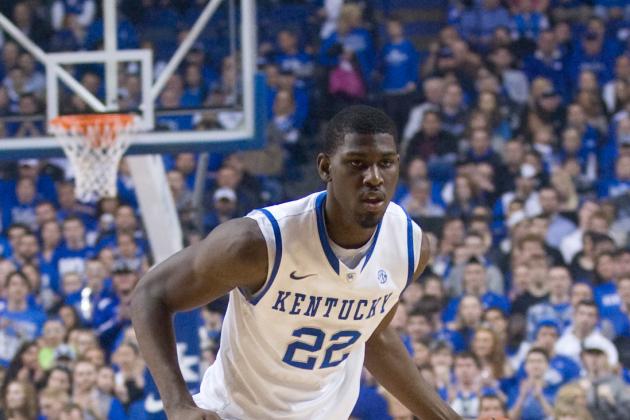 Mark Zerof-USA TODAY Sports

To be more specific, Alex Poythress needs to take advantage of the mismatch. To start the game, Poythress will most likely be lined up in the 4-spot against Erik Murphy.
While Murphy has two inches on Poythress, the Kentucky freshman is quicker both with and without the ball and can guard Murphy inside and out. Offensively, Poythress has the ability to beat Murphy off the dribble from the perimeter and finish at the rim.
However, the major mismatch comes on a substitution. If Kentucky brings in Kyle Wiltjer for either Ryan Harrow, Julius Mays or Archie Goodwin, it slides Poythress to the 3. More importantly, it forces Florida coach Billy Donovan to make a decision. Either have one of his smaller guards in Rosario, Boynton or Wilbekin guard Poythress or bring in Casey Prather for one of his guards.
Either way that should be a win for Kentucky. Poythress has the quickness to stay with Rosario defensively, allowing Wiltjer to play outside.
If this happens, Kentucky absolutely must run its offense through Poythress in the post with Wiltjer and Mays on the outside, similar to the triangle offense.
This also requires Poythress to play like he did against Duke or Missouri, when he looked like the best player on the court for most of those two games. He needs to crash the boards while playing sound defense. This is the most important matchup if Kentucky wants to win.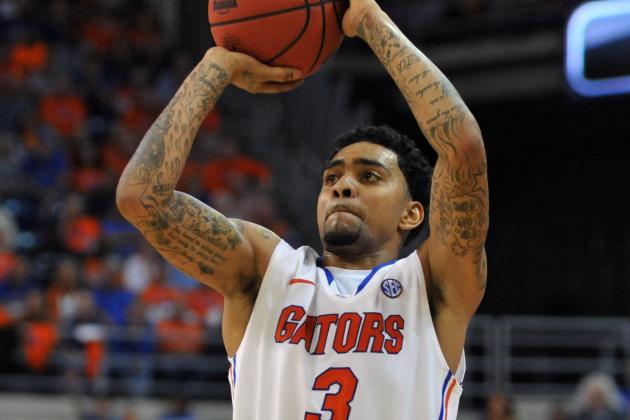 Al Messerschmidt/Getty Images

Florida is going to shoot a ton of shots from behind the arc.
It's who the Gators are. They average 22 attempts a game while connecting on more than eight of them. By playing three guards and an outside shooter in Erik Murphy, the Gators' No. 1 threat is the deep ball.
Kentucky must be able to stop the Gators from getting clean looks.
Florida will run high ball screens with Murphy to get an open look for one of its four shooters or let Scottie Wilbekin drive and dish to one of the three other shooters while Patric Young works the post by himself.
The Wildcats need to do a good job of hedging the ball screen by Murphy, not allowing Boynton or Rosario to pull up off the dribble for an open look. At the same time, Wiltjer or Poythress, who will most likely be guarding Murphy, needs to recover from their help so Murphy isn't open either.
The other key will be solid post defense by Willie Cauley-Stein. The freshman has the ability to play Young in the post by himself, but can't get into foul trouble early. With him in the game, the Wildcats can cheat on the Florida shooters and make the game be played inside.
Kentucky must be ready to play defense the moment the ball crosses half court as Florida can and will shoot from anywhere on the floor.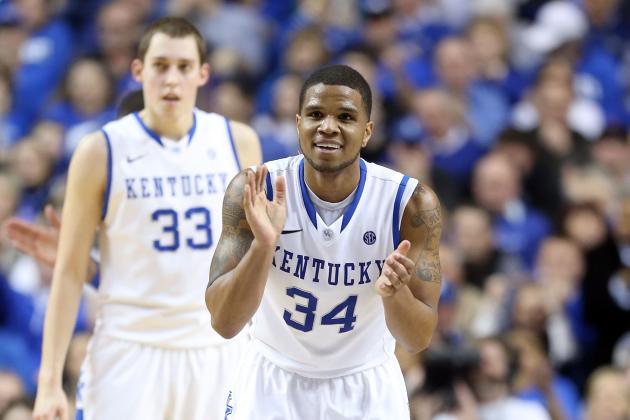 Andy Lyons/Getty Images

Sure, Julius Mays has only played at Kentucky for a year.
But he's become the big brother of this team. Commonly known as Uncle Julius by the fans at Rupp Arena, Mays will be celebrating Senior Day on Saturday against Florida.
If there's one person this season who has embraced putting on the Kentucky jersey, it has been Mays. He hasn't backed down one time during this season and is constantly putting his heart out on the floor.
The Wildcats need to take the emotion from Senior Day and transfer it to the court when they take it against the Gators. For Mays, he needs to settle the emotions once the ball is tipped and play the game under control.
It will be the rest of his teammates that need to come out with fire to help send Mays off with a win in Rupp Arena. Archie Goodwin, who has been called Mays' little brother, will be the most important in playing under control.
When Goodwin plays at a good pace and isn't forcing plays, he is one of the best players in the conference. At 6'5", he can get into the lane almost whenever he wants and finish with power. However, it's when he is pressing that the charge calls and turnovers come into play.
If Goodwin can harness the emotion by Mays, Kentucky will win.