Houston Rockets vs. Dallas Mavericks: Postgame Grades and Analysis for Houston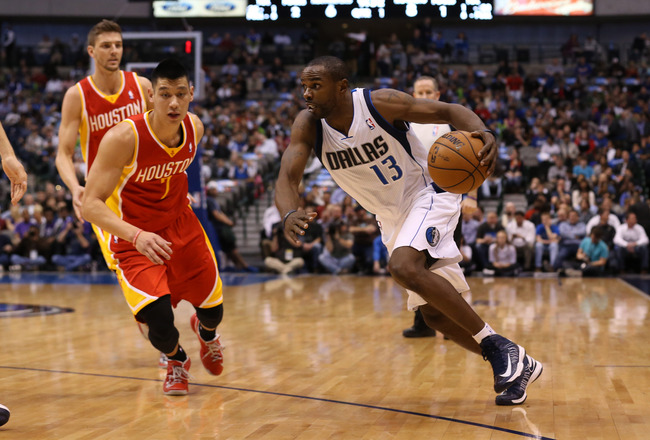 USA TODAY Sports
After the Utah Jazz squandered an eight-point lead in the final three minutes of their game with the Cleveland Cavaliers, the Houston Rockets had a chance to build a little breathing room for the seventh seed in the Western Conference.
And they certainly seemed in great shape to do just that.
The Dallas Mavericks limped into the contest losers in four of their last five games, including an unnerving 136-103 blowout at the hands of these very same Rockets on Sunday night.
The Rockets, meanwhile, headed to Dallas with a 4-2 mark since the All-Star break. The typically road-weary team was searching for its 14th road win in 33 tries, although it had won three of its past five road games.
Dallas looked like the hungrier team early on, sprinting out to a 34-25 lead after the first quarter. Shawn Marion led the charge with 12 points, as the Mavericks outshot the Rockets 71 to 39 percent in the first 12 minutes.
But Houston's perimeter shots started falling in the second quarter, and a 31-26 edge in that period left the Rockets with just a four-point halftime deficit, after Jeremy Lin's buzzer-beating three to close out the second quarter was waived off due to video review. James Harden had 14 points and Chandler Parsons added 13 before intermission, but the duo needed 21 first-half field-goal attempts to hit those marks.
A back-and-forth third quarter set the stage for an exciting fourth quarter, with the Mavericks clinging to an 87-83 lead after 36 minutes. Although the Rockets battled back for a brief lead on a James Harden three-pointer with less than four minutes to play, they just couldn't find enough answers down the stretch.
The Mavericks scored 10 of the game's final 14 points en route to a 112-108 victory. The loss dropped the Rockets to 33-29 on the year, while the Mavericks improved to 27-33.
Let's take a look at how Houston graded out in this thrilling, but disappointing game.
Point Guard: Jeremy Lin
While Jeremy Lin didn't have a terrible night by any stretch (12 points, 5-of-10 from the floor), his inability to consistently impact the game saw him spend the game's fourth quarter on the sidelines.
Offensively, he gave the Mavericks fits when he was able to beat his man off the bounce. His relentless drives led to some easy buckets for him and created some good scoring chances for his teammates.
But with James Harden dominating the ball down the stretch, Houston coach Kevin McHale opted to ride with defensive stopper Patrick Beverley over Lin. Considering Lin's quiet night from the floor, it wasn't a decision that will spur much second guessing.
Lin was making the right decisions on defense (closing off Dallas' driving lanes and forcing his opponents to take deep shots), but when he was challenged, he struggled to keep pace with the speedy Darren Collison.
Grade: B-
Shooting Guard: James Harden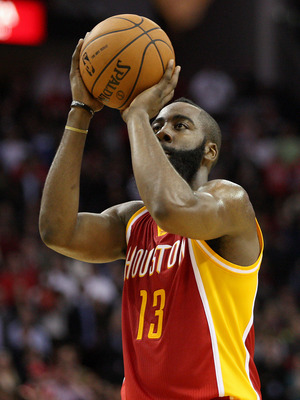 Troy Taormina-USA TODAY Sports
With the lanky Shawn Marion harassing him all night, James Harden struggled to find any rhythm from the field.
Still, it wasn't hard to tell who gave Houston the best scoring opportunities.
With his jump shot out of rhythm (5-of-17 from the field, 2-of-7 from deep), he made a determined effort to get to the free-throw line, where he converted all 16 of his attempts. With his ability to change speed and direction, he kept Dallas defenders off balance and reaching.
He also deserves some credit for protecting the basketball while operating in tight spaces. He was decisive with his dribble drives, forcing his way to the foul line or punishing the Mavericks with on-target feeds when given too much defensive attention.
Although he kept O.J. Mayo's scoring largely in check (Mayo did have seven of his 13 points in the game's final five minutes), he put his teammates in bad spots when beaten on the perimeter. Harden had a strong night setting the table, but Mayo's masterful decision making led the Dallas guard to a near perfect night (12 assists, zero turnovers).
Grade: B+
Small Forward: Chandler Parsons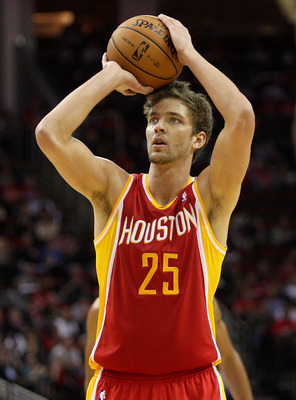 Troy Taormina-USA TODAY Sports
OK, so it wasn't quite the equal of Chandler Parsons' brilliant effort the last time these teams squared off (32 points, 12-of-13 from the field on Sunday).
But he shot the ball with the same amount of confidence and still buried five of his eight three-point shots. When given an opening on offense, he took it and usually found success in doing so (23 points, 8-of-15 from the field).
While his floor game was far from his typical stat-sheet-stuffing efforts (four boards and one dime in a game-high 42-plus minutes), he looked a little gassed at times on the offensive end.
And for good reason. Defensively, he faced a tall task. Literally. Coach Kevin McHale took an old page out of the slowing down Dirk Nowitzki book, using the smaller, more athletic Parsons to crowd the veteran.
Nowitzki still shot his way to 22 points (on 16 field-goal attempts), but Parsons made him work for all of them.
Grade: A-
Power Forward: Donatas Motiejunas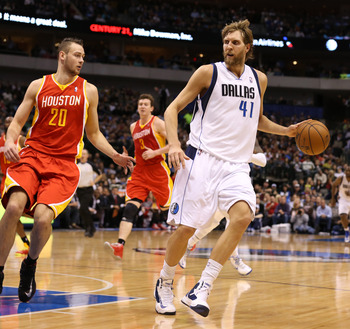 USA TODAY Sports
With Patrick Patterson and Marcus Morris both sent packing at the trade deadline, McHale has been forced to find his reliable power forward on the fly.
Donatas Motiejunas looks like his early choice, earning the fourth start of his NBA career Wednesday night. McHale's decision looked valid, too, as the seven-footer was the most active player on the floor for his 16 minutes.
But just being active and actually being productive are two very different things. With just one rebound to show for his 16 minutes of work, the big man needed to find other ways to affect the game to stay on the floor.
And he just couldn't find them. He got far too shot-happy for his own good (0-of-4 from deep), throwing up threes like bad fish. Perhaps spurred by a desire to ramp up the tempo, McHale opted for a small-ball lineup that left Motiejunas an observer for the game's final 18 minutes.
When he made an effort to find touches in the paint, he showed glimpses of some fancy footwork and a soft touch on his hook shots. He also moved well without the ball, even though his ventures didn't always result in chances or points.
If he can use his deep ball as a second (or third) weapon going forward, he's got a bright future as an athletic stretch 4. But if he settles like he did Wednesday night, he'll have a hard time staying in McHale's rotation.
Grade: C-
Center: Omer Asik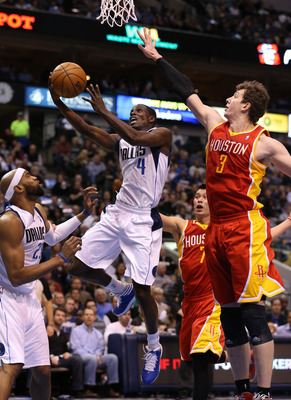 USA TODAY Sports
There couldn't have been a better matchup for Omer Asik. With Brandan Wright and Dirk Nowitzki making up the Mavericks' starting frontcourt, there was simply no one capable of matching his size.
Asik excelled as much as could be expected. He battered the Mavericks in the paint, cleaning the glass well on both ends of the floor (15 total rebounds, four offensive). He was also the beneficiary of some delicious dimes from driving teammates, showing a soft touch around the basket (12 points, 4-of-5 from the field).
But, as has been the case throughout the season, Asik hurt his stat line with another abysmal showing at the free-throw line (4-of-11). Dallas knew it couldn't physically challenge him, so it opted to send him to the place known to wreak mental havoc on a number of post players.
The same small-ball approach that cut Motiejunas' night short spelled an early exit for the big man. He spent the last five-plus minutes of the night on the sideline.
Grade: B
Sixth Man: Carlos Delfino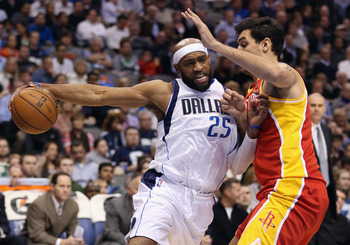 Ronald Martinez/Getty Images
Outside of Parsons' hot shooting, the Rockets struggled to find the perimeter threat that has rarely escaped the league's eighth-best three-point shooting team (37 percent).
Here's where the Rockets could have used Delfino the most, but the top reserve battled foul trouble throughout his 21 minutes of action. He's led all Houston regulars with a 38.8 three-point percentage this season, but picking up two fouls in two first-quarter minutes just foreshadowed the rest of his night.
He still found a way to get off seven long-range attempts (and hit three of them), but couldn't find enough playing time to develop the consistency the Rockets needed when the Mavericks started swarming Harden late in the game. With Lin on the sideline, Houston hoped Delfino could command some defensive attention.
With his scoring largely held in check (11 points), Delfino had to contribute in other ways. While he did corral six rebounds during his run, the rest of his box score was filled with goose eggs.
Grade: C+
Bench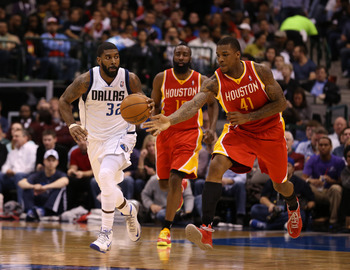 USA TODAY Sports
There were legitimate questions about Houston's bench when the team traded away a number of key reserves at the trade deadline.
If Wednesday night was any indication, though, the second unit will be more of a solution than a problem moving forward.
Thomas Robinson, their prized deadline coup, still looked raw, but showed the kind of potential expected from the fifth overall pick in the draft. He wasn't always in the right position, but made up for his mental blunders with sheer determination and elite athleticism.
Francisco Garcia looked far from being a mere salary cap filler, as the veteran appeared the strongest bench player for the game's first three quarters. The career 36.1 percent three-point shooter demanded defensive attention on the perimeter, then punished hard closers by putting the ball on the floor and carving up the Mavericks with deadly dishes.
When the shot was there, he let if fly to mixed results (2-of-6 from the field), but his willingness to shoot kept the defensive coming.
When the fourth quarter came around, Patrick Beverley rose to the top of the reserve squad. His suffocating defense and heady ball control (seven assists and two turnovers) earned him a spot in McHale's closing rotation. Had the Rockets held on, his denial on a Dirk Nowitzki layup attempt near the midpoint of the fourth quarter could have very well looked like the turning point of this game.
Grade: A
Keep Reading

Houston Rockets: Like this team?