Orlando Magic vs. Miami Heat: Postgame Grades and Analysis for Miami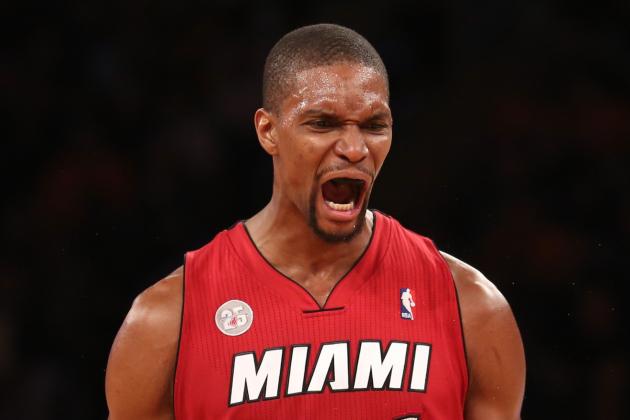 Nick Laham/Getty Images

The Miami Heat defeated the Orlando Magic 97-96 on Wednesday night despite 25 points and 21 rebounds from Nikola Vucevic and blowing a 20-point lead.
LeBron James hit the game-winning layup with three seconds remaining, two of his game-high 26 points. Dwyane Wade poured in 24, and for Vucevic, it was his second 20-rebound effort against the Heat this season.
Jameer Nelson also had himself a game for the Magic, scoring 16 points and handing out 14 assists on the night.
Miami overcame a long fourth-quarter drought to win its 16th contest in a row.
Begin Slideshow

»
This wasn't a very good outing for Mario Chalmers.
The Miami point guard scored only five points on 2-of-8 shooting, connecting on only one of his six three-point tries. He did dish out five assists, but he was essentially invisible for most of the night. Chalmers also picked up four fouls in 23 minutes of play.
While Chalmers played a part in holding Jameer Nelson to 6-of-18 shooting, he was grossly outplayed by his counterpart overall, as Nelson was good for over half of Orlando's 26-assist total.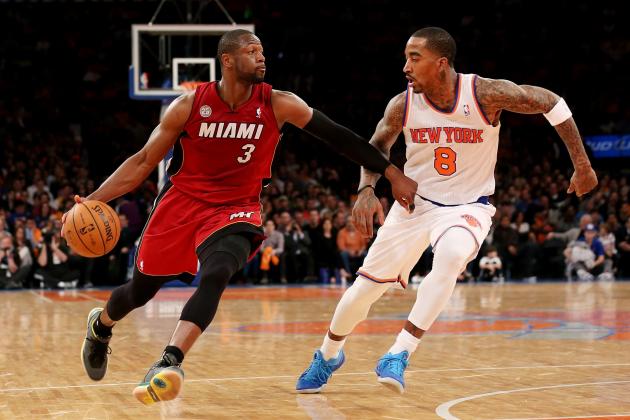 Nick Laham/Getty Images

Wade was terrific against the Magic.
The two-time NBA champion recorded 24 points off 10-of-16 shooting, grabbed six rebounds and tallied four steals while playing a team-high 39 minutes.
Wade was particularly sensational in the second quarter when he had an acrobatic putback, a fine pass to James for one of the duo's typical fastbreak alley-oops, and a coast-to-coast layup.
He did go through a bit of a dry spell in the fourth, but hey, so did the entire Heat team.
Perhaps Wade's biggest contribution came on the defensive end. As stated earlier, he came up with four steals, doing a great job of playing the passing lanes and harassing the Magic ball-handlers out on the perimeter.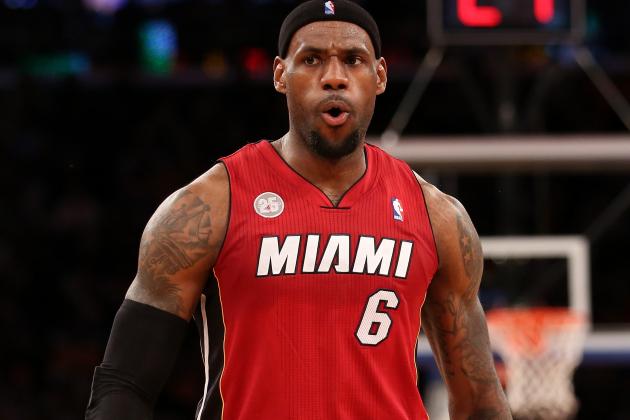 Nick Laham/Getty Images

After scoring 14 points in the first half, James was relatively quiet the rest of the way...until he hit the game-winning layup with three seconds left.
Prior to his game-winner, LeBron missed a pair of threes in one possession that could have tied the game with just under two minutes to go—and neither time did he really need to take the three. There was still plenty of time left, and he could have just put his shoulder down and tried to draw the foul. He also committed a silly and uncharacteristic turnover by throwing the ball right to Nelson around the four-minute mark.
James finished with 26 points off 7-of-14 shooting (he also shot 11-of-12 from the free throw line). His streak of four consecutive double-doubles ended, however, as he grabbed only three rebounds and came up with only two assists.
While it may not have been one of the best games we've seen from the Heat superstar, LeBron still got it done when needed most. And that by itself merits an A-grade.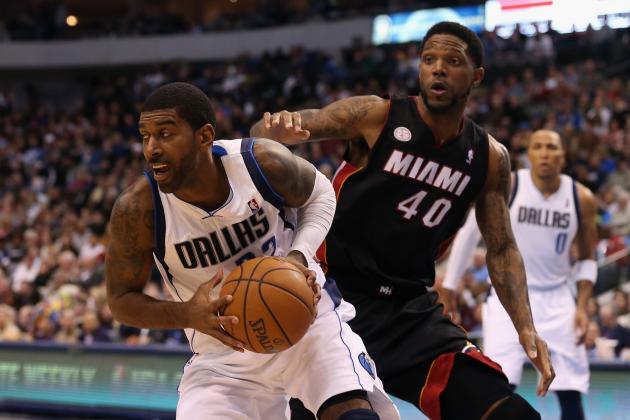 Ronald Martinez/Getty Images

It's tough to give Udonis Haslem a grade seeing that he only played 17 minutes, but when he was on the floor, he did his usual thing. He provided Miami with a body down low on the defensive end.
Haslem scored four points off 2-of-2 shooting and pulled down four rebounds. At this point of his career and with so many other options on the Heat roster, it's not like you are going to expect all that much more from him.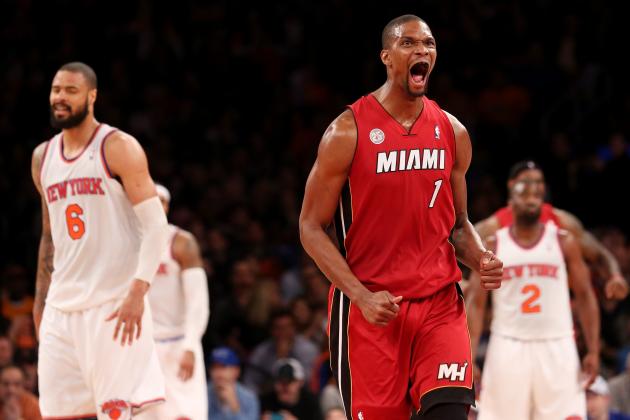 Nick Laham/Getty Images

After a strong first quarter which saw Chris Bosh score eight points off 4-of-8 shooting and grab five rebounds, the Heat big man fell apart.
He lost his aggressiveness that made him so effective early on, attempting only seven shots the rest of the way (making only one). He was also abused by Vucevic on the glass for most of the night, and he blew a couple of golden opportunities to provide Miami with big buckets late in the game.
Bosh finished with 17 points and 10 boards. Not a poor performance by any means, but it is somewhat lackluster when you consider just how well he played in the first period.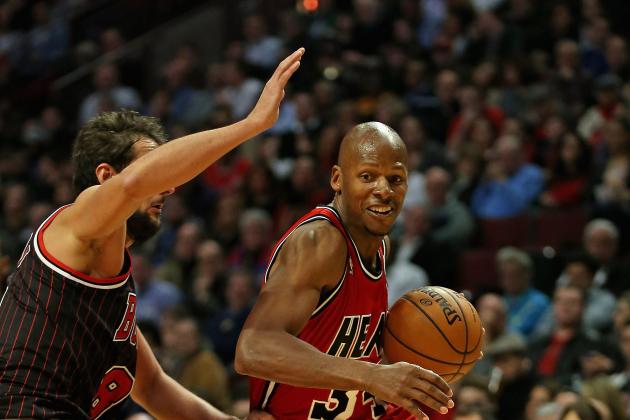 Jonathan Daniel/Getty Images

Not much doing for Ray Allen on Wednesday night.
The all-time three-point leader scored five points off 1-of-8 shooting (1-of-7 from downtown), and also missed a wide open three from the corner that would have tied the game with about 40 seconds remaining,
Allen did display some nice court awareness by making some crisp passes, although you wouldn't know it by looking at the stat sheet (he logged only one assist).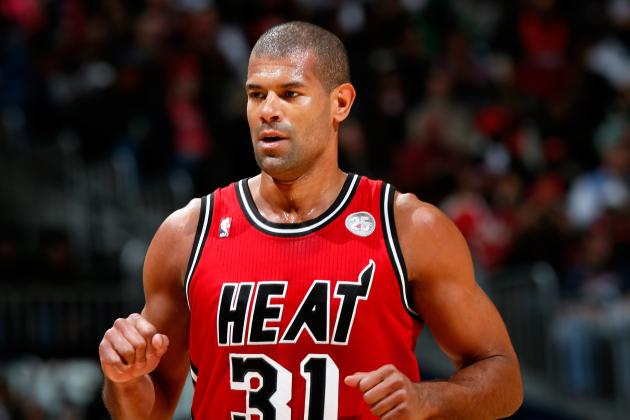 Kevin C. Cox/Getty Images

Chris Andersen played a very solid game, hustling all over the floor and sacrificing his body by diving for loose balls. He only scored five points and grabbed one rebound, but his presence was clearly felt. He also played some nice interior defense and served as a deterrent near the rim.
Norris Cole also looked good, scoring eight points and making a couple of very nice passes. He looked particularly impressive in the second quarter when he drained a pair of threes and made a beautiful lob pass into Wade for a layup.
And Shane Battier came up with one of the key plays of the game when he drew a charge on Tobias Harris with 52 seconds to go. Harris' layup would have put the Magic up by five, but Battier stepped underneath Harris as he was landing to draw the offensive foul.
Great overall effort by the Miami bench Wednesday night.