A Rundown of Erik Spoelstra's Positive Work for the Miami Heat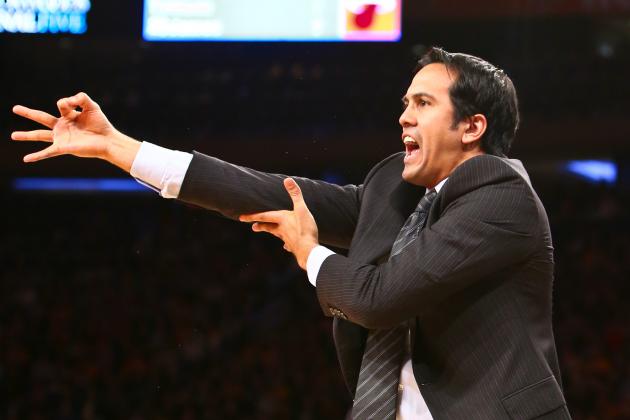 USA TODAY Sports
Erik Spoelstra isn't one of the NBA's most animated coaches, but he's been one of the better ones.
Once or twice per month.
That's how often Erik Spoelstra is introduced to someone as the coach of the Miami Heat, and the other party is confused, unaware that Pat Riley ever relinquished the role.
It even occurred on one of the most memorable days of his life, after President Barack Obama had praised him at the White House for his role in the 2012 championship, and upon Spoelstra's meeting of staffers at Walter Reed Army Medical Center.
"That doesn't bum me out at all," Spoelstra said recently. "I don't have an ego about it. That's partly why we've been able to work together effectively for so long."
Spoelstra, who says that his "job is to land the plane," has the Heat flying of late.
Miami has won 16 straight games, has run away with the Eastern Conference race and is in striking distance to chase down San Antonio for the top overall seed.
And if you asked most people for the primary reasons why, it's unlikely that Spoelstra would even be placed in the category of "peripheral contributors."
Isn't it time, however, that Spoelstra gets a little credit?
As ESPN Radio analyst, and former NBA coach, Jack Ramsay put it, "He's coach of the team. You don't have to say any more than that."
While this author doesn't agree with every micro decision—where's Mike Miller lately? Why not tinker with the struggling duo of Ray Allen and Norris Cole?—it's hard to argue with the macro results.
Here are five ways that Spoelstra has put his stamp on the team:
(All quotes for this piece were collected through the course of the author's coverage of the Miami Heat for the Palm Beach Post. All statistics were accurate as of Thursday afternoon.)
Begin Slideshow

»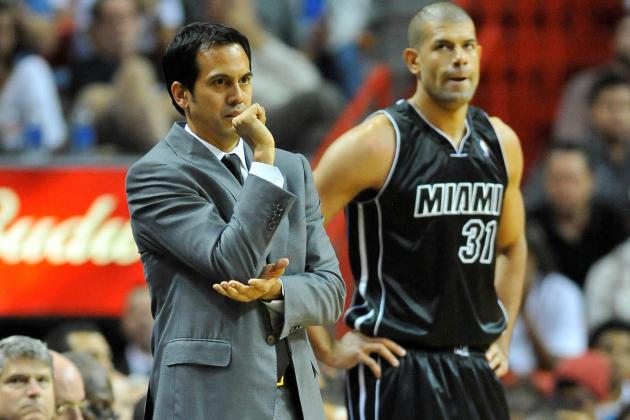 Brad Barr-USA TODAY Sports
Erik Spoelstra has leaned on the likes of Shane Battier in unconventional ways.
While Erik Spoelstra claims not to care about the public's opinion of the job he's doing with the Miami Heat, he does pay some mind to what his colleagues believe.
"I would hope that even if they don't say it or admit it, that if they compete against a team that I am coaching that, yes, they respect the talent level—but they're not coming in thinking, 'Oh boy, this will be easy from a coaching standpoint because he doesn't know what he's doing,'" Spoelstra said. "I'd hope that they'd say that, 'I have to give this a lot of thought.'"
They clearly do, with several of his contemporaries paying him compliments recently, and Spurs coach Gregg Popovich—currently the NBA's gold standard—lauding Spoelstra's "incisive feel" on the court.
Spoelstra has certainly shown himself willing to listen, learn, adapt and adopt.
Each of the past two summers, he has spent time—in person or on the phone—with some of the better coaches in college football and basketball, including Chip Kelly, Tom Crean, Urban Meyer, Billy Donovan, John Calipari and Mike Krzyzewski about their strategies and philosophies.
Last summer, he even met with Paul Westhead, one of basketball's offensive innovators.
The result was a team that entered the season building on the last NBA Finals, playing smaller than most opponents, and—in Spoelstra's parlance—"positionless," taking off the labels and freeing his players from conventional boxes.
While Spoelstra has insisted he didn't set out to start a trend, but merely to play to the strengths of a team that relies on LeBron James' supreme versatility, the reality is that many teams have been forced to match up with Miami, rather than the other way around.
All of it shows that a guy who followed in Pat Riley's footsteps isn't afraid to create some fresh new tracks.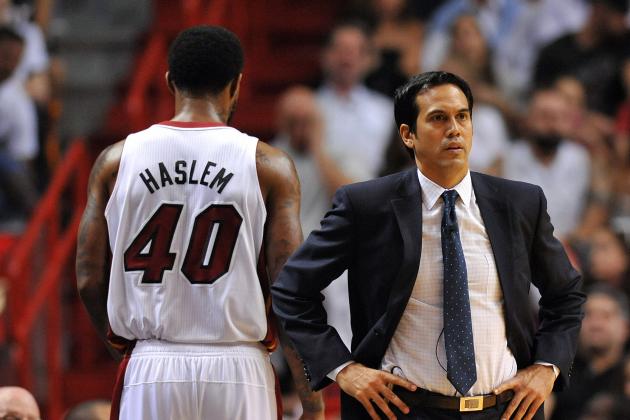 USA TODAY Sports
After an early rebounding struggle, Erik Spoelstra went back to Udonis Haslem as a starter.
As noted on the previous slide, Erik Spoelstra has blazed some trails recently, making moves—notably the insertion of Shane Battier as a starting "stretch" power forward—that helped the Miami Heat win a championship.
You'd think that, after the success with that starting group, he would show some stubbornness and stick with it even if circumstances dictated otherwise.
That hasn't been the case this season, however.
After Battier missed some time with a sore hamstring, the Heat struggling with rebounding, and with the second unit (featuring Ray Allen) struggling for a defensive identity, Spoelstra put Udonis Haslem back in the starting lineup and Battier on the bench.
It's true that the lineup of Haslem, Chris Bosh, LeBron James, Dwyane Wade and Mario Chalmers has actually rebounded at a worse rate than the one of Battier, Bosh, James, Wade and Chalmers. But Battier has thrived as a reserve, and the Heat are humming as a team, now 31-9 with Haslem as a starter.
Spoelstra has made other, somewhat more subtle moves, that appear to be paying off.
Early in the season, Spoelstra went with "Bosh time," with the undersized center anchoring the second unit in the second quarter while Wade and James sat. Recently, however, he changed to a unit that makes more sense when James gets his first rest—one with Wade as the lone superstar on the floor.
Unlike Bosh, Wade can create his own shot, rather than wait for others to create one for him.
And it may not be coincidence that, since the change, Wade has been brilliant—he is averaging 24.5 points on 55.1 percent shooting during the winning streak.
Now, if Spoelstra can find a way to work around playing Ray Allen and Norris Cole so much together...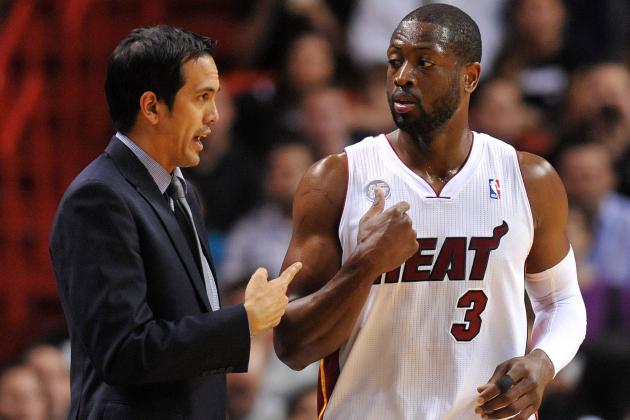 USA TODAY Sports
Erik Spoelstra's relationship with Dwyane Wade has overcome some turbulence.
Wear all the earplugs you want.
If you're coaching a team with this sort of star power in the age of the 24-hour sports news (and opinion) cycle, you can't help but hear some of the scrutiny.
Erik Spoelstra calls it "noise," and it has been his team's constant companion since LeBron James and Chris Bosh joined Dwyane Wade in the summer of 2010.
It has abated somewhat since that first season, when Spoelstra stayed cool enough to steer the Miami Heat through the storm—from 9-8 and "Bumpgate" to the NBA Finals.
He made some mistakes, such as his well-meaning but unnecessary revelation that players were crying after a frustrating home loss to Chicago during a difficult stretch.
But, strongly backed by Pat Riley, he never lost the team entirely.
Spoelstra stayed steady enough during last postseason, too, even after Bosh got hurt and Wade—with whom he had collaborated for a decade—screamed at him on an Indiana sideline, in plain sight.
This season, after his first championship as a head coach, it's been plainly obvious that Spoelstra feels even more comfortable and, every time he hears one of the media "storylines" that annoy him, he has no problem telling reporters that something is "the theater of the absurd."
Simply, at this stage, it's hard to see how he'll encounter anything more challenging than he did at the turbulent start of the "Big Three" era.
And it's hard to see anything that he can't handle.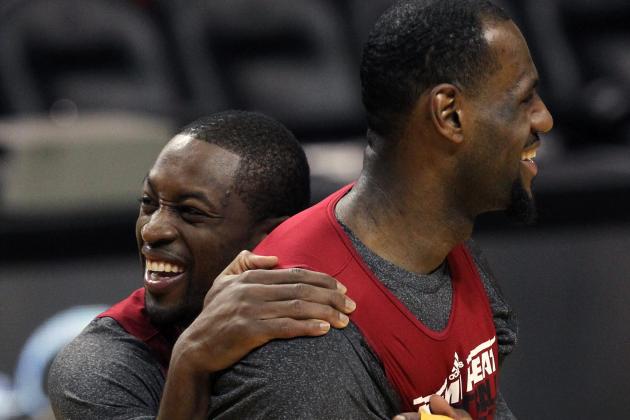 Derick E. Hingle-USA TODAY Sports
Miami's a loose team, and some of that credit goes to the coach.
The day after the Miami Heat unleashed their version of the Harlem Shake on the unsuspecting world—with Shane Battier wearing a Horsetronaut costume and Chris Andersen flapping his wings—there was one question that Erik Spoelstra needed to answer:
Why wasn't he in the video?
"How do you know I wasn't?" Spoelstra said smiling.
Well, he wasn't, unless that was him, instead of Mike Miller, crawling past in the sombrero.
Still, Spoelstra's reaction spoke volumes, especially considering all we know of the Heat culture.
Can you imagine this occurring while Pat Riley was still the coach?
"It was done before practice, they organized it," Spoelstra said. "It didn't affect our work at all. It happened right outside my office. We knew it was going on. That's fine. It's all for fun."
Fun.
The Heat are having plenty of it. There are snowball fights. There are pre-game dunk competitions. There's loud rap music in the locker room, something unheard during Riley's coaching days. Spoelstra has even relented and started calling Andersen "Birdman"—at least some of the time.
Spoelstra went three weeks without conducting a full practice, giving his veteran squad plenty of rest.
Too lax?
For this team, with this ringleader—LeBron James—it seems just right.
"It's who I am. I have fun with the game. It runs over everyone else. And I think it brings out who we are as a team. We are a close knit group. If we were as serious as people think we should be, then with everything that people say about us, it wouldn't even be worth playing for. We've got to have fun with each other."
Credit to Spoelstra for understanding that.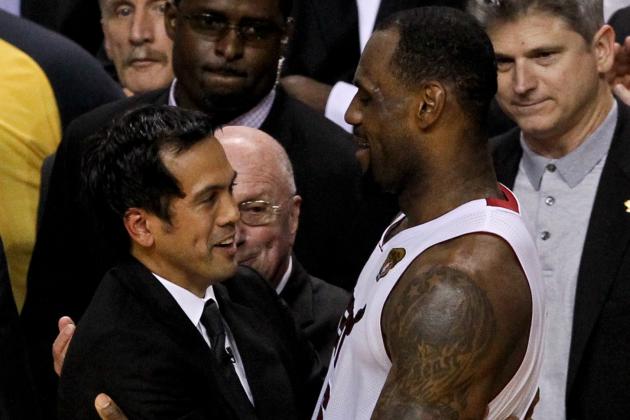 Derick E. Hingle-USA TODAY Sports
Over time, Erik Spoelstra and LeBron James have come to see things eye to eye.
As noted, Erik Spoelstra has given LeBron James freedom to be himself.
But to truly win James's respect, Spoelstra needed to prove that he could make him better.
It appears that has occurred.
Not only did Spoelstra make many of the right moves during the Heat's 2012 postseason run, but he—in concert with Pat Riley—catered to James's talents in the offseason, adding more shooters (Ray Allen, Rashard Lewis) to give him even more space on the floor.
And James is playing the best basketball of his life, even cutting back on the one-dribble, stand-still jumpers that Spoelstra abhors.
James now commonly refers to Spoelstra simply as "Coach Spo," but it's not just what he says publicly. It's what he does.
On the floor, while James sometimes gets weary from the burden on both ends, he consistently does whatever Spoelstra deems necessary for Miami to get a win.
That can mean, as it did in Wednesday's victory against Orlando, guarding a point guard on one possession and a center on the next.
Off the floor, it's obvious their rapport has improved—more communication, more smiles, even some laughs.
"I believe my relationship with Coach Spo will continue to grow," James has said more than once.
It seems fairly close to full flower now.