UConn Basketball: 5 Takeaways from Big East Regular Season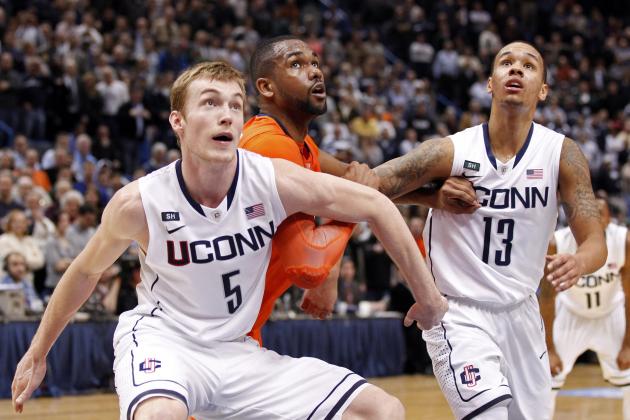 USA TODAY Sports
The Huskies overachieved this season given all the adversity they faced.
The UConn Huskies (19-10, 9-8 Big East) entered this season under a cloud of turmoil and adversity and emerged as one of the Big East's biggest surprises.
New head coach Kevin Ollie led his team to a much better than expected finish, and he did so with a team many had predicted to finish near the bottom of the Big East.
With Big East play coming to an end, and no postseason hopes due to NCAA sanctions, we must assess this Huskies team purely on their regular-season play.
These are five things we can take away from the UConn Huskies' 2012-13 campaign.
Begin Slideshow

»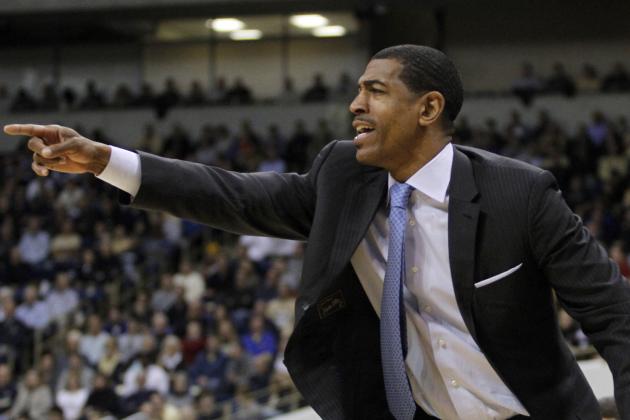 Justin K. Aller/Getty Images
Ollie has earned the respect and trust of his team.
When Jim Calhoun abruptly retired just before the beginning of this season it seemed logical to turn to Kevin Ollie as the next in line for the job.
Ollie, who had played four seasons under Calhoun and served as his assistant coach, called the job a dream and committed himself early to returning the Huskies to national prominence.
With his first campaign nearly complete, the record is certainly promising. Ollie led his team to a 20-win campaign in a year where many predicted they would finish in the bottom tier of the deep Big East.
With his fiery, intense style, Ollie was able to earn the respect and trust of his team and they gradually began to take on his personality as the season went along.
No game showed that more than an upset of then No. 6 Syracuse, in the final game of their bitter Big East rivalry, where an overmatched Huskies team outfought and out-hustled one of the best teams in the country for a signature win.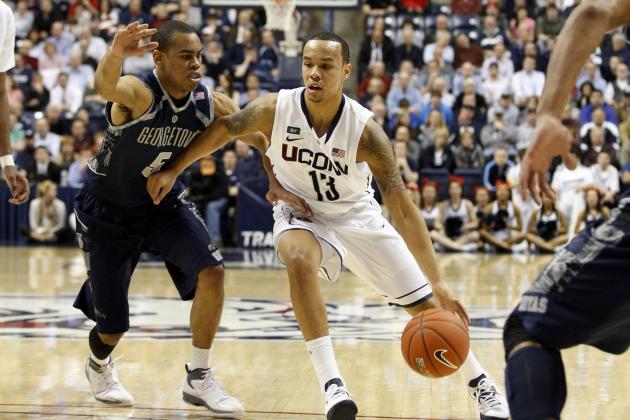 USA TODAY Sports
Napier is one of the best in the nation.
Coming into this season there was little doubt that junior guard Shabazz Napier had loads of talent. But there were legitimate questions about his ability to shoulder the load as the focal point of the Huskies offense.
Napier emerged as one of the nation's best guards and the Huskies' clear-cut leader on the floor during a season that has seen him post a career best 17.1 points per game.
His presence on the court is crucial to UConn's success, and the team has simply not been the same without him in the lineup.
If you need any further proof, just examine the Huskies' back-to-back losses against Cincinnati and (inexcusably) against South Florida with Napier sidelined with a foot injury.
Napier provides a whole different dynamic. His shooting touch and ability to slash to the basket and draw fouls make him a difficult matchup for any team.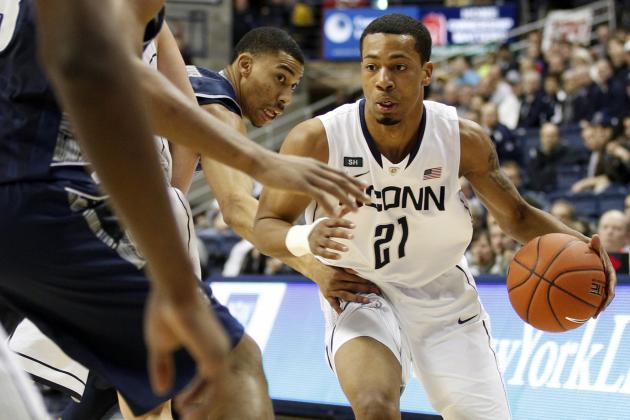 USA TODAY Sports
Calhoun has had an impressive freshman season.
Omar Calhoun has been a pleasant surprise for the Huskies during his freshman season. He was one of the few top-flight recruits to remain committed to UConn even after Jim Calhoun's retirement and the announcement of NCAA sanctions.
The Brooklyn, NY product has certainly lived up to his hype, averaging over 11 points per game and showing a propensity for hitting big shots.
He's clutch from the free-throw line and has established himself as a key part of the Huskies backcourt going forward.
Calhoun will become even more important if one of the team's top two guards, Napier and Ryan Boatright, decide to jump to the NBA after the season.
USA TODAY Sports
Boatright continues to improve.
UConn will find itself in very different surroundings come next season. Gone will be Syracuse, Pitt and the "Catholic Seven" schools to new conferences.
Incoming will be a geographically diverse mix that includes Central Florida, SMU, Memphis, Temple and Houston.
They will join holdovers from the former Big East, Cincinnati and South Florida, to form a whole new conference that will be heavy at the top but should be UConn's to lose. They have the most talent and should be ready to go after a full season under Kevin Ollie's system.
Of the new schools, only Memphis and Temple have notable basketball pedigrees.
The Huskies have great reason for optimism heading into next year.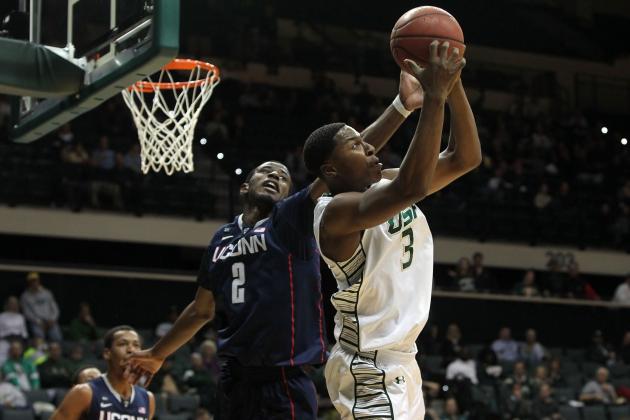 Kim Klement-USA TODAY Sports
DeAndre Daniels has shown flashes but needs consistency.
The Huskies' biggest problem this season was on the boards, where they were absolutely dismal.
DeAndre Daniels has the body frame to be a good rebounder but will need to add bulk to his frame in order to bang around inside and fight for rebounds.
He's shown great improvement to close the season but will need to become more consistent.
The Huskies have sought to address this area, with Kevin Ollie landing big recruit Amida Brimah from Archbishop Carroll High School in Miami.
The 6'10" Brimah is considered something of a project, but has the size, strength and speed to potentially become an inside force.
Either way it's crucial for the Huskies to improve their inside game in order to make a jump up next season.