Hope Solo: Latest Setbacks and Controversies Continue to Hinder GK's Progression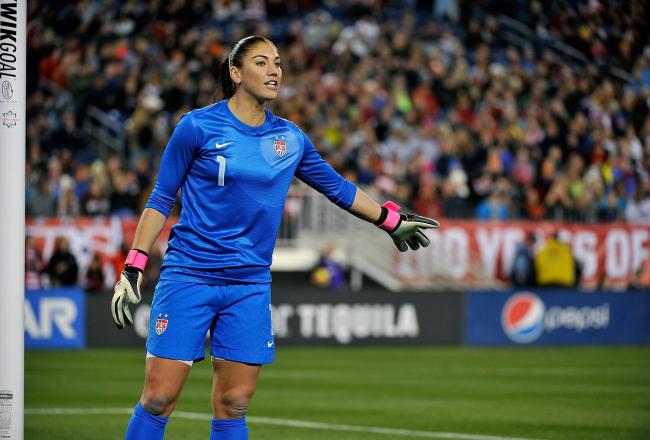 Frederick Breedon/Getty Images
Hope Solo's career hasn't been the most straightforward one ever, and it certainly hasn't been one lived outside of the spotlight and public attention.
That doesn't look like it's changing any time soon, either.
The 31-year-old goalkeeper has just had audio of her "pre-wedding altercation" with now husband Jeremy Stevens released by the police—where the pair were allegedly found with blood on them and with Stevens himself hiding from police when they arrived to investigate (per SportsGrid).
The pair proceeded to get married the next day, but the controversy and speculation about what truly happened still lingered on with the goalkeeper.
The release of the recording certainly won't help.
Solo is also currently out of action for the United States women's national team, who are currently off competing in Portugal for the 2013 Algarve Cup. The tournament is one of the biggest and most prestigious women's events in the world, yet the star goalkeeper was not picked for the squad due to a hand injury that is likely to keep her out of action for some time.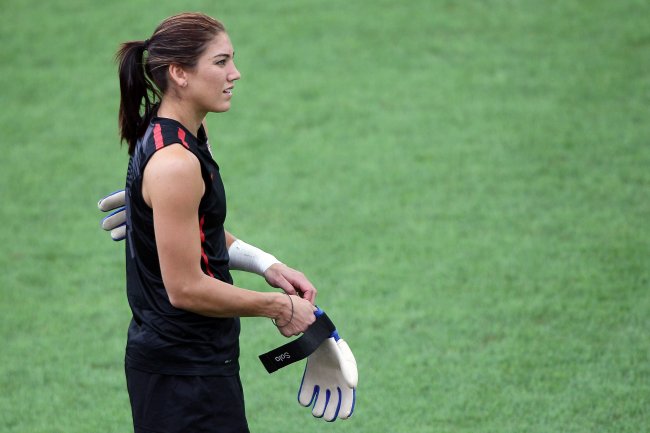 Christof Koepsel/Getty Images
According to The LA Times, surgery may be involved for the star goalkeeper, who has reportedly been playing with the injury for over a year now. If surgery is the avenue that needs to be pursued, Solo will certainly be out of action for a lot longer still, given the recovery that will be needed.
She most likely won't be back in April, like the Seattle Sounders hope.
Yet in light of all that's transpired in her career before now, it seems just like another year for the 31-year-old shot-stopper, who is probably the best female goalkeeper in the world right now. All the controversies and speculation simply seem "normal" for Solo, as somewhat sad and unfortunate as that might be for the American international.
From her benching in the 4-0 loss to Brazil at the 2007 World Cup semifinals to the nude pose in ESPN The Magazine's The Body Issue, Solo has had controversy.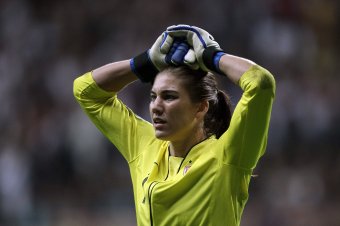 Christof Koepsel/Getty Images
Some would say that's just who she is, and it's just a part of what makes her stronger and a better person, but the reality is far from that. The truth is that the controversies and setbacks are doing nothing more than stunting her progression as a goalkeeper.
Solo is not becoming the world-football star that she truly could be if she dropped the off-field problems completely. They are doing nothing but burdening her even more and is simply making her on-field problems (like the injury) more significant and important than they would otherwise have been.
Granted, the issues have taught her things, and she has learned from them, but it's a hard case to argue that they are good for Solo at the moment.
The 31-year-old recently said in an interview regarding a documentary for MAKERS: Women Who Make America that the growing process has impacted her to some extent, but also forced her to simply accept the difficulties and embrace them as a natural part of her life.
With each year that's gone by and as I grow up and get older, I've become more mature, of course but you have a sense of who you are, and you find confidence in that. There are so many different walks of life, so many different personalities in the world. And no longer do you have to be a chameleon and try and adapt to that environment—you can truly be yourself. And if people don't like who you are, well then, it's their loss.
How the latest bout of criticisms and issues will affect Solo still remains to be seen, but given the fact she currently isn't playing anyway, they likely will have less of an impact than before. Yet having said that, they will no doubt continue to affect the star goalkeeper.
Hopefully, Solo will see the value that she has in the United States women's national team and continue to evolve into a star goalkeeper there. Hopefully, the veteran goalkeeper will quickly return to the field and once again impress upon the rest of the world just how strong she is at the back.
For it would give us all something to talk about other than controversies—something that both Solo and the rest of the world desperately need once more.
Is Hope Solo being bogged down by all the controversies and drama?
Comment below or hit me up on Twitter: Follow @dantalintyre
This article is
What is the duplicate article?
Why is this article offensive?
Where is this article plagiarized from?
Why is this article poorly edited?

United States (National Football): Like this team?