Orlando Magic vs. Miami Heat: Live Score, Results and Game Highlights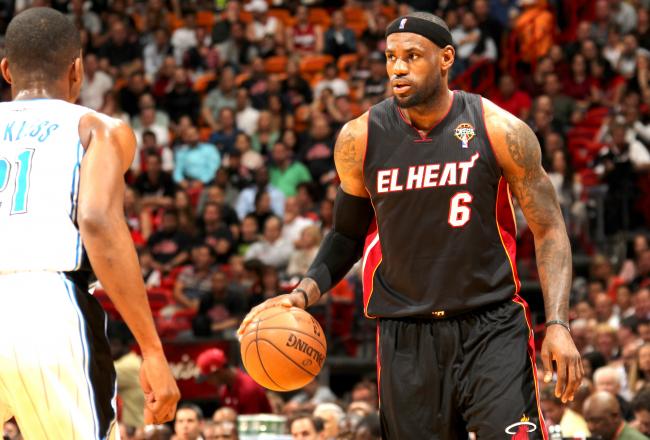 Commentary on the Miami Heat's 97-96 victory over the Orlando Magic from American Airlines Arena on March 6, 2013.
LeBron James isolated against DeQuan Jones and got to the basket to finish with his left hand. Heart breaking loss for the Magic, and that's 17 straight wins for the Heat now.
Keys to the Heat Victory:
1) Magic Foul Trouble: The Heat drew a lot of fouls on the Magic, and forced Nikola Vucevic, Maurice Harkless and Tobias Harris to foul out. The Heat attempted 31 free throws to the Magic's 12.
2) The Big Three was Big: 67 points from Wade/Bosh/LBJ.
3) Forced Turnovers: Orlando had 17 turnovers, Miami had just 14
Really, the Heat could have lost this a number of ways, since they were badly out-rebounded (45-33) and the Heat complementary pieces didn't provide much. But King James bailed them out, and he was clutch.
HEAT 97, MAGIC 96 — FINAL
A wild Al Harrington three pointer was rebounded by LeBron James, and timeout was called. Or was it? Erik Spoelstra didn't seem to think that his bench had called for timeout, and he didn't want to. Now, the Magic defense can set up and cover them in the halfcourt, whereas the Heat might have found something nice in transition.
MAGIC 96, HEAT 95 — 12.6 seconds 4th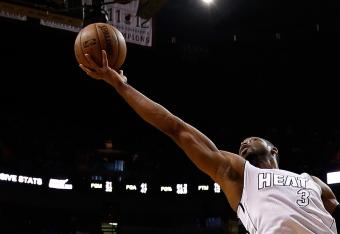 Dwyane Wade came through with a huge blocked shot on DeQuan Jones. Jones had rolled to the basket after running a pick and roll with Nelson, and he thought he had a clear and open dunk, but Wade came over his shoulder to swat it away. Jones is getting crunch time minutes because Maurice Harkless already fouled out.
MAGIC 96, HEAT 95 — 20.1 seconds 4th, Magic poss. 6 on shot clock
Nikola Vucevic fouled out with 25 points and 21 rebounds. 38 seconds to go; Magic up three. Can they hang on without their best player?
MAGIC 96, HEAT 95 — 38.0 seconds 4th, Magic poss.
Jameer Nelson's pull up jumper over Chris Bosh gave the Magic a three point lead. The Heat tried to answer with a three, but LBJ missed back-to-back threes. Tobias Harris picked up a charge following that, and it was his sixth foul.
MAGIC 96, HEAT 93 — 52.0 seconds 4th, Heat poss.
They've switched Shane Battier from Jameer Nelson to Nikola Vucevic. That's the power of having a versatile defensive small forward.
MAGIC 93, HEAT 93 — 2:14 4th
The Big Three has scored 62 points on 52.5 percent shooting. The rest of the Miami team is shooting 40 percent from the floor.
MAGIC 93, HEAT 92 — 3:00 4th
The Heat are using Shane Battier on Jameer Nelson. Nelson is the one guy on Orlando who can get hot and take over a game late in the fourth quarter. Battier should prevent that, and Nelson was unable to get a good look trying to penetrate against the 6'8" Battier. Nelson is generously listed at 6'0"
MAGIC 93, HEAT 92 — 4:00 4th
Who would have thought when Dwight Howard was traded for a multitude of players that one would be as good as him? Nikola Vucevic is putting up the kind of numbers Dwight did.
Sixers got to be kicking themselves over Nikola Vucevic. Wow. Well done Magic.

— Marc J. Spears (@SpearsNBAYahoo) March 7, 2013
25 points and 20 rebounds with some time to spare.
MAGIC 93, HEAT 89 — 4:28 4th
The Magic are out-rebounding the Heat 40-25. That's a winning method even when the talent level is so disparate.
MAGIC 91, HEAT 87 — 5:03 4th, Timeout In Play
The Heat answered with a 6-0 run as LeBron James checked into the game. Two free throws by Dwyane Wade, an LBJ layup and a Birdman dunk put the Heat back on top by a point. The Heat don't want this 16-game winning streak to end against the league's second-worst team.
#HEATgame: Chris Andersen's dunk brings the @aaarena crowd to its feet and forces a Magic timeout! HEAT lead 87-86 with 6:58 left to play.

— Miami HEAT (@MiamiHEAT) March 7, 2013
HEAT 87, MAGIC 86 — 6:58 4th, Magic Timeout
The Magic have gone on a 46-21 run to take a five point lead. The Heat have just gone cold from the floor and missed a lot of shots they ordinarily hit, but more than anything their defense has deteriorated. They're allowing the Magic to get into the paint, and they're not defending the pick and roll particularly well.
MAGIC 86, HEAT 83 — 8:11 4th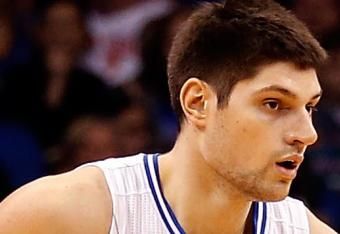 Nikola Vucevic's offensive put-back gave the Magic a three point lead which forced an Erik Spolestra timeout. Vucevic has 21 points and 19 rebounds. He seems to love playing against the Heat.
MAGIC 84, HEAT 81 — 9:02 4th, Heat Timeout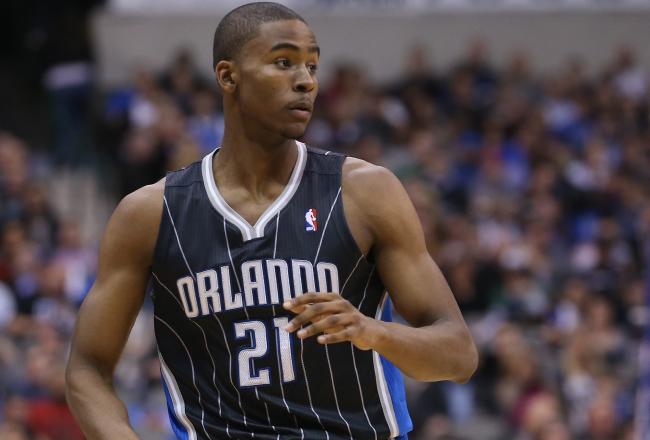 Maurice Harkless will get the crunch time minutes tonight, and the teenager has 10 points and three steals tonight with a plus-minus of plus-five.
1 of the reasons the #Magic traded J.J. Redick was that it would give meaningful 2nd-half minutes for Moe Harkless.

— Josh Robbins (@JoshuaBRobbins) March 7, 2013
HEAT 81, MAGIC 81 — 9:23 4th
Tobias Harris has that look on his face: "We can take this game," is how it looks. Harris' jumper gave him 14 points and pulled the Magic within a point before a D. Wade jumper extended the lead back to three. Harris and the young Magic squad want this one, as a notch for their belts.
Jameer Nelson's deep three ties the game.
MAGIC 79, HEAT 79 — 10:10 4th
SO HARKLESS! 8 of his last 15 from 3-point range for Maurice. Magic down 8.

— Adam Papageorgiou (@adamosgp) March 7, 2013
Maurice Harkless looks to be another defensive stopper who specializes in the corner three. It's like a species of small forward in today's era.
No other way to put this. Heat messed around and let the Magic cut a 20pt deficit to 77-74, now entering 4th quarter.

— Michael Wallace (@WallaceNBA_ESPN) March 7, 2013
HEAT 77, MAGIC 74 — End of 3rd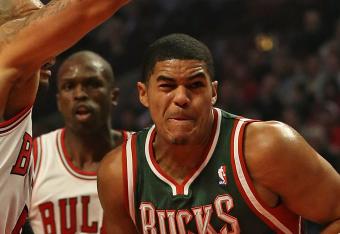 Tobias Harris' three-pointer gave Harris nine points for the game and drew the Magic within five, before Shane Battier answered with a three.
Tobias Harris came back with even more ferocity, going right at Battier and drawing a foul as he scored to get to the line for a three-point play. Harris converted to put the Magic down five again.
HEAT 77, MAGIC 72 — Under 1 Minute, 3rd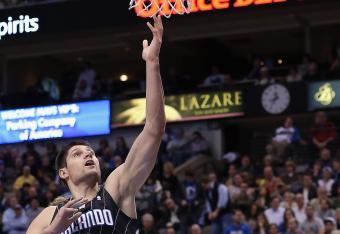 When looking for bright spots, about the only one the Magic can find here is Nikola Vucevic's 15 points and 14 rebounds.
Even if Vucevic doesn't get 29 boards again, he will have a lot tonight. Already with 15 rebounds. #WeWill

— Orlando Magic (@Orlando_Magic) March 7, 2013
Andrew Nicholson has made some nice offensive moves, but he isn't rebounding.
Only Vucevic is offering a great all-around value right now, and he was chosen as the 11th best bargain in the league by Bill Simmons of Grantland.
HEAT 71, MAGIC 63 — 2:27 3rd
The Magic starting backcourt of Aaron Afflalo is 7-of-25 from the field and the team has 12 turnovers mid-way through the third quarter, but is down just 14 points.
That's actually not that bad for Magic fans.
HEAT 69, MAGIC 55 — 5:20 3rd, Timeout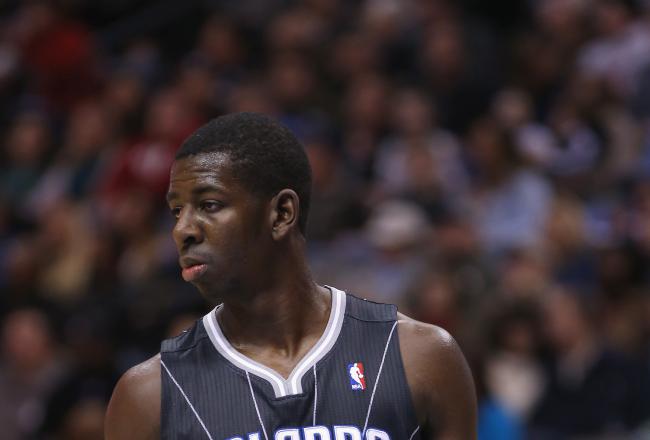 At this point, the score isn't really what Jacque Vaughn and Rob Hennigan are looking at. Different player combinations, player strengths, and seeing which pieces can be built around is where the focus is.
Andrew Nicholson hit a nice 22-foot jumper along the baseline following his dunk, and he has eight points on 4-of-4 shooting. Nicholson must add some bulk, but he's developing into a nice player.
He was a replacement choice for the Rising Stars Challenge on All-Star weekend, and my NBA legend comparison is the great Buck Williams. The Magic have a great combo at the 4/5 spots with Nicholson and Nikola Vucevic.
HEAT 67, MAGIC 55 — 6:37 3rd
LeBron James' long three put the Heat back up 19 after a 4-0 Magic run which featured an Andrew Nicholson dunk and a Nikola Vucevic jumper. It's going to take more than some answered 4-0 runs for Jacque Vaughn's Magic to get back in this one, and stopping the Big Three has been a bit of a problem.
HEAT 65, MAGIC 48 — 8:45 3rd
The Magic had 0 fast break points in the first half.
Mario Chalmers opened the second half with a triple.
This game could get out of hand fast.
As I type that, Dwyane Wade steals the ball and gets a fast break dunk, and that's a 5-0 run and a Magic timeout.
HEAT 60, MAGIC 40 — 11:11 3rd
The Heat out-scored the Magic 14-5 to close the quarter, after closing out the first quarter in similar fashion with a 7-0 run. The best teams know how to close out quarters, and teams like the Orlando Magic who lack premier scoring options have no one to isolate at the end of quarters.
The Big Three has 34 points, which is closing in on the Magic's total.
HEAT 55, MAGIC 40 — Halftime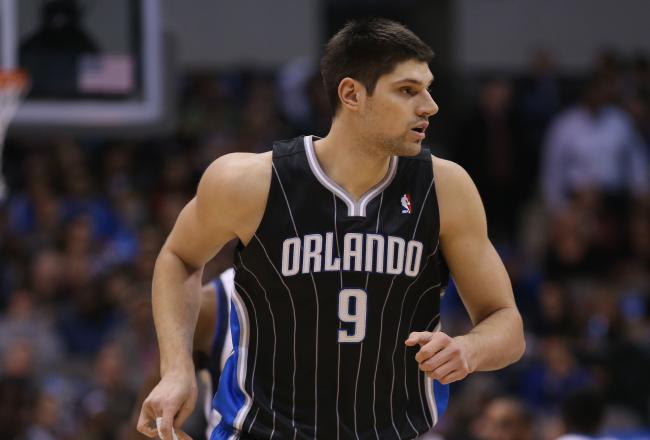 Nikola Vucevic is having a big game again against the Heat. Vucevic has nine points and seven rebounds, while his defensive matchup Chris Bosh has 10 points and six rebounds.
HEAT 49, MAGIC 40 — 1:19 2nd
This article is
What is the duplicate article?
Why is this article offensive?
Where is this article plagiarized from?
Why is this article poorly edited?