5 Players Who Need to Step Up on the Detroit Red Wings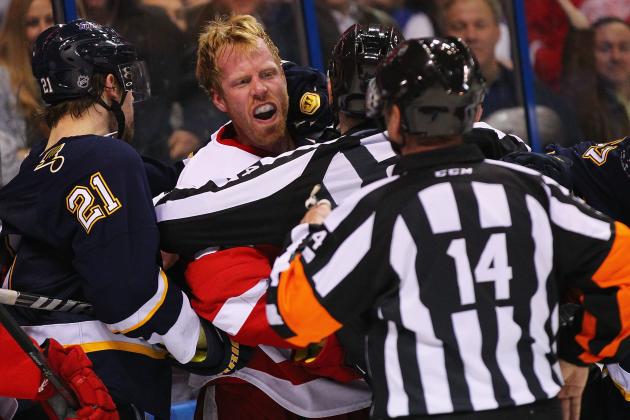 Dilip Vishwanat/Getty Images
Despite missing games to injury, Franzen has been a surprise this year
Players have up and down seasons in any sport.
If someone is currently underwhelming, that player looks to steady the ship and find consistencies in his game when he is struggling. If the player is surging, he looks to maintain that pace.
With about a half of the season played, the Detroit Red Wings have had their players who have been a pleasant surprise (Brunner, Tootoo, Mrazek, etc.) and some who have disappointed through 23 games.
There are five players that I have noted who haven't lived up to the expectations during the 2012-13 campaign. Part of it is the impact of shifting line combinations and the other might be lofty expectations created after a career year.
So here are the five Red Wings players who need to step their game up in the second half of this season.
Begin Slideshow

»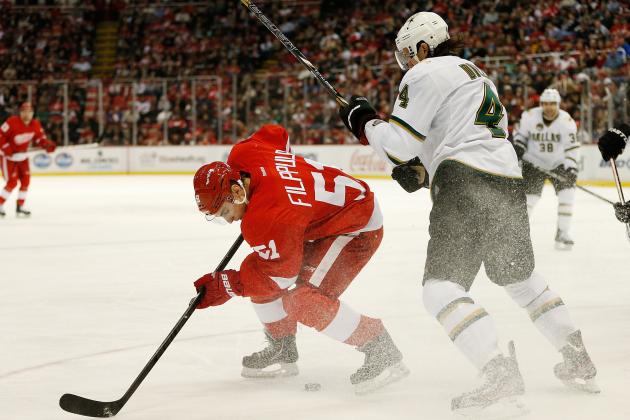 Gregory Shamus/Getty Images

There were high expectations put on Filppula entering this season.
He was expected to reciprocate similar numbers to the career highs he posted in 2011-12.
Filppula has still been able to be a primary part of the offense, but his 10 points in 19 games is not where the playmaking winger was hoping to be before an injury sidelined him.
It will be tough and possibly unfair to try to compare these numbers to his 66-point campaign in 2011-12.
But we do know that Fil is an unrestricted free agent in July. Many questions will have to be asked about this Finnish forward and if he should belong on this team in the fall.
Certainly he will want to be, but he needs to play the game he did as a flashy wing in 2011-12 in order to garner a pay raise.
And also try to take a position away from a young forward in the Wings system—something Fil hasn't had to deal with.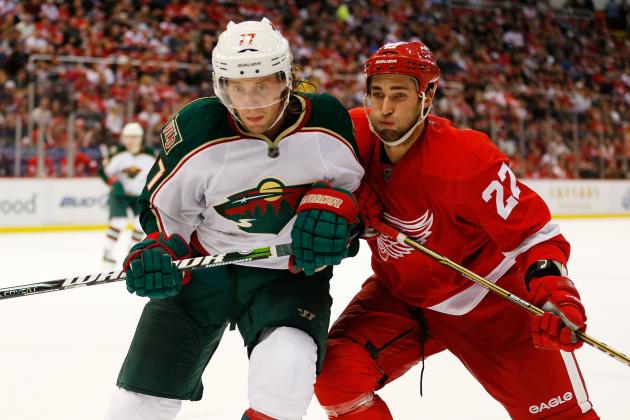 Gregory Shamus/Getty Images

On a crowded defensive core, there is very little room for error.
Kyle Quincey found this out the hard way to start the 2012-13 season; he made mental mistakes and was caught out of place during the team's first few games, which resulted in easy goals for the opposition.
Since that time, Quincey has learned from the horrific start. He has positioned himself very well now and is very methodical when getting the puck out of his zone.
A slight ankle injury did slow him down for two games, but the Red Wings will need to see more of the productive Kyle Quincey during the rest of the season.
They did, after all, give up a first-round draft pick in 2012 to Tampa Bay for the rights to the defenseman, who they released prior to the 2008-09 season.
You earn your time in the NHL. And Kyle Quincey will need to do more of this to better the Red Wings defense.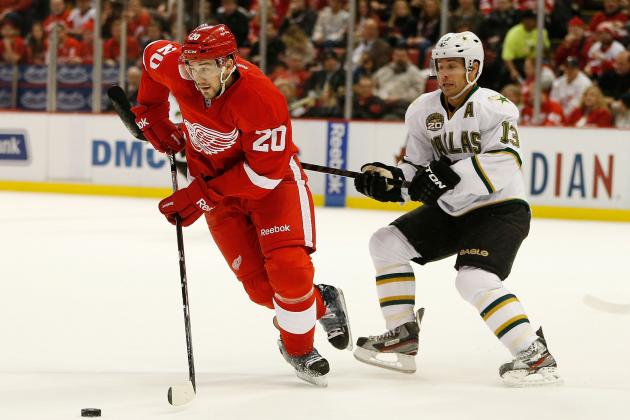 Gregory Shamus/Getty Images

Another key part of the Red Wings bottom-six energy lines, Miller has also underwhelmed so far.
He played over in England during the lockout and looked like his career might take a positive turn.
Once he came back to the NHL, however, Miller was stuck back in his grinding role. He is a great skater, however; he has a nose to get to the net and is more than capable of scoring 15 goals in a season.
That kind of production is what the Red Wings need to see from him going forward. He is a good young player who brings a lot to the table every game, and more production from him will make the fourth line a feisty group against the opposition.
Being paired up with Cory Emmerton and Jordin Tootoo right now while the team waits for Darren Helm, his line mate when healthy, Miller can keep the intensity going on a surprisingly strong fourth line.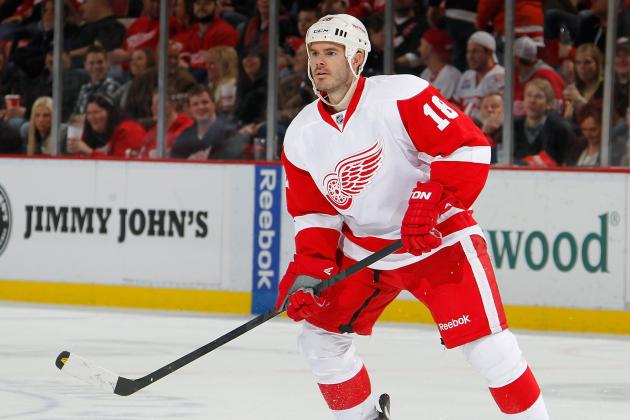 Gregory Shamus/Getty Images

A major free-agent signing, Ian White played stellar in his first season in Hockeytown.
He was paired with former Wing Nicklas Lidstrom, and the tandem was extremely effective with their breakout and defensive play all season long.
Since that point, White hasn't played terribly, but he has shown bouts with consistency.
White is a very feisty player. He is willing to carry the team at any time and isn't afraid to put his body in the way of harm, like blocking a puck with his face against Dallas last season.
It's good to have a player like White on your team, but he is in his last year of a two-year deal. And with the development of Brian Lashoff and the continued success of Brendan Smith, White's time here might be short.
That is unless he steps it up for the remaining half of the season and simplifies his game to better accommodate the Wings' style of play.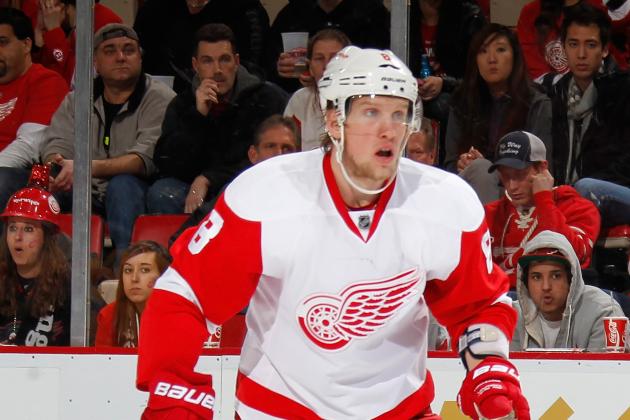 Gregory Shamus/Getty Images

The former Michigan State Spartan has not been able to get any sort of rhythm going during the season.
Primarily used as a checking center or a grinding wing, Abby is used to bringing energy to the bottom-six forwards. Because of injuries, he is playing on the second line with Danny Cleary and Pavel Datsyuk, and he is struggling mightily.
In 23 games this season, he has not scored a single goal and only has a measly point—an assist—to his credit in 2012-13.
He also has the worst plus-minus out of anyone on the team with a minus-five. Though he has taken 37 shots so far, which is seventh best (NHL), Justin will need to raise his game to help the Red Wings compete down the stretch.