The 20 Games That Shaped My LSU Fan-Hood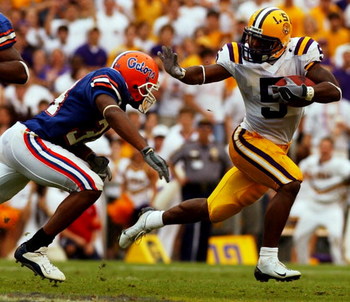 I'm no historian so when The Bleacher Report (BR) asked me to write a top 10 list for LSU Football Games I thought I'd make it personal but it's going to take 20 and since this is my first article submission for BR, please feel free to let me know what you think.
I was raised in Baton Rouge (though I have not lived there for the last 20 years) and have bled Purple and Gold my entire 39 years on the planet. In that time there have indeed been many memorable games at Death Valley and other places where my beloved fighting tigers have gone for prey. Like many Tiger fans, though, I firmly believe that the last 15 years have been The Golden Years of LSU Football. That being the case, my list will have heavy representation from this era but I'll start with one that took place before I was born.
Ole' Miss @ LSU 10/31/1959—My father was a personal friend of Billy Cannon's and when I was a kid we visited his house from time to time. I remember him as a very nice man and of course he was a living legend. The moment his legend became forever cemented into the foundation of Tiger lore was on Halloween Night in 1959 with the Tigers down 3–0 and less than 10 minutes on the clock. Billy received a punt at the Tiger's 11 yard line and streaked up the sideline breaking a half dozen tackles along the way. Once he trotted into the end zone, the Chinese Bandits did the rest and the Tigers defeated the #3 ranked Rebels 7–3. Billy Cannon would be my first hero!
# 19 – The 'Where's My Crazy Ole' Man?' Game: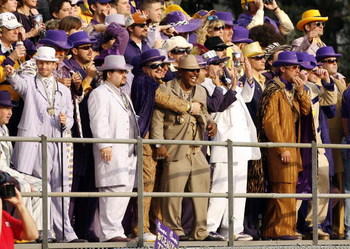 Ole' Miss @ LSU 11/04/1978—My aforementioned father took me and my best friend, Dewayne, to our first LSU football game. I may not have mentioned that my Ole' Man was a Rebel fan. (He actually played for Ole Miss briefly before he enlisted in the Navy and fought in the Korean War.) Anyway, he had tickets in the Ole Miss section and I was very uncomfortable so Dewayne and I talked him into letting us go 'find' another seat. We did, near the 30 yard line about 15 rows from the field where we watched LSU clobber Johnny Reb 30–8 and I first learned one of our most poignant battle cries—"Geaux to Hell Ole Miss, Geaux to Hell!" After the game my drunken father forgot that he had two 8 year old kids with him and left us at Tiger Stadium. He eventual remembered and came back to find us but that was fun!
#18 – The 'She Gave Me a Sponge Bath!' Game: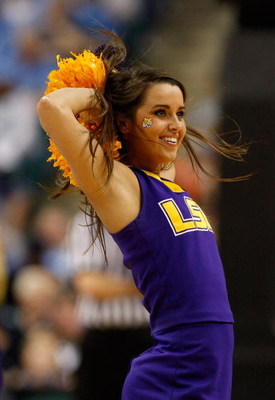 Tennessee @ LSU 10/09/1982—In the summer of 1982 I had a ruptured appendix that went untreated for over 24 hours leaving me hospitalized for more than a week. At first I thought I was going to die but then I went to heaven! One of my care takers was a beautiful sweetheart of a nursing student that was also a cheerleader for the Tigers. She took excellent care of me and told me to come see her at Tiger Stadium. When I got out of the hospital I joined my local Boy Scout troop, primarily because they ushered all of the Tiger's home games. (From 1982 to 1985 I was at virtually every game at Death Valley) On October 9th versus UT (all I remember about the game itself was that it ended in a tie) I spotted my dream girl and told my Boy Scout buddies that "SHE had given me a sponge bath!" Of course they all called me a liar until I went down to the fence by the field to get her attention. She came over and gave me a big hug and a kiss! From then on I was 'The Man' in my scout troop.
17 - 15 (The Bear, The Shake and the Golden Gate)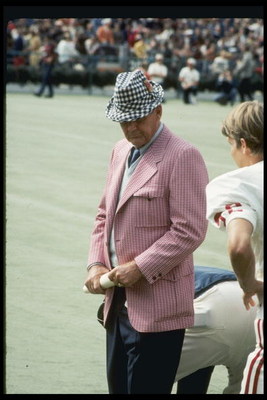 #17—The 'We Got The Bear' Game: LSU @ Alabama 11/06/1982—LSU had not beaten Bama in Tuscaloosa in a gazillion years and if I remember correctly Bama was #2 in the country and a favorite to win the National Title. After the game Tiger Fans were elated, and although LSU lost three out of four after that, including a one point loss to Nebraska in the Orange Bowl, the season was considered a great one because of that win. I remember jokes going around about Alabama and the Bear, one about how Bear Bryant went to jail for beating his wife. Seems he asked her what time it was and she said 20 to 10! (The final score) We then, of course, took partial credit for his retirement after that season. That summer, I vividly remember one of my friends coming up to me at a neighborhood pool and asking me if I had heard that Bear Bryant died. I was waiting for the punch line when I realized it wasn't a joke. LSU fans, including myself, mourned his loss and I never heard another joke at the Bear's expense. (Jokes about Alabama in general and her fans, I'm afraid, will live into eternity.)
#16—The 'Earthquake' Game: Auburn @ LSU 10/08/1988—Tiger Stadium, like many college football stadiums, can be a very loud place on a Saturday Night. What no other stadium has in common with Death Valley is 'geological' activity. On 4th down, with less than 2 minutes to go in the 4th quarter, unranked LSU trailed #4 Auburn 6–0. Two of my all time favorites Tommy Hodson and Eddie Fuller connected for the game winning touchdown that set off a seismograph in LSU's Geosciences Complex. That's just how we roll!
#15—The 'Beginning of the Golden Era' Game: LSU vs. Michigan State (Independence Bowl) 12/29/1995—Most people would not rank this as a very meaningful game in Tiger History. However, I ardently believe that Gerry Dinardo was the man that led LSU out of the wilderness. This 45-26 trouncing of the MSU Spartans, coached by Nick Saban coincidentally, marked the 1st of 3 consecutive bowl wins by the Tigers under Dinardo. He would begin to take advantage of LSU's natural recruiting bases and fill the stables with some of the best talent LSU had seen in a long time. After enduring 2 years (LSU was picked pre-season top 10 both years) of insurmountable injuries to key players Dinardo was unceremoniously shown the exit. (The aforementioned Saban would later take the foundation Dinardo formed and take it to the next level but that is fodder for another article down the road.)
#14 – The 'Dragon is Slain' Game: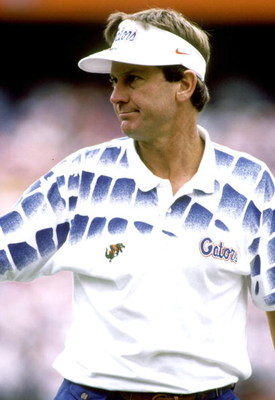 #14—The 'Dragon is Slain' Game: Florida @ LSU 10/11/1997—The visor wearing, fire (hissy fit) breathing dragon, also known as Steve Spurrier had led the Gators to chomp on the Tigers in 9 straight games leading into this one. With UF ranked #1 in the country and the media favorite to win the SEC and the National Title most people didn't give the 14th ranked Tigers much of a chance. To that point in my life, I had never seen our guys so hyped and they delivered, the Gators were 'Tiger Bait!' LSU 28–UF 21
13 - 10 (Rohan, Blue Grass, Good Bye and Good Luck)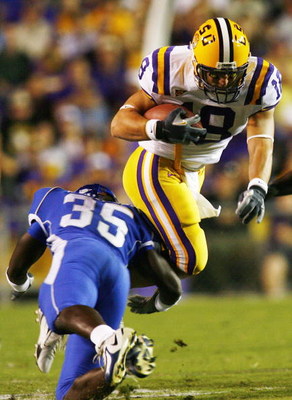 #13—The 'ROHAN' Game: LSU v Georgia Tech (Peach Bowl) 12/29/2000—The importance of this game was that it put Nick Saban on the map with LSU. Saban's maiden voyage was decent (not great) but most fans, me included, were happy with him as a coach even though some of us (or maybe it was just me) still thought Dinardo had gotten the boot way too soon. None the less, when Rohan Davey started the second half and led the Tigers on a stirring comeback that was capped by a spectacular Josh Reed catch in the back of the end zone to secure the 28 – 14 win over the Jackets; the Saban era was well underway.
#12—The 'Blue Grass Miracle' Game: LSU @ Kentucky 11/09/2002—LSU went into Kentucky ranked #16 in the country and quite frankly should have put this game away early. They did not, and needed a miraculous 75 yard Hail Mary from Marcus Randall (through the hands of a couple of defenders) to Devery Henderson. That play is probably second only to the Billy Cannon Halloween Punt Return as all time greatest plays in LSU history. I felt bad for the UK fans that tore down their goal post, they don't get to do that very often and ever since then I'm sure they think twice before they celebrate!
#11—The 'Fare thee Well Mr. Manning' Game: LSU @ Ole' Miss 11/22/2003—My wife, my Brother and I met in Memphis, picked up my Dad and all went down to Oxford for this classic. We had great seats in the end zone on the visitor's end of the field so we had a perfect view of the touchdown Matt Mauck tossed to an Ole' Miss line backer on the first possession. Not a good start. The game however, was fantastic and both teams played lights out for 60 minutes. It ended on an absolute bull rush by the #1 Defense in the land and virtually cemented our place in the SEC Championship Game. To my recollection, Ole' Miss' center was actually the body on top of Eli on that final sack. He had barely snapped the ball when he was pushed back about 8 yards in .5 seconds and used to start the pile on Manning the younger! Fare well Mr. Manning, fare well! LSU 17 – UM 14 (Oh yea, Geaux to Hell Ole' Miss)
#10—The 'House Divided' Game: LSU v UGA (SEC Championship Game) 12/06/2003—My little Georgia peach (wife) comes from a long line of Georgia Dawgs, but she has become a Tiger fan by osmosis. This game put her loyalty to the test. When we left the hotel for the game I noticed she was wearing all black with a reversible purple sweater (black on the reverse side) and no visible logos for either team. I told her that I was on to her plan to remove the purple and blend in if our seats were in a Georgia section. They were, she did! Of course she left the game wearing an SEC Champion's hat and chanting L S U!! With the dismantling of UGA LSU assured itself a place in the BCS National Championship Game. (As a side note, and also fodder for future discussions, LSU would have jumped USC in the BCS even if OU had not gotten smoked in the B12 Championship Game and I for one wanted them to play USC – I whole heartedly believe the outcome would have been the same)
9 - 8 (Fight, Food!)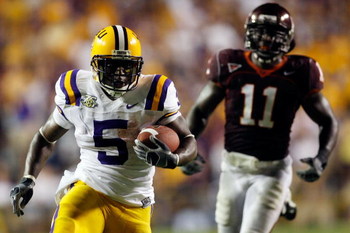 #9—The 'And the Fight' Game: LSU v Miami (Peach Bowl) 12/30/2005—After the Canes were drubbed on the field a couple of their thugs chased Dwayne Bowe into the Tunnel leading to the LSU locker room. According to Miami Coach, Larry Cooker, two of his players got knocked unconscious. I guess LSU won the game and the fight! (I don't condone the fighting but I was 20 yards away from it and saw the whole thing until they got into the tunnel, the Miami players were way out of line and just ticked off because they got embarrassed.) LSU 40 – Miami 3
#8—The 'Revenge' Game: VT v LSU 09/08/2007—Virginia Tech struck a deal to play a home and home season opener versus LSU starting with a game in Blacksburg in 2002 (great trip, beautiful campus), after the games had been scheduled as openers VT scheduled a gimme game 09/01/07 versus the Virginia School for the deaf and blind (or whoever) to get the cob webs out. It worked, they beat us. 'That's ok; we'll get them next year in Death Valley.' Not so fast my friend, as Lee Corso would say, VT then canceled the trip to Baton Rouge and we basically had to sue them to make them keep the other end of the bargain and come to Tiger Stadium. That didn't work out to well for them! Kieland Williams broke one of the most spectacular runs I've ever seen and the Tigers took them behind the wood shed and beat em' like they stole something! LSU 48–VT 7 (Gobble Gobble)
7 - 4 (The Set, The Second, The Other and The One!)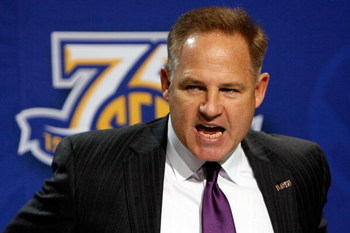 #7 The 'Brass Set' Game: Florida @ LSU 10/13/2007—Two words, Jacob Hester. The rest of the world learned two things in this game that most LSU fans had already figured out, Les Miles is not afraid and Jacob Hester is a tank! LSU was 5 for 5 on 4th down and won this one at the wire. LSU 28–UF 24
#6 The 'One Second' Game: Auburn @ LSU 10/20/2007—Fresh off a triple overtime loss to Kentucky (By the way, most people didn't catch this but Jacob Hester had come off the field slightly injured after 3rd down on that final drive, the 4th down call, IMHO, would have gone to him and things might have been different.) LSU found itself in a third straight street fight that came down to the wire. Now I have to make a point about this last play; it has been characterized by many in the media and Les' critics as a big gamble that could have cost the Tigers the game and the NC due to only one second being left on the clock. It is just not true! It was the perfect call, there was enough time on the clock and we had the match up we wanted, even if Byrd hadn't caught the ball there was no chance for an interception and there would have been at least 5 seconds on the clock per the replays so the field goal would have still been in play. Bottom line, Luck Street starts at the corner of Preparation and Opportunity – Les Miles creates his so called luck and this was a prime example! LSU 30 – AU 24
#5 'Saban Bowl I': LSU @ Alabama 11/03/2007—This one was closer than it should have been but we got the W. We should have won Saban Bowl II but that's also another discussion. LSU 41–UA 34
#4 The 'Where Have You Been JJ' Game: LSU v Georgia Tech (Peach Bowl) 12/29/2008—After a disappointing season LSU went into this one unranked, discombobulated and facing a team and offense that was flat out rolling and dangerous. JJ (Jordan Jefferson) was sensational and the defense returned to form. Putting a skirt on the Jackets and calling them Susan was just what we needed going into what may turn out to be LSU's most successful off-season (recruiting and coaching staff replacements) in Tiger history. We shall see, but I can't wait to see JJ leading the offense next season. LSU 38–GT 3
#3 The 'We're Here We Might as Well Open Up a Can' Game:
LSU v OSU (BCS Title Game) 01/07/2008—Arkansas pretty much ended our title hopes. Yet, proving the old adage 'that's why they play the games' the Pitt Panthers finished an incredible string of events that should not have happened by bringing Rich Rodriguez to tears in a 13 – 9 upset of the 2nd ranked mountaineers to open a spot in the National Title game for the SEC Champion Tigers. Once the boys had a chance to heal from a brutal season and to settle down after letting OSU jump out to a 10 point lead LSU opened up an industrial sized can of beat down for 31 unanswered and put the game away. A couple of garbage touchdowns late made the score look a little more respectable but this was indeed a rout! LSU 38 – OSU 24 [LSU = BCS NATIONAL CHAMPIONS!!]
2 - 1 (59 and Next)
#2 The "59" Game: LSU v Oklahoma (BCS Title Game) 01/04/2004—LSU Won the 1958 National Title and was favored to win it again the next year. Tiger fans wanted another Title but 1959 never came, until this game. The score was close but it was really never in doubt, this was LSU's year. (Thanks Nick, we'll always love you for this, even though we hope you never win another game!) LSU 21 – OU 14 [LSU = BCS NATIONAL CHAMPIONS!!]
#1 The 'Next' Game: I don't know about you but I hate the off-season and I can't wait to see the Tigers Play. It doesn't matter to me who the opponent is; the next game is always the most important one!
You may have noticed that my list was in chronological order until I got to the National Championship games. I ranked these and gave the 2003 game top billing because it ended the drought and brought LSU back to national prominence. This list could have easily gone 30 or 40 but I'm not so sure I kept your attention this long, if so let me know what you think. Geaux Tigers!
Keep Reading

LSU Football: Like this team?