Power Ranking Nick Diaz's Top 10 Fights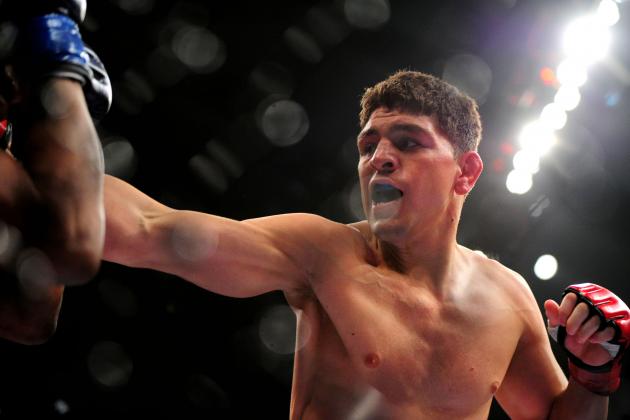 Mark J. Rebilas-USA TODAY Sports

A typical Nick Diaz fight has three characteristics: high-paced action, constant taunting and a whole lot of attitude.
Diaz has made a career of entertaining fans with his flurry of punches in the cage and his captivating aura outside of it. It's why his fight against Georges St-Pierre at UFC 158 is one of the biggest fights of the year.
This is it for Diaz. This is the climax of his career. He's longed to be the best in the world, and in this fight, he can prove it.
So, as Diaz reaches the pinnacle of his career, let's take a look back at all of his thrilling bouts in MMA. Here are his top 10 fights.
Begin Slideshow

»
Marius Zaromskis was simply outclassed on Jan. 30, 2010.
In a bout that crowned Strikeforce's first-ever welterweight champion, Diaz met a dangerous striker in Zaromskis.
At the time, Zaromskis was straight "Mirko Cro Copping" people. He entered the bout with three straight head kick knockouts, but Diaz treated him like he was an amateur.
Both fighters had some good exchanges, but it was Diaz's relentless boxing that would eventually see Zaromskis lying flat on his back. It took Diaz four minutes and 38 seconds to become the first Strikeforce welterweight champion.
Evangelista "Cyborg" Santos displayed a brilliant game plan against Diaz on Jan. 29, 2011.
Santos decided that if he was going to take down the champion, he was going to start from the bottom and work his way up. This tactic worked.
Santos chopped away at Diaz's leg for most of the fight, and it started effecting the champion. Diaz pushed through the pain, though. He walked through the leg kicks, pushed Santos against the cage and hurt him with his patented boxing.
Diaz couldn't finish him in the first, though. Santos survived the onslaught and the fight entered the second round. Santos hung with Diaz in the round until the fight hit the ground. Diaz grabbed hold of Santos' arm and flexed his hips. Santos tapped with 38 seconds left in the round.
Diaz is known to be a fighter's fighter, but so is Scott Smith.
Though he may have lacked the skills to be a world champion, Smith always went out and engaged in slugfests with the best of them.
His fight with Diaz on June 6, 2009, was no different. Diaz was undoubtedly the better boxer in this contest, and it showed throughout the bout. Still, Smith stood his ground and made it a fight.
Smith faded late in the second round and was eventually tapped out in the third round by rear-naked choke.
Ah, everybody likes a good feud, don't they?
Diaz's feud with K.J. Noons was interesting, to say the least. First of all, Noons was a brash fighter that would welcome Diaz's trash talk and give it right back to him. As you can tell by the promo embedded in the slide, that made for a lot of fun.
Secondly, Noons already held a victory over Diaz, and the fact that he won by doctor's stoppage made this rematch even more intriguing.
When the two finally settled it on Oct. 9, 2010, the fight didn't disappoint.
Back and forth, these two exchanged on the feet. Diaz would land a combination and shout something at Noons, and then Noons would land a combination of his own and do the same.
For five rounds, these two did this. Diaz got the last laugh. though, as he won by unanimous decision.
Heading into his bout with Robbie Lawler at UFC 47, Diaz openly said that he thought Lawler was overrated.
On April 2, 2004, Diaz proved he was. He marched down Lawler, throwing strikes and taunting him, daring Lawler to strike with him.
Lawler didn't back down, but surprisingly, Diaz got the better of the exchanges. It took mostly everyone by surprise, because Diaz was considered to be a grappler back then.
In the second round, Diaz landed a powerful counter right hand that knocked Lawler out. It's the greatest highlight-reel knockout of Diaz's career, and that fight represented the evolution of Diaz.
Mark J. Rebilas-USA TODAY Sports

If you don't appreciate grappling, odds are you didn't enjoy this fight.
The best way to describe Diaz's fight with Diego Sanchez on Nov. 5, 2005, is constant transitions.
That's simply all this fight was.
Both fighters reversed positions back and forth on the ground for most of the fight, and it made for quite an entertaining scrap. Unfortunately for Diaz, he was just one step behind Sanchez all night, which ultimately saw him lose the decision.
Still, the fight between Diaz and Sanchez was one of the best ground-oriented fights at the time. The fans voted the fight to be the 12th-best fight in the history of the UFC heading into UFC 100.
Diaz vs. Frank Shamrock put Strikeforce on the map.
Sure, the MMA world was still dominated by the UFC, but fans started to take notice of Strikeforce because of this bout.
It was easy to sell. It was one well-rounded mixed martial artist versus another. It was a cocky, young fighter against an accomplished legend. It was Diaz vs. Shamrock.
Once the fight rolled around on April 11, 2009, Diaz did what he does best, and that's talk trash and kick ass. Diaz finished Shamrock in the second round by TKO.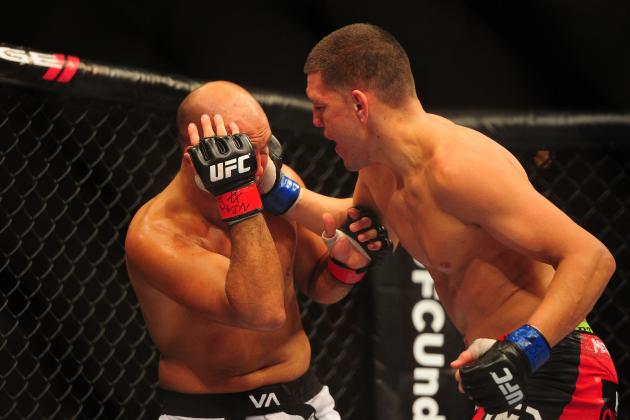 Mark J. Rebilas-USA TODAY Sports

From headbutting B.J. Penn's hand to throwing a barrage of punches against the fence, Diaz did work in typical Diaz fashion at UFC 137.
On Oct. 29, 2011, Diaz and Penn showed exactly why they were the main event in the first place. Both of these popular fighters showcased how they became fan favorites, as they tore the house down.
Diaz worked Penn against the fence with beautiful, crisp combinations, and Penn showed the heart of a champion as he kept fighting.
Diaz's gas tank would prove to be the difference-maker, though. His cardio helped him work Penn and outbox one of the best boxers this sport has ever seen.
Diaz's hand was raised.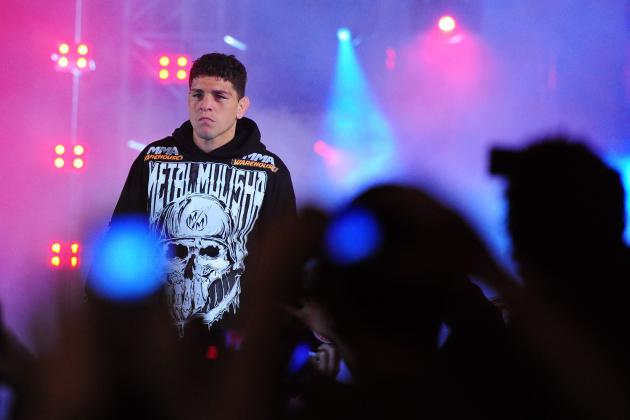 Mark J. Rebilas-USA TODAY Sports

Gogoplata!
Never mind the fact that this fight was ruled a no contest because Diaz failed the drug test for marijuana (shocker) prior. Don't let that take away from the fight Diaz and Takanori Gomi had at Pride 33 on Feb. 24, 2007.
Diaz mixed up his strikes well and rocked Gomi on more than one occasion. This led to a punch-drunk Gomi. The result was awesome. Both men fired back and forth, and the momentum of the fight shifted often.
The fight's conclusion was sensational. In the second round, the fight hit the ground and Diaz pulled off a an incredible gogoplata to tap Gomi.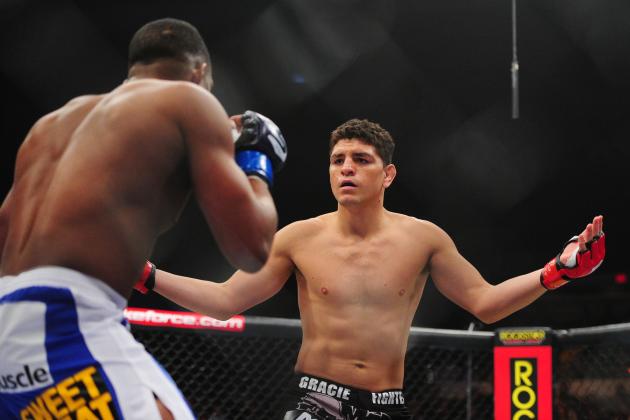 Mark J. Rebilas-USA TODAY Sports

As Mauro Ranallo so cleverly tagged it, Diaz vs. Paul Daley on April 9, 2011, was a "combustible main event."
Though the fight only lasted a round, it proved to be one of the most entertaining rounds in MMA history. Knowing Daley's only shot of beating him was standing on the feet, Diaz walked down Daley with his hands flailing through the air. He was without a care.
This allowed Daley to catch Diaz early in the fight and nearly finish it with ground-and-pound. Diaz's chin proved to be durable. He weathered the storm, fired back and soon had Daley in a world of trouble against the fence.
This fight was the definition of nonstop action, as the momentum continuously shifted back and forth. Both fighters had their moments, but when it was all said and done, Daley was planted unconscious on the mat after a devastating combination, followed by brutal ground-and-pound against the fence.
Diaz has been in a lot of dog-fights in his MMA career, but the fight he had with Daley trumps them all simply because of the adversity and nonstop action it presented.